Nigeria's Wizkid didn't perform at the 2018 edition of the Coachella Valley and Arts Festival. While leading musicians across genres from all parts of the world climbed the stages over two weekends to provide concert-goers a live experience of their art, Starboy was absent. He was booked, his name was announced in the line-up, and two slots, over two weekends were allocated for his set. But he missed his placement due to "his inability to get US visas" for his band members.
Wizkid didn't just miss this chance. Africa did. Due to the significance of the his set at such a global stage, the Afrobeats movement did. Everyone, from creators, through the facilitators of the art, down to the consumers, everyone missed out on a crucial chance to bring our music to a diverse audience, at arguably the biggest music festival in the world. The timing was right. Wizkid, due to strength of his art, and the efficacy of his deals, found himself as the anointed one from Africa to do that.
---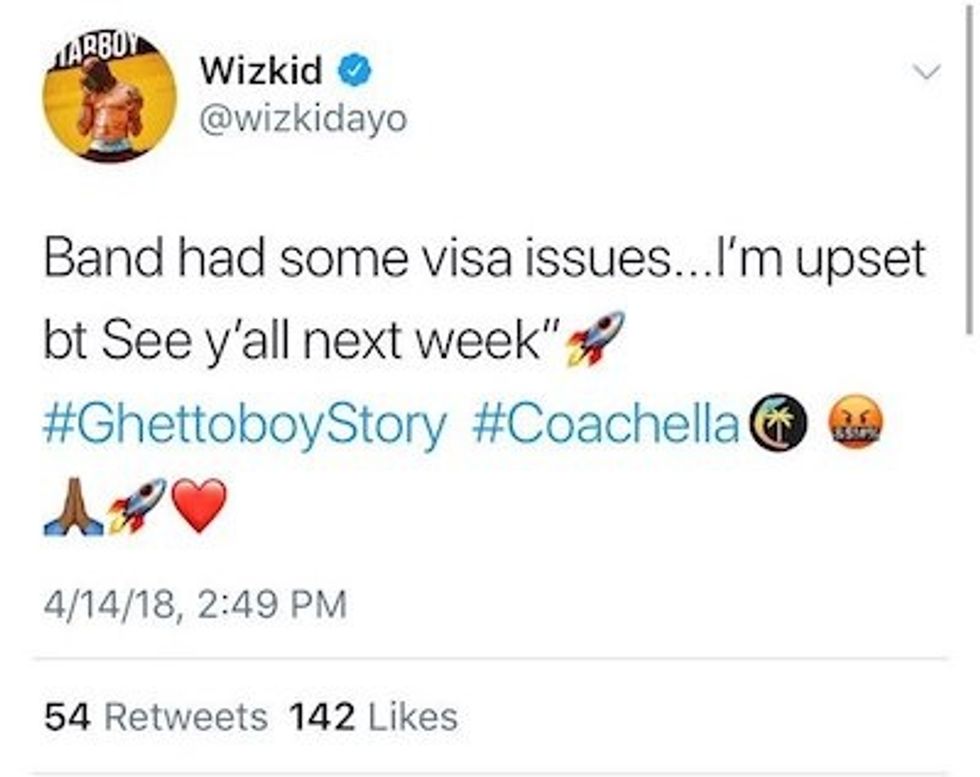 Screen grab of Wizkid's since deleted Tweet about Coachella.
But he failed to do it. After missing his allotted time, he showed up on Twitter to announce that he will be included in the second weekend of the festival. But when the time came, he also failed to turn up, having been spotted the previous night, partying at a Lagos night club. Nobody knows why that happened. All efforts to reach his team have been met with silence, with everyone in the dark about what truely went down. Everyone except Wizkid, his handlers and perhaps, the organising community of Coachella. Emails to Coachella have received no response at the time of this story.

When Wizkid missed his spot at Coachella for the first week, the social media uproar in Nigeria was huge. Afrobeats (the Western classification for any pop record by an African artist) has just began to push for a place on the global stage, and Wizkid, with his deal with RCA, his collaboration with Drake, and a few other placements is regarded as the face of it in Nigeria, and by extension, parts of Africa. Although the genre is yet to break out of the underground scene in the US, the general belief is that Wizkid currently stands the best chance of making that possible. But with events like this, fans are beginning to lose hope.
"I felt disappointed and I still do," says Dami Elebe, a popular On-Air-Personality in Lagos. "Since the lineup was announced in January, I had been super hyped for Wizkid and super excited for the entire Nigerian music industry but again, I was let down."

Seasoned African A&R executive, Bankulli Osha, also shares a similar feeling with Dami. "I don't feel too good that we missed a great opportunity to show more to the world about what our sound is all about," he says. "Of course, the Afrobeats wave is moving up the ladder, and I believe Coachella would have given another opportunity to sell it more."
"I felt disappointed and I still do... I was let down."—Dami Elebe, popular on-air personality in Lagos.
Wizkid has a history of failing to honour concert dates. In September 2017, Wizkid was absent for the prestigious Made In America concert. Interestingly, the event organised by Jay-Z's Roc Nation, also featured performances from his Nigerian counterparts, Tiwa Savage and Maleek Berry. He also cancelled tour dates for his US/Canada tour, including stops in Chicago, Hollywood, Sugar Land, Toronto, and New York.
Back home in Africa, he failed to turn up for a concert in Uganda, and cancelled two concert dates in December 2016. In all cases, he cited ill-health. The Coachella episode is the first time 'visa' issues has been offered as a reason for his no-show.
There are concerns that there will be repercussions for Wizkid's actions. But the bigger worry is that it will not be limited to the singer alone. The fear holds that such occurrences will potentially spill over into future dealings between global music companies and African talents and by extension, hinder the growth of the Afrobeats movement. Wizkid is currently the most prominent leader of the movement. It is a position of influence, which to many, is regarded as a window into the readiness of African talents to step up to the big stage. If he fails to utilise this moment. He fails the entire movement.

"It affects both the growth and perception at the moment but it won't be for a lifetime," Dami Elebe says. She also believes that the depth of talent present in Africa will ensure that such opportunities come to us. "Nigeria has too much to offer for one no-show to close the doors that have already been opened. We just need musicians who take their craft seriously and constantly realize that until you retire, there is always another level to your success."
"The Afrobeats wave is moving up the ladder, and I believe Coachella would have given another opportunity to sell it more."—Bankulli Osha, seasoned African A&R executive.
Chin Okeke, the Co-Founder of Nigeria's most popular urban music festival, Gidi Culture Fest, does not think African music will suffer for this. "The days of putting an entire industry and movement on the shoulders of one person are gone," he explains over a phone conversation from the US. "Any reaction arising from this situation, will not affect the entire industry."
Chin who attended Coachella, has a business relationship with Wizkid. The 2018 edition of his Gidi Culture Fest, was headlined by the singer in Lagos. He believes that there are also numerous other talented African acts who have gained global attention, and the responsibility of moving the industry forward is now evenly distributed on their shoulders.
"The idea of him (Wizkid) being the sole torch-bearer of the movement is no longer the case. Other talented artists such as Mr Eazi, Burna Boy, Maleek Berry, Runtown, and more have done tremendously well for the African market," he says.
In recent years, African musicians have continued to push beyond boundaries and borders to make beneficial inroads into different non-traditional markets. Mr Eazi enjoyed a good run in 2017, breaking into the UK market, working with Diplo and scoring a performance on The Late Late Show with James Corden. Tiwa Savage also has a running management deal with Roc Nation. In January 2018, Burna Boy released a new mixtape, Outside, in partnership with Atlantic Records UK. These moves show fans that more leaders are emerging to take African music mainstream in Europe and the US.
"The idea of Wizkid being the sole torch-bearer of the movement is no longer the case."—Chin Okeke, co-founder of Gidi Culture Fest
Both Osha and Elebe are united in believing that there are more chances in the future, and African artists should take set up their business in more professional ways to prevent such an occurrence. Osha says that "there are numerous opportunities that are to come and other platforms that will give more opportunities for showcase for top African artists, as long as we are buzzing which can only get better."
Wizkid missed Coachella in 2018, and being the only Afrobeats act can increase sense of loss for Africans. For many years, people on this continent have nursed the belief that homegrown talents can compete at an international level, using traditional sounds generated from our shores.
There's a huge opportunity in this moment for it to happen. And as the world continues to experience our art, and interact with its creators, the future of African music appears bright. Only time will tell how big the movement will grow and perhaps, someday, take over the global stage.
Joey Akan is an award-winning writer, journalist, critic and podcaster based in Lagos, Nigeria. Follow him on Twitter.