I must admit, I only heard about YoungstaCPT a couple of years back in Cape Town. While visiting a friend in Bo Kaap, her sister was rapping along to his song "Salutas" from her bedroom upstairs. What stuck with me most was the distinct Capetonian vernacular—it wasn't another generic American copy. I could feel the Capetonian pride vibrating through the floorboards.

---
YoungstaCPT AKA Riyadh Roberts aka has been unstoppable of late. With 29 mixtapes and numerous EPs under his belt, he's just been nominated for 3 SA Hip Hop Awards including Lyricist of the Year/ Mixtape of the Year for The Cape and Good Dope and Film Clip of the Year for WesKaap. He's also about to set Australian crowds ablaze for the second time this year with his tour in November. I caught up with the Capetonian hip hop artist ahead of his Aussie visit.
Over video chat, the rapper appears a bit camera shy. I tell him that I had just seen a picture of him crouched atop a bench somewhere in the Cape Flats with a couple of names graffitied on the side of it. One of the names is, Zayaan—my name. A good omen. He responds with a laugh—"Aweh." Let's do this.
OkayAfrica: You describe your style as "Kaapstad"—Afrikaans for Cape Town. What is Kaapstad?
YoungstaCPT: To me there's a difference between Cape Town and Kaapstad. Kaapstad is our way of life. It's reporting the daily situations that take place of the middle and Lower class in Cape Town because even the middle isn't high enough on the food chain. Kaapstad is the more edgy, rough side of the otherwise tourist friendly image Cape Town gets seen in, as I say in one of my songs, 'I'm doing it for Kaapstad, the real Kaapstad, not Long street, none of that 7de Laan Kak (a prime time Afrikaans TV soapie).
What do you think makes Cape Town rap or hip hop distinct?
I've haven't been to many parts of the world but I know that in Cape Town that we're very much connected to the roots of hip hop, our B-boys and graffiti artists are some of the best in the world. We have our own slang when we speak/rap in Cape Town. Our accents and tone are unique, which you can also see in Afrikaans rap. South African Hip hop originated in Cape Town—Mitchell's Plain to be exact. In the early days we had groups like Prophets of Da City, Black Noise and Brasse Vannie Kaap. The culture is still rich and engraved in the fundamentals of hip hop, meaning the original elements of Hip Hop are still being practiced, not just rap!How did you start off rapping and who has influenced you the most?
I started off imitating American music like everyone else from South Africa did. At the age of 6, my earliest inspiration was Will Smith as The Fresh Prince of Bel-Air, from his style to his on screen presence, I knew I wanted to be that. I was like 'Yoh! How can this guy be in Bel-Air and the next day be a rapper.' My mother was very forward thinking in terms of how to raise a male, because you already don't have a father figure in the house, you were already disadvantaged. It wasn't a 'daddy didn't care' kinda story and shit, it was just the way other people, 'outsiders' looked at you for not having a male figure in the home. I wasn't very self confident and I was very shy.
As youngsters, we would develop our identities from our peers and I wanted to be like Will Smith, even to the point where I was the clown, music was my release but then you realise, yo! Other motherfuckers are hard core and shit and not everyone wants to be like that. That's when I explored other artists and realised, this isn't Will Smith! I started to get deep, deep into hip hop. Later on I moved onto the more hardcore stuff like Redman—my favorite rapper—Mobb Deep, Nas, Rakim, Xzibit, 2Pac etc and you realise, this hardcore shit is like the shit that I see and hear outside and that's what I wanted to be. Then I started freestyling, writing my own lyrics.
How has your style changed over the years?
I have more of myself in the music than before. My songs are filled with identity & character so that you won't confuse me with anyone. I learned from the artists that I mentioned to you earlier, about their own worlds and it was important for me to be myself. For example, they went to church and did stuff afterwards, and I could relate because even though I went to madrassa and went to mosque, I caught on kak afterwards. I fight hard to be unique and original even though it does alienate me sometimes from the mainstream world.
You effortlessly flow in and out of using Cape Town-isms, intermixing Cape Afrikaans and English, with a distinct Cape Coloured (creole or mixed race) accent and then at times, sound a bit more American in your vocal delivery. Is there any reason, artistic or otherwise that you choose to deliver your lyrics this way?

I'm influenced by so many different factors, and even though it is Black American culture that sparked my interest, Cape Town is what I know! In Cape Town we adopted hip hop as early as the 1970's, earlier than anywhere else in the country but it wasn't ours to begin with. I had to include as much of my own environment as I could but still let my favorite artists play a role in my art as well, because at the end of the day I'm still a hip hop fan!
You represent a new generation of South African artists, you're a millennial, who's grown up in a post-apartheid society. You're not just armed with the knowledge and life experience of your community and it's surroundings, you have more access to external influences than any generation prior. How does this impact upon your work or vision as an artist?
I am more defiant and I take risks in my content as far as lyrics and visuals are concerned. Being that our generation felt the end of apartheid, we dealt with other pressures such as hard drugs and substance abuse, gangsterism, the prison system, broken education and so on, I constantly remind kids and even adults that we are the children of modern day apartheid because the effects of the past can still be seen in the youth of today.
In an increasingly 'global world' where artists are influenced more and more by external factors. How do you stay uniquely South African or Kaapstad?
I stay grounded, I stay humble, I stay alert and aware of my surroundings. There's no other place like Cape Town in the world and the people that inhabit it are so different, why would I even need to be anyone else when the perfect role is on my doorstep. I am Cape Town personified.
You're coming to tour Australia for the second time this year. Any particular reason you're in a hurry to get back here?
No rush at all, but when opportunities arise for guys of our background we can't afford to let them pass by. Building that bridge and networking with internationals won't hurt so it's important for us to expand and create a global network for Cape Town as well. The Australian audience received me really well and we even managed to scoop up some new loyal fans so I'm happy about that.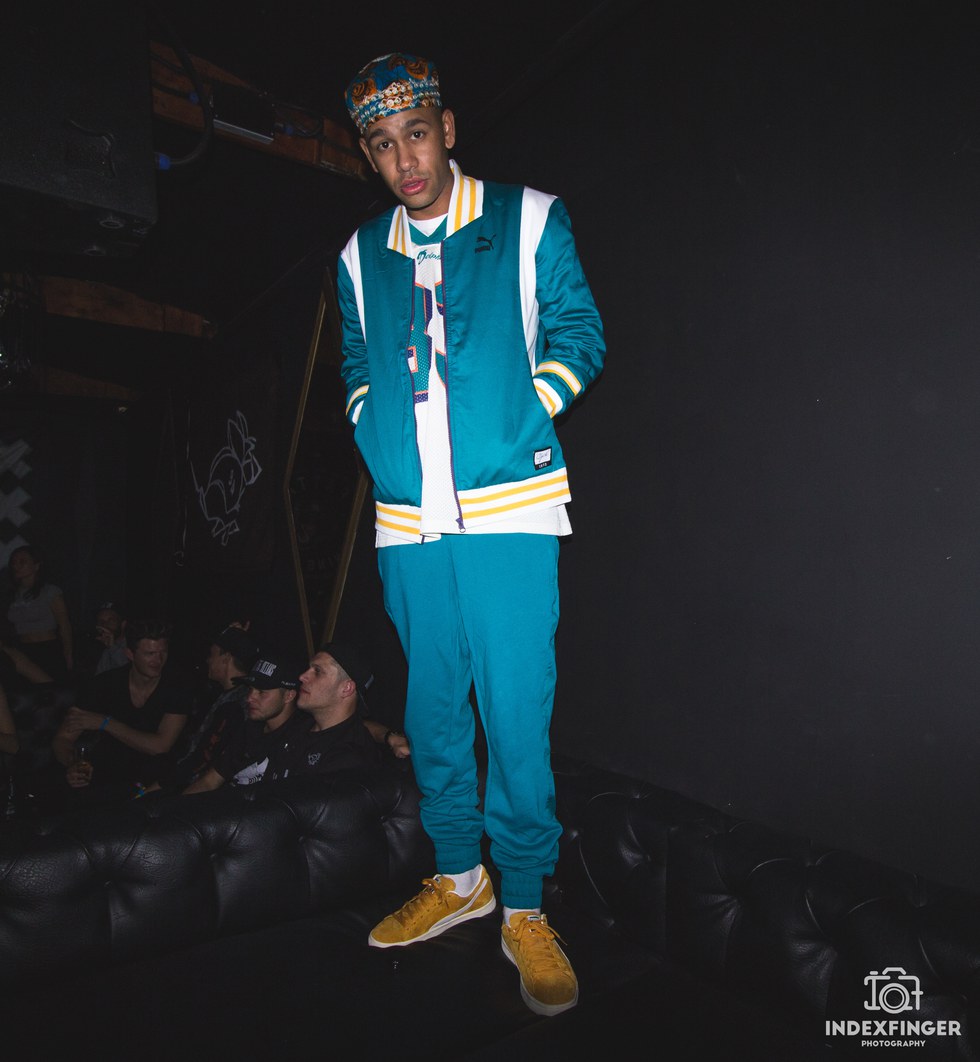 YoungstaCPT Photo: provided by artist
What's your view on the rap and hip hop scene in Australia? Do you have any favourite Aussie rappers or hip hop artists?
I love discovering new artists, Genesis Owusu from Canberra really impressed me, he has a dope movement and I enjoy seeing him make waves. Jannah Beth is also really cool, repping the ladies with a twist, she's a refreshing artist to listen to so I think the hip hop scene down under is in good hands, it's really diverse and has a lot to offer a worldwide audience.
Have you collaborated with or intend to collaborate with any Aussie artists?
No doubt, I worked with Ribongia on 2 tracks, one of which came out already with Jannah Beth. I did 2 tracks with Godriguez called 'Mowgli' & 'Jungle Crooks' so I've made my rounds but I'm always open to work with new talent as well.
How has your music been received by the South African and greater African diaspora abroad?
I meet South Africans in places I would never expect to find them, they come to my show and tell me how much they miss Cape Town when they hear my music. I think the international audience have taken well to my music even though they can't understand all of it. It's different to what they're used to but I don't want to fit into anyone's box. It's time to make listeners uncomfortable and use hip hop music for what it was originally meant for—a tool for social awareness and awakening.
Your International Naaier Aus Tour 2017 will take you to 5 different cities along the east coast. What can people expect from coming to see your new show?
My shows are pretty high energy but can also be mellow depending on the setting. What I really enjoy doing is educating the crowd and teaching about where I'm from and the lifestyle we live, to have a foreign crowd screaming 'Kaapstad Naaier' is a dream come true.
You made headlines and set social media ablaze a couple of weeks back in mid October when you stopped mid performance and reacted to a few fans who got aggressive and started throwing things at you on stage at Rocking the Daisies Music Festival. Can you tell us a little more about that?
Cape Town has been very segregated over the years, so because we're at a festival and the stage is bigger I don't want people to think I've changed or become softer. I dealt with 2 people in the crowd in a peaceful manner but I spoke with authority and aggression because they wanted to transport me right back to the hood with that behavior so the only way to reach them with a lesson was to remind them I haven't forgotten my roots and I never will! So their poes!
What's next for YoungstaCPT?
Well I'm gearing up to release my 30th and final mixtape for a while with Maloon TheBoom from Switzerland called 'To Be Continued.' I just dropped 2 mixtapes called "Kaapstads Revenge" produced by J-Beatz from Cape Town & "How To Make it in South Africa" produced by Loopsta from Johannesburg. I have a new single coming out called "Yasis" which will be accompanied by a music video. And I've been nominated for 3 South African Hip Hop awards for the 1st time in my 7years of doing music so with all this work to showcase I'm hoping to see big benefits inshallah.
A Glossary of South African and Cape Town isms
Aweh - Used to express excitement, an acknowledgement or a greeting
Kak - Shit in Afrikaans
Yoh! - Expressing any form of incredulity
Naaier - Fucker in Afrikaans.
Poes - Colloquially a 'disliked person' in Afrikaans. Also, female genitalia.