By now, you've probably heard South African rapper Yugen Blakrokon "Opps," one of the strongest songs on the Black Panther album. The song features her rapping a show-stealing verse alongside Vince Staples and Kendrick Lamar. Blakrok is one of the four South African artists featured on the project.
Her appearance on the album was an introduction to a lot of South African music fans who weren't aware of her. She has a niche following in South Africa, as her music is leftfield and will hardly play on Metro FM or MTV Base, or even feature on your favorite music website.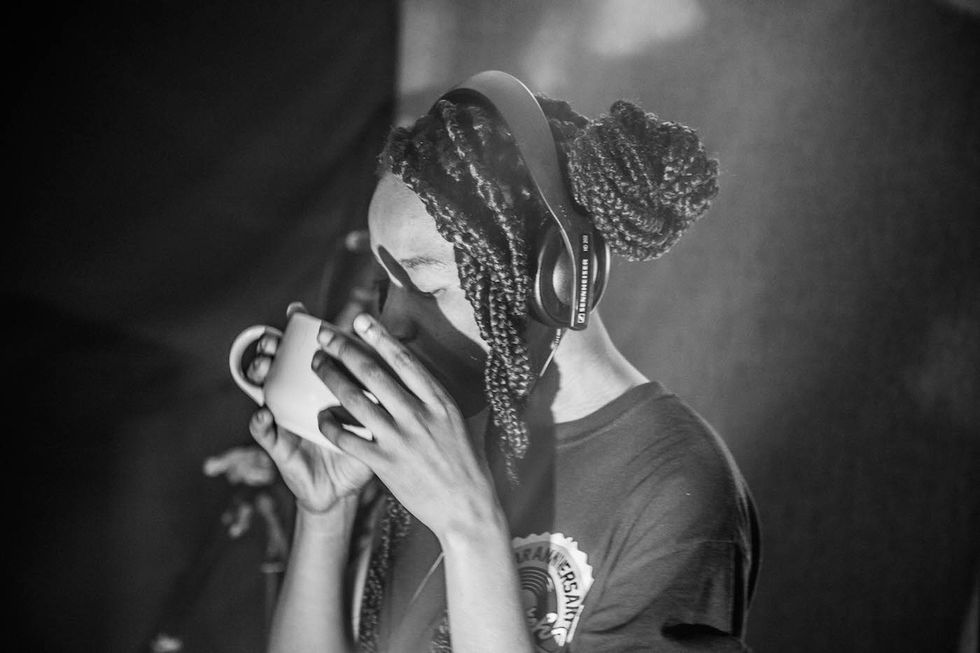 Photo by Sabelo Mkhabela.
Ever since appearing on the Black Panther album, though, the rapper has received overwhelming amounts of media from publications that would otherwise never cover her.

Blakrok and Kanif, her producer, wrapped up their third European tour towards the end of 2017. They are currently working on Blakrok's sophomore album, a follow-up to her 2013 album Return of The Astro Goth.
Photo by Sabelo Mkhabela.
"The media attention has kind of made me appreciate not being known," says the rapper, as she gets ready to record a verse on one of her new songs at the Iapetus Records studios in Joburg. She just finished making herself a cup of tea, which is a necessity for recording session, alongside weed. "I've never had a problem with being an unknown artist, I was focused on being an artist and I will continue to do that and not get caught up in being a socialite."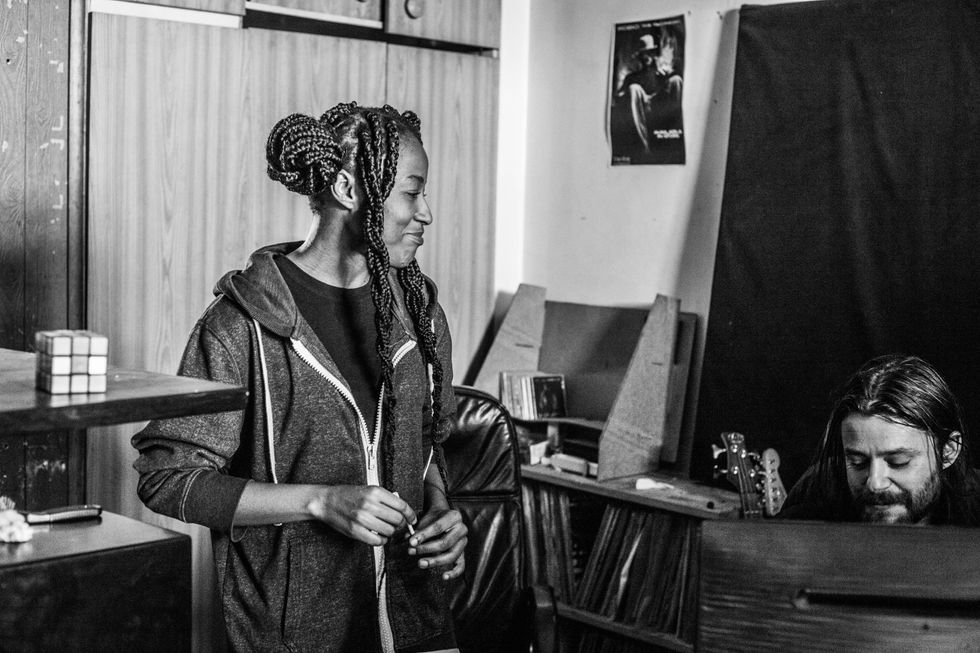 Photo by Sabelo Mkhabela.
The album currently has no released date, but is definitely coming before the end of 2018. "We working on it everyday," says Kanif.

On the song the two are working on today, Yugen Blakrok is recording just one verse. She tells me she memorizes most of her verses, as opposed to reading them.
She raps:
"Craniums radiate radio waves through cosmic membranes/ Voices ripping the fabric/ It's that space time classic/ Electric snake rattle thoughts with full metal jackets."
She records multiple takes until both she and her producer are completely satisfied.
Blakrok isn't only a perfectionist. "She's the pickiest artist I've ever worked with in terms of beats," says Kanif, who produces most of the music for Iapetus Records artists including Zetina Mosia, Fifi The RaiBlaster, Hymphatic Thabs, Shorty Skillz and Robo The Technician (R.I.P), among a few others.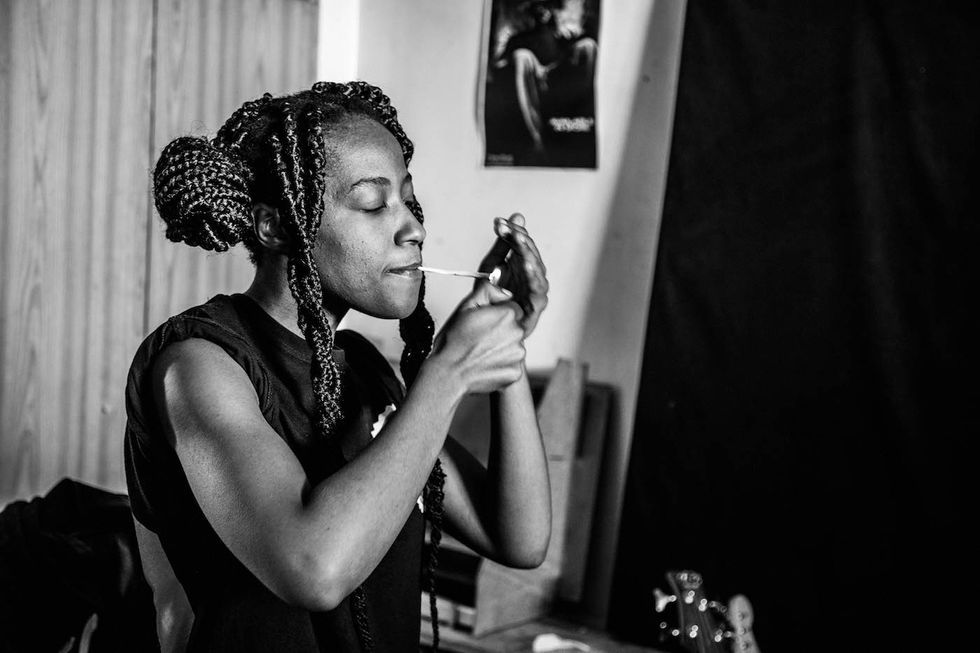 Photo by Sabelo Mkhabela.
Kanif's production style consists of layers of morphed and filtered pads that creak with analog warmth. Listening to Kanif's production is like living in an alternative universe—his beats come with muffled and inaudible voices, which, when I ask him about them, he simply says, "It's the vibrations, man."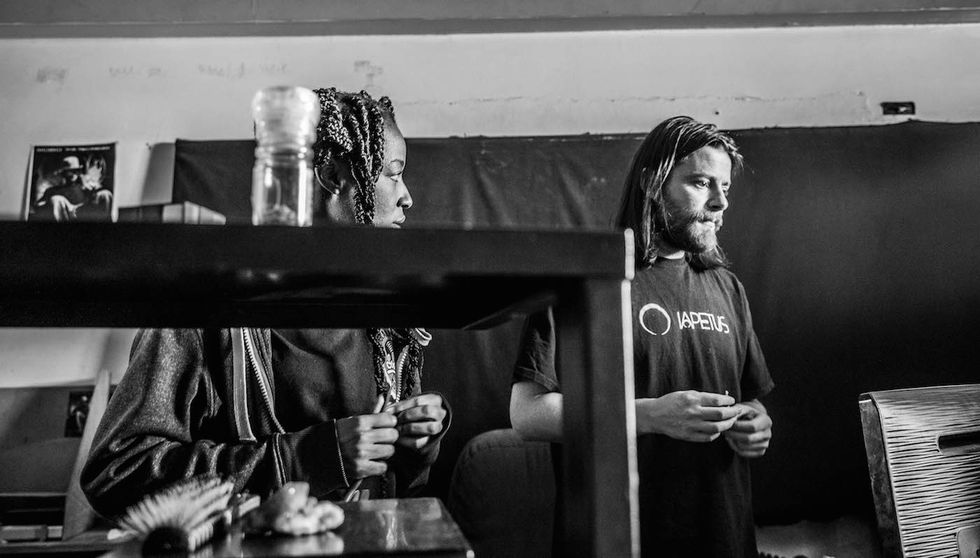 Photo by Sabelo Mkhabela.
The last time we spoke with Kanif was when we interviewed Fifi The RaiBlaster about her latest album, Black Matter, which came out last year. About his style of production, he said:

"I'm into sounds. I love recording sounds, and putting them into the music. And I like manipulating sound. I will make a break beat, and put it in the cupboard, and cover it in a pillow, mic it up, and record that back into the computer, tweak that and just see what happens. Air affects music. That's why the most beautiful instruments are acoustic—between you and that instrument there's air. So whenever it's just digital, and there's cables, it's in the machine, it's singularity, and it doesn't work."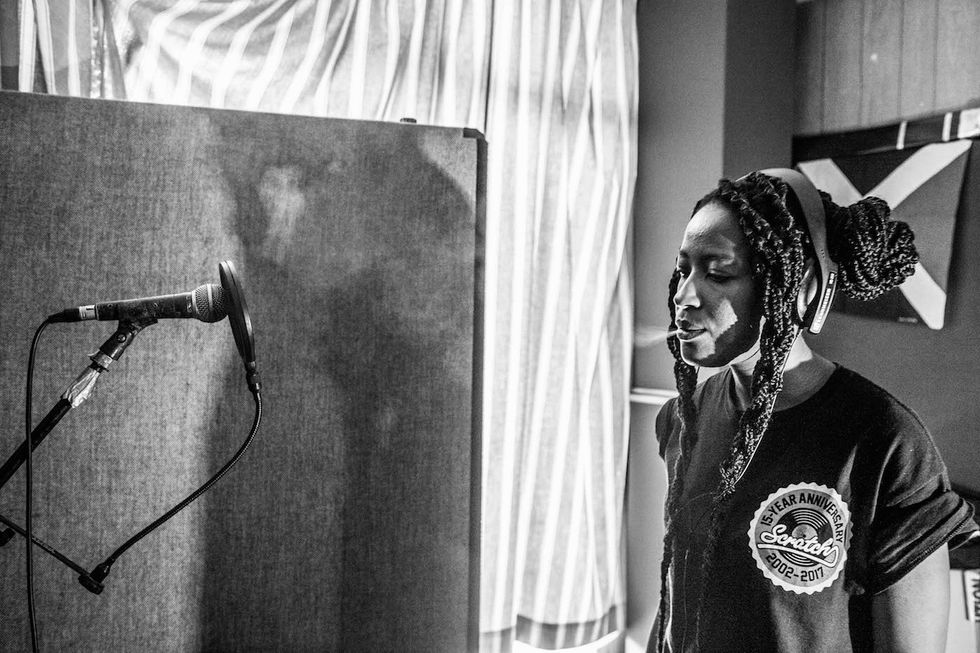 Photo by Sabelo Mkhabela.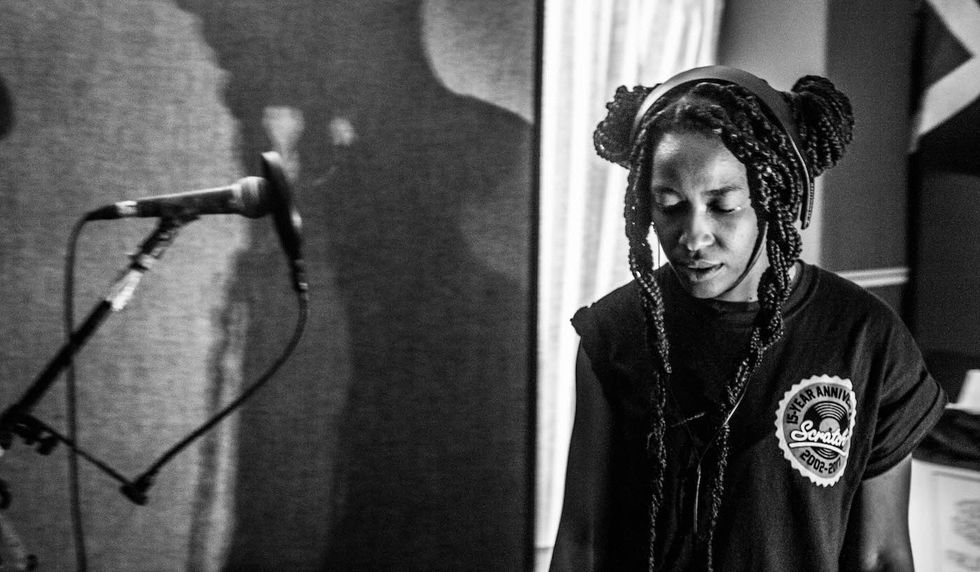 Photo by Sabelo Mkhabela.
Photo by Sabelo Mkhabela.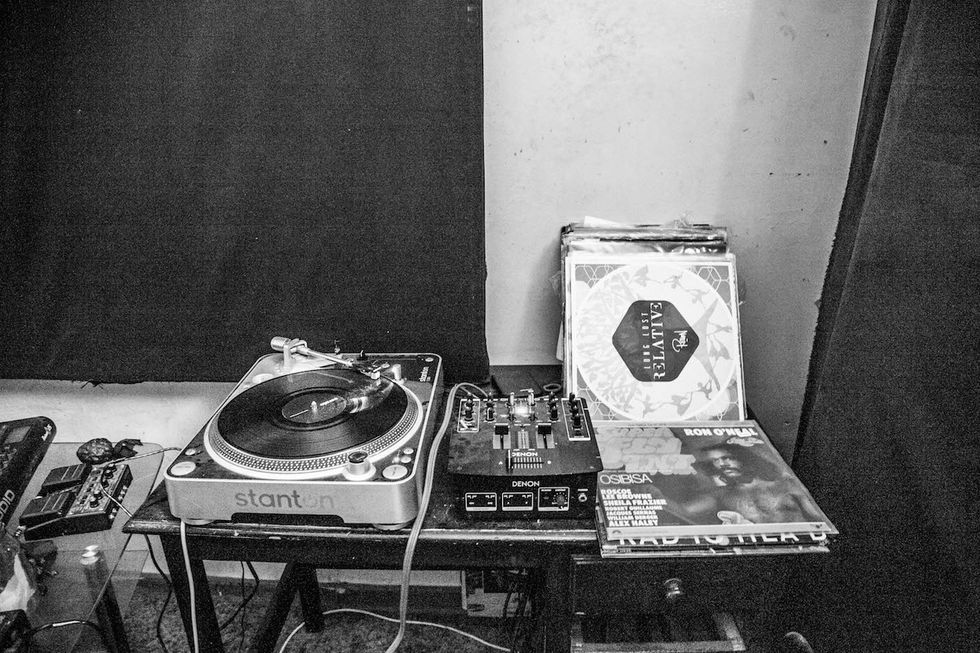 Kanif is also a DJ. This is his setup. He recently bought a new stash of vinyl while on tour with Yugen Blakrok. Photo by Sabelo Mkhabela.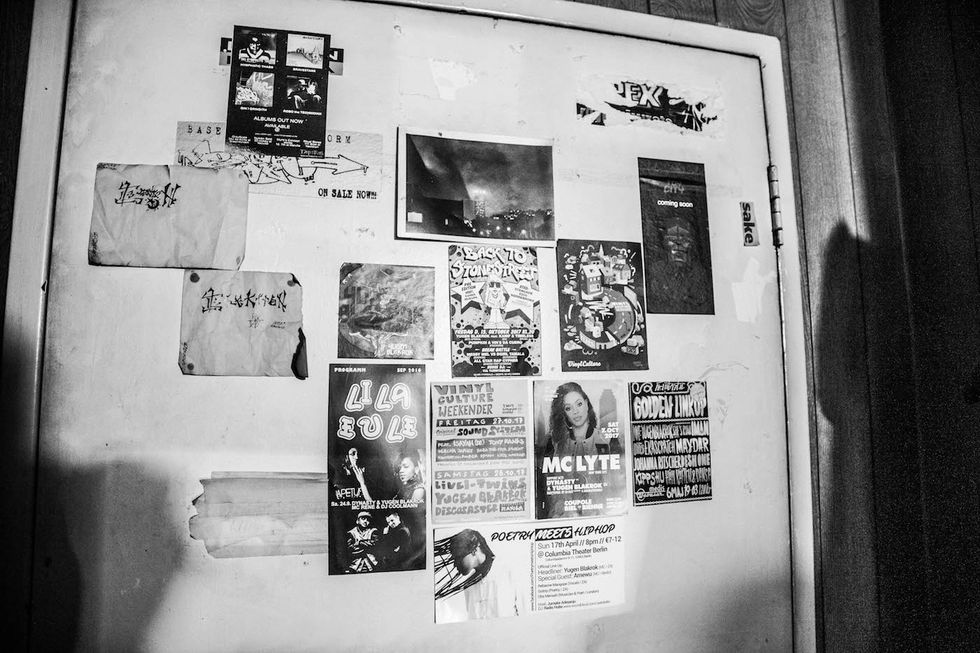 Some stickers and posters of shows Iapetus Records artists have performed in. The latest is one in which Yugen Blakrok opened for MC Lyte, while on tour, which she says was a dream come true for her. Photo by Sabelo Mkhabela.
Listen to Yugen Blakrok's 2013 album Return of The Astro Goth below, and get ready for her upcoming follow-up.