Two things are clear about Kelechi Okafor: She does not mince her words. And true to the Nigerian way, she is unapologetically about her business. Currently, said business includes becoming an artist and an activist. And she will not be deterred from either.
The Nigerian-British fitness maven behind the flourishing studio, Kelechnekoff Fitness, is a trained actor with directing chops (and a podcast on deck), who pivoted to personal training due to the lack of representation and opportunities for black actors—black women especially—in the UK. It's not a conversation held too often across the pond. "Rather than being frustrated and waiting for these roles to appear, I decided to do the next thing that I love as much as performing, which is fitness," she says.
---
Her fitness business took off in no time, and soon she was ready to master another area within her chosen trade—pole dancing. It wasn't long before Okafor was good enough to instruct pole dancing classes thoroughly impressing the owners of the studio where she taught. But they had something else in mind for her. They approached her and asked if she knew how to twerk. Taken aback initially—the studio owners are white—Okafor decided to accept the challenge, researching the dance to better teach it. "I began to understand that there's a kind of mainstream, white-washed version of what we see," she explains. "It really made me think about studying it more and looking at the links in terms of the diaspora, where it aligns with other traditional dances, and using that as a way to contextualize this thing and to reclaim it."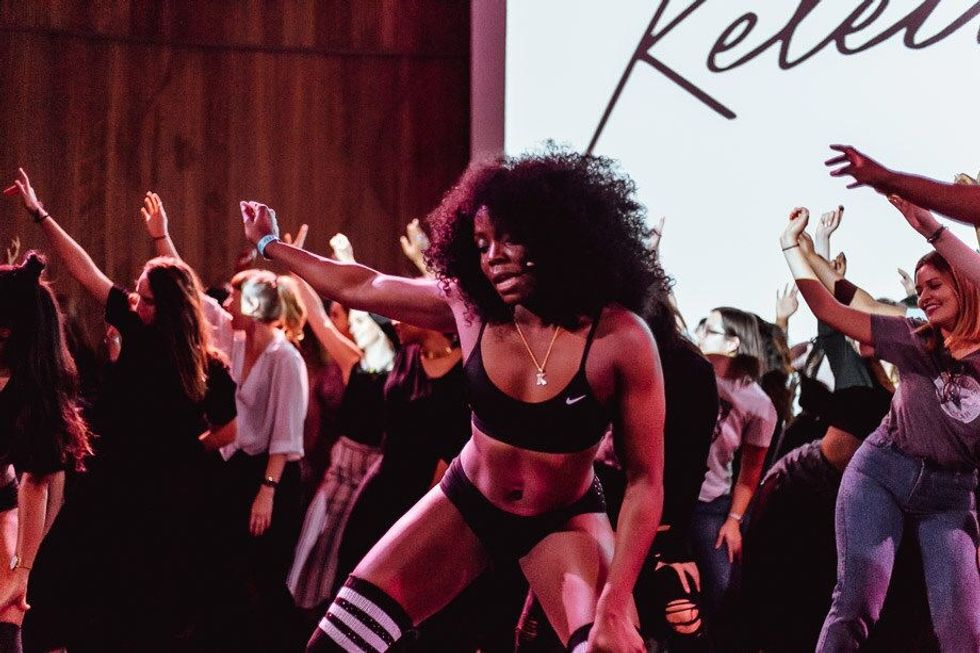 Photo courtesy of Kelechi Okafor.
Through her quest to reclaim twerking, Okafor also began reclaiming her sexuality and sensuality—aspects of humanity many African women are reared to suppress. "You grow up being told that it's off bounds," she says. "People love to talk about us as strong. That's the adjective that we always get. Now, there's nothing wrong with strength, and vulnerability is a part of strength, but not the kind of strong that they label us with. They label us with a kind of strong that's void of emotion."
From a young age, Okafor took to choosing her own labels. Born in Lagos, Nigeria and raised in Peckham, a district of southeast London, the eldest of three siblings always knew she was born to be a performer. From participating in every school play since primary school, to fusing drama and theater in her professional studies, Okafor found joy in submerging herself in performance art. And her career in fitness through dance has only added to her craft. "It's actually provided me more opportunities in terms of acting and directing because people are seeing me in another field, and finding out that I do all of these others things. It's definitely been a winding path, but towards the right destination."
However, it was not the path of least resistance; her passion for the arts was met by a lack of support from her parents. Her mother even went as far as lying to other parents. "She would always say to them, 'Yeah, she's about to do her master's in law,' or 'She's about to go to law school.' All of these were hot lies. I had no intention of doing anything like that, but I felt that pressure that she needed to prove to her friends that I was doing something worthwhile," Okafor recalls. It only fueled her desire to map out her own life journey and remain true to herself. "We are all created with certain characteristics that some people might tell you is a burden or is not so great, but depending on how you use it, it can be your driving force," Okafor says. "I'm very, very stubborn...but if it hadn't been for that, that resilience, that stubbornness, I would've ended up swaying and doing what she wanted me to do. I want to do things that make me happy, not just for the sake of it."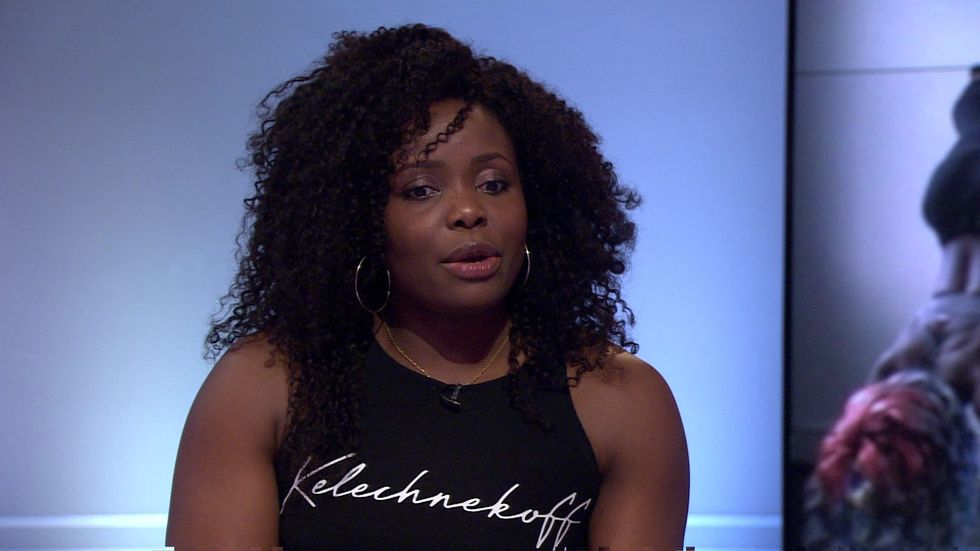 Photo courtesy of Kelechi Okafor.
While her mother is now one of her biggest cheerleaders, Okafor's earliest support came from her drama teacher, Ms. Parrott. "She remains to this day one of my favorite people ever because she was one of the only people that encouraged me and said, 'No, you have a unique talent for this thing. You should continue doing it,'" Okafor says. "That was coming from a white woman, when we were usually taught that these people don't see value in us. A lot of them don't in the grand scheme, but she was possibly one of the only ones who said, 'Do not ever stop doing this.'" But her village has since expanded exponentially to include a growing sisterhood of African women. And the limitlessness achieved through the power of the collective is in no way lost on her. "That recognition from other African women for what I'm doing means more to me, I guess, than any other type of recognition ever could," Okafor remarks lovingly. "There's the shared experience there. There's the understanding of just how much work it does take to do the things we are doing in our respective fields. To know that I'm seen, I'm acknowledged and celebrated; that's incredible. It's only through that kind of sisterhood as African women that we can continue to kind of break these barriers. It matters so, so much. If it hadn't been for [their] support, I wouldn't have been able to open the studio. My voice really wouldn't have been heard."
I want to do things that make me happy, not just for the sake of it.
Okafor provides as much as she receives. More than exercise, her classes are therapy for those who attend. She is included in that number. "I just didn't think there was a way to heal," she says referring to her personal experience of childhood trauma from sexual abuse. "People talk about therapy, and therapy's wonderful. I definitely advocate having a therapist, but I felt for me that there was something else. There was a kind of cathartic release that was necessary for me." She discovered that release in dance, and immediately recognized the need to share her story with others. Of course, it resonated. "When I started adding those kinds of aspects to what I was teaching, talking about how it was helping me and having conversations with the women who were coming to the classes, I could see that it was also helping them to release," Okafor describes. "I started to structure the classes more to aid the emotional and the spiritual, so it could meet the physical." The sisterhood, the energy, the art—all cyclical.

When Okafor forecasts her accomplishments over the next five years, they include everything from film and theater productions to using her platform to evoke larger community change to opening her own performing arts school. And for young African girls who want to explore their creativity, the passionate pathfinder assigns this homework:
"Just start writing," she says. "I'm not someone that really enjoys sitting down with the pen and paper, so I would jot things down often on my phone. But it's through committing something to words, whether it's spoken or written, that we can start to create the world that we want. I have an email address that I send myself letters to. Every once in a while, maybe once a year, I go and pick a random letter and I just look at it and think the intention has always been the same. The manner with which that has manifested has been varied, but the intention, what I want to do, the change I want to affect, has always been clear. I wouldn't have had that to look back on if I didn't just write something down."
This article appears as part of OkayAfrica's 100 Women 2018—a project highlighting the impactful work done by African women across the globe. Throughout March, we will be publishing a series of profiles, videos, interviews and feature stories on these inspirational women. Click here to see the entire list of 2018 honorees.