August is Women's Month in South Africa.
---
From poets to rappers to producers and everything in between, South African women artists have always shaped the country's musical landscape. And they don't always play by the rules.
Take for instance, Zoë Modiga's accessible brand of jazz, which is still uncompromisingly jazz, Andy Mkosi who incorporates photography into her music, or Sho Madjozi who is bringing Tsonga dance into pop culture by mixing it with her raps and gqom beats.
Below, we list 15 exciting young women musicians who we believe are pushing boundaries in their craft and how they present it. Listed in no particular order.
Sho Madjozi
Photo by Sabelo Mkhabela.
Sho Madjozi, who is also known as Maya The Poet, is a breath of fresh air, there's no less cliché way to put it. She raps mostly in her mother tongue XiTsonga, a language of the marginalized Tsonga tribe. She fuses her hip-hop with house music and some elements of XiTsonga music. Another interesting element of Sho Madjozi's music are her live performances, in which she does the infamous XiTsonga dance—shaking what her mama gave her like there's no tomorrow. Her single "Dumi Hi Phone" and her appearances on OkMalumKoolKat's album Mlazi Milano, PH's The Break, Wanlov The Kubolor's Orange Card: Fruitopian Raps are some of her many highlights thus far.
Zoë Modiga
Image via Zoë Modiga's Twitter.
Zoë Modiga's a well-rounded jazz musician—she has a great voice, is a great composer, and her live performance game makes her one of the best around. But what sets her apart is her approach to jazz. Her brand of the genre is more accessible to music fans who aren't necessarily jazz heads (and the jazz heads love her too). On her debut album, Yellow the Novel, she flirts with pop and R&B on songs like "Uh Oh (Sensible Life)" and "Love (Yaweh)."
Revisit our interview with Zoë Modiga here.
Andy Mkosi
Photo by Sabelo Mkhabela.
On the surface, Andy Mkosi is just another potent lyricist. But the way she presents her music puts her peers to shame. She understands that her music doesn't work in clubs. So she decided to bring her music to her listeners' homes in her successful Bedroom Tour, in which she performs to an intimate audience in a fan's house. Her latest EP This Audio Is Visual is followed by photography—she interpreted every song on the project with a photograph. She is giving this project another life in an exhibition of the images that accompany her music.
Revisit our interview with Andy Mkosi here.
Fifi TheRaiblaster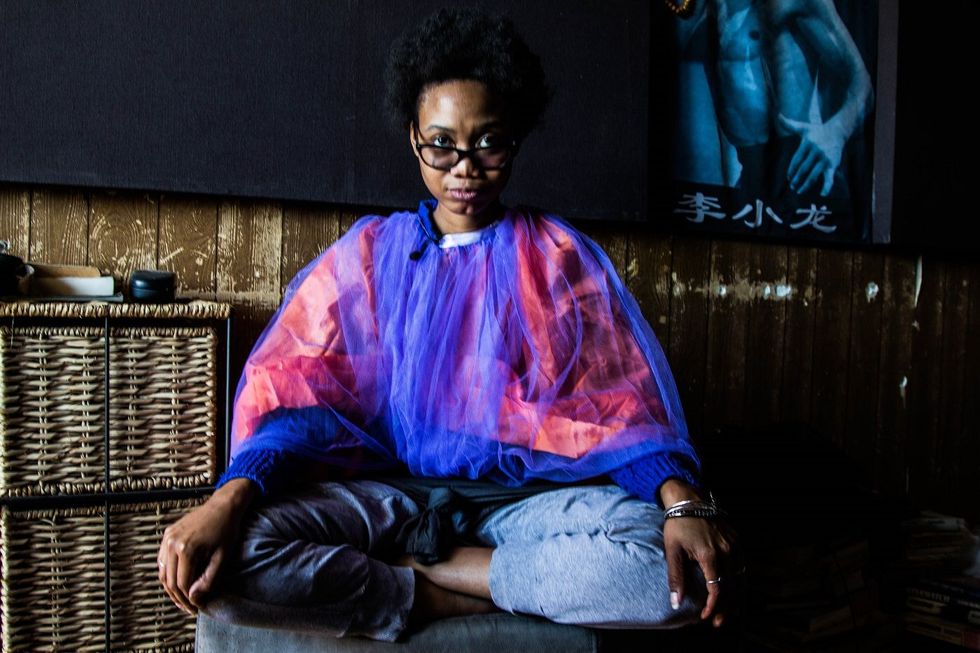 Fifi The RaiBlaster at Iapetus Records studios. Photo: Sabelo Mkhabela
Fif The RaiBlaster is as leftfield as they come. Working with Iapetus Records, a label that prides itself in being free from the mainstream music machine, she fits perfectly. She and her producer Kanif The JhatMaster conjure the most sophisticated combination of vocals and hauntingly beautiful music. She becomes an otherworldly character in her music videos which have touches of science fiction and spirituality. The visuals go well with her lyrics which explore everything from love to astronomy and astrology. Her music doesn't fit any designated genre, as she creates her own rules.
Revisit our interview with Fifi TheRaiBlaster about her latest album Black Matter here.
Push Push
Cape Town-based rapper Push Push is an oxymoron. There's both innocence and ferocity in her voice. Then there are her obnoxiously explicit lyrics—she cares less how you feel about her. Push Push is confident and doesn't care if it intimidates you—actually she prefers that. Her rhymes and character sit well over her preferred beat style, which is mostly bass-heavy EDM-centric beats that induce a booty-shake as much as they do a head-bob.
Nadia Nakai
Photo by Sabelo Mkhabela.
Zimbabwean-born Nadia Nakai is signed to Cassper Nyovest's Family Tree imprint. While a reasonable number of critics may question her use of her voluptuous body for attention, she owns it so well you can't help but respect her for it. She raps about sex unapologetically, and that earned her two verses on Stogie T's self-titled album last year. She shows her body off on music videos and live performances in an environment that's constantly trying to tame her. And her charisma does her more good than bad.
Melo B Jones
Melo B Jones's music is a cross between neo soul and R&B. In a country where most singers of her caliber usually find themselves being house vocalists or doing afro pop, she's sticking to her lane. She's worked with artists such as Ill Skillz and Reason among others. Melo is having fun with her art—a few years ago, she posted covers of hip-hop hits on her SoundCloud page, which eventually became a trend other singers hopped on. The singer's latest EP The Start is an early Christmas gift for the lover of R&B and neo soul—she tells tales of love, champagne and situationships over polished boom bap beats.
Msaki
Eastern Cape-born musician Msaki's music is a blend of jazz and folk. Her voice is midway between a falsetto and alto, which, needless to say, is great for your ears. The soul and sincerity in her music is reminiscent of Joan Armatrading and Tracy Chapman. But Msaki's abilities stretch beyond that, as she has appeared on house songs by the likes of Mobi Dixon ("Love Color Spin") and Revolution ("Spring Tide"). Her album Zaneliza: How The Water Moves is a perfect listen for a Sunday morning.
Nonku Phiri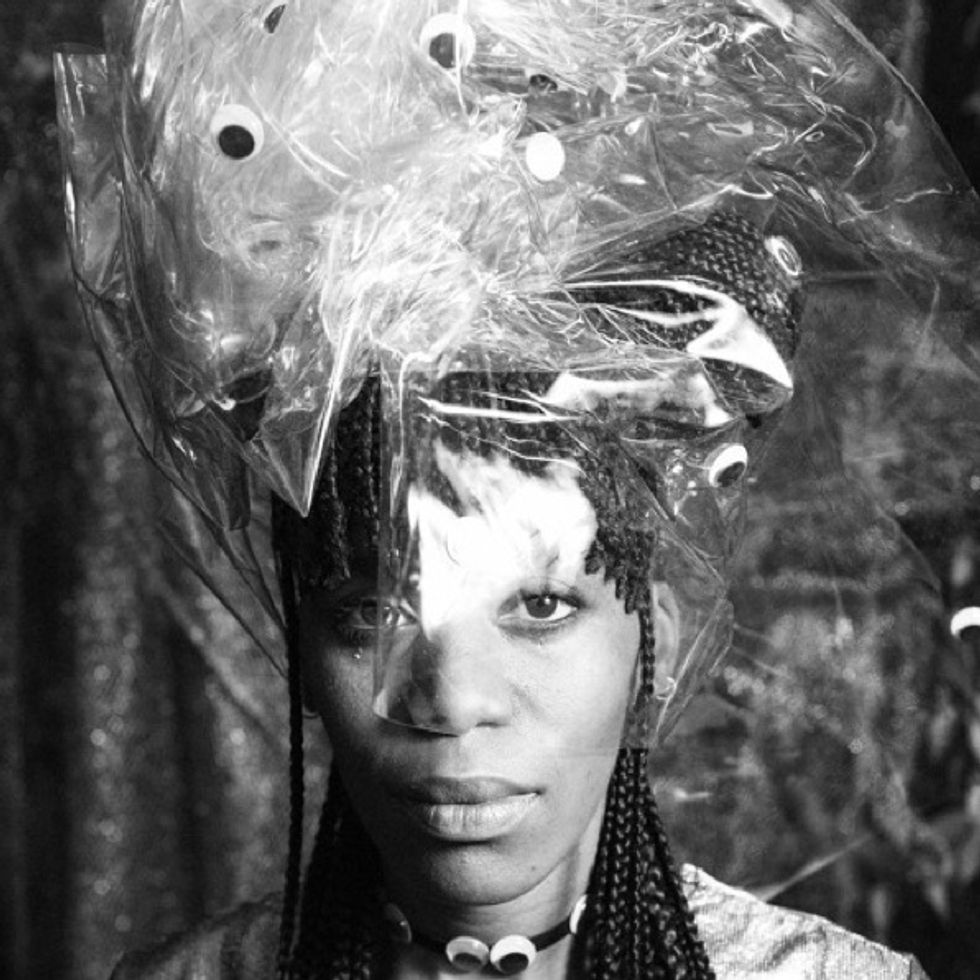 Image courtesy of artist.
Nonku Phiri is a maverick. The artists she collaborates with are unpredictable. Staying true to her hip-hop roots, she has worked with Ill Skillz, Tumi Molekane, Zeus, Camo, among others. But her hits come when she blends her vocals with experimental electronic production—she has made magic with the likes of Card On Spokes, Branko, PH Fat, Mr. Carmack on hits such as "Things We Do On The Weekend," "Let Me Go," and more. Beyond singing, she can also spit some raps under the moniker Jung Freud.
Patty Monroe
Photo by Sabelo Mkhabela.
Patty Monroe introduced herself to the South African music scene in pure style through her single "High Fashion." On the song she rapped over a skittering house instrumental by house music legend Culo De Song. Her single "Killin' It," featuring Uganda's Bebe Cool, saw her explore the concept of rapping over dance music instrumentals, which put her on her own lane. Her trap single "Talk," which was produced by Durban hitmaker Sketchy Bongo, proved she could rap over anything thrown her way. Her debut album Malatjie gives a clear picture of what she's trying to achieve—the album has pop songs, and she goes beyond rapping, as she sings on some songs, to a point where it's difficult to categorize her craft according to genre.
Kajama
Image courtesy of artist.
It's rare to find women who produce in the South African music scene. The Joburg-based sister duo, Kajama, consists of Nandi and Nongoma Ndlovu, is here to disrupt the status quo. Nandi handles most of the duo's production. Their music is a blend of electronic music with sprinkles of East Coast hip-hop. Their soulful vocals float over spacious beats to create a futuristic sound you won't hear anywhere else except on their debut EP, Polarity Prism, which also features production from electronic music mainstay Micr. Pluto.
Shekhinah
Photo by Sabelo MKhabela.
Shekhinah has the potential to be a worldwide superstar. She makes catchy and memorable songs without being corny and repetitive. On songs like "Back To The Beach," "On It," "Let You Know," among others, she displays versatility as she sings over different production styles. Her writing is solid, and she sings effortlessly. With her debut album, which is due out sometime this year, she could change R&B and pop music in South Africa, with her unique approach to the genre, which plays around with EDM.
Read our interview with Shekhinah about her upcoming album here.
Dope Saint Jude
Dope Saint Jude 'Reimagine' artwork by The Seppis
Cape Town-based rapper Dope Saint Jude has carved her own lane, which has seen her getting handpicked by M.I.A for a campaign. It has also seen her perform in some parts of Europe and the US. Maybe her music won't get to shake the the South African mainstream scene the way it does her niche fanbase. But her subversive lyricism which covers subjects like racism, sexuality, sexism and more, makes her an important voice of a generation that is dismantling all the isms it faces.
Read our interview with Dope Saint Jude about her debut EP Imaginehere.
OtarelWorld
Durban-based rapper OtarelWorld is not riding the incumbent trap bandwagon. She's unapologetically 90s—she spits backpack raps over sample-laden boom bap production. While modern rap places a lot of emphasis on catchy hooks and hard-hitting 808s and bass lines, OtarelWorld puts lyricism first over every other shenanigan. Her debut mixtape Dirty All Stars is a true gift for the boom bap head, and is mixed by Grandmaster Ready D, which is a rare opportunity that not many emcees have had.
ThandoNje
Trap soul is slowly taking off in South Africa, but it has mostly been a men's game. Pretoria's Thando Nje has been steadily building her name through her SoundCloud releases. What sets her apart from most R&B singers of today is that she hardly ever uses autotune on her vocals. She laces those cloudy pads and deep basslines with her natural voice, telling tales of love with enviable flair. Thando Nje is prolific—she has already released two projects in 2017 alone, TrustNje and New Age Soul. Also, don't sleep on her covers.