Yesterday, Okay Space hosted a discussion between UN luminaries Ahunna Eziakonwa, Mohamed Yahya and OkayAfrica CEO, Abiola Oke about the new UNDP report, Scaling Fences: Voices of Irregular African Migrants to Europe. The report examines young Africans who are leaving their homes to make the dangerous journey to Europe for economic opportunities—not solely for asylum or to escape persecution. The evening was both enlightening and sobering, and the main findings may be a little different than what you might expect.
---
Immigration to Europe from Africa is roughly 90 percent lower than what it was in 2015.
In 2015, slightly over 1 million Africans left for Europe. In 2018, it was just over 100,000. However, the percentage of those who drown on the journey has increased. In 2015, it was 1.6 percent of that million, while it grew to 2 percent in 2018. Meaning just over 2,000 people died enroute in 2018 alone. It is a disturbing factor that, four years on, more people are dying proportionately than when the large migrations began.
Even though most of Africa is rural, most of the youth leaving the continent for economic reasons are from the urban areas.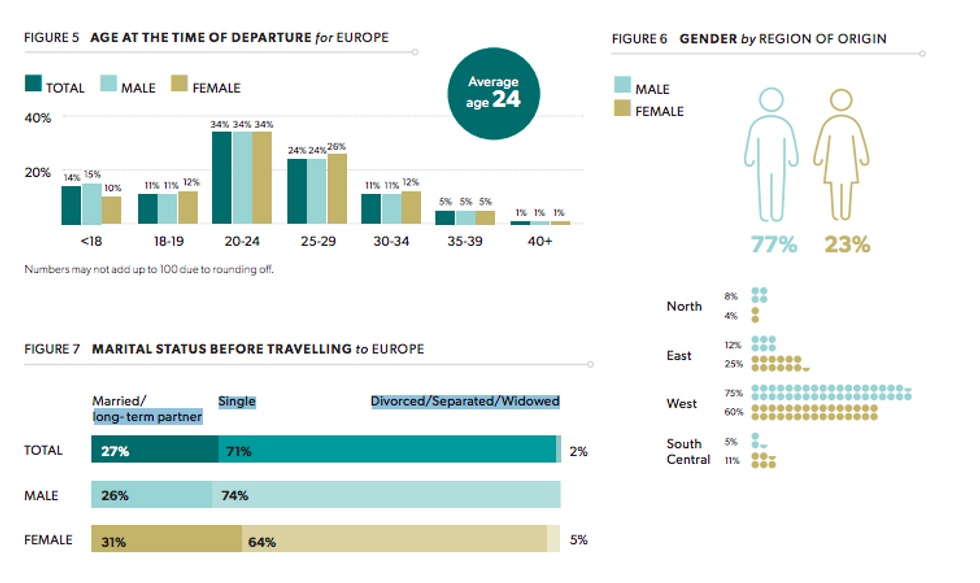 85 percent of those who the report identified came from urban cities or towns, though only 45 percent of Africans overall live in those urban areas. This means that most of them are coming from regions with "relatively low levels of deprivation." Analysts believe the rapid urbanization of many African cities could be a contributing factor. Benin City, Nigeria, for instance, has urbanized 122 percent in only ten years. These cities cannot actually support the people—and their ambitions and talents—who live there. It plateaus and does not allow for further upward mobility.
Only 2 percent of those who left say knowing the dangers would have deterred them.
This means 98 percent would do it again, despite the knowledge of fatalities and difficulties in crossing. The appeal of elsewhere is greater than death. This realization is crucial for all nations to better comprehend the true elements belying migration, particularly for those that this report is concerned with. Of the 1,970 migrants from 39 African countries interviewed for the report, almost all of them are willing to face death for economic opportunities abroad than stay home. As most of the migrants had relatively comfortable lives at home, they are not migrating to flee death or persecution as with asylum seekers. This prompts great questions and led the report to look at the issue from four angles: home life in Africa, motivations for leaving, life in Europe, motivations for returning.
58 percent of those who left were employed or in school in their home country.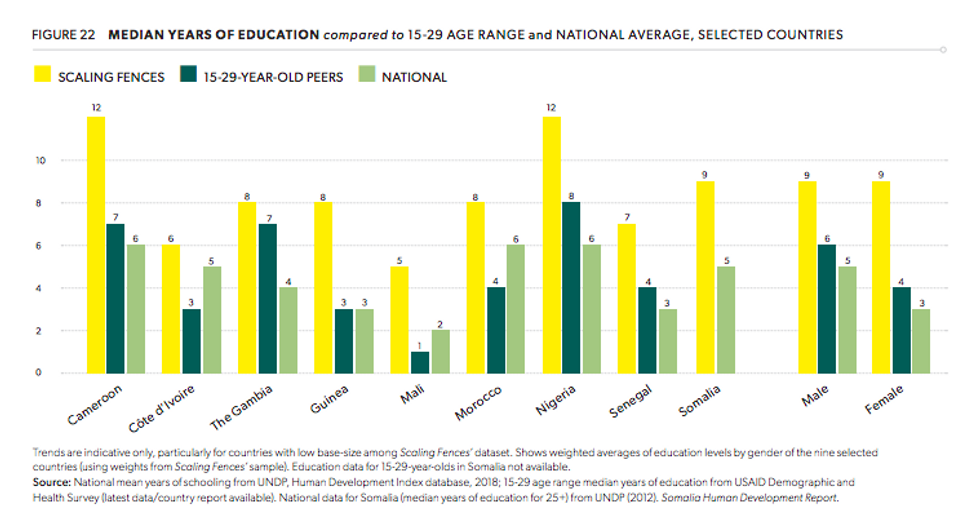 Not only that, in almost every demographic and country, those who left had a considerably higher amount of education than their peers. From Malu, those leaving had an average of five years of education, compared to one year with peers in their age group and two years for the national average. In Cameroon, those leaving had an average 12 years, their peers had seven and the national average of six. Even when broken down by gender, both men and women who leave have about nine years of education while the national average is five and three, respectively.
Though the average African family size is five, most of those who leave have an average family size of 10.
When asked, migrants said their main motivation to leave is to send money home. This information is important as it may impact the motivations for needing to leave. The report reasons that an increase in population may also be playing a role in the motivations to leave. It was also reported that those who go abroad and find work send an average 90 percent of their earnings to their families. Essentially, they are leaving existing jobs to live on 10 percent of their new wage, highlighting that working below minimum wage in Europe is more prosperous.
Though 70 percent of those in Europe said they wanted to stay permanently, those who were working were more likely to want to return to their home country.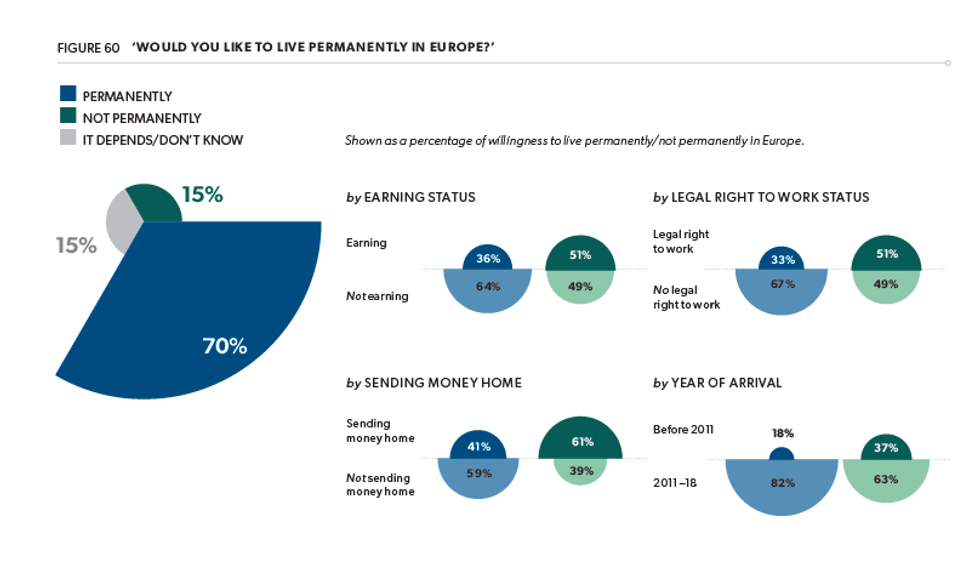 Conversely, the majority of those who did want to stay in Europe were not earning anything, 64 percent of them, and 67 percent did not have a legal right to work. Over half of those who did want to return home had a legal right to work. Analysts reason that those who did want to stay would likely change their mind once they had an income. This correlation speaks to a significant relationship between work and migration permanence. It also underlines the claim that migration for this group is focused solely on economic results as opposed to social factors.
***
What was most striking about the event, however, was the strong feeling communicated in the space about exchanges between Africans regarding what needs to be done. The discussion did not only surround the facts and figures alone, but also the humanity behind understanding why people migrate. At one point, when addressing the crowd of various influential people on the continent and in the diaspora, Eziakonwa said "What are we missing here? What are we doing by leaving young Africans out of the development discussion? Our programs are clearly failing our African youth."

Later, Yahya responded to a question by stating there was certainly a cultural barrier in which Africans do not often address, listen to or respect the youth. "I can say by looking at you that no one in this room would be given a true say," he said. "This is clearly part of the issue." When asked what can be done by others, the response was to work to change the narrative, to focus on prosperity rather than charity and to provide better access and platforms for African youth to share their stories so that the idea of who migrants are shifts. And so we, as Africans, can better know ourselves.
Check out some photos from last night below with photos from Polly Irungu. Follow and share in the changing of that narrative via #ScalingFencesUNDP and #MyJourney.
Photo by Polly Irungu
Photo by Polly Irungu
Photo by Polly Irungu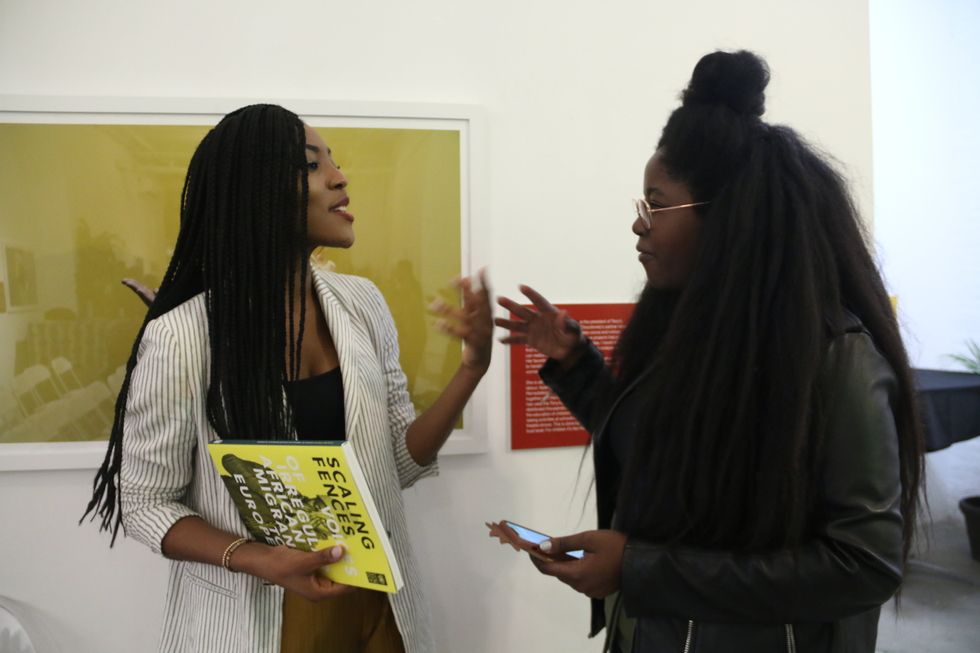 Photo by Polly Irungu
Photo by Polly Irungu
Photo by Polly Irungu
Photo by Polly Irungu
Photo by Polly Irungu
Photo by Polly Irungu