In an intimate space in the Lower East Side, Kholisile Dhliwayo brings a variety of spectators who are equally curious and conversant about the pieces art hung neatly on the wall. The bright room is packed elbow to elbow with creatives and art lovers alike, speculating about what each piece means and how Dhliwayo managed to fit such great art into one room. Due to the vibrant conversation, it's clear that no one is paying attention to the live music that played throughout the night, but the free wine might also be the cause. Whatever the reason, the crowd is enjoying each other's company, while discussing the socio-political landscape of Africa.
The Zimbabwean architect is the mind behind AfrOURban—a collective that showcases art made by people who document the architecture, culture, and urban spaces of the continent. Dhliwayo feels it's time to tell a more full story about what it means to be urban and African, so he thought an art exhibit would be a great start. Art, to him, is the most natural way in which for centuries, societies have documented and expressed themselves. While there are individuals documenting this both directly and indirectly, there's no space for these ideas to come together and be discussed, particularly in the diaspora. The exhibition and collective hope to do just that—document and express the many characters of the metropole on the continent and whether these factors inform culture or are informed by it.
---
The main goal of the exhibition is to get Africans both on the continent and in the diaspora talking about our cities, the beautiful, the ugly, the bad and the good. We caught up with nine of the artists who showcased their work at the AfrOURban exhibit to learn more about their work, what inspires them and how they plan to contribute to this discussion.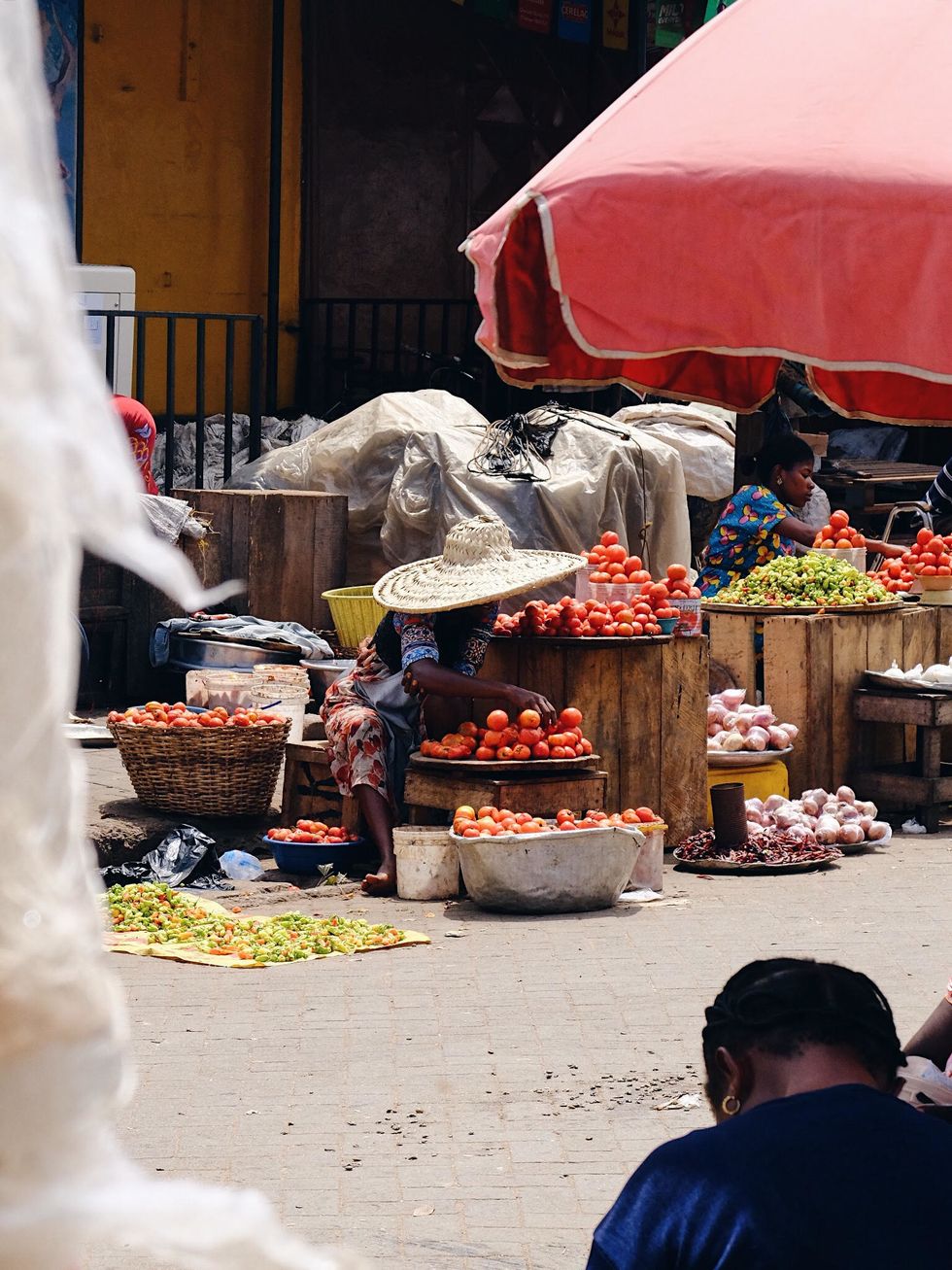 "Kaneshie Woman." Jessica Sarkodie. Photo courtesy of afrOURban.
"My desire to tell a story of the African continent that is dynamic, contrary to what has been told so far, is what motivates me. As part of Ghana's truth which includes poverty, zealous religion and corruption, yes. But our truth also consists of beautiful beaches and a luscious green lake front. I want to help change the narrative about us and our spaces. It is satisfying to know that people who don't even know where Ghana is on the map, now want to visit because of my photos. I suppose by being observant, seeing what others do not easily see, the story I'm trying to tell already exists—I'm just capturing it. I'm not creating something that isn't already there, I'm only illuminating it."
Komi Olaf - Lagos & Kaduna, Nigeria
"Yamaya." Komi Olaf. Photo courtesy of afrOURban.
"I have often wondered why our African ancestors never pulled their resources and expertise to build their own ship, with the sole mission of following the slave ships that came to Africa for over 400 years to buy slaves. When approaching my work, I draw inspiration from the idea of reconnecting Africans on the continent with lost distant relatives through symbolic language by using the symbols in the paintings and providing explanations of the symbols in the description of the works.
'Sankofa,' for example, is a recurring symbol in my work often represented as a bird reaching back or a heart shaped symbol. It means, 'It is not bad to reach back and retrieve that which you have forgotten.' By using the symbols in the paintings and providing explanations of the symbols in the description of the works, I choose to create what I create because I believe it is important to plan for what happens after the status quo is shifted. Black people all over the world are often marginalized and viewed as second class citizens, often fighting twice as hard as everyone else to receive basic human rights. I want to create inspirational visuals of a world where black people are celebrated, I want to present black people in the full essence of their glory without having to worry about how it would make other people feel."
Ly LAGAZELLE - Abidjan, Côte d'Ivoire & Morocco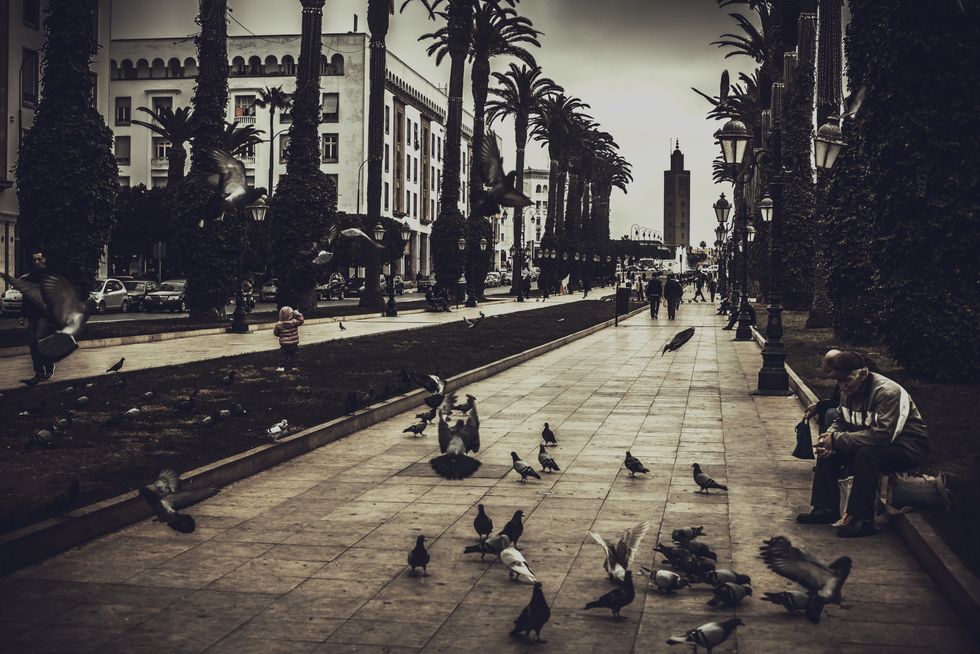 "Reflexion." Ly LAGAZELLE. Photo courtesy of afrOURban.
"I'm inspired daily by the photography I capture every morning of everyday life in Abidjan. My work has a certain sensitivity since I work in black and white. I manage to convey a certain emotion of a dark society in a fun way that shows another side of Africa. Apart from the sad cliches, I hope people can see the joys of living on the continent with all it's beauty and glory."
Masimba Madondo, Harare, Zimbabwe & Yaounde, Cameroon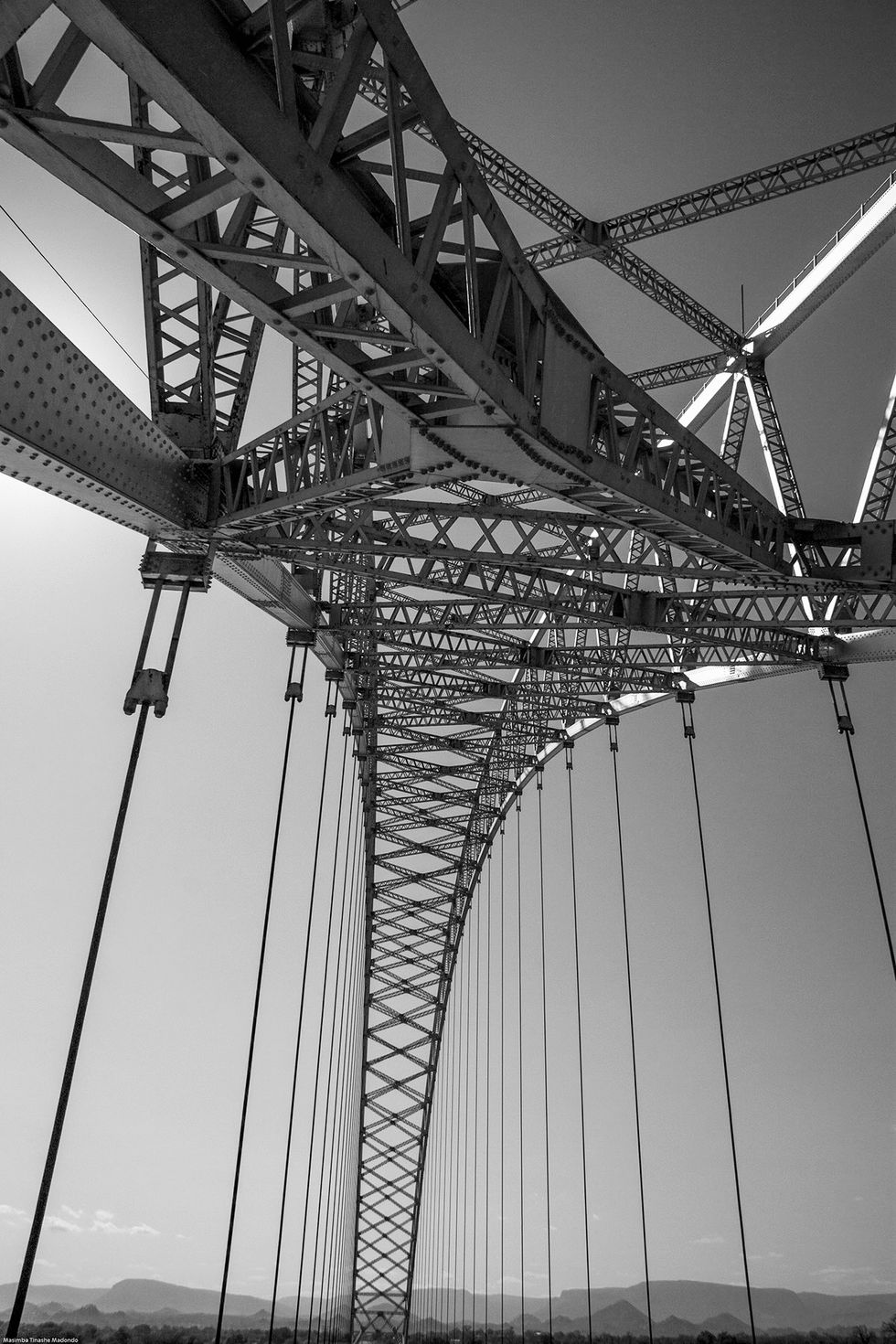 "Birchenough Bridge over Save River-Birchenough, Zimbabwe." Masimba Madondo. Photo courtesy of afrOURban.
"I am inspired by an appreciation of simple elements of our environment. The way space, shapes, and shadows, play a major part in evoking something in me. I believe that the soul is in sync with the aesthetic—that correlation between what I see in front of me, and how feel. I create work that exposes beauty that goes unnoticed or is taken for granted because of the context or environment it exists. Architecturally—I want to draw people to the genius that is behind creation. To show the intent and style of the creator. Landscape and nature—how hills and valleys are not just masses of land, but a result of nature's processes: a reflection of intelligent design. I can't verbally express the way I feel when I look at works by Ansel Adams, Micheal Kenna but I can show it through my own lens."
"My work is inspired by an innate desire to tell stories. Film is my medium of choice because it makes use of all the seven art forms and blends them into one amazing experience. This offers a challenge to any filmmaker that forces one to utilize all their creativity. I am also inspired by the desire to build a sustainable and profitable African film industry one film at a time. I believe the future is Pan African. This too applies to film. I show that in my art by filming in as many African countries as budget and script will allow. In 'The Gentleman' we had a Pan-African cast, with our lead being Zimbabwean and South African. We also had a Malawian actress who then helped facilitate a sold out premiere in Blantyre, Malawi."
Nora Dei-Anang - Nairobi, Kenya & Accra, Ghana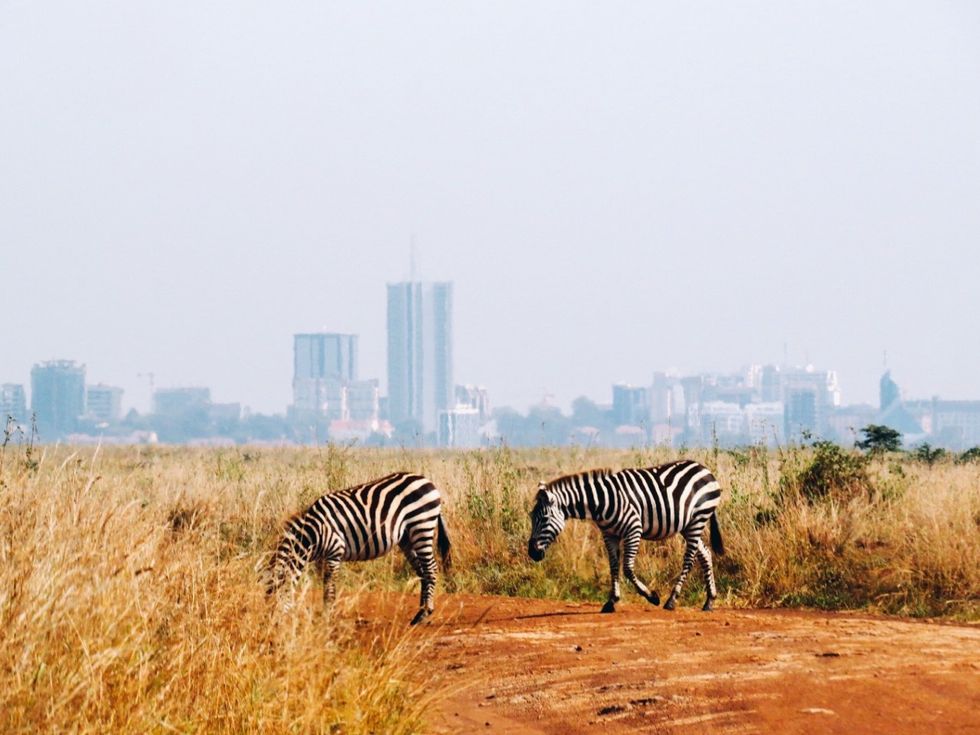 "Zebra crossing in the city." Nora Dei-Anang. Photo courtesy of afrOURban.
"I am most inspired by the environment I find myself in. I also find the work of other photographers inspiring, especially those that I follow on Instagram. Their work makes me want to go out and take pictures, or find the beauty in everyday sometimes mundane things.
I find that if I am positively inspired by the environment I find myself in in a given time, the photos that I create tend to come out very well. Conversely, if I am not in a place that inspires me or I don't particularly like, I am not very inspired and have to force myself to be creative, which doesn't always result in my best work. However, this isn't always the case—sometimes not immediately being inspired forces me to look for inspiration in different places, thus sparking creativity and open-mindedness."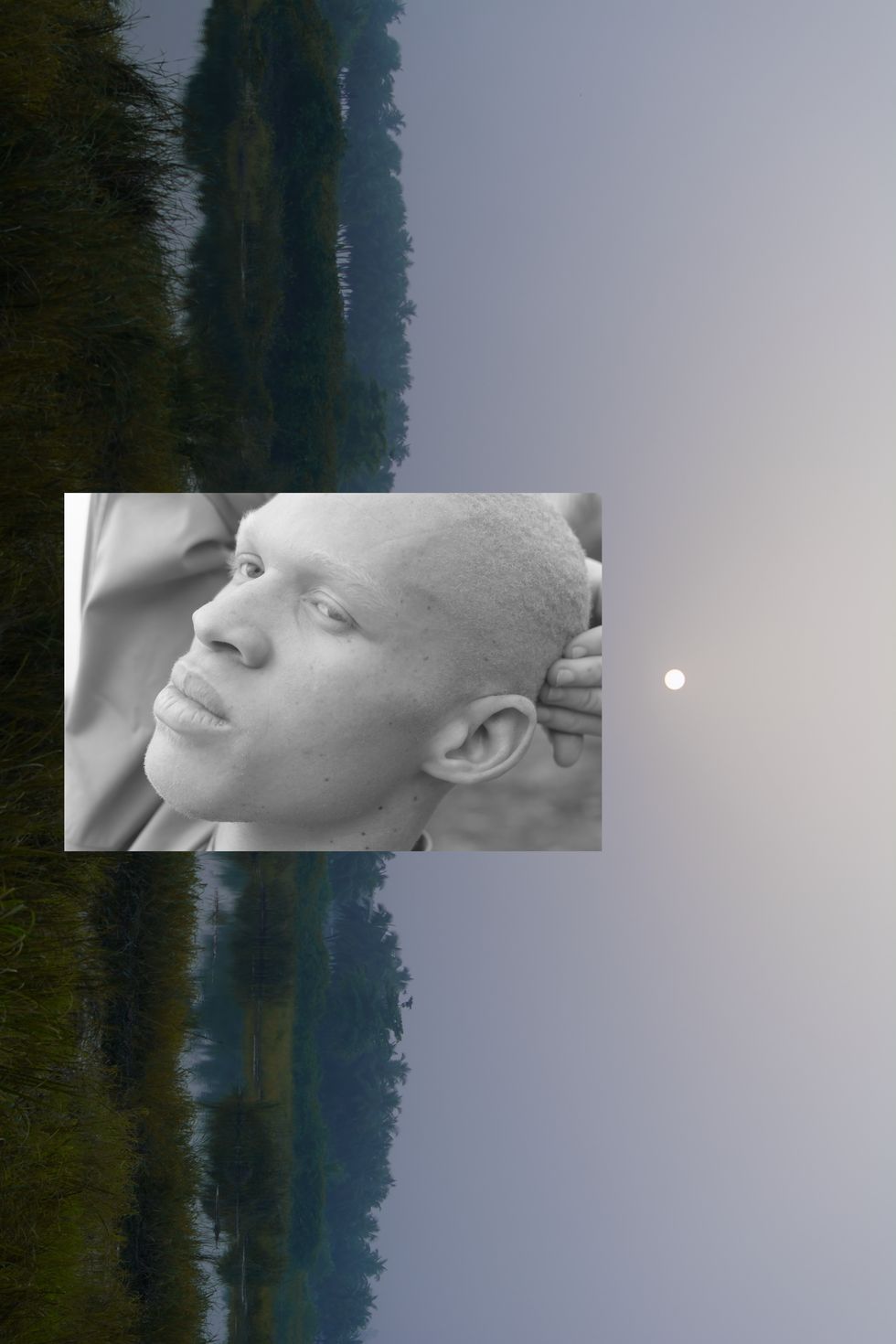 "Shells." Nuits Balnéaires. Photo courtesy of afrOURban.
"The seaside nights—its haunting atmosphere, this endless journey. Abidjan, its energy and its unique aesthetics. The sea under Storm, the darkening of the sky at dusk by bats, the region of the Gulf of Guinea. And what is happening here—people and their habits, their lifestyle, emotions, daily stories and organizations of peoples for centuries.
I question a lot about what people can feel or have felt on a daily basis, especially here. Their happiness, sorrows, dreams, pains, how they perceive things and why? The absurdity of life, in all its forms, beliefs, time and emotions. But also music, aesthetics & culture from any horizon. So many elements that fascinate me.I like to explore both nature and urban landscapes in my compositions, inspired by daily lifestyle of the cities I live in. I also like to mix freely various influences, both African, Western, Oriental, or just digital. I am black and African, born and raised in Abidjan but also feeling global, thinking beyond the geographical boundaries inherited from colonization. It is a city that explodes culturally where nearly 70 ethnic groups gather without counting the populations coming from other countries (France, America, West Africa, Lebanon). You are very quickly confronted with a multitude of different cultures and personalities. It's particularly rewarding."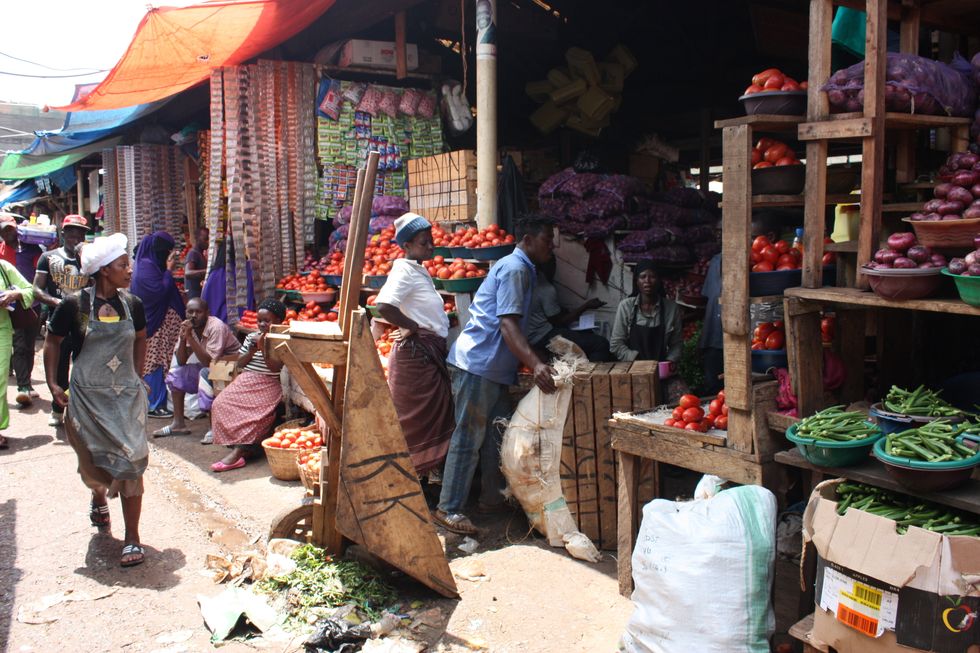 "Daily Deliveries." Randi Karangizi. Photo courtesy of afrOURban.
"I spent a period of six months studying markets in Kampala. The market spaces were contested by a range of different actors and faced with various challenges, but I chose to look deeper beyond these constraints. I was drawn towards the complex and dynamic processes of trade that enable these spaces to run and become a source of livelihood for thousands of people. My work is a natural reflection of my observations; I took a series of photographs within and around markets in search for new representations and ways of expressing the vitality of the city. I am passionate about showcasing African cities through a positive lens; our cities are rapidly growing and transforming but there are so many untold stories and experiences that we do not document. Our generation has the opportunity to express the vision of cities we want to see as we grapple with solutions to some of the major challenges faced by our continent."
René Tavares - São Tomé, São Tomé and Príncipe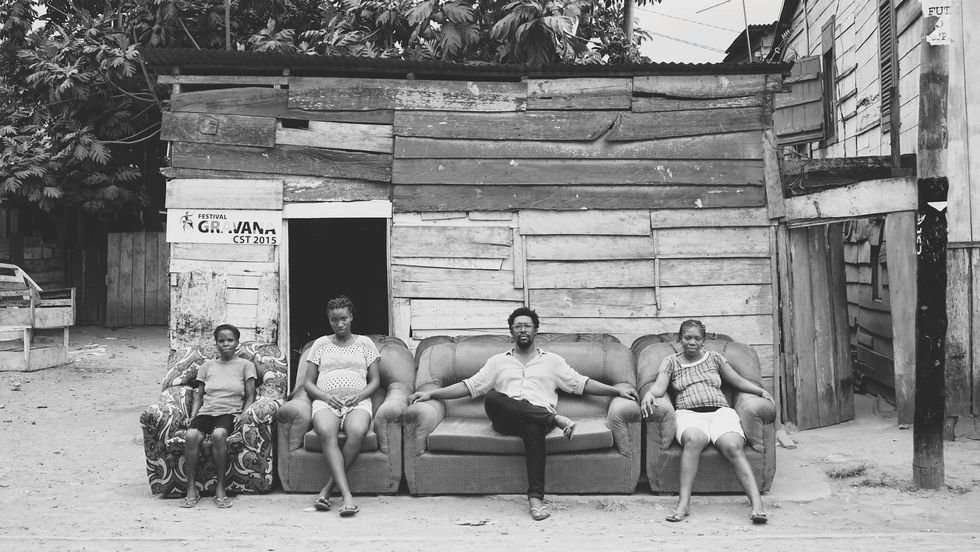 "Des Localização." René Tavares. Photo courtesy of afrOURban.
"My work reflects on the African diaspora and on the forms of miscegenation that have taken place, it is also reflects my creative process as an artist in keeping with the rhythm of a mestization that overlaps times, places, and supports, diluting the watertight borders between domains. The means of expression can be painting, drawing, photography, video, or performance, depending on the idea I want to convey. My artistic practice can be considered a 'work in progress' that reflects on my own experience of the passages, the threshold spaces between the various artistic languages, between Africa and Europe, between the local and the global. Through questioning borders, I express myself so as to awaken political awareness and social empowerment by creating in a way of restlessness."