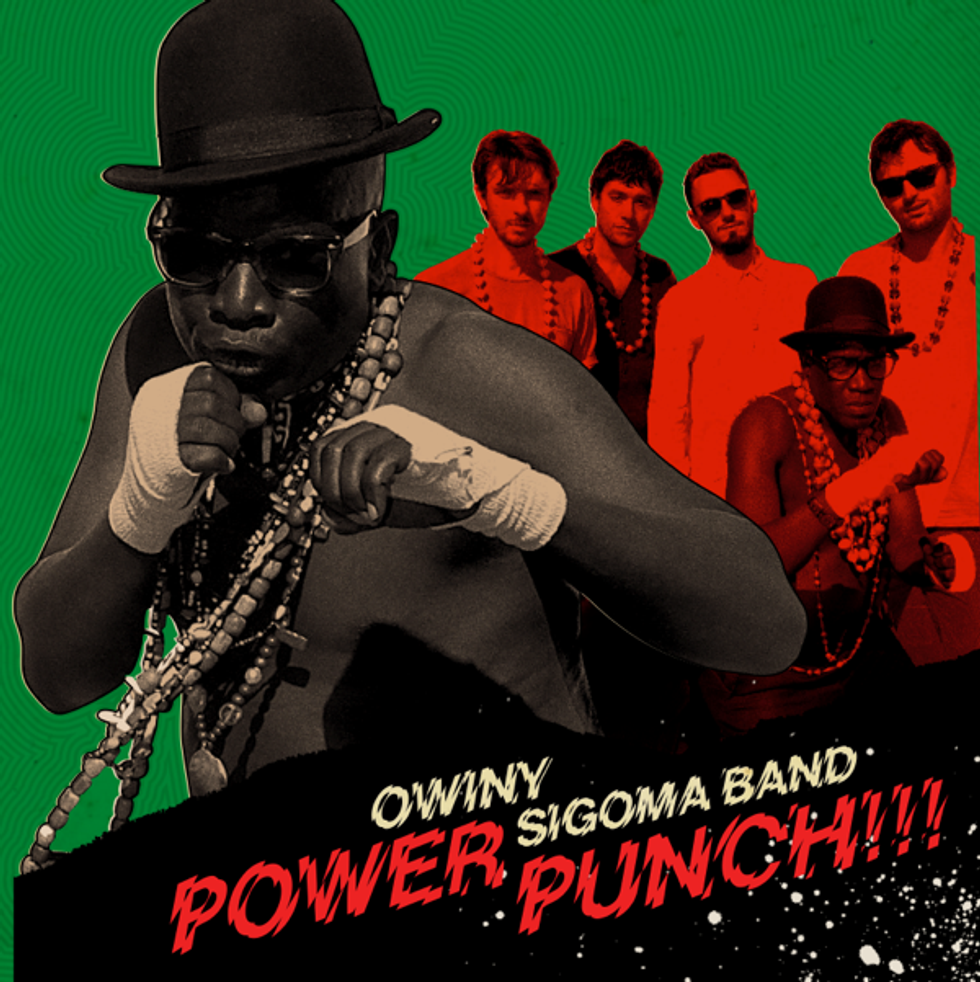 ---
London/Nairobi seven-piece Owiny Sigoma Band are prepping the release of their sophomore 'Power Punch' LP, a continuation of their potent blend of traditional music from the continent; drawing from Kenyan nyatiti and nyiduonge drum playing and a wide range of modern electronic/pop/punk influences. Stream/download upcoming album cut "Magret Aloo" and read our conversation with keyboard player Jesse Hackett below. 'Power Punch' is out April 8 on Gilles Peterson's Brownswood label.
Owiny Sigoma Band's compositions live in a peculiar sonic space between traditional Kenya/the diaspora and modern London. How do you describe your sound?
It's hard to describe our sound. Whilst the core signature sonic is the nyatiti, an eight-stringed Kenyan harp, we use elements of punk, disco electronic and pop sensibilities. It's a peculiar mix that reflects the diverse influences and playing experience each member of the group brings. I like to think of us a bit like a psychedelic African jam band with pop leanings and a good sense of humour. But I'm sure the other members have there own ideas about our identity. We're a true mongrel collaboration.
How does Power Punch differ from or expand on the debut LP?
We wanted to expand and come with a different sound with the second record. Great bands keep evolving and throwing people of the scent, asking questions and switching it up. This record is harder and darker than the first one with a more electronic dancefloor lead sound. We chucked out the afrobeat and went more for a space aged African granddad feel.
Can you tell us about the songwriting and recording process for Power Punch? How did you tackle writing the tracks this time around?
The process was hard and there was much deliberation, internal bickering and power (punch) struggle through out. But all in a creative remit. If there is no struggle I guess thats bad and the tension I believe ultimately made for a more interesting record. We recorded the bulk of the Kenyan songs with live drums over 3 days.
We also did some sessions with Joseph and Charles playing to drum machines and even replacing the nyatiti and ndonge drums for OP 2 synths and other electronic toys. It was a joy to see how they both approached making electronic music. Very freely and with a sense of playful charm. I was keen we all swapped instruments throughout and kept throwing "musical grenades" into the mix. Blowing apart our notion of what we were and promoting artistic dillemor, confusion, and chaos. Ultimately we worked together, individually and in different pairing to create the record, but agreed as a group what was staying and what was being axed. (A few heads where nearly lost)
Where was the album recorded/produced? Did the environment have an effect on the music?
The album was recorded in London during the summer. In hindsight I'm so glad it was summer 'cause I think it still has that sunshine sound in it that we captured in Kenya the first time round. Spirits where high. It's actually all recorded at our mums house in a front room. I think we had a clearer objective with this album as the first was a real unknown, so the recording process was a little more professional and concise. Whether this makes for a better record is up to the listeners to decide.
What other bands/musicians would you say influenced 'Power Punch'?
We have a big range of influences in our band. Whilst we love classic African music and musicians such as Thomas Bevy, William Onyearbor, Shangaan Electro, Saharan Cellphones and Konono no. 1, there is also a love for bands like Talking Heads, Liquid Liquid, CAN and Arthur Russell.
This is your second album on Gilles Peterson's Brownswood label, how did the connection with Gilles come about and how did it lead you to get signed by him?
Gilles has been a fan of some of our side projects including Elmore Judd and Hello Skinny for a while. It was through this connection that we played him the original Owiny recordings. The rest is history.