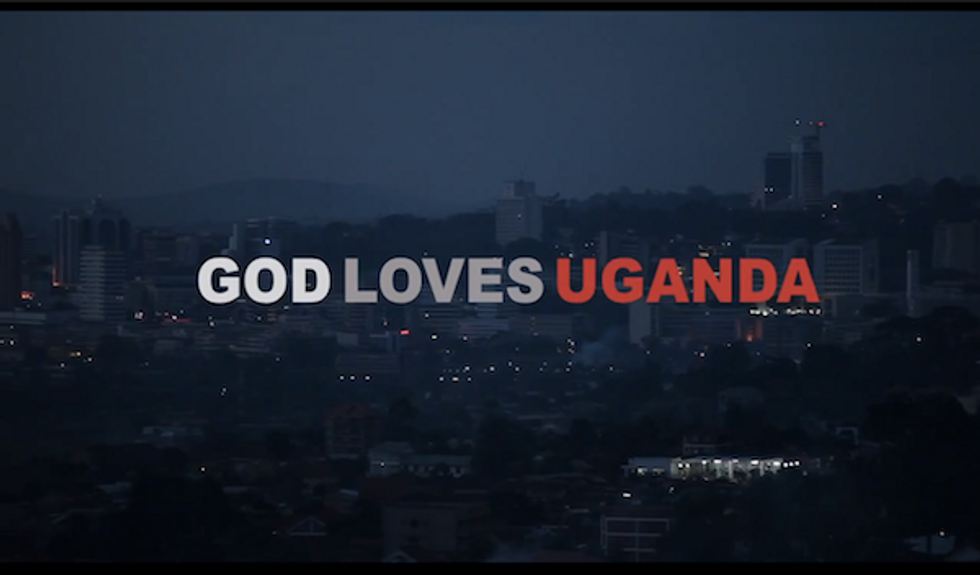 Watch a clip + trailer for 'God Loves Uganda,' an important new film exploring the American evangelical right's involvement in the anti-gay movement of Uganda.
---
In general, we don't like to beat our readers over the head with repeated information, but sometimes a project comes along that is so important we can't help but make sure everyone gets the message - which is completely the case with new documentary film God Loves Uganda. Previously, Okayafrica mentioned the film as one of the can't miss films of this year's Sundance festival. Now that the fest has long since wrapped, we want to make sure you don't forget about this eyeopening work as it prepares to make the rounds in the United States at a number of venues over the next two months. In 2012, director Roger Ross Williams became the first African American to win an Academy Award in his category of Documentary Short for Music for Prudence, a film profiling the life and work of disabled Zimbabwean singer-songwriter Prudence Mabhena; God Loves Uganda is Ross Williams' feature length debut. In this short clip, the filmmakers interview one of Uganda's leading anti-homosexuality proponents in the wake of a protest taking place at the grave site of murdered Ugandan LGBT advocate, David Kato.
On a broad level, the film examines the rapidly-growing evangelist movement in America, and their continued interest (both cultural and economic) in spreading their theology throughout the world, particularly Sub-Saharan Africa. It's a fascinating look at both the violent anti-homosexuality movement in Uganda that's been highly publicized by the Western media, as well as the heavy involvement in that movement by America's conservative evangelical right that doesn't receive the same attention. In an interview with IndieWire, Ross Williams says he hopes audiences will come away from the film understanding "that Africa should not be a dumping ground for American conservative ideology. And, that when you unleash a message of hate and intolerance, no one is safe." The issues are complex, but we completely agree. Watch the trailer for God Loves Uganda, and check the festival dates for screenings below.
UPCOMING SCREENINGS:
4/4 - 4/11 Palm Beach International Film Festival - Palm Beach, FL
4/3 - 4/14 Cleveland International Film Festival - Cleveland, OH
4/4 - 4/14 Dallas International Film Festival - Dallas, TX
4/25 - 4/28 Sundance London - London, UK
4/25 - 5/05 Hot Docs - Toronto, Canada
4/25 - 5/09 San Francisco International Film Festival - San Francisco, CA