On January 1 the annual pre-carnival festivities officially began for the carnival that will take place this year at the end of March in Barranquilla, Colombia. Picós (from the English for "pick-up") are at the heart of these parties taking place in the streets, houses and venues in various popular neighborhoods in Barranquilla and Soledad (a city on the outskirts of Barranquilla).

These retro sound systems, also called turbos, are decorated with fluorescent colors. They have been a symbol and identity of the city for a long time. The ethnomusicologist and musician Andrés Gualdrón says, "The picó sound system was used to musicalize parties, festivals and Carnival festivities in Cartagena and Barranquilla."
"The presence of records from the African continent started in 1970 in various picós along the Caribbean coast," says Gualdrón, who has been studying the origins of champeta music. In Colombia these vinyl arrived mostly to Cartagena and Barranquilla thanks to music collectors.
"There were plenty of people bringing African vinyl like Osman Torregrosa and Donaldo García who made a lot of trips into Haití, Guadalupe, Curazao and bought these records in foreign languages," adds Gualdrón.
---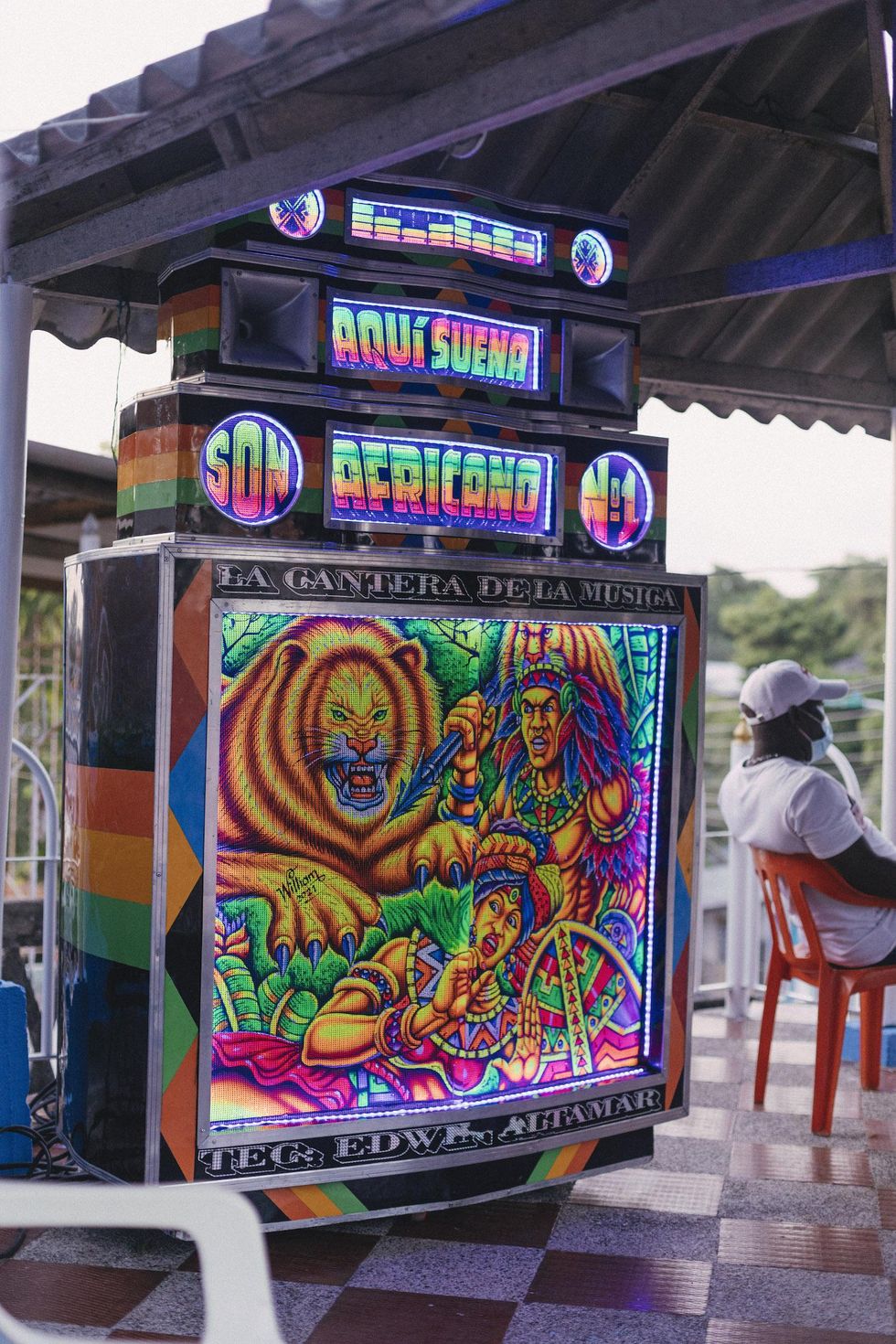 Picó Son Africano speaker sound system.Photo: Daniela Murillo.
Music collectors usually removed their original names to make them more exclusive and avoid people knowing where they came from. Today many picoteros refer to African music as a general classification. However,"the origin of this music was mostly from countries like Congo, Nigeria or South Africa, as well as from the Caribbean – Haiti and French Antilles," says Gualdrón.
"In Barranquilla the most popular (music) style was Soukous from Congo as well as Caribbean rhythms like Zouk and Soca. There are records that came from South Africa, Cameroon, Kenya, Congo and Central Africa," says Gualdrón.
Today, more than 50 years since these sound boxes appeared, they still liven up parties in pool halls, bars, houses and streets along popular neighborhoods fostering cross-Atlantic connections with the African-rooted music genres.
OkayAfrica features three exclusive Afro-Colombian picós and picoteros (a DJ who plays this sounds system) to highlight not just the masculine world behind it –generally the owners and DJs are men and the picó names often refer to a male hero, war inconographies or fetichisms – but women 'picoteras' who reflects the diverse and a nostalgic feeling to bring back sounds of the African and Afro-Caribbean rhythms from the '70s.
"El Richi" by Alayn Guzmán and Angélica Bossio - Soledad, Atlántico
Photo: Daniela Murillo.
A fluorescent sound system made by four speakers with a portrait of the pianist Richie Ray, a former member of the legendary Fania All-Star is a kiosk in Soledad. It's run by the DJ or picoteroAlayn Guzmán, who always preferred buying new LPs to getting a new outfit.
He inherited the obsession for picós from his grandparents who owned a venue in Soledad where he used to hang out at El Gran Guerrero sound system. He tried to emulate it and started to collect music when he was 12.
He realized he could actually play a picó and joined El Richi sound system, which stands out for its classical verbena repertoire. For Guzmán verbena "not only refers to African music but the rhythms that were played in the '70s, in all the dancing kiosks and neighbors such as tropical music, Caribbean, merengue, vallenato, jibaro and salsa."
Alayn, 38, is a classic 'picotero' and his music evokes the verbena parties that have been lost in the dancing venues. With a collection of more than 3,000 vinyl he keeps buying remastered or rereleased musica Africana, like a record originally named Bassar and known by its 'Piconema' –a nickname local sellers give to the album to identify it with a catchy name– as Mencha Palenquera. Other hits records are El Cheque by Empire Bakuba, La Mesedora by Orchestra Viva Makale and Zaiko Langa Langa by Avis de recherche "Nkola Mboka."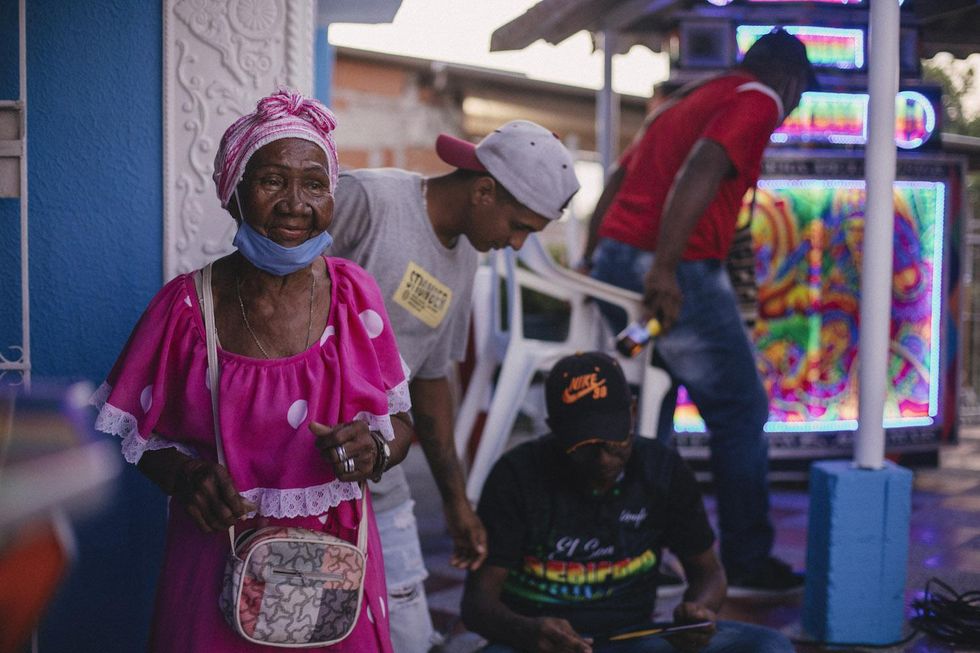 Norma Zúñiga and Antonio Navarro.
Photo: Daniela Murillo.
But Alayn is not alone in this. Angélica Bossio, his wife, also plays his picó. Despite being stigmatized as a masculine sphere, Angélica believes that "now there are plenty of women out there playing music from the picós sound systems."
Angélica was named La Guajira by veteran picotero Fernando Viloria, former DJ of El Huracán picó. For the past two years she has been programming music with her husband Alayn because music rounds last at least 12 or 13 hours. They usually team up with her husband. "But it is hard because when I go to a venue I have to do some home chores and leave my children ready before I go to a party."
Angélica, 38, says, "I dream about having and managing my own picó with the name in it: La Guajira." She says, "Until now I haven't heard of a picó with a female name." She was mentored by others like la Pechi Picotera and strongly believes "Women can also play the turbo," and adds that: "I'm the person who wants to keep-up with my husband."
She prefers only using vinyl and that's what sets her apart from other picoteras that use more technologies to play music. In her music rounds often plays African champetas like Mambote, El Cheque and El Mini Kusuto by Viviano Torres. An iconic album from Anne Swing, released in 1988, that was a foundational album of the genre "Champeta Criolla," according to music critics.
Son Africano by Norma Zúñiga and Antonio Navarro, Barranquilla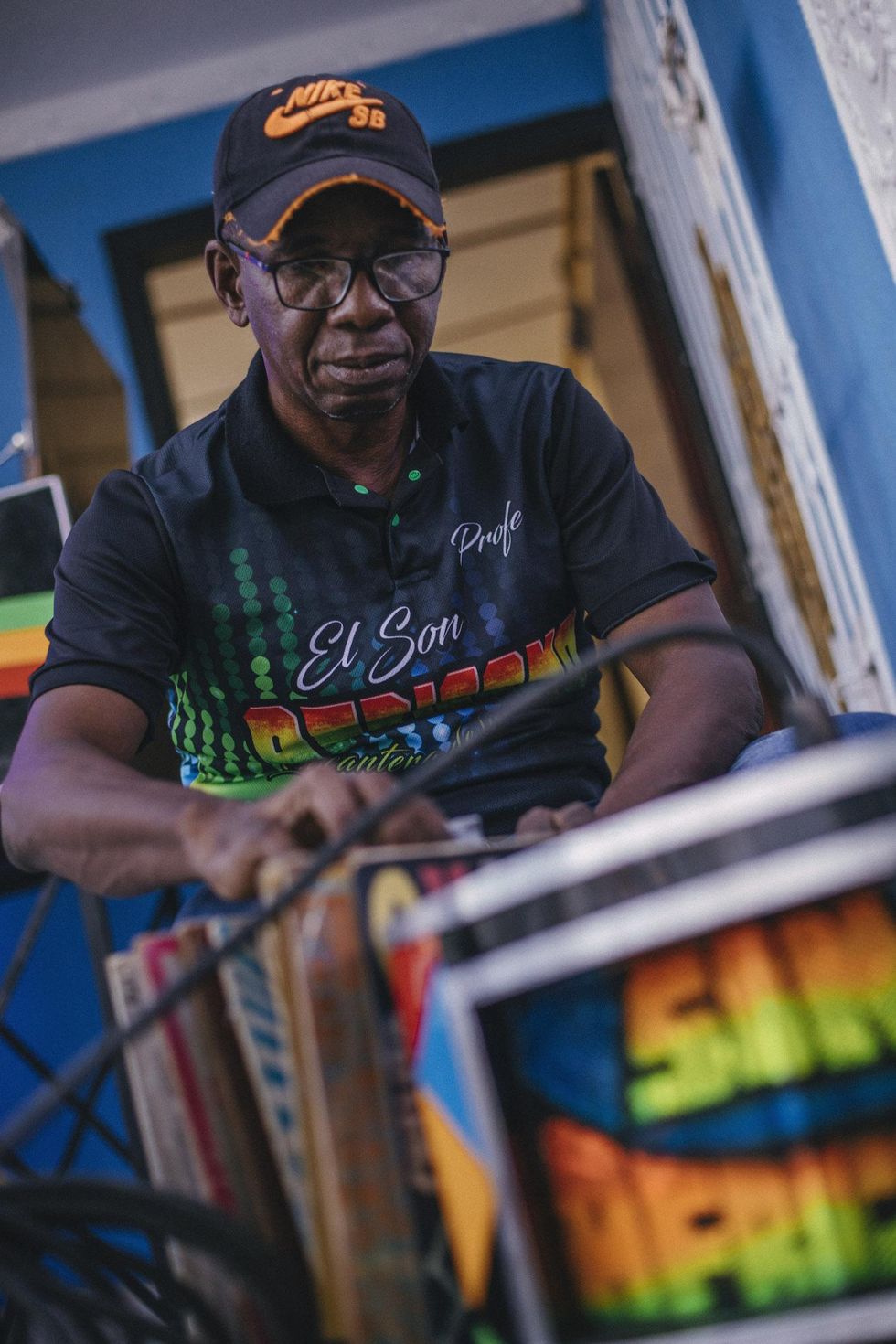 Antonio Navarro known as El Profe
Photo: Daniela Murillo.
Barrio Nueva Colombia in the southwest part of Barranquilla is what many called the "Afro-Colombian" neighborhood within the city. Norma Zúñiga, an Afro-Colombian woman from María La Baja Bolivar, northern Colombia, sits next to her orange and green legendary sound system El Son Africano, painted by William Gutiérrez, a visual artist who became a aesthetic cult for the popular and picotero graphic art.
This picó is emblematic for its iconographic art but also for its music that features Congolese, Kenyan and Nigerian rhythms. Behind this picó is Norma, 81, who has been the owner of this sound system since the mid-seventies. "In 1975, I decided to have a picó and I talked to Rodolfo Eckard, a technician from the United States who made me a machine of six tubes and four speakers." She called it 'mi maquinita' and by the time she got a space in a very machista sphere. Norma toured in various towns like Palenque, Cartagena and Santa Marta.
She bought most of her African records from El Conde and kept updated with new African music. "As soon as a record was released, I would go to where they sold African music and I would say to the seller: Try that record for me." Then with the arrival of transistor technology she improved her machine with better sound and speakers.
Norma is probably the first Afro-Colombian woman to pioneer the importance of the high quality of sound and the technical aspects behind a picó sound system. For her, "the important thing is not having a picó, but a good sound," says Norma.
Photo: Daniela Murillo.
"I made this picó to leave the legacy of being the first woman in Colombia who made a picó with good music and good sound." This statement for a black woman who wanted to open up a space within a chauvinistic music world was sort of revolutionary in the seventies. Plus it has been a very racist country, only until 1993 the State recognized and protected the Afro-Colombian identities communities as an ethnic group to guarantee equal opportunities.
In 1989, her son Antonio Navarro, an English teacher, started to manage her picó and began to play sets at parties, weddings and has a space in Son Palenque, a yard where he plays "duelos" known as musical duels with other picós.
Antonio says that "in the 2000's, due to the arrival of the CDs, all of these lost interest and there were many technological transformations. Some sold them and others kept their picós. In 2008 or 2009, people wanted to have these old picós again and what you're seeing today is a rebirth of the pickup that we lived in the '70s."
For him what stands out from this pico is mostly African champetas like "Los Pepes" or Los Jimenez, a flagship record from the very outset of this sound system. In their collection they also have Congolese musicians and singers like Pierre Moutouari, Tabu Ley and Faya Tess, Nigerian orchestra Micky-Micky Bandumba, or South African singer Miriam Makeba.
El Máster by Luis Salas - Soledad, Atlántico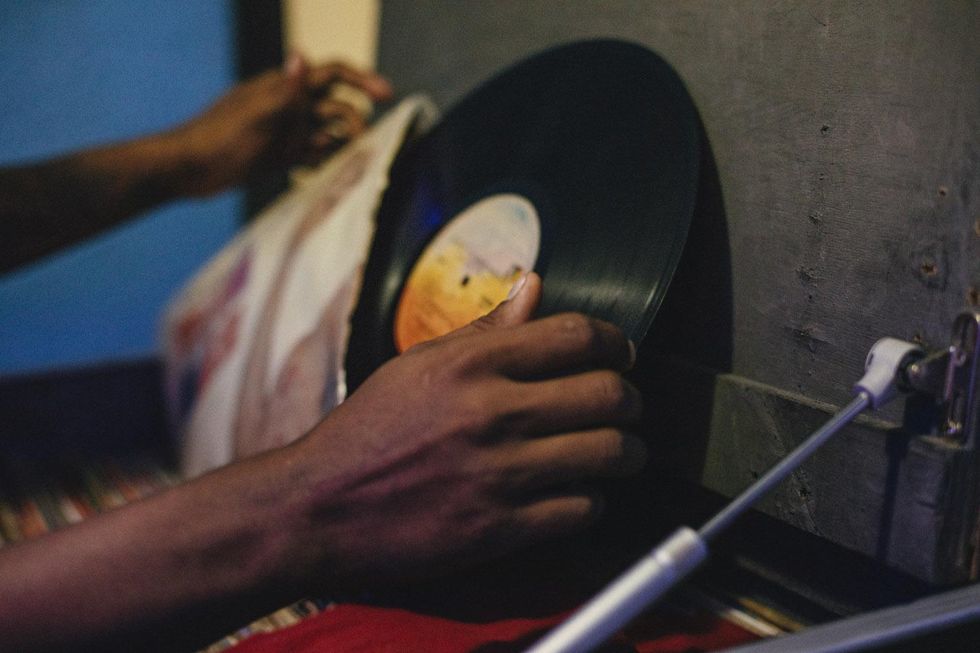 Photo: Daniela Murillo.
Inside of a local bar venue in Soledad is El Master picó, a tribute to Congolese artists Lokassa Ya M'Bongo, Bopol Mansiamina and dancer and singer Louisiana Tilda. All of them got to know this picó in a visit to Barranquilla for a music festival.
Lukazaro is what many call Luis Salas, a mine technician, who has been running the El Master sound system since the late 2000s. Now he is internationally and locally recognized for his picó or turbo because it has the signatures and images of these Congolese artists.
What many don't know is that Lukazaro contacted Lokassa and Bopol to ask them for permission to use their image in his picó. "All of them came to my home to see the sound system and played a concert for me," says Luis.
Salas, 38, always wanted to be picotero when he started to collect cassettes, African vinyl and then download music from the internet. From there he runned a website Rumba Africana with all the music that he had and got to program them. That made him known internationally.
"With this online program I met many who became friends, vinyl sellers and fans who wanted to know me because I also collected Colombian music." Once he got a consistent collection, he started to program a small sound system with two speakers. Today he runs three turbos.
"The record EL Manutazo from Nigeria was the first exclusive LP's that I played in my sound system in 2012. An album which was so well received that became one of the records of the carnival."
Hit records like El Tomado from Nigeria are heard everywhere thanks to this picó in radio and many venues. "This year I have a tour in a German festival and I will be there with other picós like El Timbalero, DJ Baba y Emiliani and El Mono Sónico picó. We will tour in Belgium, Germany and France," Luis says. El Master already has a cult audience that is waiting to see what new record is going to play at the sound system.
As many say a Picó is "a living being" that always has been mutating but it always has brought a cultural imaginary of sounds and rhythms from different African and Antillean countries. Perhaps Barranquilla has become a catalyst of African rhythms in the Colombian and Caribbean coast and now the rebirth of the African sounds are back to stay long in younger generations.