As one of the opening acts this past weekend at the 2018 Afro-Latino Festival NYC, Palma Chonta brought to the stage the folkloric sounds and instruments of Colombia's pacific coast. That comprised, among other things, the traditional marimba whose bars are made of the palm tree from which their name derives. Palma Chonta, moreover, is also the name of the local organization the group represents. Their mission includes the fabrication, instruction, and distribution of instruments typical of the region.
OkayAfrica spoke to the group about their experience at this year's festival, which had a particular emphasis on Colombia's afrodescendiente population; as well as the recent violence toward indigenous and black community leaders in Colombia, and the group's plans for the months ahead.

Read our conversation below.
---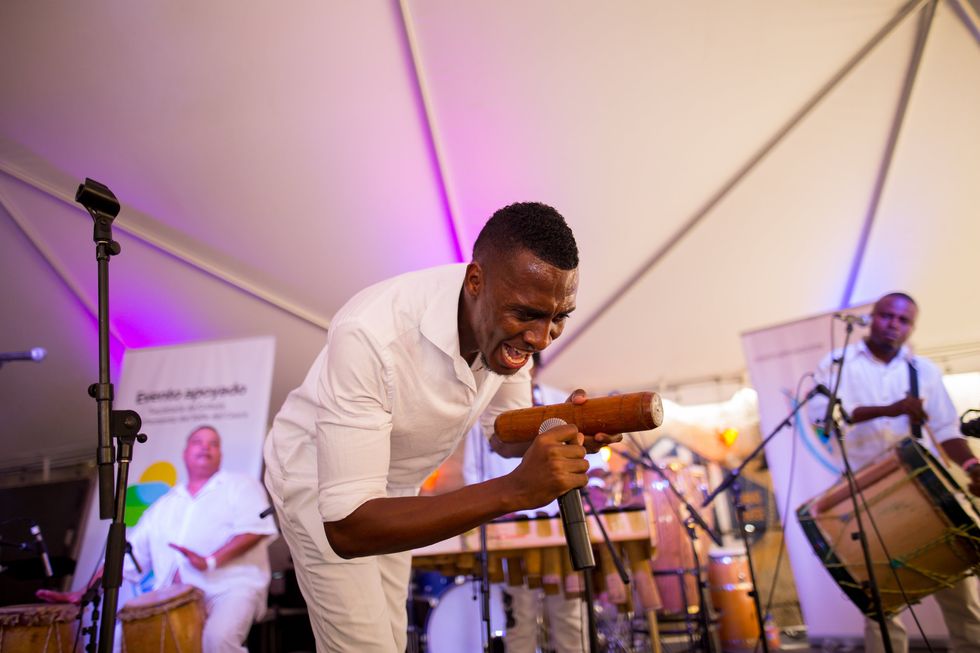 Photo by Redens Desrosiers.
Néstor David Pastor for OkayAfrica: Let's start with the most basic question, how are you guys feeling right now?

Palma Chonta: Good, really good. We've had a great time walking around here at the festival because from the moment we arrived, it's been good vibes, a good environment. And that's what we're about. We've had a great time.
What do you think about the motto of the festival, 'to affirm, to educate, and to celebrate'?
Well, the significance of these messages—to educate, for example—is very important. And to bring positive messages that also unite different ethnic groups, different races, and that unite countries through music, it's very important for us. And we're very grateful to have been invited to this festival because we're also getting to know other cultures, other styles of music, and new sounds that we can hopefully incorporate into our music.
For the first two days of the festival, one of the topics that has been most present is the recent surge of violence against the Afro-Colombian community, especially over the last two weeks, so is there anything you want to comment about that?
There is a very serious problem happening at the moment with regard to the violence [in Colombia], not only against afrodescendientes, but also against the indigenous population and community leaders. They are being assassinated because they live in isolated, rural zones, and because they are demanding land restitution [as per the Peace Agreement between the Colombian government and the FARC].
So for that reason, a lot of people are being assassinated in Colombia. Obviously, we reject all of this and we don't like that it's happening. We hope that the national government will do something to protect those rural citizens, and the indigenous and black communities who are the ones dealing more so with these problems and who are being killed more often, as well as receiving threats toward their community leaders.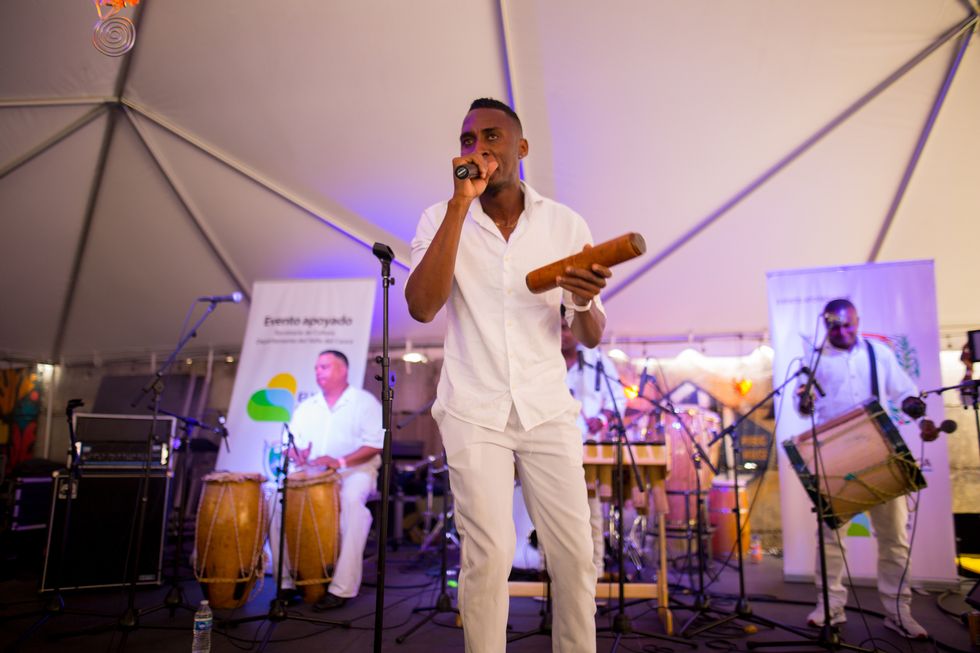 Photo by Redens Desrosiers.
Being here in New York, how did it feel to be received by the audience?

We really liked the reaction from the audience. People enjoyed the songs, as if they heard them before. It's really gratifying when you are onstage and people are listening to you and enjoying themselves and enjoying what you do. And what's more, they're positive messages. We have a purely positive message, that people enjoy themselves, dance, and not worry about other things, but in a healthy way.
What's next for the group?
Right now, we're working on a new production for release this September and what we're looking to do with that is to capture a bigger audience. For example, in this festival, we've talked about incorporating some rhythms that you hear a lot over here [in New York City] and right now, we feed off that, what we've heard here, and that's the idea, to bring our music here so it can evolve.
Is there anything, generally speaking, you would like to say about the festival?
The festival, as is, we love it. And what we love most is that it's called an Afro-Latino Festival. What does that name imply? That it's a festival that looks to unite afrolatinos [...] And we know it's a festival that includes a lot of different things, not just music, but talks, seminars, and other types of events, which makes it so people can talk about other things and that's very important in a festival, that it's not only about music, but that there are important discussions of the problems faced by afro-descendant communities.
Revisit our recap of the 2018 Afro-Latino Festival NYC here.