Since the inaugural Afro-Latino Festival of New York took place in 2013, the annual summer event has organized itself around three core principles: Affirm, Educate, and Celebrate. And while this year, the sixth overall, is no different, the theme of 'Identity and Beyond' offers a slight departure from past editions of the Festival.
"We felt that the conversation on afrolatinidad had to be pushed," says Mai-Elka Prado, co-founder and co-director of the Festival alongside her husband Amilcar Priestley. Identity, she explains, is an evergreen part of a much broader conversation, which, at times, is reduced to identity alone, especially in media. "We feel like the media only focuses on identity, so that's why we're focusing on everything that goes beyond it."
---
To that end, the Festival will open on Friday, July 13 at the Schomburg Center in Harlem with the AfrolatinTalks series, which touch on substantive issues that in some way speak to the question of identity. The census is one such example, having served to reinforce racial discrimination and inequality in the Americas for centuries. More recently, it has been part of a movement that dates back to the 1980s and 90s in which activists have viewed the census as central to their "demands for state action against racial discrimination and inequality."
Photo courtesy of Afro-Latino Fest NYC.
There will also be a keynote address from 2018 festival honoree, Urenna Best, Esq.—director of the National Secretariat for Afro-Panamanian Development (SENADAP). Ingrid Silva of the Dance Theater of Harlem, Bernardo Cuero Bravo, former leader of the Asociación Nacional de Afrocolombianos Desplazados (AFRODES), and Brazilian politician and human rights activist Marielle Franco; are among the other honorees.
In the case of Franco and Bravo, two Afro-Latino leaders killed in the past two years for their activism, Prado hopes their posthumous recognition will bring awareness to a worsening problem for marginalized communities in Latin America. For example, in Colombia, since the peace agreements with the FARC were signed in 2016, between 178 and 311 community leaders, many of them Afro-Colombian, have been killed. As recently as last week, thousands of Colombians across several cities participated in candlelight vigils to protest the violence. "This is a direct attack on community leaders in Latin America," says Prado, "so through these awards, we want to acknowledge that we are aware of what is happening."
The second day of the newly established three-day Festival format features the Liberación Film Festival, a selection of four feature-length films and 10 shorts which will be held at Abrons Center for the Arts in the Lower East Side. Highlights include the U.S. premiere of Panama Al Brown: When The Fist Opens/Cuando El Puño Se Abre, which tells the story of the first world boxing champion from Latin America; the world premiere of the short film AFROFUTUROS from the multimedia collective Defend Puerto Rico and a first look at the upcoming documentary Awakened/Despertado: From Ferguson to Buenaventura from co-directors Juan Mejia Botero and Marco Williams. The latter, which bridges the experiences of black youth in Buenaventura, Colombia and Ferguson, Missouri, is especially important in establishing the framework for larger conversations on afrolatinidad, or as Prado sees it, "Not only Afro-Latinos here in the U.S. and in Latin America, but also in the world, to understand the [global African] diaspora we are a part of and that many of the problems that affect the [Afro-Latino] community are things that happen to all of us."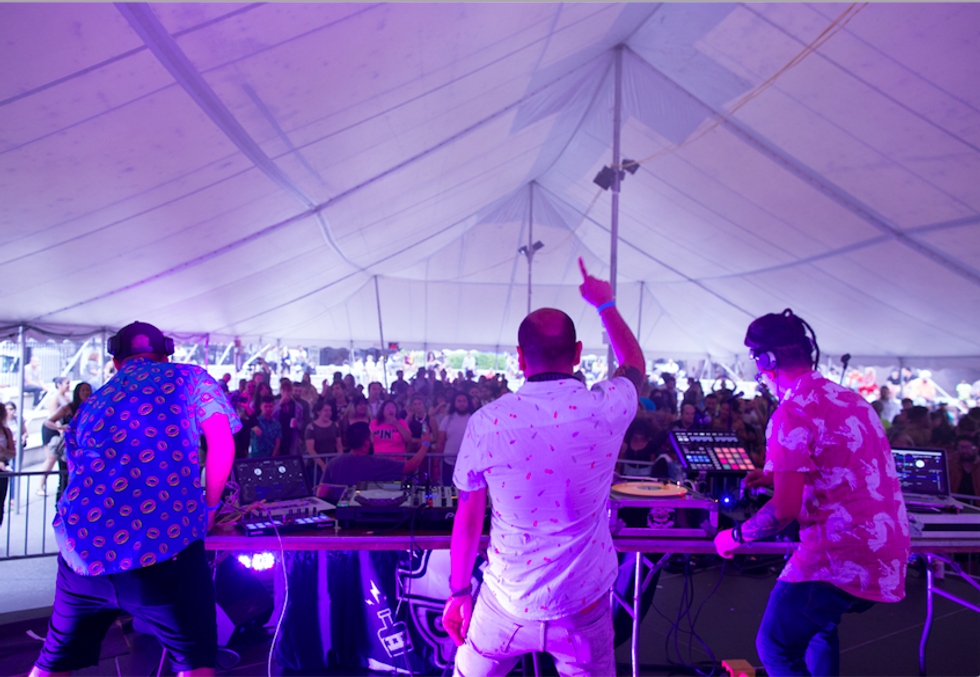 Photo courtesy of Afro-Latino Fest NYC.
Day three then moves to The Well in Brooklyn, with breakout Love and Hip-Hop: Miami star and Afro-Latina recording artist Amara La Negra returning as main stage headliner. Other acts include La Tribu de Abrante, a 12-piece orchestra from Puerto Rico that blends traditional bomba y plena with genres such as jazz, salsa, and reggaeton, Colombian hip-hop duo Profetas, Festival stalwarts El CaribeFunk from Cartagena; and many more. As always, the outdoor celebration also includes food and other vendors, art installations, a domino tournament, and for the hesitant football fan, a viewing party for the final match of the 2018 World Cup. Perhaps most importantly, the intimate venue will likely foster what Prado describes as the "connection among the performers and the access the audience has to them."
"There's no pedestal," adds Prado. "This is all love and with all of the things that are affecting the community, I, honestly, invite the people who come to raise their voice, to say what they need to say, to express themselves, and to share what needs to be shared."
For more information, visit Afro-Latino Festival NYC's website here. For day two, click here for individual film tickets, and here for full-day film passes.