An afternoon in Williamsburg with the chic, Kenyan designer started with questions about her recent shortlist for Vogue Magazine USA's October issue. Katungulu Mwendwa summarizes with an expected response: "That was really cool." The smooth-skinned sartorial star is enchanted with Brooklyn's eccentricity and promises to return—after sharing more about her latest collection and her involvement with fashion back home.
---
It was Vogue Italia's fashion scouter Sara Maino, who noticed Mwendwa at the Hub of Africa show in Addis Ababa. "I think she told the Vogue [US] people," she modestly offers of the honor.
New York's Coterie Trade Showcase last month brought the ambitious Kenyan to the city, where she dropped in to the Okayafrica office for an interview and an impromptu photo shoot. In between dipping into shops and reveling at exhibited pieces around the neighborhood, Mwendwa talked about the changes and lessons she's learning as a designer. Namely, keep learning and don't do everything by yourself. "HEVA fund has been very crucial in helping me and other creatives like myself, get to the level of business that we need to be at, to be some kind of force in the economy [because] we always talk about how much money the creative industry generates for the economy," Mwendwa says.
One of the most conspicuous things about the Nairobian is she doesn't really like shopping for clothes, but loves to support other local brands. The accessories she wears are from Kenyan brands Waza Wazi and Nawalika, which fashion insiders in Kenya are sporting. Whilst local Kenyans are on the fence about the ubiquity of fashion bloggers and the love to hate a popular TV show, "Fashion Police," she ultimately thinks these developments are good because "It's a start."
What exactly is different about her latest collection vis-à-vis her previous work? Mwendwa answers: "In 'Dinka Translation', we had no prints, it was very flat colors—white and black. Then came 'People of the Taboo', and that collection I got to experiment with designing my own print as another way of incorporating my evolution of culture sort of thing."
It is her support and deliberate inclusion of expertise outside Nairobi that is notable, "I found a women's group [from Eastern Kenya] that was willing to experiment with me to create some cool, new stuff. They developed this really cool hand woven fabric, which now features in some of our skirts, our trousers, some jackets. We also experimented with screen printing on silk."
Whilst she prefers to swerve the celeb scene in Nairobi, in favor of a more private lifestyle, her brand is growing into one of the most visible famous labels in the region.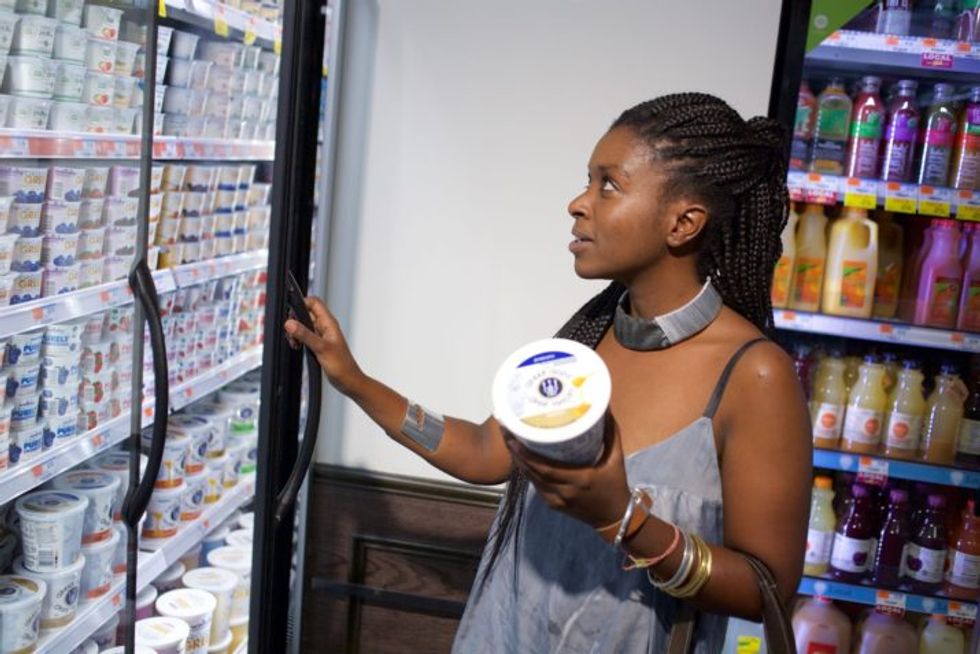 Katungulu Mwendwa picking out her yogurt. Photo: Aaron Leaf
Katungulu Mwendwa taking in the local scenery. Photo: Aaron Leaf
Lost in the wilds of Brooklyn. Photo: Aaron Leaf