Popular
Akani Simbine Sprints to Gold in Commonwealth Games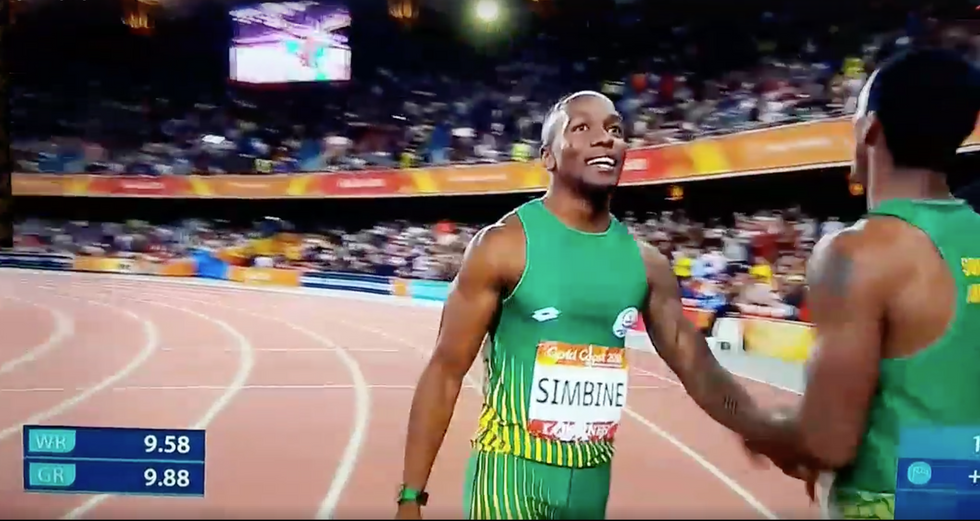 Via Facebook
The South African runner beat out favorite, Jamaican Johan Blake, with his teammate Henricho Bruintjies taking the silver
If you were paying attention during the Rio Olympics in 2016, then Akani Simbine is a name that you know. He's the 22 year old South African who held his own against runners like Usain Bolt and Justin Gatlin in the 100-meters, coming fifth place 0.01 seconds behind Johan Blake.
On Monday night, Simbine faced Blake again, and this time, he took gold. With a time of 10.03 seconds, Simbine crossed the finish line with one arm held up in victory. His fellow South African Henricho Bruintjies came in second at 10.17 seconds, just beating out Blake, who came third at 10.19 seconds.
"I came here wanting to be on the podium. I believed in myself, that I could get the gold medal," Simbine said.
Blake, who is tied with Tyson Gay as the second-fasted man in the world behind Usain Bolt, was heavily favored to win the race. In fact, Bolt joked earlier this week that Blake could not return to Jamaica unless he had the gold medal with him.
---
"I'm a bit disappointed because I've been feeling good, I've been running good and I just didn't put the start together," Blake said after the race, expressing his disappointment. "I was all over the place."
Simbine and Bruintjies' performance was a spectacular finish to an impressive day for South Africa, which won nine medals, bringing its total to 18. There was a gold rush at the pool in particular, as Chad Le Clos, Cameron van der Burgh and Tatjana Schoenmaker swam their way to victory.
The conclusion of day five brings us to the halfway point of the Games, with South Africa as the only African nation in the top ten medal standings. Australia currently leads with 106 medals, with England's 63 medals in second, and India in third with 19 medals.
SOUTH AFRICA has just won GOLD and BRONZE in the 100M at the Commonwealth Club games in Australia beating JAMAICAN… https://t.co/s0ds7RAhXr

— SteveBiko (@SteveBiko) 1523299055.0