To end our Curvy Icon interview series, meet Ghanaian beauty Anita Matey. Matey, who was born in Ghana but raised in New York, uses her blog, Foreign Curves, to stand for the true beauty in all women, accepting the love a women has for oneself, and most importantly, baby girl is fierce in her style! "Foreign Curves is my life, I realized that once you start loving yourself—every aspect, every roll, every stretch mark, every imperfection—you literally start living," Matey says.
---
Matey came in for a photoshoot, bright and early for a Saturday, but happy as ever! Her positive vibes, huge warming smile and excitement to model some of her favorite looks, motivated us all to create great shots. We set the backdrop while she got her makeup done and put on a few looks. Once the camera clicked, she began to shine in front of the camera. She moved with ease for every look, so calm, cool, and confident and slayed every shot.
Photo by Leon Williams.
Matey sat down and spoke with us about what made her start her beauty blog. "My sister, Brianna is another reason why I started my blog," she says. "Kids are so mean, and she experiences bullying. I constantly tell her, 'You're beautiful, they are just mad.' Interesting thing with her is, if someone calls me fat, she gets so mad! But when some calls her fat, she'll start crying. I do this for her, I want her to one day grow up and accept the beauty in herself."
We asked Anita questions about her past, future, style and all things beauty. Read below and get to know how amazing Anita Matey is, her uplifting energy, motivation to do more in life for family, and the positivity she continues to bring to all body shapes is inspiring.
Photo by Leon Williams.
Erica Garnes for OkayAfrica: What does style mean to you?
Anita Matey: Freedom! I'm freeing myself from society's, "fashion rules." I can wake up, wear what I want and be comfortable. I am comfortable in anything and everything!
How would you define your style? What is your go-to look?
Comfortable and chic, depending on my mood sometimes ultimate business women, but I know how to switch it up. Not a lot of people know this, but I used to be a sneaker head.
Do you have any personal style rules when putting an outfit together?
Not necessarily rules, but if I have no makeup on, I will always have mascara and a lip. My lips are one of my best features, so I always make sure they pop out!
How do you feel about mainstream media only portraying one type of plus size women like Ashley Graham, for example? Why do you think it's important for media to represent a diverse array of plus size/ curvy women?
It's not okay, because it gives the idea that it's okay to be plus size, if you look like Ashley. If we are going to start promoting plus size women, we need a diversity of all plus size women.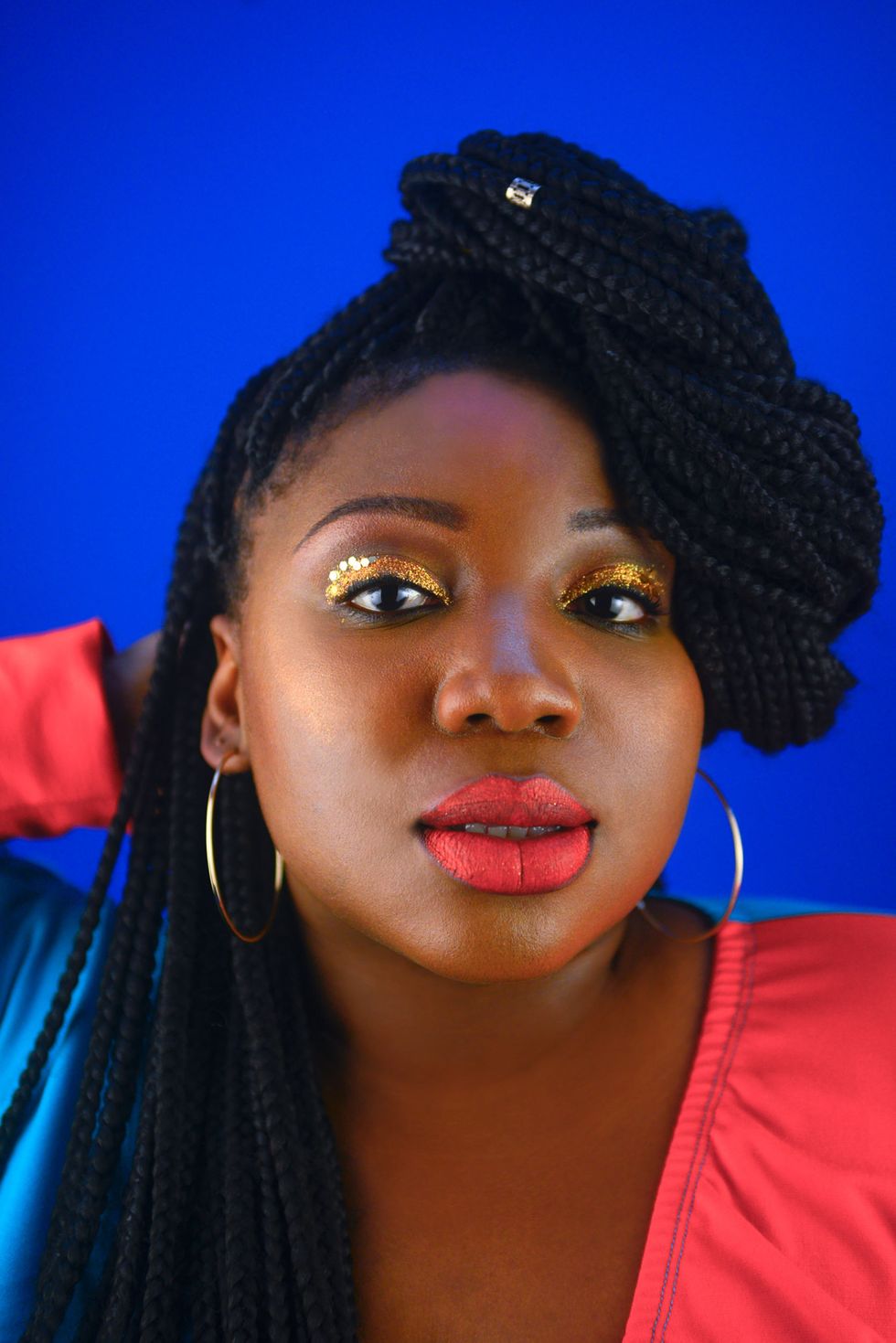 Photo by Leon Williams.
What do you think is the most common misconception about plus size/ curvy women in the fashion world?
In the media, plus size women always have to be rude and obnoxious. I have a friend who once said, 'All big girls are extra!' Media gives the misconception that we are all mad extra!
What are some tips you can give women with curves on starting their own blog?
First, don't be scared. Just do it. Don't overthink, because if you do you'll second guess yourself. And second, Find your niche, 'What about fashion do you love? Is it only plus size clothing or is it trends? Why do you want to be known for you blog?' Also, always remember to stay focused, but make sure you have fun and it's your passion.
What is your biggest challenge about fashion blogging?
Dedicating time and everything to by blog, I have a 9-5 job and I am trying to go back to school. Also authenticity—trying to talk about something different and remember what sets me aside. 'What do I bring to the table?' and 'How do I present it differently?'
What do you love most about blogging?
The idea of growing. Putting myself out there wasn't who I was before, but it reminds me of the person I don't want to be anymore.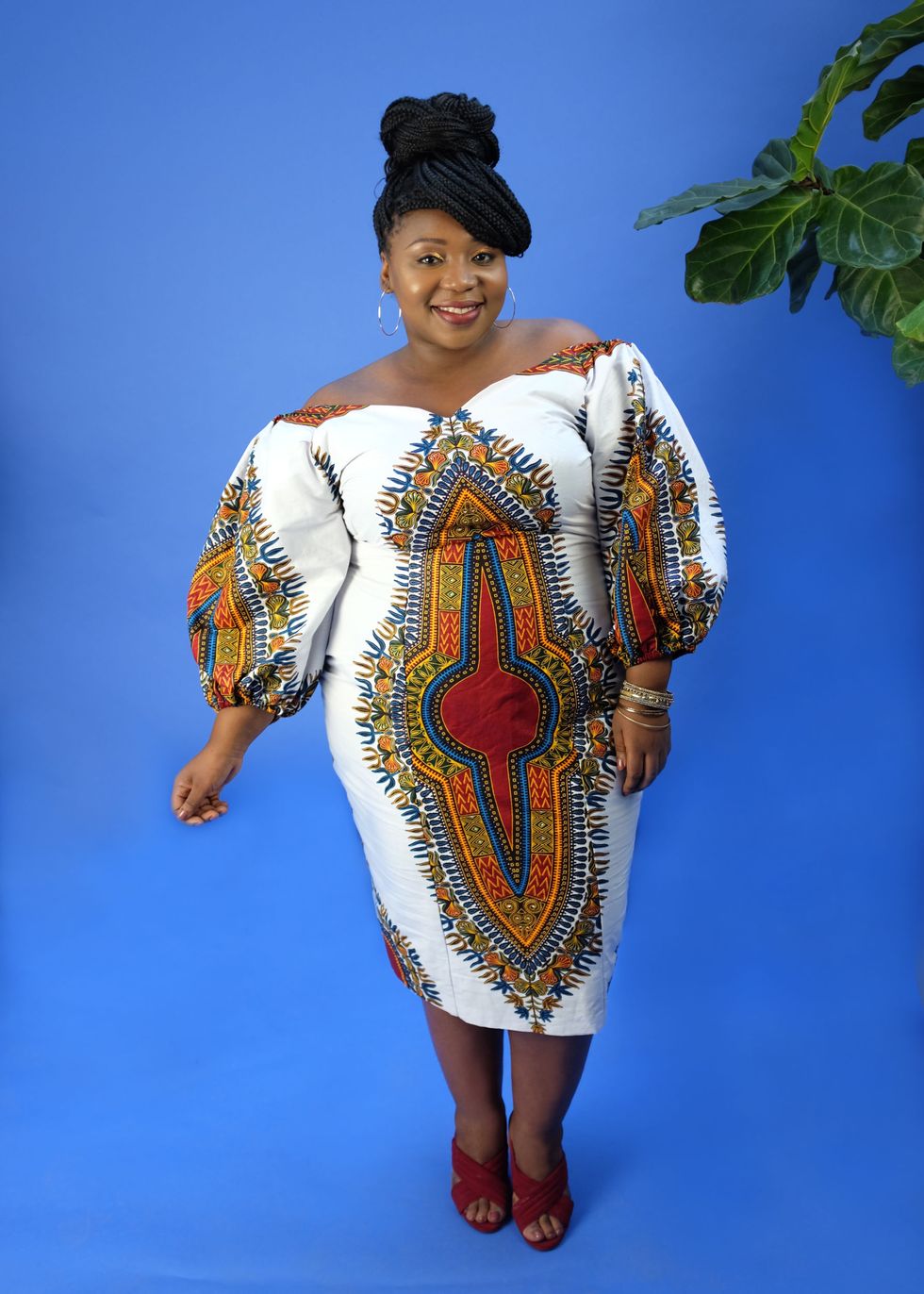 Photo by Leon Williams.
What are some of your earliest moments of standing out?
I used to have a thing with mixing prints, stripes, floral and Ankara. Mixing prints was one of my earliest moments, because I used to run away from prints so much. Now, make up is what stands me out.
Who was your first style icon?
First, Rihanna because she lives life with no rules, second Gabi Gregg, because when I first saw her pictures, I thought 'she looks good but she's big, how? Growing up I rarely saw bigger women look good, either the outfit looked too big, or it just wasn't right. I fell in love when I saw them, I said to myself 'I can do this, there are clearly clothes my size.'" Allie McGevna is another favorite style icon."
Can you tell us about any new upcoming projects?
I am working on a project right now, my first women empowering event, called Love YOU Live Now. I will have different women on the panel, each of them having a story that I want them to be able to tell. The beautiful thing about my event is it's not solely plus size women. I want to get the idea that self-love is not a plus size journey, it's an all-women's journey. Who's to say that all plus size women are insecure, and who's to say that all skinny women are secure? I'm even working on a photoshoot with different body types to show diversity. I feel like it's so beautiful when different women's bodies are together and united to celebrate each other. The event will happen November 4. My goal since blogging has been to express that confidence is for everyone. Every little body goes through insecurities. Fuck society, when you see that you are beautiful, once you love yourself, you start living!
Photo by Leon Williams.
What is your dream job?
I ask myself that every day, but I think my dream job I definitely want to make more income in the blogging world. Design, make up, a lipstick line…it always changes. I want to be an entrepreneur too—MAKE. ALL. THIS. MONEY! I want to build a foundation in Ghana, work on bring plus size shops because it's hard to find plus size clothing in Ghana. Even undergarments, they wear second-hand panties and there is only two to three stores for us.
Where do you see yourself and your blog in the next 5 years?
I see myself opening up more to my followers. My brand growing, more events, I want to have an event in Ghana next year, I see growth, not sure where but in a bigger space. I am just following God!
---
Credits:
Photography: Leon Williams
Makeup & Hair: Pam Somuah
Producer: Antoinette Isama
Assistant Producer: Erica Garnes