Ayo Jay's New Video for 'Your Number' Is an Intertextual Masterpiece
Its original release dates back to 2013, three years before America was ready for the melange of Caribbean and African sounds that crowd the charts today.
Ayo Jay's "Your Number" is officially the song of the New York summer.
---
Yeah, there's a lot of issues with that statement—it wasn't played nearly as widely as "Controlla" or shoved down throats like that Timberlake mess—and it has the unfortunate baggage of being released last year through a Fetty Wap collabo. Not to mention its original original release was back in 2013, three years before America was ready for the melange of Caribbean and African sounds that crowd the charts today.
But it is everywhere this year and it does something every song of summer is supposed to do—it distills "right now" into a sweet afrobeats/dancehall essence that is both catchy and confusing all at the same time—thank god they took Fetty Wap off of it.
And for some slightly disorienting reason it's also the song that New York hip-hop DJs are using this year to shout out all the Caribbean listeners getting ready for Monday's West Indian parade in Brooklyn. "Where's my Panamanians at? Triiiinidad and Tobago. GUYANA!" That sort of thing. Never Nigeria though.
Ayo Jay aka Ayoola Ogundeyi Jr.'s new video, released today, doubles down on the sweet disorientation of the original track, and takes a meta narrative approach to an otherwise simple plot.
We decided to break it down for you:
Taking the Ayo Jay dance challenge from inside an Ikea show kitchen.
The video opens with Jay on a stoop launching a social media campaign. For a second you may think, as I did, that this is a real experiment in crowd-sourcing a new video but you should, discerning viewer, be able to quickly ascertain that this is a fake stoop and that this is actually a video within a video.
Jay is asking his fans to make a dance video for his song in order to win tickets to a block party later that day. The reference is to the hundreds of fan-made dance videos for "Your Number" that have made the song an enduring pop-culture presence.
Except these are professional video dancers, dancing in an Ikea show-kitchen. Unlike many videos which might try and give a visual representation of the song's themes—in this case getting a woman's number—this video is actually a fictionalized version of how the track came to be a hit.
The best parts of the video for me is when the video cuts to Ayo Jay dancing in a giant Matrix-esque digital cage where, instead of 1s and 0s there's strings of 656-547-853, the mysterious number that makes up the song's chorus.
Ayo Jay stuck in a Matrix-like cage.
The video ends with a rather sterile looking block party and then, after the block party, a bookend skit of a man and a woman at a hot dog stand where the man is trying to give out the now famous number.
"What number is that?" she asks incredulously. "It's for my village—just call me," he responds suavely.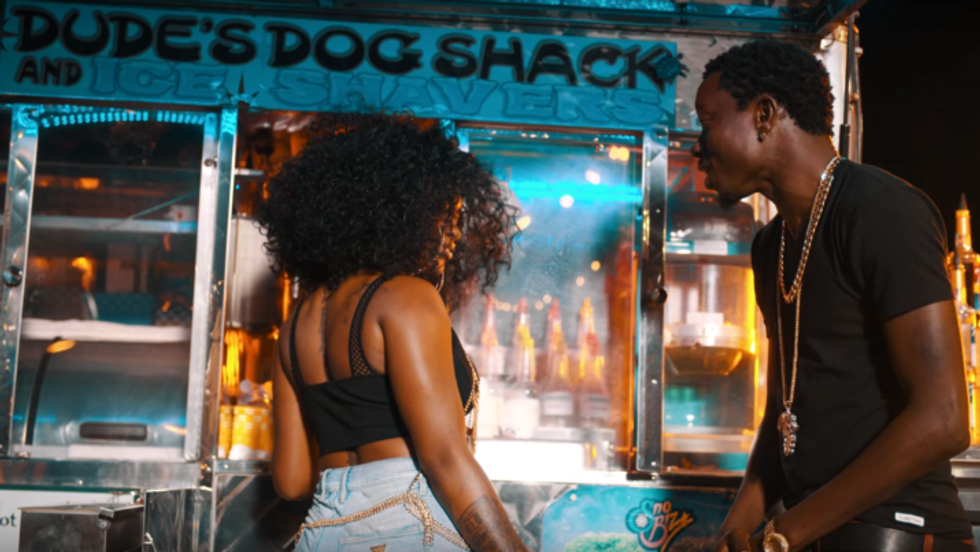 Getting picked up at a hotdog stand.