Bamao Yendé would have been, practically, born within earshot of popping corks when his mother gave birth to him in Reims — one of France's three grand Champagne cities. Later, at 12 years old, he was shuttled off to the more oppressive concrete suburbs of Paris. As if carried by sunshine, the mystical CEO of Boukan Records is using his talent to transform the lives of his friends as well as his own. The champagne remains serenely on ice.

Yendé is a dreamer, so relaxed that I would dare to say that he could have been in this interview and another realm simultaneously. We begin at lunchtime as he settles down, bleached hair poking out from under his baseball cap and a playfully bleached mustache on an extremely calm face; he is beyond softly spoken. Sipping a glass of white wine, having escaped for a week in the sun to Marseille to film a music video, the good times are here. But with Yendé, work and play seem suffused, one firing into the other to create his sound, reflected in the energy of the saturated otherworld of sweat and hyper-color beamed down in his videos.
Bamao Yendé's music is a sensual pulsating warmth of emotion; a mix of kuduro, R&B, afrobeats, UK garage; all euphoric rhythm. It seems quite clear, though, that he wishes you to care less for the details than just to let go; to trust and feel your way to someplace hopeful and liberating. From the intimate "Marvin Gueye" that comes at you with a whispering heat to the call to arms and legs of "Okocha" that grinds and hustles deliriously, the snap of Bamao Yendé's music is a joyous zouk party from another world.
---
Bamao Yendé, Le Diouck - Okocha (Official Video) (Nadsat)youtu.be
Your music is your focus to bring people together? What are you trying to bring to the dance?

Where I am right now is working with frequencies to make you feel good. Meditative sounds. I want people to dance but I want them to open up their souls as much as their bodies. We find ourselves here, somewhere between our souls and our bodies after all. I want people to feel energized in positivity and to feel rested afterwards. To transport people to tranquillity.
That seems quite a task but maybe the most creative state is to scrabble for something just beyond you?
The day I find that I have really succeeded in my aims is the day I will have to find another challenge for sure.
You seem to really collaborate a lot with other artists, there's an intimacy to what you do.
It's very important for me, yeah. I work with artists on my own label and on others. I have worked a lot with Lala &ce recently. We lived together, she's a great friend. When I launched my label it was to create a collective for us to all grow together, for the community that already existed. We experiment without pressure and just want to be free. There is a healthy energy, a big love energy.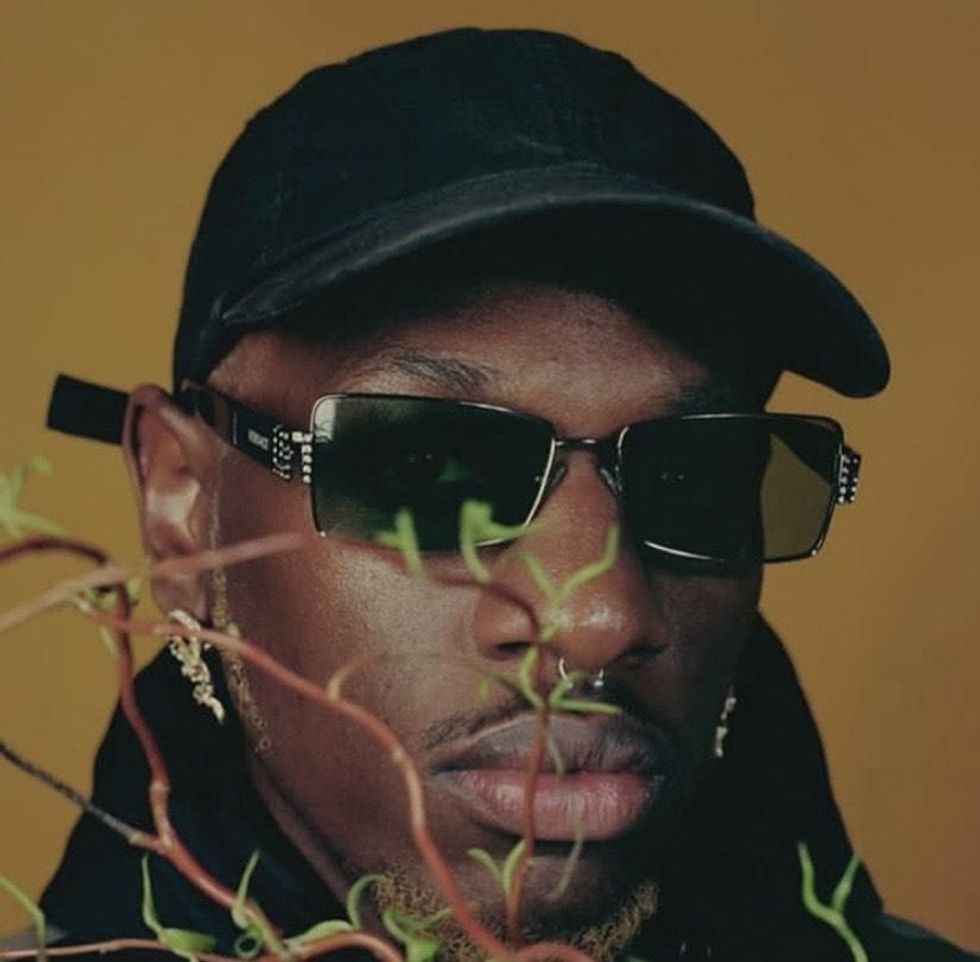 Photo: Bettina Pitalluga
You grew up in the suburbs of Paris. The suburbs of French cities have a heavy reputation.

When I arrived in the suburbs I was a kid, it was an important time but you start to make decisions for yourself at one point. To define yourself and find out who you are quite early on.
Where were your parents born?
In Cameroon. I haven't been back since I was very young but I will return soon for some projects. I want to go for the music but I am even interested in the idea of living out there. I want to work more in Africa for sure. We have signed and are developing an artist right now called Solid K. It's exciting times, his EP will come soon.
The suburbs in music videos are always typified by rap music blasting out blocks. How did you get into dance music?
There were two dance movements, Le Logobi and Le Coupé Décalé. We used to go to illegal raves in squats and that was the scene. There was a real community feeling and as my community was heavily populated with people from Cabo Verde, it was kuduro-heavy. Electronic music really became a big part of my life right there. Where African met electronic music felt like home. These two songs really pulled me in.
This sound reminds me of Lisbon, have you been? Music can take you across the globe when you get it right. Are you ready for that?
Next year there is a big festival in Lisbon that I am looking forward to playing at that brings the culture's together. There is so much great music that will never reach our ears in this world, sometimes you have to travel to reach it.
Bamao Yendé & Le Diouck - Marvin Gueyeyoutu.be
You're in Marseille right now to shoot a video right?

I am in Marseille to shoot and to hang out. My next single comes out on Moonshine Recordings in Canada in April. I am here for a week, I love it here. I go to the Calanques to relax by the sea. I have always escaped into nature even when I was living in the suburbs in Cergy. it wasn't so concrete. Luckily we had green space and a little island there: In the summer we would meet there to listen to music and to even have secret parties.
Secret parties because there were no clubs in your area?
If we wanted to go clubbing we would go to Paris but in summer it would be more fun to party in the park, squats or in old factories. We really got away with it escaping any problems from the cops. Hundreds of people getting loose.
Now that you are making moves in Paris, is this a recreation of that scene?
Paris doesn't change the most important elements. The same kind of people who went to these nights come as before but now the nights are more mixed. The most important thing is that it is good vibes.
I saw you DJ to thousands of people in the centre of Paris at the Rave For Climate protest. It is the ultimate to be protesting with joy and smiles rather than violence?
It was magnificent. The protest was authorized but I am not sure they were expecting music. This movement will get larger and larger. My message is to be benevolent you know—to simply be kind and warm-hearted.