---
Nigerian/UK-based emcee Bara Blaque recently entered our radar with his screwed and chopped single "3rd World Hippy." Spitting hypnotic wordplay that raises both the specter of Top Dawg's Black Hippy as well as comparisons to A$AP Rocky's debut, Bara co-fronts London hip-hop trio The Koup along with fellow Afro-British wordsmiths K!T and Tosin Kuti (who recently unveiled the jazzy standout "Shame"). We're looking forward to what 2014 has in store for the collective. In the meantime, the Third World Hippy filled us in on what to expect from his Naija-groomed projects. Watch the monochromatic takeover below (it's trippy as a mother) and scroll on for our interview with the Koup's Bara Blaque.
——————————————————————————————————————————————————————————————————————————————
OKA: First, can you introduce yourself?
Bara: What's up my name's Bara Blaque 1/3 of the Koup.
OKA: Where were you born and where did you grow up?
Bara: Well I was born in the late eighties in one of, if not the greatest city on earth, London. I moved back to Nigeria when I was nine years old and frequently went back during the holidays or any chance I got to. I did a lot of travelling, and have been all over the world, shout out my pops for the hook up (a retired pilot). As a boy it really broadened my perspective of the world back when I was in boarding school. I lived in Nigeria for 9 years and moved back to London when I was 18. Which is where I currently live. I still visit Nigeria once in a while to see the family. I have infinite love for London, love the city to death, but Nigeria is a major part of my life so they have my heart 50/50, some nights 60/40.
OKA: Any Nigerian artists you're listening to these days?
Bara: I'm a serious Fela (RIP) fan and I'm really feeling Jesse Jagz movement. The guy is just projecting an amazing vibe. I've been bumping Burna Boy. Wizkid is a genius. It's a bit dulling sometimes because I don't speak Yoruba but once in a while I get one of the homies to translate for me. "Kondo" by Dagrin (RIP) is still one of my all time favourites.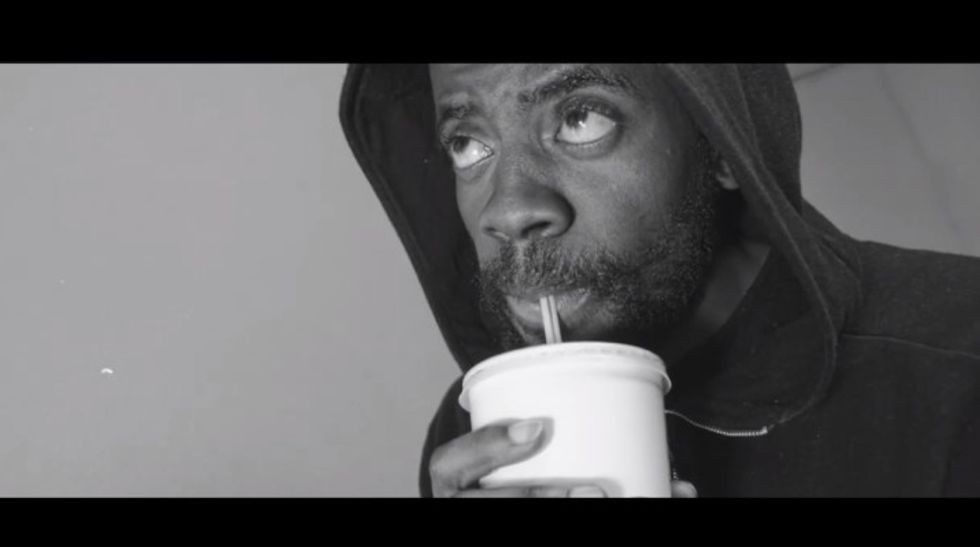 OKA: Favorite spot for Nigerian food in London?
Bara: For Nigerian food I would say my yard I've got a couple pretty women who come round to cook for me. They add in ingredients these restaurants missing: couple ounces of Love, but faaji is sick. I live in northwest London so whenever I can't get the food cooked I get some Lekki Kitchen or Kilburn's D'Den.
OKA: What is Third World Hippy?
Bara: As a body of work "3rd World Hippy" is a masterpiece to say the least. As a title I'd say it's anyone who is true to oneself and looking for the advancement of the human race as a society, putting aside any prejudice and breaking all mental barriers while having a muthaf-ing good time (excuse my french) bumping that Koup ISH. OR third but not least, "3rd World Hippy" is simply me. The forever advancing, vibe switching, ass kicking, name taking, game changing, rhyme slinging West African lyrical peace keeping tyrant.
OKA: What is the Koup? What brings you guys together?
Bara: The Koup is the new hip-hop holy trinity. And that's universal hip-hop, not just Africa or the UK or America or Jupiter, anywhere everywhere anyhow. As for what brings us together, we're really good friends, in fact, brothers, a mutual respect for each other's craft and beliefs. A lot of people have asked us to switch to afro beats or make a certain type of music but we stand by the same ideals. We see the world in a very similar way and are all addicted to rap. We call ourselves the three headed beast, 3 heads one body. I would also say our insatiable appetite for greatness. We are all students of rap and literally studied the game for years. I've been writing rhymes for atleast a decade. We have non-stop conversations about the game, which can get a bit boring to some of our friends or people we meet. We have huge plans to change rap and make hip-hop truly universal. We're here to make history, not just music. Richest black man and black woman are both respectively Nigerian, only right its the same for the best hip-hop artist of our time. It's time to bring hip-hop home and we are the ones to do it. It's the Koup.