Barkhad Abdi in New York (Photo: Aaron Leaf)
If you don't know Barkhad Abdi by name, you certainly know him from his legendary line—now a full-blown internet meme—in the Hollywood blockbuster Captain Phillips. "Look at me," he commands Tom Hanks, who plays the eponymous Captain opposite Abdi's fierce Somali pirate, "I'm the captain now."
---
And while he'll likely always be associated with his role as Abdulwali Muse, the real-life pirate he portrayed in the film—and for which Abdi was nominated for an Academy Award—the young actor has gone on to equally compelling roles in a fast-growing list of top level productions.
Still from Eye in the Sky
Most recently, Abdi is among a star-studded ensemble cast—including Helen Mirren, Aaron Paul and the late Alan Rickman in his last on-screen role—in Eye In The Sky, an intense war thriller that dissects the complex moral issues around modern drone warfare. Opening to a standing ovation at the Toronto Film Festival, Eye In The Sky (directed by Gavin Hood of Tsotsi), is now playing across the US. We caught up with Abdi on the night of the film's New York City premiere.
What's Eye in the Sky about?
Abdi: It's a movie that tackles the moral issues around drone warfare. I play a Somali spying for Kenya named Jama Farah who tries to save a young girl in the kill zone. It was a very different from my role in Captain Phillips. I relate to it because I was a young kid in Somalia during the war. At the same time, I think this particular story is much trickier because of the reality of drones, which is much different than the kind of war that we experienced.
In what ways did you identify with the character?
Women and children really feel the brunt of war—they get hurt the most. As a young man, I was stuck in the civil war with my family. Thank God we survived. The young girl from Eye In The Sky is also stuck in a war, but now it's different because of the drones. They can blast you out of nowhere. You don't know when it's coming, or who it will hit. All you would know is that it hit. There's nothing you can do about it.
Do you think drones are more frightening than the more traditional warfare that you experienced?
I think it's really more frightening than what I knew before and what I've seen. Today's modern warfare is definitely next level. This movie will show what it feels like to be inside those situations.
What feelings do you have about the American use of drones?
There are a lot of studies showing that most drones are hitting innocent people. I don't know exactly what to say about it, and I don't know the exact truth about it, but from what I hear, it might also be good in some ways. It could save a lot of people from actually going to war. At the same time, we should really pay more attention to it, and try to avoid killing innocent people as much as possible.
What did you make of the #OscarsSoWhite hashtag?
I believe Chris Rock put it in a very good way: black actors need more opportunities. There are not many black people in movies, so before we worry about the Oscars, we should worry about opportunities—about black people having more opportunities and more roles. Then we can discuss why there are no Oscar nominations.
You've been one of the few people of color who's been nominated for an award.
I'm really blessed and grateful for such a nomination at such an early stage of my career. That was my first movie. It was shocking. I'm very grateful and hoping to get there again one day.
What can you tell us about the upcoming film Where the White Man Runs Away?
Where the White Man Runs Away is my next film. It's based on a bestselling book called The Pirates of Somalia: Inside Their Hidden World written by Jay Bahadur. It's my favorite script I've read so far.
Al Pacino is in it as well, which is really exciting to me. I'm a big fan of his, so I'm really looking forward to that. It shines a different light on Somalia and on pirates. It's a firsthand experience, from someone that was there even when the Captain Phillips scenario was happening. He interviewed the guy that said he was behind Captain Phillips' kidnapping.
Jay [the author] is well-known, and I have even had people calling me from Somalia that knew him, like "Hey, we know this guy. He's a good guy. He's well-known here." He's a courageous man to go there when it was really dangerous. I'm really glad to be part of this. I'm really excited.
Are there any particular Somali stories you would want to see on the big screen?
The Somali people have been through many tragedies over the last two decades. If we're not the people with the worst history, we're definitely people who have been through an enormous amount of bad stuff as a country. There are a lot of very hard stories that need to be told. I'm trying to write a movie myself, so I'm in the process of choosing which story I should start with. I have quite a few.
Who are your favorite artists?
Now, I like Kendrick Lamar, but before it was Biggie. You know, he's the greatest.
What about Kendrick Lamar do you like?
Lyrically, he's a great songwriter, and he's different. I see him as somebody that brought back hip-hop. Hip-hop was sort of lost, and he brought it back. Now, the backbone of hip-hop is not about clothes and women and bling. He's more about real issues that the community's going through—that's what hip-hop to me is. I think he's tackling those issue and he's just basically narrating what he sees around him.
In addition to being an incredible actor, you have also become an internet meme.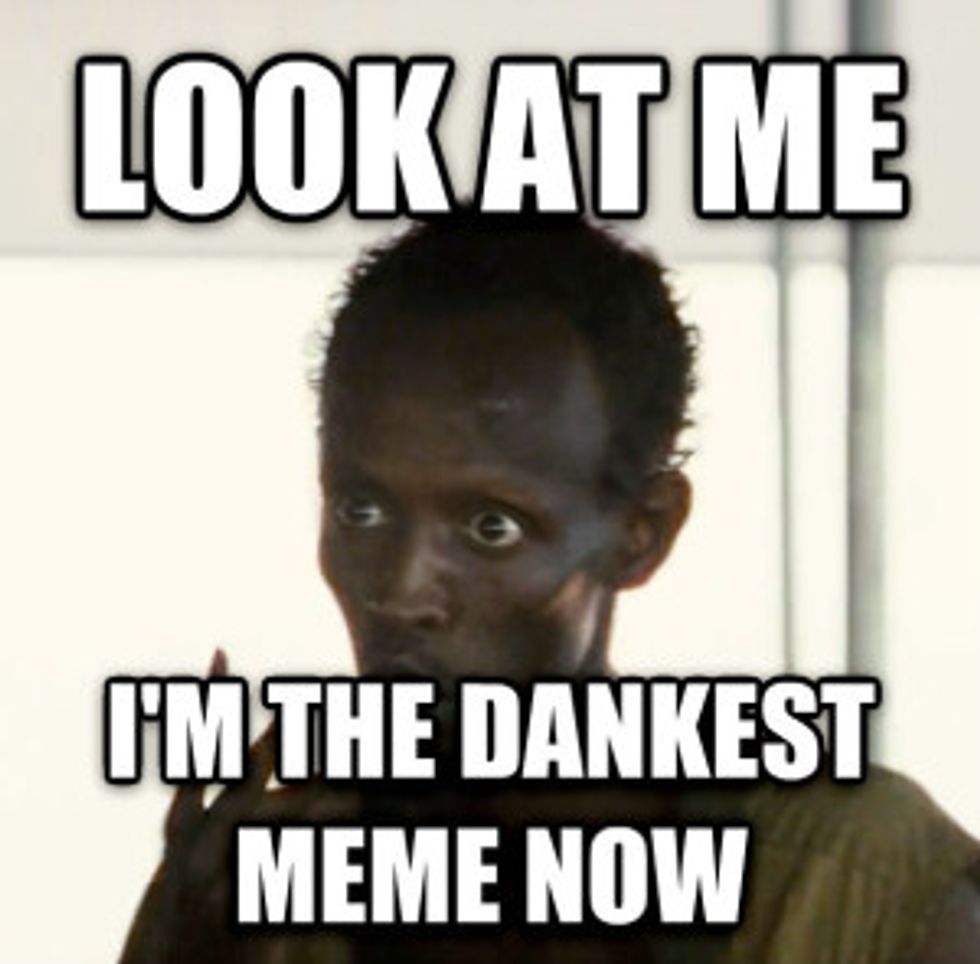 "Yeah, I'm your boyfriend now." That line [I'm the captain now] wasn't in the script. I was in the moment and it just came out.
It's just so powerful.
I felt it, but I didn't know exactly what I said.
It's a rogue moment.
Yeah, it was: I was the leader there.