As part of the Nigerian DIY sci-fi filmmaking group The Critics Company, Raymond Yusuff has drawn much attention for his inventive filmmaking techniques and quirky videos. Together with the rest of the group, Yusuff's passion for film has only grown over the years since the collective first came together in 2015. Over the past few months, the collective has turned its focus to subjects like IDP camps and the return of African artifacts and artworks.
Yusuff directed One Can Only Hope and Wonder, a short film made by the Kaduna-based group that showed at the Zollamt MMK Museum in Frankfurt, Germany. It's an experimental film inspired by real-life events involving stolen artworks in the Benin Expedition of 1897, and the ongoing conversation about their restitution.
Some of the artworks ended up in the British Museum in London, while the rest were auctioned off or purchased by German museums. Demands for the restitution of these Benin artworks had begun as early as the 20th century by the descendants of the Oba of Benin. And right after independence, Nigeria began making official demands for restitution from the Federal Republic of Germany. It has taken 125 years since the looting for German museums to hearken to the calls, and some of the stolen artifacts are now being returned.
The short film poses questions around the loss of culture and the need for preservation. OkayAfrica caught up with Yusuff to discuss how he conceptualized the film and his thoughts on the restitution of the looted Benin art.
The interview has been edited for length and clarity.
I found One Can Only Hope and Wonder deeply moving. Despite its abstract telling, it had such emotional power. How did you conceive the idea for the film?
We were invited by the Zollamt MMK to have a presentation at an exhibition for the museum. [The Critics Company] sat down as a team to discuss and asked ourselves what were we going to show? What did we want to talk about? We struggled with these questions for a really long time.
There's a large body of water in Kaduna that has this bridge that connects the northern and southern parts of Kaduna. So on this trip back home to Southern Kaduna after visiting a market in Northern Kaduna, I started to wonder how people in the past were able to do the cross-over at the time when there were no bridges. Did they rely mostly on canoes? I have been living in Kaduna for more than 20 years, and I had never pondered this before. It sent me down this rabbit hole of thinking about how we are not privileged in Africa to have information on our history in comparison to other races. And more importantly, [to not have] visual references for these things.
Most cultures store their history and culture in their art. But some of what we know of our history are stories from the colonizers, who had carted away with our art, a part of our culture. The entire concept of One Can Only Hope and Wonder was to touch on the perception of art by people to the preservation of it, and how we are in the present world where there is no effort to preserve culture.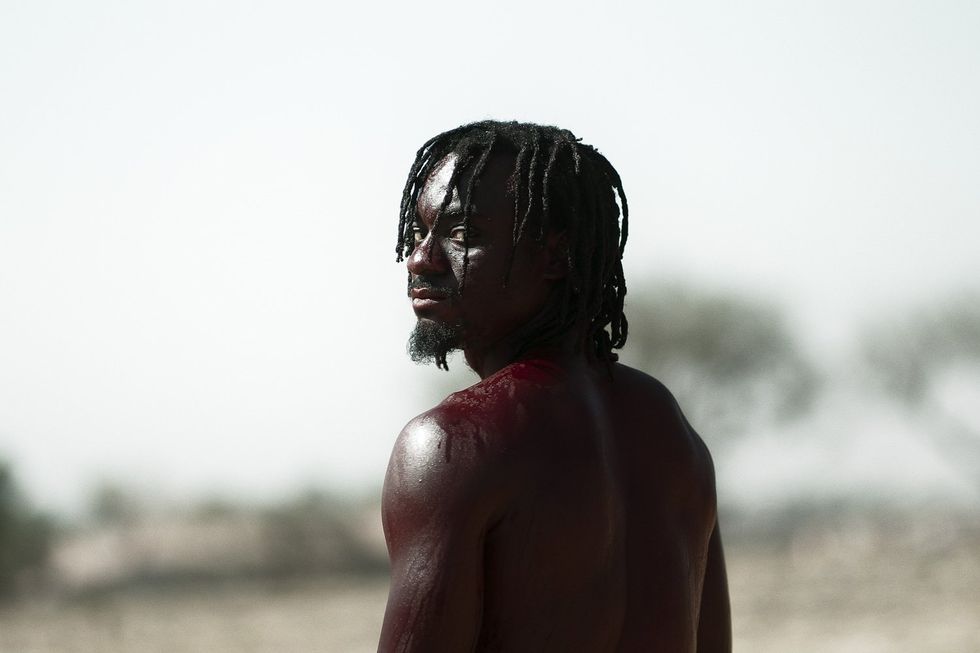 The Critics Company tackles restitution of the Benin bronzes in their new experimental short film, commissioned for a German museum.Photo courtesy The Critics Company.
This film touches on an important part of Nigerian history. The Benin expedition and the loss of our art, artifacts, and with it a part of our culture gone. What do you think about the restitution? There's an ongoing argument about how we may not be able to preserve them if they are restored to the country.

On the day of the opening of the exhibition in Germany, we got an invitation from another museum in Frankfurt. It is called the Wetkulturen Museum, an ethnological museum. They said they had some African artifacts in their depot and when we got there, we were told that there are about 54,000 African artifacts in that building. There was this overbearing melancholia that came with being in that building, seeing different artifacts from all over Africa, different tribes, some from Nigeria. It made me feel really sad.
The ongoing conversation about the inability of our government to preserve these artifacts if returned is valid. Because as an artist myself and I have looked at and seen that our government does not have the resources, the museums, that can house these artworks. I can not confidently say that they will be well maintained, if returned. But regardless, these artifacts are ours and hold stories of who we are and our culture, and therefore belong here. It would be great to have elements of our culture in our own places.
One Can Only Hope and Wonder is also very experimental and abstract. What were some of the things you considered in trying to forge a narrative around the messaging of the film?
One Can Only Hope and Wonder is inspired by the story of the Benin Expedition, and it helped us forge a narrative for our film. The story is a very sad, violent and gruesome one. But we did not want to reenact history and reimagine and bring back very triggering memories. We wanted to take a different approach to see if we can find people to care about it. And honestly, as human beings, one of the ways to tell if someone cares about something is the questions they ask pertaining to it.
So the film was designed in a way that it can draw people to ask questions about that event in 1897. This is why I also feel like we may never put the film out there, we made it to be experienced as an art exhibition. We designed the exhibition to have materials that will help people in the space to be able to grasp elements surrounding the stolen artifacts and who the characters in the film represent.
Are there arrangements for this exhibition to be seen outside of Germany? Especially in Nigeria where the Benin Expedition that it's based on happened.
Well, we were told that sometimes, other museums around the world are usually interested in certain works and they'll be glad to show them in their own museums but you know what the most interesting thing is? When we returned, I visited Lagos briefly and I was speaking to a friend who thought that the exhibition was a photo/painting type of exhibition because apparently, video / art exhibitions aren't a thing in Lagos, which we can consider the state with the most active art scene in Nigeria, because it's Lagos.
I will honestly love to see how we can make it happen in Nigeria. We spoke to someone here in Kaduna who was interested in the concept and that's the closest we have got to making it happen here.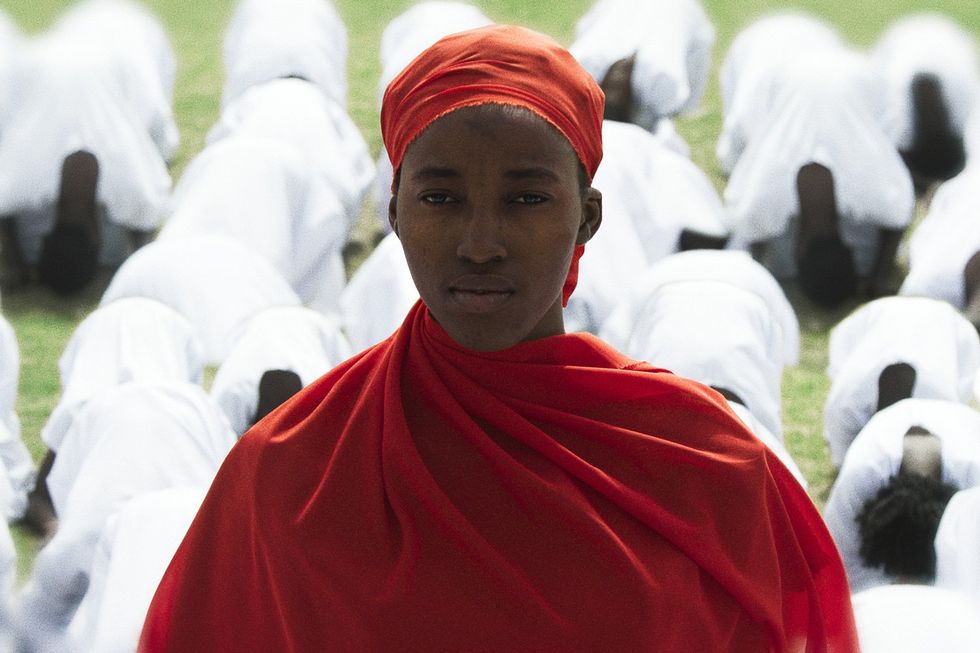 As part of the Kaduna-based collective, Raymond Yusuff has made short films that are DIY-centered and experimental, like 'One Can Only Hope and Wonder.'Photo courtesy The Critics Company.
How was the experience making this film in Kaduna, as well as all other films you have made? Lagos is Nigeria's entertainment capital and home to the country's film industry. Are there peculiar challenges you face making films outside of Lagos? Is there pressure to move there?

One of the interesting things about making films in Kaduna is we were almost unaware of, and unconcerned about, the film industry in Lagos in our earliest years. We were just these small children making films on our own 'til that interview feature in 2019 that blew us up. We suddenly became aware that there's so much more to this thing. So around that time, there was pressure to move to Lagos but now that I am older, not anymore. I think the hustle and bustle life of Lagos isn't great for my creativity. I am happy to pop in every now and then, but I prefer the quiet life in Kaduna.
I think one of the challenges with making films here is raising funds for our films and finding jobs from those who will actually pay well for your work. Another challenge is finding talents to work with here and skilled crew members. Because Lagos is where the film industry's hub is, anyone interested in filmmaking moves there to build a career. So for our films, we have had to rely on non-actors and have family members volunteer to work on our productions. This means that sometimes our work comes out with certain avoidable flaws because we were working with non-professionals.
A way we have decided to work around this is looking for young people our age interested in film who we can train in certain roles so that they can fill those roles when it's time to shoot, or in productions that we cannot afford to hire external crew.
What's your greatest goal with One Can Only Hope and Wonder?
Honestly, I think the greatest goal for me is to be able to start a project and complete it. There's no greater feeling than that. This may sound like I am being too hard on myself but every project feels like a learning course. The experiences are invaluable and I am just grateful that one can start and complete the project, and also learn in the process from the lapses and try to work on it for the next film.