As we all know, Beyoncébroke the internet earlier this year with the drop of her visual album Lemonade, which first premiered as an HBO special.
---
"Sorry," released today as the first standalone music video from Lemonade, is a fierce black-and-white affair that features a group of dancers adorned by Nigerian artist Laolu Senbanjo's Yoruba-influenced "Sacred Art of the Ori" markings.
Laolu, whose paintings can even be seen on Beyoncé at different points of the video, previously talked to Okayafrica about meeting the singer and working on the visual album:
"She told me a lot about my art, which is kind of crazy that she checked out everything I've been doing. She watched a lot of my videos, including one of the ones posted by Okayafrica that was picked up by BBC.... She mentioned the jackets I posted on Instagram. My shoes. It was incredible. We just sat there, telling me she loves my work. She thinks my talent is just unbelievable. That just, I don't know… Coming from her, telling me that, it was just unreal."
The video also features a striking cameo from Serena Williams, who can be spotted breaking it down and dancing right alongside Beyoncé.
"Sorry", which talks about side chicks and a partner's infidelity that many put on Jay Z, is the track responsible for launching the Beyhive against "Becky with the good hair."
Watch it above.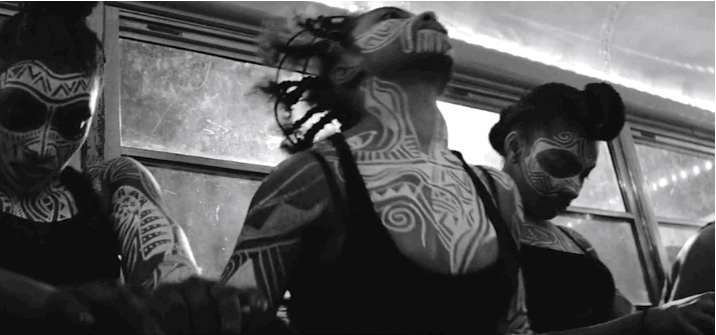 The Laolu Senbanjo adorned dancers. Screengrab from 'Lemonade.'