---
Kisua
Kisua, a new African e-commerce platform is set to launch next month. The idea for the site first came up when CEO Samuel Mensah was thinking about Africa's strong tradition of producing and gifting fabrics, but its small number of established fashion brands: "I started to wonder why somebody wasn't making African garments for consumption in African and global markets," he told WWD.
Gert-Johan Coetzee
During SA Fashion Week, Gert-Johan Coetzee unveiled his last collection. Using fashion as a tool to contribute to the fight against cancer and collaborating with the Pink drive — a company that runs mobile breast-check units in South Africa. He will be discussing it on The Real Goboza, a South African celebrity gossip and entertainment magazine show. at 6pm on SABC1.
EDUN
After a two-season collaboration inspired by African creativity, EDUNunveiled their Studio Africa Collection for Fall/ Winter 13. The collection's 36 pieces focus on denim manufactured in Africa with CCI (Conservation Cotton Initiative) cotton from Uganda. EDUN looked to reinterpret the  four-pocket jean that was massively successful in 1970s South Africa.
Black Fashion Network?
Black Fashion Week was a huge success for the second time in Paris and closed last weekend. During an interview on Panafrican TV Channel Africa 24, the founder Adama N'Diaye, known for her Adama Paris line, announced the launch of a network focused on fashion from Africa. We'll keep you posted!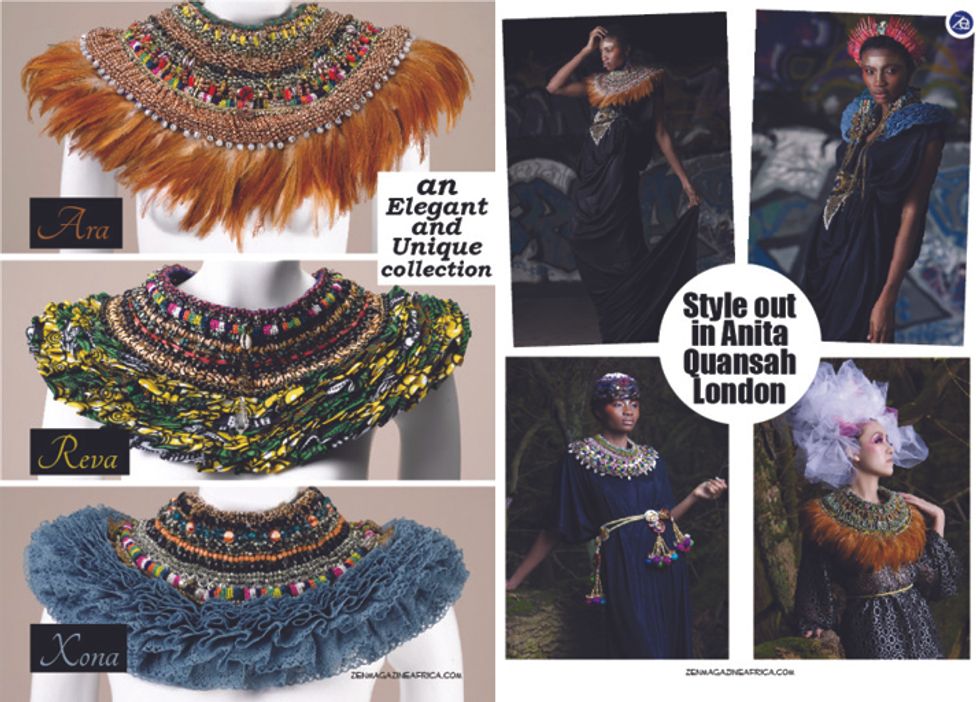 Anitah Quansah was recently featured in the Zen Magazine, who calls the collection " a stunning range of breathtaking jewelry." We totally agree and wanted to share this outstanding 2013 collection with you all.