The video for "Bachata en Kingston," follows two Colombians from the Caribbean as they go about their lives in cold Bogotá. It's a story that many Caribbean people who have moved elsewhere can understand. The contrast between the characters' "tropicality" and the city hammers home the diversity of Latin America. Their blackness, so unusual in this city, is a pointed statement on the representation of Afro-Colombians in the country's media.

Vicente García is a Dominican musician who recently won three Latin Grammys –– for Best Tropical Song, Best New Artist, and Best Singer-Songwriter Album. But, even though his music is closely linked to the Caribbean, he has spent his past four years living in the big city.
García wanted to use the video for his Latin Grammy-winning single "Bachata en Kingston" (bachata being a popular Dominican rhythm which he has spent most of his career reinterpreting, and Kingston being the capital of Jamaica, another Caribbean country), from his album A la mar, as a vehicle to showcase the life of Caribbean people in the gritty, urban context of Bogotá.
"I felt like my music was always presented as a very Caribbean, beach-style thing, but since I moved to a large city like Bogotá, my reality changed," García tells OkayAfrica. "The video features a Caribbean couple. Through this couple's story, we wanted to tell the story of Latin American coastal people––even people from Colombia's Caribbean and Pacific coasts––moving away from their small towns to look for better opportunities, and living in this large, cold city."

The video, directed by Santiago Díaz-Vence, follows this couple through their lives in a working class neighborhood of Bogotá, and their jobs in a market square and a grocery shop. But the couple featured in the video are not only Caribbean, they are also black. As a foreign observer, García makes a sharp point about this fact: "We wanted people to know right away that the couple were not from Bogotá, that's why we chose black actors."
Many Colombians would definitely interpret the couple this way, based on the color of their skin. Black Colombians, or Afro-Colombians, as they are politely referred to here, make up a large part of the Colombian population. Though the latest census (done in 2005) puts them at 10.6 percent of the total population of the country, some recent projections estimate they now actually make up 22 percent of the country.
However, in Bogotá, the capital and by far largest city, the black population is well below that number, officially at 1.42 percent. There are historical reasons for this disparit––a very brief and incomplete summary is that black people were brought from Africa to the country's Caribbean coast, and many later escaped to the Pacific coast, two far away and hard to reach places from the central mountains of Bogotá.
Black people in Colombia are not associated with Bogotá and, since most of the country's media is concentrated in the capital city, Afro-Colombians tend to be underrepresented, and many in the city and the country see them as "foreign."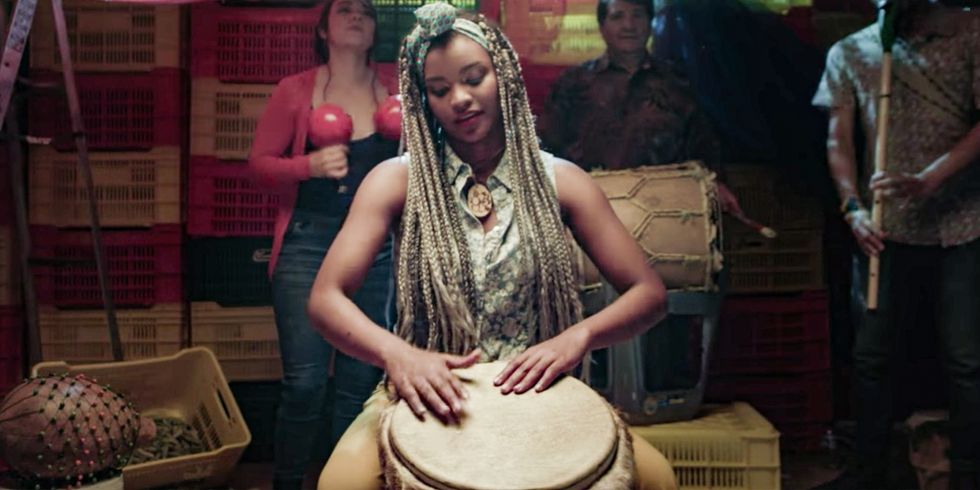 Screenshot from Bachata en Kingston
"But I want to help change that," says García, who is not black himself, but has seen the same patterns in his own country. "Even though in the Dominican Republic we have a very important black culture, the same thing happens in Dominican media. You always see Caucasian people in TV shows, in TV commercials. It's always European-looking people. But there is also beauty in other races, we should be more diverse in media."
After a successful career as a singer and composer for the Dominican band Calor Urbano, García decided to go solo in 2010. Looking for a place with a bigger music industry, he moved to Bogotá in 2013, three years after releasing his first album Melodrama, which was well received in Colombia. And, despite the similarities he sees in media representation between both countries, García also thinks there are some differences in how blackness is treated in the countries where he has lived.
"Stereotypes in Santo Domingo are more evident, in day-to-day life, even in people's musical tastes. Colombia seems to be more open to differences, to be more equal."
Even though both countries have a long way to go in terms of representation and treatment of their black population, acknowledging their existence and their stories in the way that the "Bachata en Kingston" is a step in the right direction. It might be a small step, but García promises that his album will produce more pieces featuring these characters, with the new music video for the song "Espuma y arrecife" (which features the legendary Afro-Colombian band Los Gaiteros de San Jacinto) following them soon.