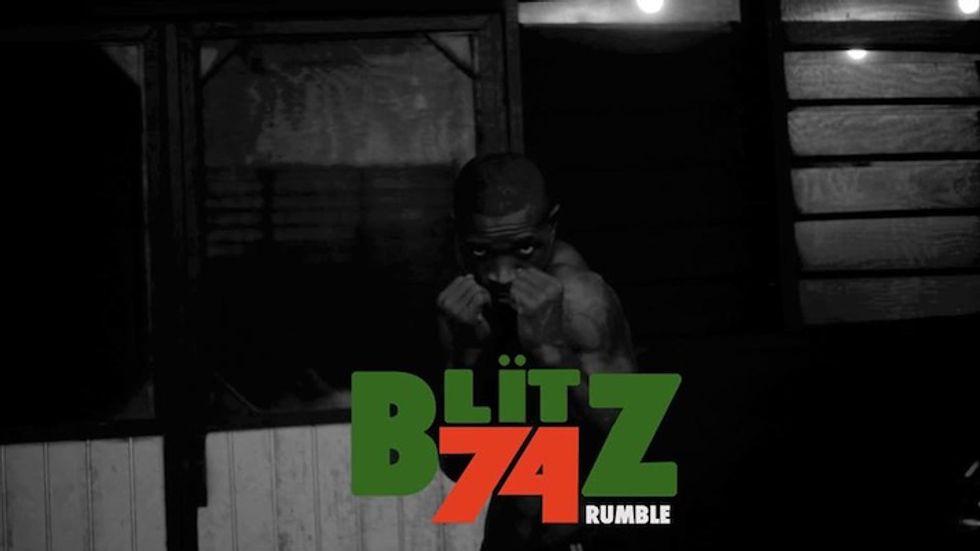 ---
Yesterday marked the 39th anniversary of "Thrilla in Manila," the historic match in which Muhammad Ali defeated Joe Frazier in the Philippines to take home the world Heavyweight title. To celebrate Ghanaian/Brooklynite emcee Blitz the Ambassador released a brand new single and video– the first off his forthcoming Diasporadical EP. Inspired by Ali's 1974 trip to Kinshasa for the "Rumble in the Jungle," "Rumble (Champion Sound)" pays homage to a boxer's passion and work ethic. Produced by Opticks (who was also behind "Dikembe!"), Blitz's latest plays like a pre-game warmup with heavy-hitting drums and horns.
When the video premiered online yesterday, Blitz tweeted out, "Let the record reflect that we took no shortcuts and no days off…..what ever we have, we earned". Opening with a brazen Ali quote taken from the "Thrilla in Manila" press conference, Blitz takes it back to Ghana's coastal town of Bukom– home of champions like Azumah Nelson, Ike Quartey and Joshua Clottey. Blitz spits out rhymes with a lightning speed rivaling the G.O.A.T.'s footwork, while young amateur boxers are shown training throughout the city's streets and chanting "Rumble, young man, rumble." Watch the video below and look out for Diasporadical to drop in March 2015 via Jakarta Records. Blitz has promised to unveil a new single and video every month leading up to the release.
>>>Download Blitz The Ambassador's "Rumble (Champion Sound)"