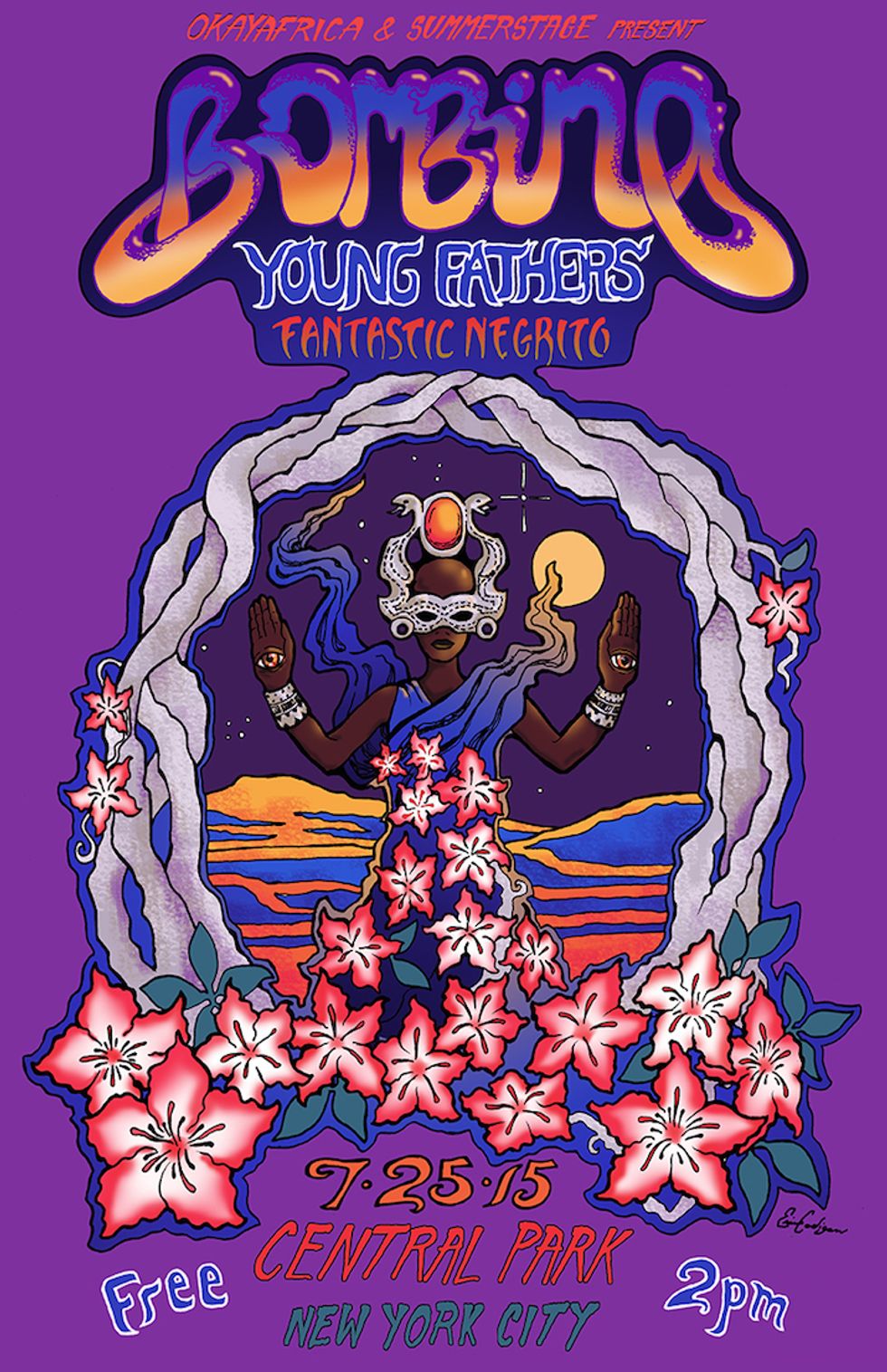 ---
Art by Erin Cadigan.
Okayafrica and SummerStage are excited to present Tuareg guitarist Bombino, Scottish-Liberian-Nigerian trio Young Fathers and Oakland's Fantastic Negrito for a free concert in Central Park on July 25. The show will bring the stunning psychedelic desert rock of Bombino, whose latest album Nomad was produced by The Black Keys' Dan Auerbauch, to the heart of New York City alongside the Mercury Prize-winning Young Fathers — who released one of our favorite tracks and albums of last year — and the black roots-blues rock of Fantastic Negrito. 
The concert will be part of the City Parks Foundation's '30 Years Of SummerStage' celebration this season, which will host 30 artists at the park over 30 days. Be sure to follow SummerStage on Facebook, Twitter, and Instagram to receive all of their announcements. You can check out their full schedule here.
Enter to win one of 4 limited edition show posters (winners have been contacted) designed by artist Erin Cadigan (above) that we'll be giving away ahead of the concert by simply signing-up for the Okayafrica email list underneath. The 4 winners will be picked at random and announced on July 20. Get acquainted with the sounds of the night by revisiting Bombino's video for "Azamane Tiliade," Young Fathers' recent Okay Acoustic performance and a promo clip from Fantastic Negrito below. See you at Central Park!
Okayafrica & SummerStage present:
Bombino, Young Fathers, Fantastic Negrito
July 25, 2015
Doors at 2pm
FREE until capacity