Booty Call, the debut EP of South African fashion designer Nokana "Dodo" Mojapelo and producer Hakim Malema, is a sensitive trap album about heartbreak. The collaborators are calling their four-track, two-skit project the first "post-breakup fashion EP."
---
The newly-released Booty Call tape is an extension of Dodo's streetwear collection of the same name, a conceptual line based off the aftermath of a doomed relationship, which Dodo says turned into a "booty call." The idea was to use breakup as inspiration to create something.
Nokana "Dodo" Mojapelo (left) and Hakim Malema (right). Photo by @AlternativeVisuals. Courtesy of Booty Call.
Each item was given a name, like a musician would for a track. "What I realised is fashion doesn't have the same impact as music, as lyrics," Dodo tells me when we meet up at the Okayafrica offices in Jozi. "When you hear a song, it takes you back in time, where you felt a certain way. I wanted fashion to have the same impact as music."
Take "Dear diary, I told my therapist about you," for instance. Inspired by Dodo's real-life therapy sessions, the finished piece, a white top with words sketched in ink, served as a canvas for his thoughts. It's also fresh-looking.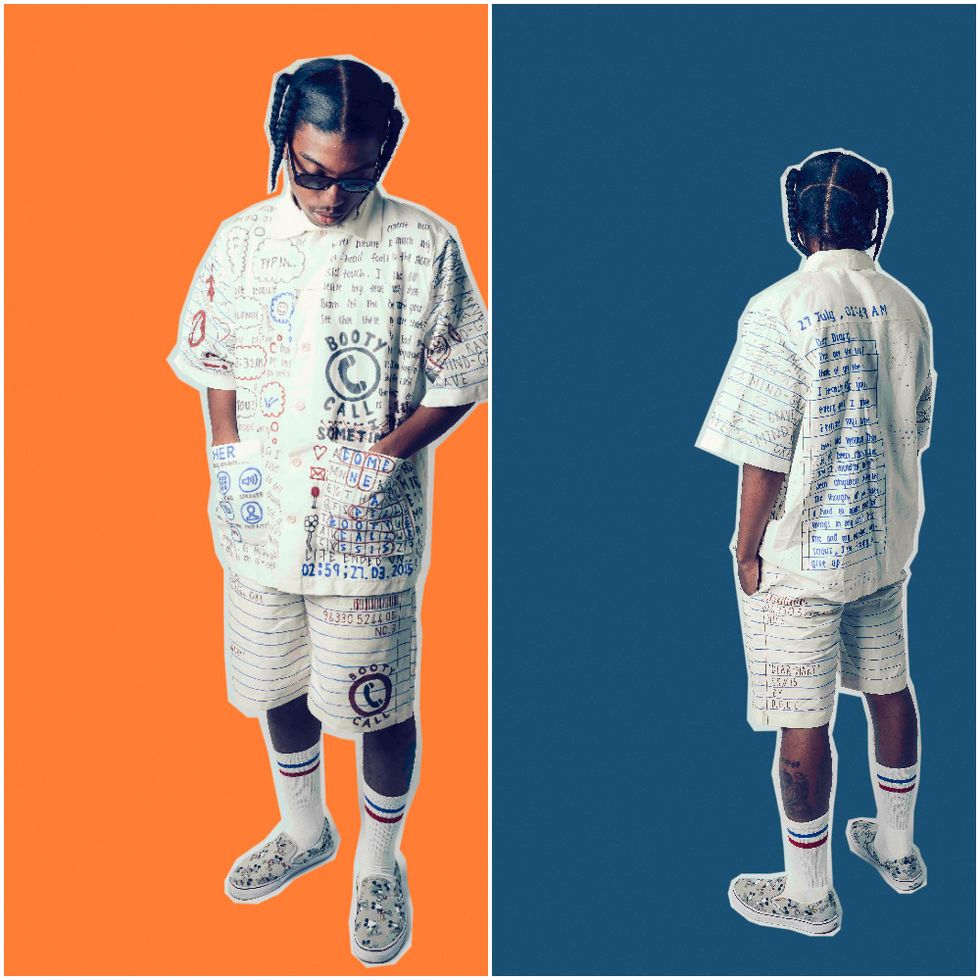 'Dear Diary' from the Booty Call SS15 collection. Photos by Anthony Bila.
The Booty Call EP followed nearly six months later. Malema produced. Dodo wrote the songs.
"A lot of kids relate to it. It's just normal people stories with really cool beats," says Malema. "Throughout the whole mixtape it's life lessons. You'd expect us to be talking about ignorant stuff," adds Dodo. Lyrically and thematically, he calls it a far cry from what you typically hear in trap music. "Imagine hyping up to your own problems," he says.
According to Hakim, it's kind of like Dirty Paraffin [the South African duo of Okmalumkoolkat and Dokta Spizee] meets Yung Lean. Production-wise, the project continues a sound Hakim calls "future weird." With elements of old school bubblegum and electronic music. But it's also got a "sad boys" thing about it, says Hakim. That's where the Yung Lean part comes in. The Booty Call musicians are emotive in their songs. As Hakim puts it: "There's too many hyper-masculine raps."
Listen to Booty Call above. The EP is available to purchase on iTunes here.