Calypso Rose has written over 800 calypso songs.
---
Throughout the mid-1970s, the Trinidadian singer was a constant dominant presence in the race for the "Calypso Queen" title and became the first woman to win the Trinidad Road March competition with her song "Gimme More Tempo."
At 76-years-old, Rose is one of the highest-selling calypso artists of all time.
Now, to mark Calypso Rose's new album Far From Home and her French tour dates, the Paris-based South African DJ Mo Laudihas put together an hour-long calypso mixtape that focuses on the singer's sound and legacy.
"The spirit of the mixtape is to celebrate the lineage and connection between African and Caribbean music," Mo Laudi mentions. "The calypso rhythm originates from West Africa—Calypso Rose's own great grandmother comes from Guinea, and her father's side is from South Africa."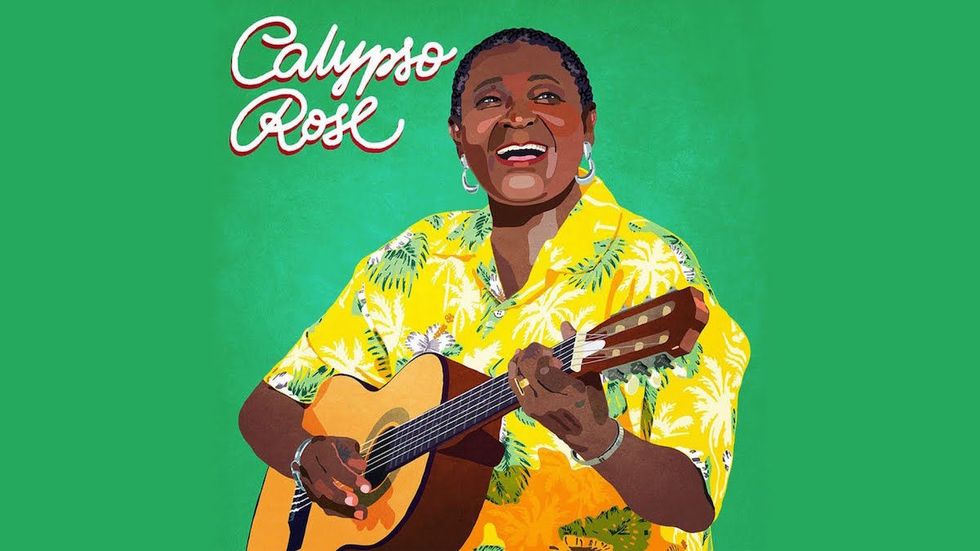 Calypso Rose 'Far From Home' artwork.
"Me being an afro-house DJ—the only South African DJ/producer in Paris—I felt this strong connection to her music. Now, with pop music's rising interest in 'tropical music,' it's good to show the roots and make these connections," Mo Laudi explains.
"There's a remix by Major Lazer's Jillionaire in the mixtape. There's Dollkraut, Mawimbi, and also a reference to the UK Funky anthem 'Do You Mind,' which Drake slowed down to become 'One Dance.' It was interesting to find out that one of the producers of 'One Dance' is South Africa's DJ Maphorisa," he adds.
"There's also a track by Nigerian artist Flavour, 'Nwa Baby,' which is inspired Afro-Cuban music, but even the original music was inspired by traditional African music. A lot of people think these rhythms are Caribbean without knowing their roots."
"Like Calypso Rose said herself: 'The calypso beat originates out of West Africa and the rhythm of the drums… Oh my God, send me crazy with the rhythm of the drums,'" Mo Laudi mentions.
Stream Calypso Rose and Mo Laudi's Far From Home mixtape above.
Track List
Calypso Rose x Calypso Queen (Mo laudi Remix)
Flavia Coelho - Por Cima (Mo laudi Remix)
Soukous Stars - Sweet Mother (Globalisto Sounsystem edit)
Calypso Rose - I Am African (Jillionaire Remix)
Calypso Rose - I Am African (Ivan Duran Remix)
Paleface Ft. Kyla - Do You Mind (Crazy Cousinz Remix)
Drake - One Dance (feat. Wizkid & Kyla)
Calypso Rose - Abatina
Wizkid - Final
Blessed by God - Legendary Beats (Avant Gard Club Music edit)
Nwa Baby - Flavour (So Shifty Edit)
Calypso Rose - No Madame
La Yegros - Chicha Roja
Calypso Rose - Leave me alone
Soca Boat - Mighty Shadow
Calypso Rose - Zoom Zoom Zoom
Oh Yeh Soweto - Teaspoon
Angelina - Cayphus Semenya (Globalysto Sounsystem edit)
Calypso Rose - Abatina (Dollkraut Remix)
Calypso Rose - Abatina (Mawimbi Remix)
Tribute - Justine Impiriale (Mo laudi screw edit)
Pablo Fierro - Herencia latina
Calypso Rose - Woman Smarter