In 2014, the Cape Town rapper, BoolZ released a song called "Aph' Ekapa," which has since gone on to be a cult classic. On the song, BoolZ rapped with a drawl, drawing out his syllables the way new school rappers all over the world do. He was rapping in the black Cape Town township slang, known as Ringas, over a bass and synth-heavy trap beat. He rapped about rocking shades, looking cooler than life and taking your girlfriend, chilling the fuck out, chasing the paper... that type of stuff. The video depicted the same lifestyle.
---
"Aph' eKapa" indicated the new direction Cape Town hip-hop was taking. Before Boolz' street anthem, spaza was the subgenre of choice for Cape Town rappers from the black townships. Spaza, which started around 1995 and peaked around 2005, is about raw, hard lyricism, boom bap beats and extensive technical use of both IsiXhosa and English. Spaza in its true form, as championed by artists such as DAT, Ndlulamthi, Kanyi, Driemanskap, Backyard Crew, Pzho and a lot more, is wordy and the lyrics are centered around social consciousness, reflecting the struggles black people face in the townships which were created by the apartheid government as dumping sites for black people to keep them as far away from the city centre as possible.

Addressing the struggles of the people it represented was so important to spaza that braggadocio rap was usually associated with mainstream rappers and was frowned upon as it was seen as fake or bubblegum.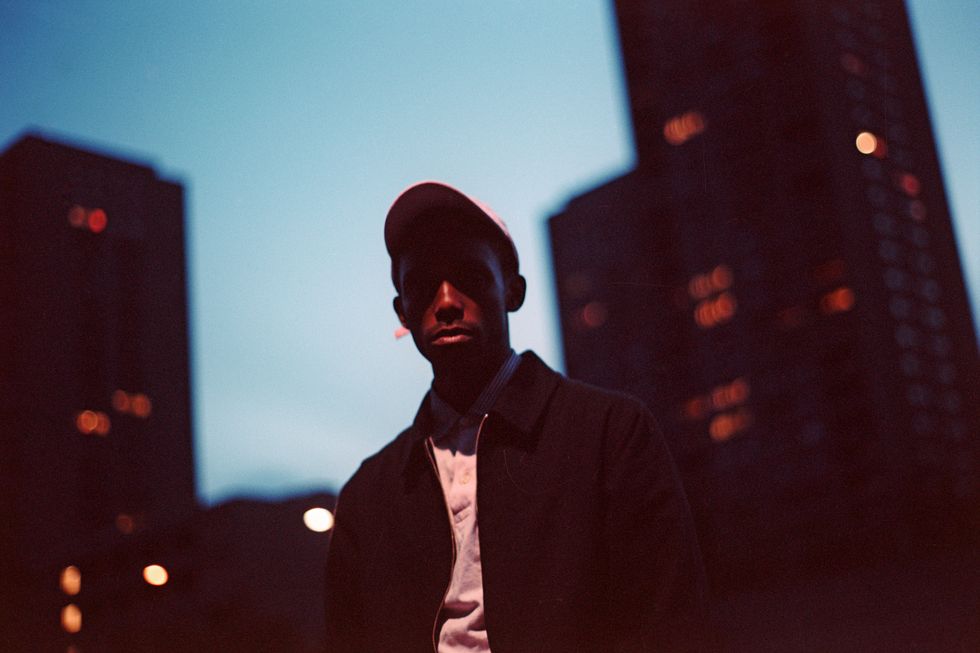 BoolZ. Photo by Dylan Moore.
BoolZ was one of the first artists to boldly start a new subgenre which stood side-by-side to spaza. The MC, producer and DJ called his sub-genre spidans rap. It incorporated all of the shunned upon elements, from the beats to the content. In his music, he spoke about the flashy ghetto life and covered subjects such as fashion, gang affiliation, financial riches, sexual prowess and just being cool. The term "spidans" refers to the flashy thugs of the black townships, who were popular between the early 90s and early 2000s. A spidans is a designer clothes-dressed and monied (legally and illegally) thug, who drove around in a BMW 325iS and played kwaito music, with an excessive amount of cash on him (think Chester from the SABC 1 series Yizo Yizo).

BoolZ embraced the spidans lifestyle and rapped in ringas which is understood by urban Cape Town youths from across all class lines. He was not trying to be deep or technical in his use of IsiXhosa or English. At the same time, his rhymes were far from mundane; his bars were still potent. They were, in his words, a reflection of reality that was expressed in words and flows which represented how urban Capetonian youths speak.
Spidans rap, which has touches of electronic music and trap, is influenced by old school kwaito, from the production to delivery. When "Aph' eKapa" was released, South African hip-hop and kwaito, two genres which for the longest time were involved in an animus rivalry, had fallen in love. Hip-hop artists such as OkMalumKoolKat, K.O, Cassper Nyovest, among others, released some of the biggest hits that were categorized as new age kwaito—a subgenre that can be defined as hip-hop blended with kwaito by way of samples and appropriating some old school kwaito lyrics and delivery styles.

"I am a product of kwaito," says BoolZ via email, as he is currently living his best life, performing and collaborating with artists in Zurich, Switzerland. "I keep kwaito on my phone and everywhere. When All Stars were law ekes, I always had them by natural law. Sometimes I DJ kwaito sets." The artist goes on to mention that he remixed kwaito artist M'du's mega '90s hit "Tsiki Tsiki" in his debut album. He also makes reference to a song of his called "KWAITO 2 D34TH" in which he sampled Spikiri and M'Du's productions. "[Kwaito producers] Mandla Spikiri and M'du are two of my favorite producers," he adds. "It's a pleasure to sample them. Me and my friend DJ Simple have kwaito conversations that last the whole day. Without kwaito, I would have no backbone. Kwaito is what iizpidans would play in their cars from 1994 to 2002 to be specific. That period, kwaito was undefeated."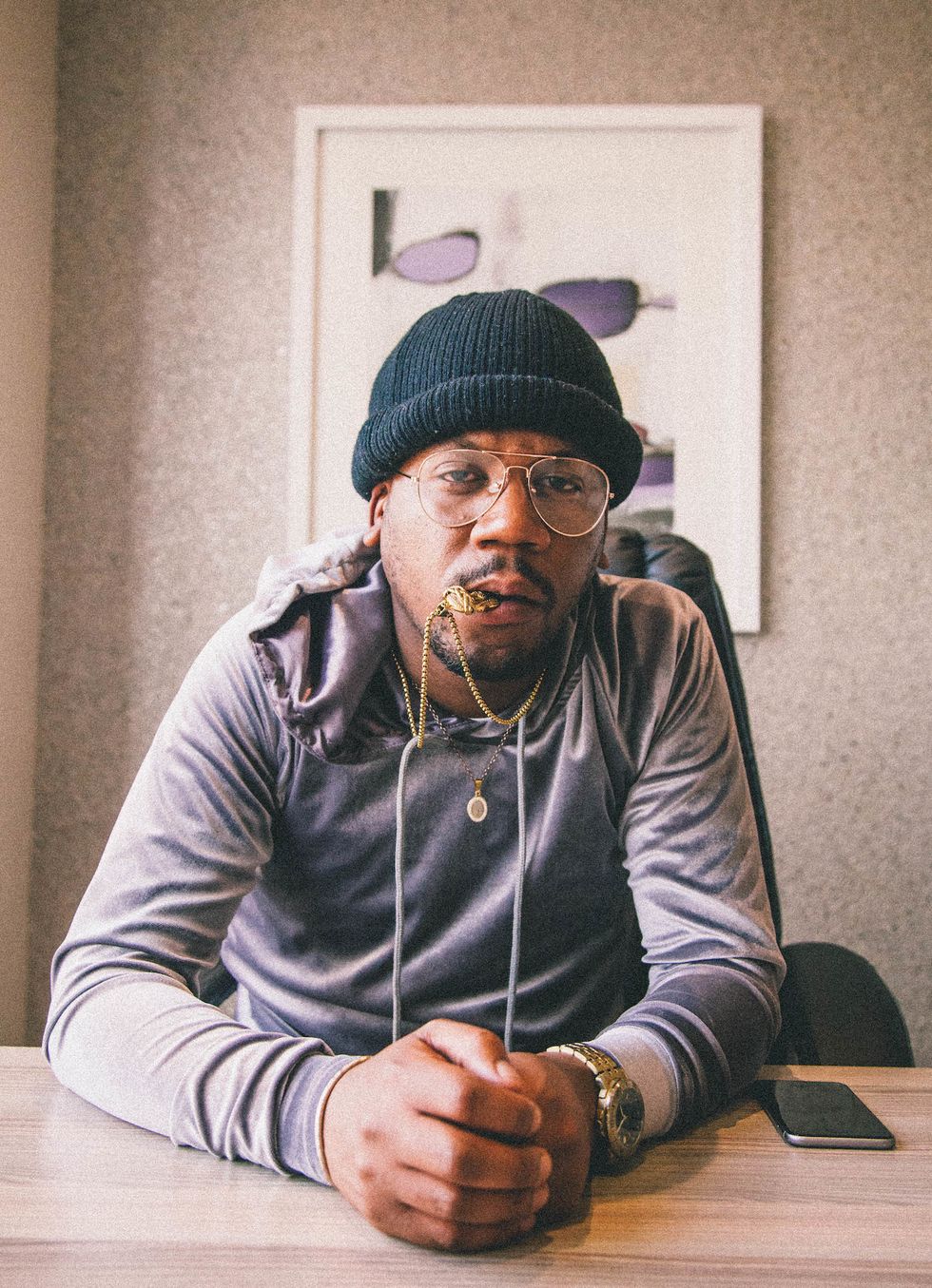 Amilca Mezarati. Photo by Sabelo Mkhabela.
Spindans rap would grow and influence other Cape Town rappers. One of the most notable artists to resort to slang and telling stories from the hood in Ringas, is Amilca Mezarati. The MC, just like BoolZ pre-"Aph' Ekapa," was rapping conventionally, mostly in English over mostly boom bap beats. But after the release of the song called "Hai Sho Bhowzey," which was a collaboration between him and fellow rapper BlaQ Slim in 2014, Amilca's music took a different direction.

"It's logical to rap how you speak," says Amilca, adding that using everyday slang enabled him to be more relatable to his fanbase. "Hai Sho Bhowzey" is a popular greeting in the Cape Town township of Langa where both Amilca and BoolZ are from. Amilca calls his brand of hip-hop ringz (a stylized version of the word "ringas"). He refers to ringz as "iiringz zom'groovo" (ghetto party talk) at times.
"I wanted other people to listen to our music, just the normal person on the street," he says about his move of choosing to rap in vernacular. "As soon as I started rapping in a way that they could relate, a way that they communicate to each other on a daily basis, it was then easier for us to get booked at Rands, Head Honcho, iPotsoyi, nightclubs and picnics." In general, Cape Town hip-hop artists whose names aren't YoungstaCPT, Uno July or Driemanskap, hardly ever get booked for big events such as the ones Amilca mentions.

Amilca, after releasing singles such as "Jik' Izinto," "Malikhona," "From Samps and Beans to Champions," dropped the EP Road To Rings, earlier this year. The EP is a prequel to Ringz, his debut album, which has been promised since 2016.
Amilca's facial expression intensifies as he states that Ringz, as opposed to the EP which is mostly light-hearted, will see him tackling more serious topics. "The kinda things I'm sayin on that tape are very deep," he says. "They're not like what I've been saying on 'Hai Sho Bhowzey,' 'Malikhona' and 'Baller Nge Budget.' I get deep into situations, like when your best friend turns on you in the neighborhood. The murder rate in Cape Town is the highest in South Africa... I get into concepts that are so deep that I had to do Road To Rings; I had to bring in Dee with me, and get people prepared for what I'm about to say. The EP was more uptempo, but with the album, there are no singles, I'm just trying to break down how I came up, you know, catching the train."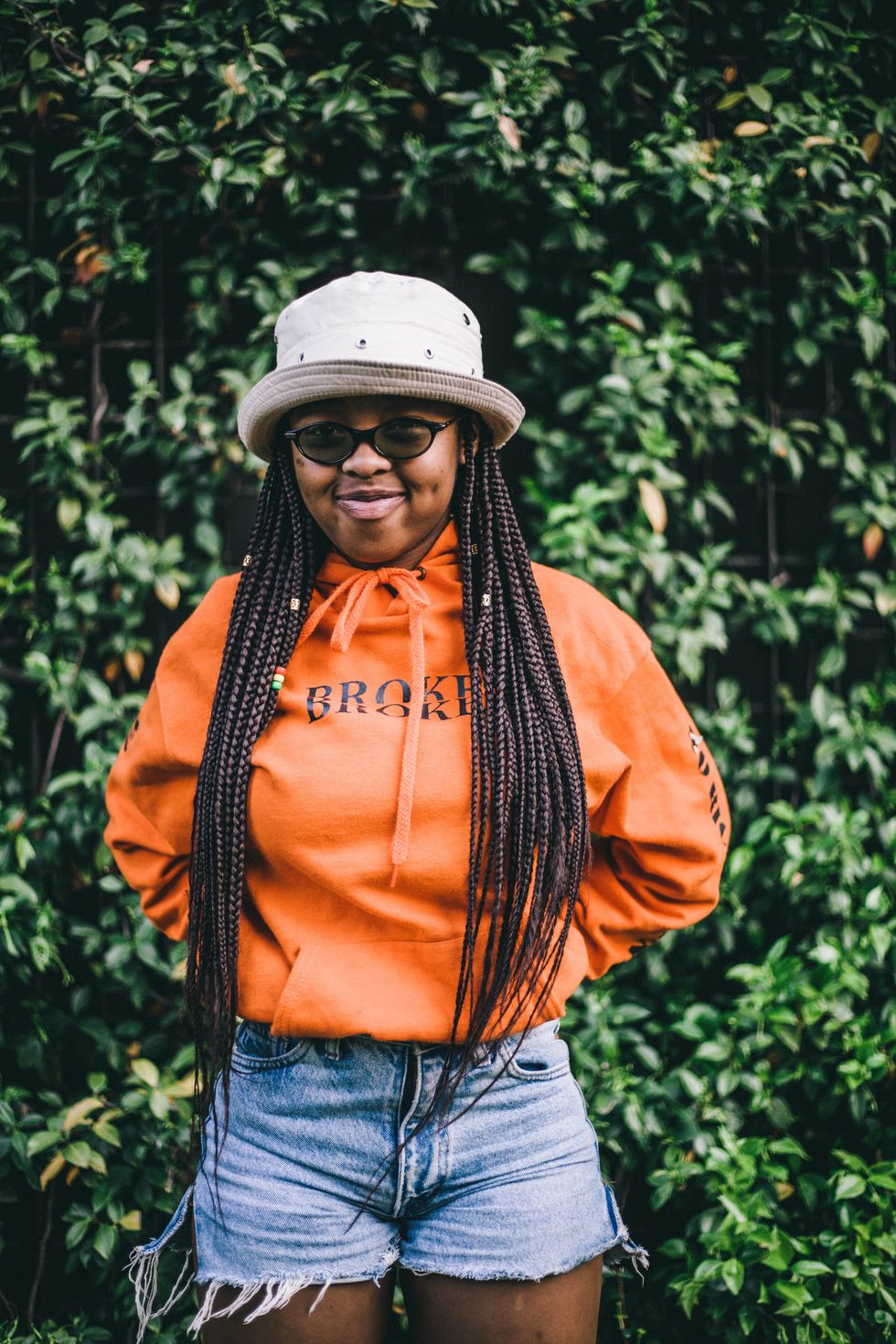 Dee Koala. Photo by Sabelo Mkhabela.
The EP features more soldiers of the ringz movement—the likes of, among others, TRP, Cole Will, and most notably Dee Koala,one of the most promising rappers from Cape Town at the moment. Dee recently got a cosign from SA rap superstar Riky Rick. Riky gave Dee a chance to perform her upcoming song "Oko Lephone Ibikhala" during his set at the popular annual hip-hop festival Major League Gardens in September.

When asked about the influence spaza has in their music, Dee and Amilca reminisce about spaza's golden days, how everyone in the hood was loving it. "Ringz is definitely inspired by spaza," Amilca admits. "It's inspired by kwaito and Afrikaans rap too. It's basically the language that is spoken in Cape Town street culture. Hiringas, siyayi ringa lewey. My problem with spaza music when it was being done by the older guys was that they would use words that were so deeply rooted in Eastern Cape Xhosa. They would use words that were not that familiar in Cape Town."
"'Hai Sho Bhowzey,' that was the biggest wave ever," says Dee Koala. "It was kinda like an upgrade for spaza. 'Hai Sho Bhowzey' was an interlude to the way we're rapping now; is'kasi."

Parallels can be drawn here to hip-hop countrywide and globally. Old school rappers like Rakim and Nas would make reference to astronomy, astrology, ancient history and other scholarly subjects in their rhymes. But new age lyricists such as Kendrick Lamar, J. Cole Drake have found a way to tell relatable stories with proficient complex wordplay using the everyday language. Maybe the lines are easier on the ear, as such rappers use colloquial language, but to say the lyrics are watered down is inaccurate.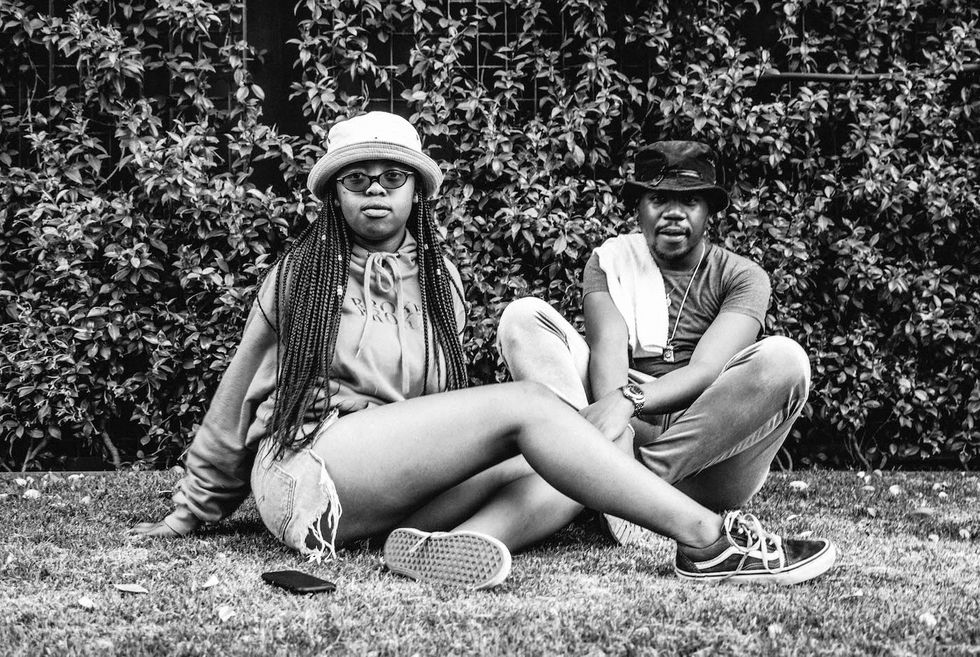 Dee Koala and Amilca Mezarati. Photo by Sabelo Mkhabela.
Amilca, BoolZ, Dee Koala, BMan, Phresh Clique, Sole, UGLYMOBBWDIB and a whole lot, are telling relatable stories using ringz. The rappers aren't shy to talk about money and partying alongside the daily struggles faced by the working class of Cape Town. That way, they give you a 360 view of life in the hood; as much as there's struggle and pain, youngins still look fly, turn the fuck up, and have a great time.

But, as we all know, hip-hop purists aren't the biggest fans of change. Ringz and spidans rap aren't received that well by the spaza community. For instance, there haven't been that many, if any, intergenerational collaborations between the older spaza artists and the new ringz and spidans rappers. In 2015, when BoolZ did an interview with the Bush Radio hip-hop show, Headwarmaz, fans weren't so impressed with the content of his lyrics. Headwarmaz was, for many years, a platform for spaza.
BoolZ expresses that he doesn't care about the hate and doesn't need approval from heads or purists. "I work with those that want to work with me, those that are talented enough to work with me," he says. This is partly why his 2016 EP was titled Love Tha Hate.

Amilca on the other hand feels puzzled by the hostility and thinks that "it could be that they feel like we don't pay homage to them for what they have contributed to the culture, then out of the blue, we come out and say that we have a new genre or style of rapping." He further acknowledges that "some OGs do embrace it, though, but it's usually the OGs that follow the culture, and not the rap OGs."
Dee Koala shares similar sentiments. She feels that "only a few OGs are accommodating, while many of them are afraid of change." She expresses that they may "feel like they lost the control that they had... and having that in mind, they automatically hate the new type of music" instead of embracing it.
But there's no stopping the new wave. You can hear ringz and spidans rap anywhere from Rands in Khayelitsha, all the way to the food courts of the University of Cape Town.
Below, watch interviews with Dee Koala and Amilca Mezarati and check out a playlist of songs by new age Cape Town hip-hop artists who are part of the new wave discussed above.
Videos shot and edited by Tseliso Monaheng.