"The way we connect to spirituality is fluid," Chelsea Odufu says as she speaks into the microphone.
---
The recent NYU graduate, who admits sheepishly that hasn't received her diploma just yet to a chuckling crowd, wears a bright crimson red and sits confidently in her seat donning golden rimmed circular glasses.
Seated next to her brother, Emann Odufu, co-writer and producer of the film, the Guyanese-Nigerian director speaks intently to the packed crowd at MIST Harlem's theatre and bar. A big night for the sister-brother duo, the Odufus film, Ori Inu: In Search of Self, debuted publicly for the first time.
Described as a coming of age story, the short-film focuses on Natalia Diaz, a young immigrant from Brazil played by Helen Beyene, who must choose between conforming to her identity as a Catholic woman or coming to terms with her mother's adherence to the Afro-Brazilian religion Candomblé.
"What are you in search of my child?" the film asks.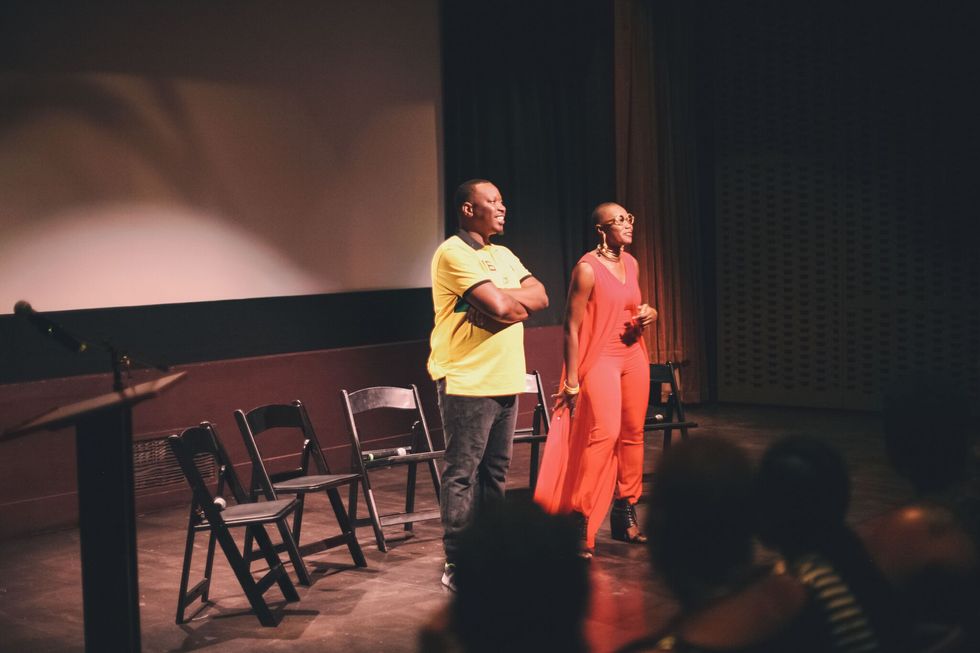 Photo courtesy of Chelsea Odufu.
With five chairs sitting at the front of the room facing the audience, it is what happens after the film however that is most noteworthy.
Chelsea and Emann Odufu, supporting actors Tre'vone Lyle and Trae Harris file to the front of the room. An empty seat awaits as Chelsea, clearly anxious, speaks to the audience, pacing. "We're just waiting for our lead actress Helen. She ran to the bathroom." To murmured laughter, soon enough Beyene runs to her seat.
In a Q&A session moderated by Romola Lucas, founder of the Caribbean Film Academy, the audience listens attentively as the creatives speak honestly on the film, its creation and most importantly their own paths to spirituality and self-discovery.
Photo by Eric Henderson.
"There are ties to Africa that connect all of us," Emann explains. "It's a matter of reckoning with one's differences and finding oneself."
When asked how she connects to her lead character role, Beyene explains the intricate identity complex she faced as a first-generation American, with parents born and raised in Ethiopia. A matter of "trying to find your place in the world," it's a constant questioning.
"I look like you and yet, we're different. Who am I?" she muses.
Like Natalia, she reckons with her differences in the face of conformity.
"I'm fortunate enough to know I'm Ethiopian but I don't speak the language. I grew up here," she notes to a receptive audience nodding their heads in understanding.
Focusing on what it means to be spiritual during the millennial age, as the movie asks Natalia to find what she is in search for, it seems to also ask those connected to its production to do the same.
Having grown up in a Jehovah Witness household Chelsea explains, the movie is a far cry from what is expected from the two siblings. But that's what makes spirituality fluid. It is a journey of self-discovery often rarely captured on screen.
Photo by Eric Henderson.
Harris, who plays Camila Diaz, Natalia's strict Catholic aunt takes this idea even further. Raised by a Roman Catholic mother and a Muslim father, she explains her journey to spirituality was one of realization.
"I chose Catholicism when I was in high school, and then I went to Israel and I chose Islam" Harris tells the audience.
At college, she had an epiphany.
"That's the time I realized it's all the same and that everyone just has different names and different fables, and different books that say the same things. As much as I am a being of the diaspora, I am a being of all these different paths. All of these things are me, and I don't have to choose one. I can have them all. [And] not only can I have them all, but I can supercede them all and I can fully submerge myself in spirituality which has nothing to do with religion but have everything to do with knowing and understanding."
Photo by Eric Henderson.
More so than anything, it's a story that centers around representation, of seeing yourself on the screen even for a mere second.
"Even if they [the audience] don't connect with the spirituality of it," Chelsea explains, "they can connect with seeing Black Gods on the screen, which was something that was also important for us."
What was also important was recognizing the roles of black women, their narratives and their journeys in an industry that often pushes such stories "to the background."
In all, the film which lasts less than half an hour highlights the nuances of Orishas, music by Oshun, and African spirituality in one of the most populated black communities in the world.
More importantly, it is a reflection of a modern-day journey to uncovering identity in the diaspora.
"I think good art reflects their time," Emann explains. "This came out of us making art out of the moment we were living in."
And it is through their own stories, through this living, that the real narrative unfolds.