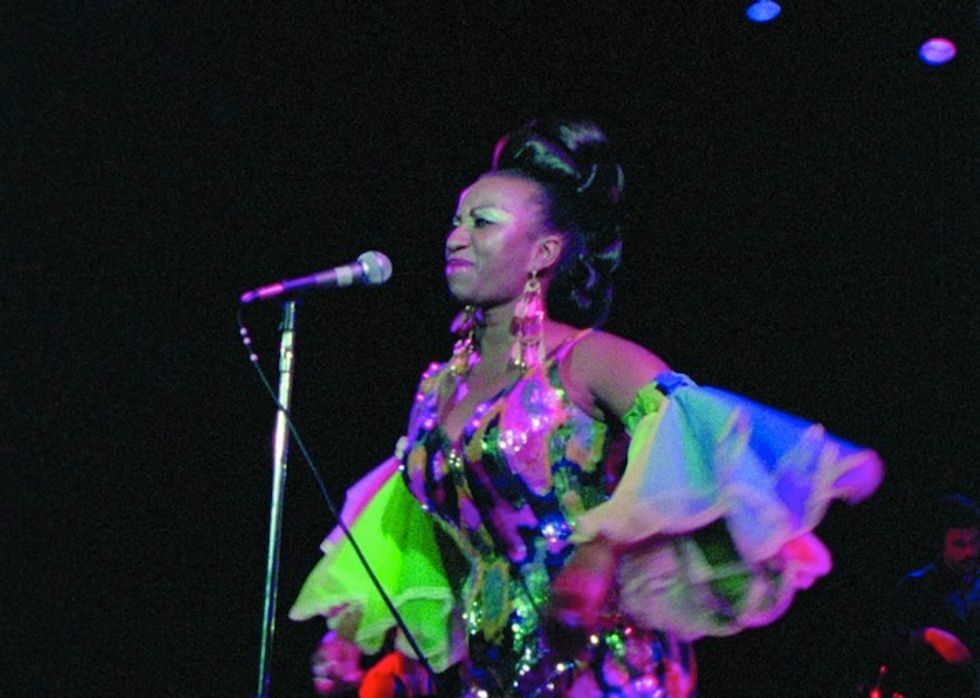 ---
The undisputed Queen of Salsa Celia Cruz would have been 88 years old today. In homage we're looking back on the time she spent in Kinshasa, (then-) Zaire back in 1974.
Born in 1925 Celia Cruz's career spanned a remarkable six decades. She was known for pioneering the salsa sound and for her remarkable voice of which curator Marvette Perez has said: "It was as if the earth opened her mouth to talk and to sing." Her humour was also second to none — even in the most heartfelt and poignant songs she would find room to improvise a punchline. In this 1988 BBC Arena performance she addresses the audience "If your husband hits you, make sure you hit him back. If you can't do it with your hand, hit him with the frying pan," an injunction that she follows with laughter and some on-point hip-rolls.
Cruz was also a pioneer in her celebration of AfroLatinidad and foregrounded the African elements of her identity at a time when it was not popular to do so. In the Americas, music, dance and religious practices informed by African cultural survivals had a long history of being outlawed or condemned as base, vulgar, even evil. In her music, lyrics and dress, however, Cruz drew on the parts of Cuban culture that were rooted in African cultural survivals. She often sang about Shango and drew her lyrics from Santeria ceremonies (see her hit Quimbara below). Her flamboyant dresses were pure Caribbean syncretism: part Spanish colonial, part Afro-Cuban they were modelled on a style called bata Cubana worn by rumba dancers. Even her well-known cry ¡Azucar! can be interpreted as a nod to her enslaved forbears who harvested sugar to produce European delights.
In 1974, Cruz was one of a group of artists including BB King, James Brown, and Miriam Makeba that performed in Kinshasa alongside top Zairean groups T.P.O.K. Jazz and Tabu Ley Rochereau. The performance was part of a three-day festival called ZAIRE '74, the brainchild of South African trumpeter Hugh Masekela and his producer Stewart Levine, who had come up with the idea of a music festival to precede the boxing match between reigning champion George Foreman and Muhammad Ali.  While the event had no specific politics, the current of black liberation politics must have run strong with Ali, Makeba and Masekela's involvement . The fight was to be held in Zaire under the dubious name "Rumble in the Jungle" and subsidized by President Mobutu Sese Seko (or rather, the Zairean people) as part of his plan to put the country at the helm of the black world. Despite this commitment to forging black Atlantic links, Mobutu made it clear that the musicians would have to sing for their supper. They eventually found money via Liberian bankers, only for disaster to strike when Foreman had to pull out of the fight due to an injury.  The fight was delayed by six weeks but the show went on, and the promoters reconciled themselves to a Zairean audience rather than one made up of international tourists.
Setbacks aside, Zaire '74 was a huge success,  as the copious amounts of footage collected in the documentary Soul Power shows. Above you can watch Celia Cruz and Fania All Stars' blistering performance before an 80,000 strong crowd. The audience is definitely vibing — no doubt recognising the influence of the Afro-Cuban rumba sound on contemporary Zairean pop, soukous. Check the video below to hear Celia's sound check on the day - good enough to to be a bona fide performance.