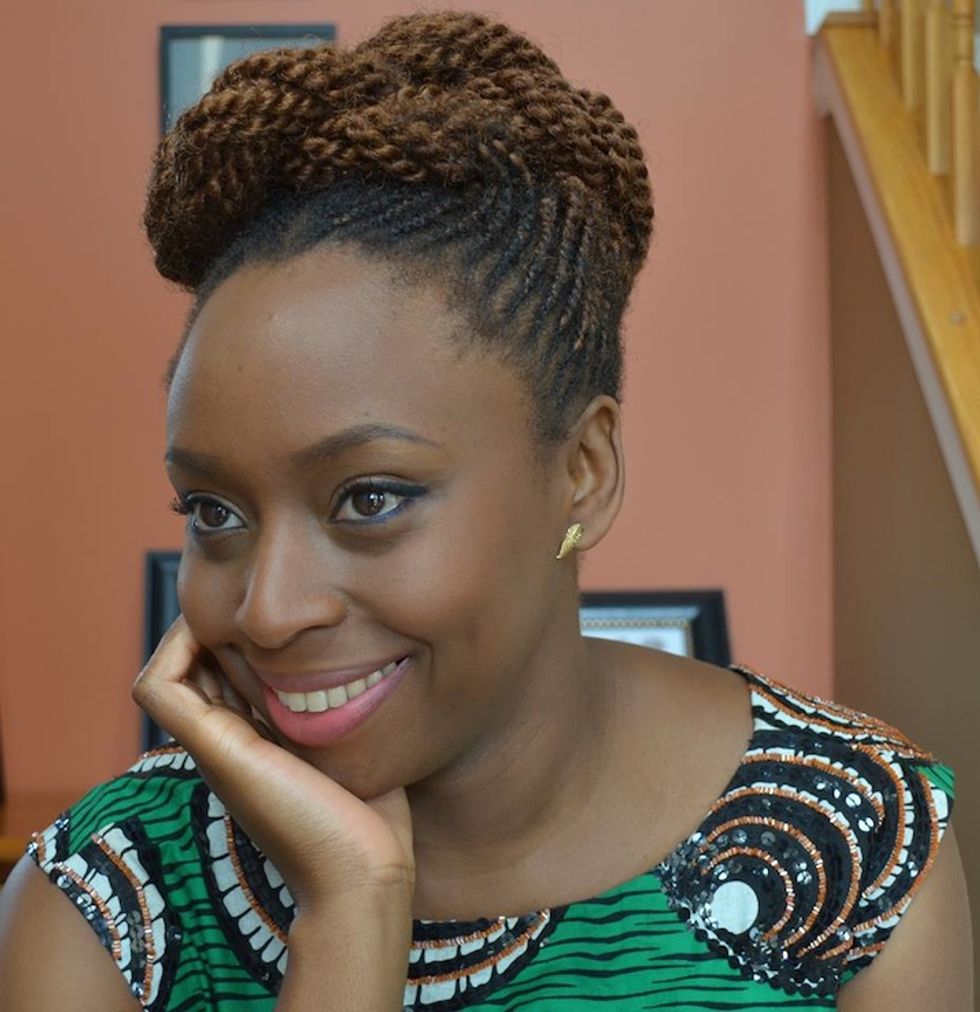 ---
Chimamanda Ngozi Adichie recently wrote a short story for The Art of Saving a Life, a collection of stories, art and music commissioned by the Bill & Melinda Gates Foundation celebrating how vaccines continue to improve the lives of children around the world. More than 30 world-renowned photographers, painters, sculptors, writers, filmmakers, and musicians participated in the project, including Angélique Kidjo (who contributed her version of a traditional Kenyan song, "M'Baamba," remixed by South Africa's DJ Naaldekoker), Yvonne Chaka Chaka, and Malian photographer Fatoumata Diabaté (whose recent work documents the urgent Ebola vaccine trials that took place in Mali in mid-October).
Adichie's contribution, the 1985 Nigeria-set short story Olikoye, is told by a woman about to give birth to a boy she has decided to name Olikoye, as she reflects on the child's namesake, whose influence on health care and encouragement and promotion of vaccines at a transformative time for Nigeria led to the survival of so many children and mothers. The man the child is named after is none other than Dr. Olikoye Ransome-Kuti, who died in 2003 and is often described as Nigeria's "best cabinet minister." He was also Fela Kuti's brother, and helped pave the way for Nigeria's battle against HIV/AIDS. Adichie, who herself is no stranger to health care, having studied medicine and pharmacy at the University of Nigeria for a year and a half before leaving Nigeria for the United States, imagines the late ministers' work through the eyes of a little girl to poignantly highlight the transformative affect vaccines had on village life and infant mortality rates. Accompanying the story is a short explanation about the art, which explains:
"Nigerian writer Chimamanda Ngozi Adichie takes us back to 1985, a transformative time in her home country when a new health minister "with big sleepy eyes" introduced free services to mothers and children. Dr. Olikoye Ransome-Kuti is revered in Nigeria as one of the best cabinet ministers the country has known. His vision was primary health care for all, beginning with basic preventive services including vaccination. In this tender short story, Chimamanda imagines the Minister's life through the eyes of a young girl whose father works for him, as he embarks on improving health for Nigerians. She writes: 'A baby's warm arm and a small injection. It took that to save the lives of the babies born that year in my village, and in the villages around us and those far from us, in Calabar and Enugu and Kaduna. It took that to save my life.'" (via The Art of Saving a Life)
Read Chimamanda Ngozi Adichie's latest short story in full either via The Art of Saving a Life or Medium, where it surfaced this week with illustrations by the Brooklyn-based Wesley Allsbrook.
Illustration posted with 'Olikoye' on Medium, by Wesley Allsbrook