---
*Kalkida Assefa Artwork
Nigerian Chinedu Ukabam is a man of many hats. A Toronto-based musician, filmmaker and (more famously) fashion designer, Ukabam is a creative pioneer and versatile artist. Founder of the label Chinedesign and the African-inspired pop-up shop and gallery SUPAFRIK, Ukabam has proven to be successful, with his creations have been running in many countries. Initially creating graphic tee-shirts, he's developed a full range of womenswear and menswear that have been sold from Toronto to Tokyo. A popular fashion designer, Ukabam's designs have reached a lot of people, especially artists and creatives. Jarvis Church, K-OS, the late Baatin of Slum Village, UK rapper Ty, actor Ngozi Paul and theater director Weyni Mengesha have been known to sport the Chinedesign signature. 
Who is Chinedu Ukabam?
An artist and entrepreneur who wears many hats and calls Toronto home.
How did you start creating? When did you start considering fashion?
I put out my first design about 9 years ago. I first started with creating graphic tees and then I graduated to designing full collections.
Did you study fashion? If yes, where?
I did not formally study fashion. I am self-taught and still learning.
What are your inspirations and your influences?
I am inspired by a lot of things. I wish I was around in the 60s and 70s. Alot of my inspiration seems to come from that time period. I take in everything from Japanese art to old National Geographic photographs.
What materials are you using? Where do you get these materials?
For my recent collection I used hand-loomed Moroccan silks and combined them with casual fabrics like cotton jersey. I designed a few of print fabrics too inspired by Moroccan tile-work and the Jardin Majorelle.
What is the name of your new collection? Could you describe this new collection? What was your inspiration?
The new collection is called Marrakesh and it is inspired by a trip I made to Morocco a few years ago. You can read more about my inspiration here.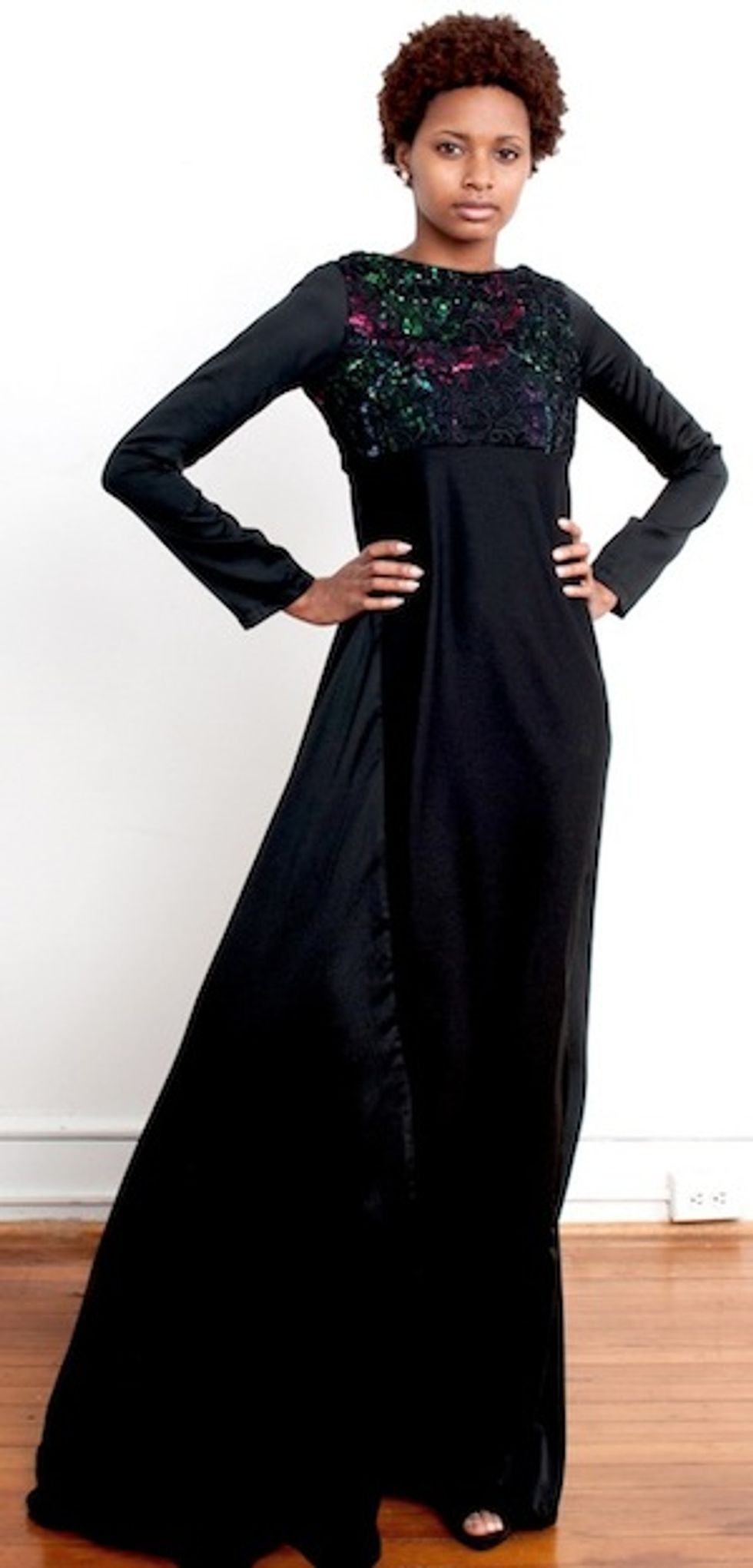 I think that you're a creative designer. Do you think that you're bringing something new?
Thanks. I am not re-inventing the wheel with every new collection but I definitely try to inject something into it that I have never seen before.
What is your favorite piece and why?
It's hard to pick favourites but the blazer that mixes Moroccan silk with french lace and heavy cotton jersey came out really nice.
How would you describe Chinedu Ukabam signature in one line?
Heart-felt and soulfully rendered.
Do you consider yourself an African fashion designer?
Yes, I am African by way of Nigeria and I design clothes so that makes me an African fashion designer. On the other hand, I do not want to be pigeon-holed into a certain look as far as expectations go. If I was invited to design uniforms for NASA tomorrow, I might opt not to dress dress the astronauts in fibreglass dashikis.
Today, we have African fashion weeks in many countries and it is even appearing in more countries every year, what do you think about it?
I think its great that there are African fashion weeks around the world. When the mainstream isn't paying attention, it's good to create your own spotlight with like-minded people and stand right in the middle of it.
The evolution is a proof of the existence of african fashion, shall African designers be presents in regular fashion week?
There are already designers of African-origin participating in "regular" fashion weeks. I also don't think getting a spot in a major fashion week is the holy grail that some people consider it to be. It's great exposure but nothing is promised. There are designers that show at fashion weeks and go out of business after one or two seasons and there's designers who have never shown at a fashion week and have a booming fashion business.
I know that you are the founder of SUPAFRIK which was held this weekend in Washington DC.Could you describe this event?
SUPAFRIK is a pop-up experience that features artists and designers that re-contextualise African aesthetics and culture in a contemporary manner.
*The artwork of Seyi Tuyo entitled "Tell me", photographed by Temi-Tade Kujore
How long has it been in existence?
The first SUPAFRIK pop-up was launched in July 2011.
What is the goal?
The goal of SUPAFRIK is to showcase, raise awareness about and sell contemporary Africana. Everything from food to fashion to art and literature is included under the broad umbrella.
What is your relationship with all the fashion designers and artists presents during SUPAFRIK? 
The designers featured are people that I have met in my travels like SAWA Shoes and AITF from Paris or discovered through other designers or the internet such as Chichia London.
What's in it for all these artists?
Real time exposure to an engaged audience and the opportunity to grow their sales in a new market.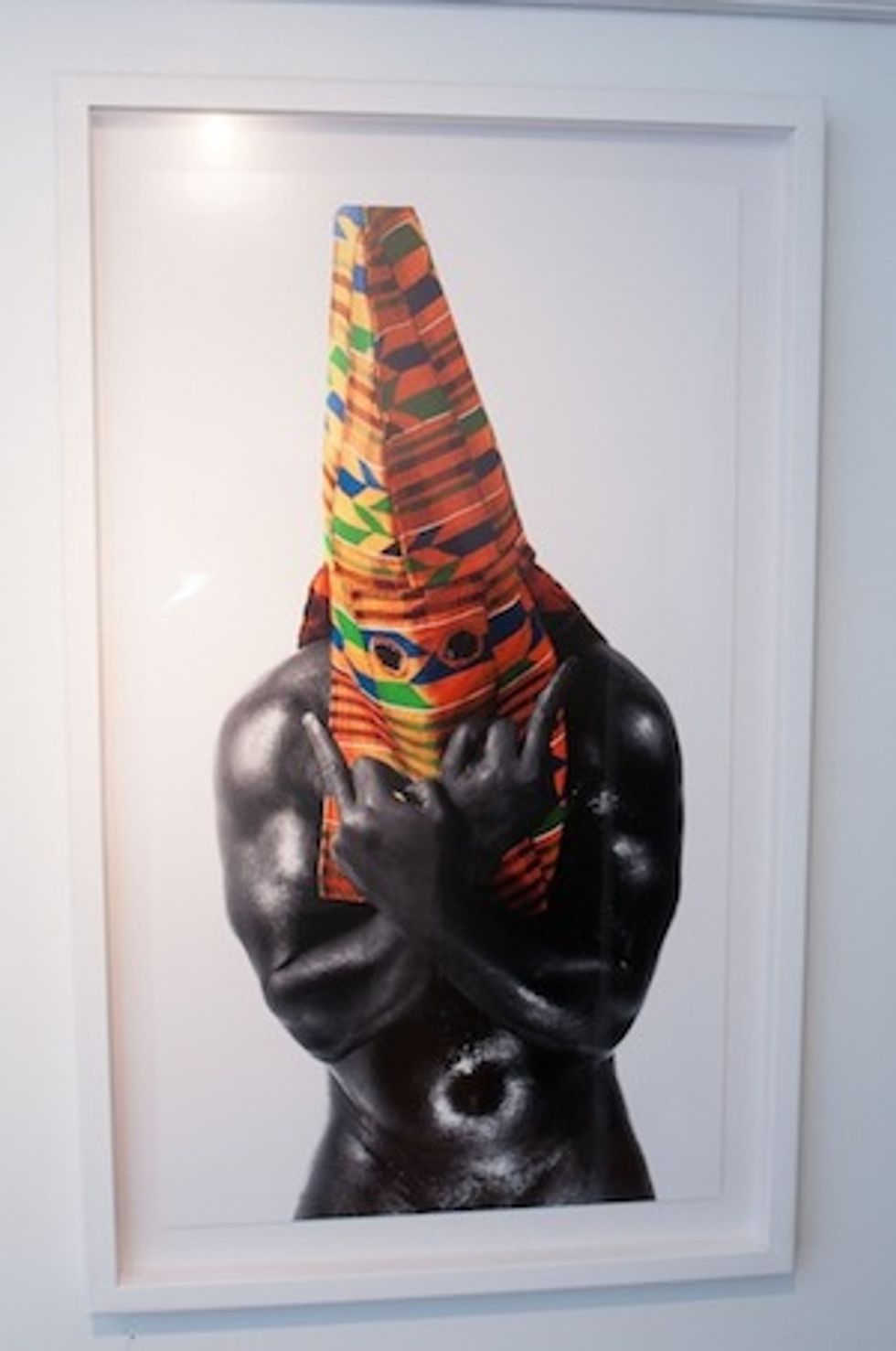 *Stan Squirewell's "Sacred Guile Pigment," photographed by Temi-Tade Kujore
How was SUPAFRIK DC? How did it go? Did you expectations get accomplished?
SUPAFRIK DC was amazing! It was everything we wanted and more. The people of DC and the DMV area really came out in a major way and it was great to meet and politick with other creatives.
What is the artist that we should keep an eye on?
All the visual artists featured in SUPAFRIK DC were impressively talented. I especially liked the work of Amber Robles-Gordon, Stan Squirewell and Oluwatoyin Tella from the DC area.
What do you think of the African fashion?
Some really interesting stuff is coming from the continent. More than anywhere else right now in the world, I think Africa has the potential to refresh the fashion world.
What are your hopes for the African fashion?
I hope that it grows bigger and becomes more commercially successful. I also hope that it does not get tied down in cliches and shortcuts. We have such a rich culture to mine from when it comes to creating.
Describe SUPAFRIK in one word.
Amazing