Film
Cinema Africa: The 'Lost Tongue' Filmmakers on Rescuing a Southern African Language From Extinction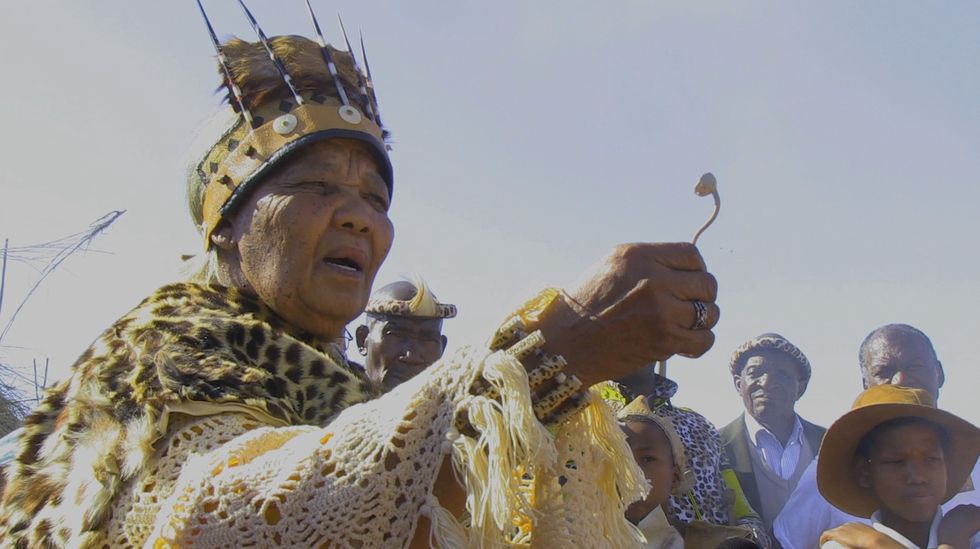 Davison Mudzingwa & Themba Vilakazi of the South African documentary Lost Tongue in conversation at the Durban International Film Festival.
In the eighth instalment of Okayafrica's Cinema Africa series, we sit down with Davison Mudzingwa and Themba Vilakazi, director and cinematographer of the South African documentary Lost Tongue, at the 37th Durban International Film Festival.
---
Davison Mudzingwa and Themba Vilakazi are one a mission to rescue a southern African language on the brink of extinction. Mudzingwa, 34, is the director of the documentary Lost Tongue. Vilakazi, 30, is the film's cinematographer.
Their project follows the story of a young Khomani-San woman, Helena Steenkamp, and her race against the clock to save the language of her people. Believed to be 25,000-years-old, the endangered N!uu language is spoken by just three surviving elders in the Northern Cape province of South Africa.
We first spoke with the filmmakers in March when Lost Tongue made its world premier at the Socially Relevant Film Festival in New York, where it won the Women Film Critics Circle award. This week the film is one of eight documentaries screening in competition at the 37th Durban International Film Festival. We sat down with Mudzingwa and Vilakazi in Durban.
The following interview has been edited and condensed.
Tell us about your documentary, Lost Tongue...
Davison Mudzingwa:Lost Tongue is a documentary that we filmed in the Kalahari Desert in the northern Cape of South Africa, just on the fringes of the borders of Botswana and Namibia. We filmed a young lady named Helena Steenkamp for three years. She was on a journey to learn her native language, which is called N/uu. She made this decision because she realised that she grew up not speaking her own language. She speaks Afrikaans, and the whole community speaks Afrikaans. So she made the decision that she wants to learn this language from her elders. And not only the language––language is a conduit to culture, it's a conduit to values, or the way you live as a person.
As the documentary progresses it widens into not just a theme about language. It widens into a theme of identity. That's what makes it universal. It speaks to every person. It's not just the story of this young lady in a remote place in South Africa. You start asking yourself questions about your own identity. "Are you still the same person that you were?" "Is your child going to be the same person that you want them to be?"
The documentary digs deeper as we trek this journey of Helena Steenkamp. We go back to the history of what made this community, or this whole tribe, adapt Afrikaans, not only as a language, but as their names and surnames as well. So we go back to the very brutal and sad history of what led to this.
How did you find the story?
Davison Mudzingwa: There was something about the Kalahari Desert that was calling us. We made a short documentary in 2012. And we traveled to the Kalahari. The short film was called Bush Trail. So we went to the Kalahari with this romanticised idea of the Khoisan people that we always see on TV wearing the traditional clothing. But when we got there we were disappointed because they were just a normal society wearing normal clothes. Not like what we see on TV. This whole community of San people they were talking in Afrikaans. This interested us, but with shock as well. Why are they speaking in a language that is not theirs? Why are they speaking Afrikaans?
And then we made another trip. That's when we started unearthing the brutal history of what led to this, and how sad it is, and how some of them now believe they're actually Afrikaners, when they're not. But fortunately when we were doing that research on the second trip we met a young lady who is the main character of this documentary, Helena Steenkamp. She was starting to ask herself these questions, because she had a kid, and she wanted to know exactly who she is, who her kid is going to be in the future. She has three first names, and the first names she has do not reflect who she is as a young San woman. And her surname is Steenkamp. It's a surname that doesn't reflect who she is as a San woman. So she was starting to ask all these questions, and we knew that there was a story there.
Lost Tongue cinematographer and director Themba Vilakazi & Davison Mudzingwa
Did you learn anything about your own identity through the film?
Themba Vilakazi: Having been on this journey, and understanding identity and understanding culture, it was like I was putting a mirror on myself to say "as a young Tsonga man, what are you doing to learn your language and to understand where you are?" You're in Africa, you're an African. But how do you identify as an African?
Davison Mudzingwa: As Davison, the first thing that I asked myself was "Is it only the plight of these people that we're documenting?" "Or am I also facing the same crisis?" I realised that I face the same crisis. I'm an advocate of all things African, I always regard myself as an African, but I realised that I'm handicapped in other languages in Africa. I can claim that I'm an African, but if I go to Senegal now, if I go to Mali, or if I go to Swaziland, am I able to communicate with those people in an African language? As much as it might be a dire problem in the community that we're filming now, it's reflecting to me as well. It's teaching me that I'm handicapped because I can't communicate in another African language in another country. I have to speak in French, or I have to speak in English so that we understand each other. And English comes from a country that is overseas, so we have to use that language for us to communicate when we're just neighbours in Africa, instead of just communicating in a language that is African.
Every time I watch Lost Tongue I ask myself all these questions of who I am. Am I the person that I am? Will my son be able to speak my native language as much as I do? So these are all my fears. What will be of the generation 30 years from now? Will they be able to speak our languages? Even if they're able to speak the languages, do they know our values? Or do they know our culture? Will they know them as much as we do? Or will it just be an ordinary human being that is the result of cross-pollination of cultures from elsewhere?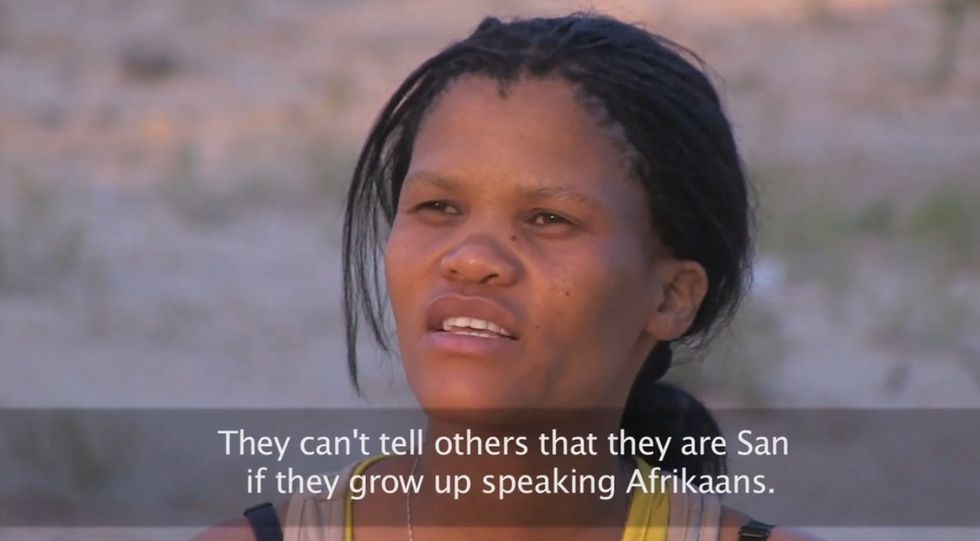 Courtesy of Lost Tongue
What do you hope the film will achieve?
Davison Mudzingwa: There's a statistic that we put at the beginning of the film: UNESCO says if nothing is done by the end of this century, 3,000 languages will be extinct. That's a sobering reality. And it's not only an issue of where we filmed in the Kalahari. It's a global issue. Languages are dying every day in different countries. We hope this film will be a mirror to people across the world. Not only a mirror to people whose languages are dying, but even to those that still have their language. What can we do to ensure that the language of our colleagues do not die? What can we do to ensure that the culture of our colleagues do not die? Or even our own cultures, or our own values, or our own identities. But above all we want this film to bring people together. It's a call to action for people to come together in the world, to say let's turn together and try to save what defines us as human beings. And what defines us is our language, identity and culture, and we are one in our diversity. We are different, but we are one. So we want this film to bring the whole world together to stand against the extinction of language, culture, identities.
What's next for Lost Tongue?
Davison Mudzingwa: After DIFF we're going to the Indie Karoo Film Festival, and from there we go to Zanzibar for the Zanzibar International Film Festival. And after that we go to Canada for the ReelHeART International Film and Screenplay Festival in Toronto. And after that we'll do Arusha African Film Festival.
But our ultimate plan in terms of distribution of Lost Tongue is we believe it's a film that should be watched by everyone in the world, or everyone in the country primarily. We've done our best to self-fund ourselves to make this film. What we want is partners, from the government and also the corporate and foundations and other organisations. First we want to take the film out into the communities. We want to do outreach screenings in communities, in schools, in places that are far and marginalised that wouldn't have otherwise been able to watch the film at the cinema. We want to tour the whole country, but we need resources. That's where we want the government and the corporate to come in. And ultimately we want to have a multimedia centre.
Still to come at DIFF: Lost Tongue screens 22 June, 10am at Luthuli Museum and 26 June, 8pm at Nu Metro 11. Keep up with the film on Facebook and Twitter.