News
Sep. 04, 2014 04:49PM EST
Cinemafrique: African Film & TV News On Equatorial Guinea's "First" Feature Film, An Afro-Brazilian Folk Fantasy, 'Hard To Get' In SA Cinemas + More
Okayafrica's Cinemafrique looks at African film and TV news on SA's 'Hard To Get,' Equatorial Guinea's Where The Road Runs Out and more.
---
Hard To Get Opens Nationwide in South African Cinemas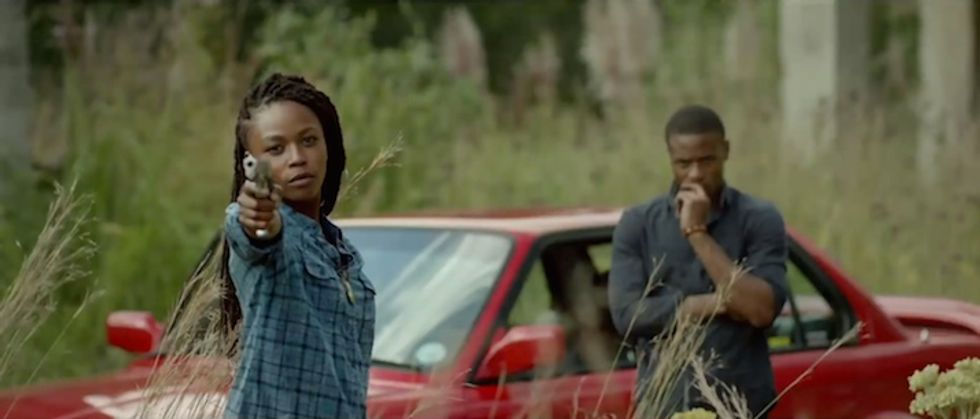 South African romantic action film Hard To Get celebrated its nationwide release in local SA theaters this past weekend. The first feature film from South African writer and director Zee Ntuli, the film revolves around a modern day Bonnie & Clyde who get caught up in Johannesburg's seedy criminal underworld. Newcomers Thishiwe Ziqubu and Pallance Dladla star in the lead roles alongside Mzansi film veterans Israel Makoe (iNumber Number, Tsotsi) and Jerry Mofokeng (The No. 1 Ladies Detective Agency, Tsotsi). Besides its current theatrical run, Hard To Get recently received the honor of "opening night selection" at the Durban International Film Festival and has also been selected to screen at next month's BFI London Film Festival. Read the film's synopsis and watch the gripping high energy trailer below.
"When Skiets, an enigmatic, beautiful stranger walks into small rural township tavern and demands a beer, TK, a charming local lothario sets out to seduce her in order to prove his prowess to the locals. When she spurns his attentions, he falls head over heels for her and seriously starts to woo her.

However, Skiets is a dark horse and breaks TK's heart when she returns to the tavern the next night on the arm of MUGZA, the local hood! But...when Mugza discovers that Skiets has stolen his car keys and intends to make off with his most precious possession, he erupts. TK steps in to defend Skiets and before he knows it he is on his way to Johannesburg and the bright city lights with her... in the car that Mugza treasures above all else!   Step in Gumede, a sophisticated, wealthy and dangerous crime lord who takes them under his wing when Skiets catches his eye. Skiets recognizes the type and is reticent to accept Gumede's money but TK is only too happy to spend it without any thought of the payback that will inevitably follow. When Gumede makes a move on Skiets, TK, sick with jealousy, decides to rob one of Gumede's own stores and pay him back with his own money. The action, mystery, love and drama continues..."