From a narrow street in the heart of Cape Town, one company is acknowledging what young South African creatives need to thrive regardless of class or color. Creative Nestlings, a company created by 27-year-old husband-and-wife-multi-hyphenated-entrepreneurial couple, Dillion Phiri and Lunga Mateta-Phiri, is taking on the task of molding the vanguard generation of innovative minds in South Africa. As artists themselves, they were constantly struggling for resources they couldn't find and eventually created Creative Nestlings to fill those voids.
---
In 2014, creative industries made up only 1.3% of jobs in South Africa but constituted about 3% of the country's GDP––yet support for the industries is virtually non-existent. On top of that, South Africa's economic make-up focuses on big agencies like Ogilvy & Mather and Saatchi & Saatchi, leaving little room for any independent or smaller creative minds to thrive. The short list of resources dwindles even further for people of color. From the high price of institutions that focus on media and the arts to simple factors such as wifi availability (of which there is none outside the cities), creatives of color in South Africa are met with challenges.
Phiri and Mateta-Phiri's Creative Nestlings is an amalgamation of all the tools a person needs to see a business through—a swiss army knife for entrepreneurs and idea-makers. Their vast services include assisting in finding investors for a business idea, a mentor-matching program, one-on-one guidance, access to a network of like-minded entrepreneurs and a safe workspace with good wifi in the heart of Cape Town and in their partnered facilities across the continent.
They also put on free, open instructional events and seminars and hold yearly awards to showcase the best talent and projects—Cape Town's Siwa Mgoboza was their 2015 Young African Visual Artist of the Year. And for a more global reach, Creative Nestlings recently launched their online platform which acts as a portal for people in South Africa to connect across the country and the globe. The platform also works in reverse as an avenue for interested collaborators or clients to have access to some of South Africa's freshest new talents.
I caught up with Dillion Phiri to find out more about Creative Nestlings' trailblazing work changing South Africa's creative industries.
The following interview has been edited and condensed.
Lunga Mateta-Phiri and Dillion Phiri. Courtesy of Creative Nestlings
Nereya Otieno for Okayafrica: Creative Nestlings describes itself as a 'research and development company.' That means you work towards the innovation or improvement of a product or process. What is your product or process?
Our process is to make young people's lives become better. In Africa. We're researching young people––what are their needs? What do they want? And then we are developing them in response to those needs, challenges and opportunities.
People think we're just "helping artists"––but when we talk about creativity—when we talk about Creative Nestlings—we're talking about a young creative, like a little creative bird. People misunderstand, thinking we're focused on arts, because people think creativity is an art thing. For us creativity is the act of creating, it's a doing word. So what are you creating? Are you creating a better life? Are you creating an app or a school? Whatever you are creating, we help you with that and we bring together the young people you'll need to connect to.
Is that industry growing here? People who believe in ideas?
It's growing, but not fast enough. People don't have creative confidence. If they have an idea, they sit on it, but don't act on it because they are afraid. People don't trust themselves to say "I'm good at what I do." It's a long-term process because it's a mental attitude.
In Cape Town it has been interesting because originally we were tokenized as the "black" creative company. Whenever they needed someone black they would call us up. But now that is starting to change. We are majority black, but we're not exclusive. In terms of the community, the young people that usually would not be allowed in certain spaces are now coming to us to help them. We help them get into the rooms they normally wouldn't be able to get into, especially in Cape Town.
Big agencies are looking for inspiration and ideas and they are coming to us. But we still get a pushback from industry. Because we ask the rough questions. Why are agencies still not the most diverse places to work at in Africa where the publisher-ship is mostly black? We're trying to challenge brands and say, "Hey, start thinking differently. Do what the young people really want and they will be loyal to you for life."
Ayanda Cuba & Buntu Matole of Sporting Code at work. Courtesy of Creative Nestlings
Is there anything you've come across that is a problem specific to being a South African creative?
People don't know how to access resources. The resources are there and in abundance, but good information is not pushed out. People can't find the resources, but they're there.
Another problem is that there is always a middle man. We want to break away the middle man or at least find the better ones. We want to see how young people can access government, banks, everything directly. They should know which door to walk in and have a good portfolio with them––if you're a member of Creative Nestlings, you can use us as your company backing to pitch that project. No where else does that.
What do you mean by a member?
We have a membership program—called The Nest—but it is not about working space like many others. What we are trying to do is connect young people to each other on the continent and in the diaspora. We've seen that people are sharing the ideas and have the same challenges—so the solutions should come from your friends who are in that same environment. That solution can come from The Nest. Someone in Senegal, for instance, might have a solution to South Africa's water issue. But there is no place for that dialogue. How do you discover that person?
The membership program is intended to harvest all of the young people who are willing to work and put them together. In return, we give you benefits for that membership. If you have an idea, we help you knock down doors, connect with the right people, find funding, find testing places and create tools to test out that idea. That's what the actual Nest space is—a space to test out ideas, a social lab.The hope is that people start funding each other, being co-founders of each other or CTOs of each other. Or someone will say "I'll be your lawyer because you're going to need my services anyway."
Another benefit is spaces. Space is generally a big challenge in Africa. Where do you go—safely— to interact and work with other young people? That is the kind of space we're trying to create. And we have good wi-fi.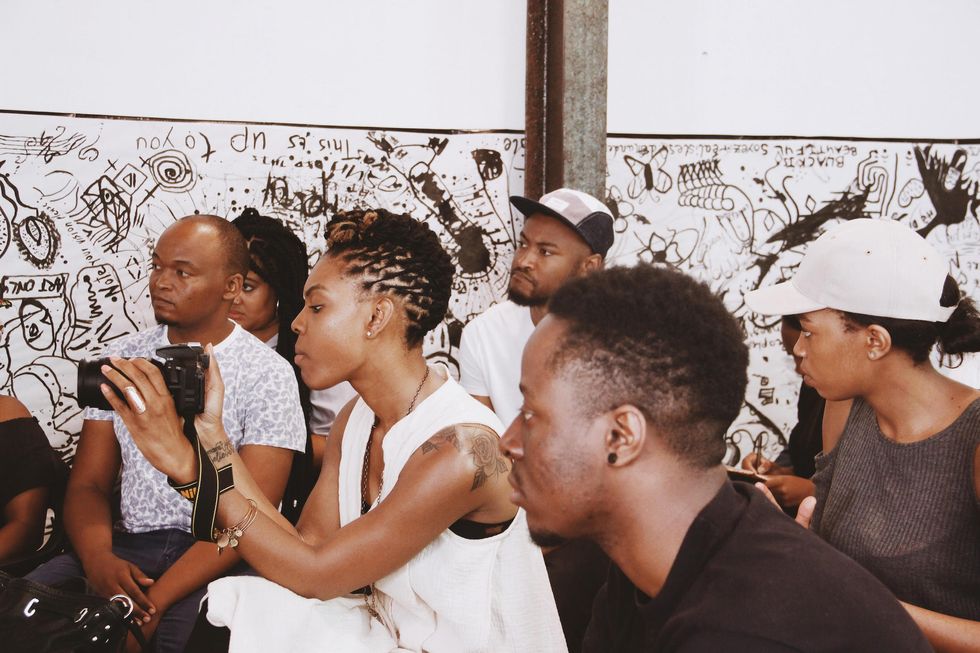 The audience of a panel for how travel influences creativity. Courtesy of Creative Nestlings
My question about the network is that it makes a lot of sense for someone in Johannesburg or Cape Town or Dakar––any big city. But what about someone in the diaspora not on the continent? Let's say I'm an Angolan web developer living in Berlin––what is the draw for me then?
This is where the network excels. If we have a member here who is going to Germany, we can hook them up with the creatives there in the network. We get those questions already, "Guys, I'm going to Nairobi for the first time, who are the creatives I should be talking to?" So now you can utilize the network, message them in a safe and validated zone that is different than a cold-message on Facebook. If you're scared, we help you connect. There is no point in us creating a space in Germany, but there is a point to us creating relationships with people working in Germany. Then those creatives gain access to potential partnerships here as well. We're in the process of making partnerships with working spaces around the continent where our members can use those spaces—we are working out negotiation fees. There are many hubs across the continent but they're not connected.
In the context of South African history––the youth contacting you and joining The Nest are the first generation who were born being told that they can be anything––and that working in something creative was a viable opportunity. That's a peculiar position.
I think it is a sense of liberation. Because this is the first generation of people who can actually do shit. But the challenge for them is that there are no role models like them. If there are, they are extremely politicized and not genuine creatives just doing creative stuff. It's hard to find in South Africa—we're only 23 years into democracy. Before most people in creative positions––if they were black––it had some politics behind it. Now it can be based on aesthetic or taste.
I think any hesitancies come from not having anyone to look up to. No one to say "Okay, you're like me. You grew up where I grew up." So that is also where the membership program comes in. We have mentors but it is based in peer-to-peer mentorship because they are a reflection of each other. I'm struggling to find a mentor, personally. Who do I have to look up to? The only people I have are people like me who have a common vision that I have. So I have to build, like, a transformer of all the different friends doing things I need and merge them into one. That's what I've had to do. I've seen other people needing that. So we link them together and hope they can make their own transformer. Build whatever you want.
A scene from Creative Nestlings' IROK the Streets - Dance Cypher, Cape Town. Courtesy of Creative Nestlings
You said earlier that the industry characterized Creative Nestlings as the "black one"—but it sounds like you are the black one.
Yeah, and that's fine. But we're definitely not exclusively black.
But I do think that's important, because no one else is really going to talk about that. For young, black creatives, you're basically saying "Okay, there is no coach, but you've got a team."
Yeah, true. That is how it is. We have any position that you need in your particular game. Unfortunately the coaches that are available, they don't understand the game. They're playing the old game. Today's game is a blend of old, new and future––and people don't realize how hard it is to incorporate all those aspects. That's why we focus on the creative network––it strengthens the team so we can coach ourselves.
We've allowed ourselves to evolve. We've made some rookie mistakes, of course. But that's life, you learn as you go.
Nereya is a writer, thinker and sandwich-eater who can often be found proudly multitasking at all three. Keep up with her at her website and Instagram.