Style
Oct. 18, 2012 04:42PM EST
Prêt-À-Poundo Interview: Cyrus Kabiru
Interview with emerging Kenyan visual artist Cyrus Kabiru, whose work could fit several environments and is part of the new innovative fashion movement.
---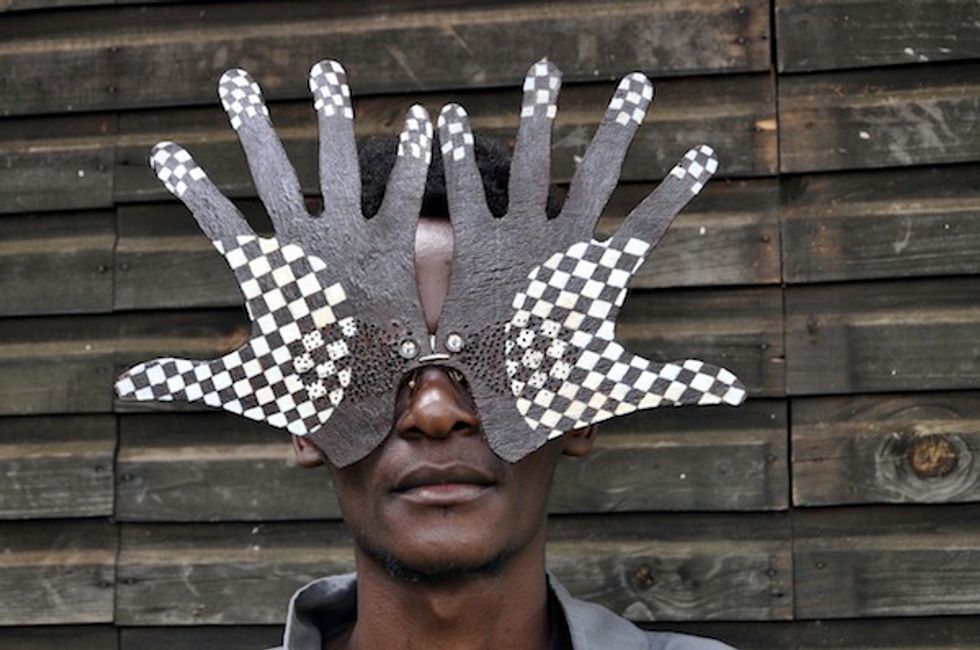 Does it mean something to you? Is there any message behind these glasses with no lens? I saw your paintings, they are really cartoon-like, you seem to be a big dreamer. Is there any story behind each creations?
No, the one without the lenses don't have story. I just wear them on occasion. The paintings are how I see life — easy, good and funny. Also, if you know me that's who I am and how I live. Some of the sculptures have a story, not all of them. I paint at night because I grew up in a small house — two rooms and we were six children, plus our father and mum, so eight. I would wait until they were all asleep and then I would have space to paint.
Where are you living now?
Now, I'm living on my own, a bit well, the life I used to admire.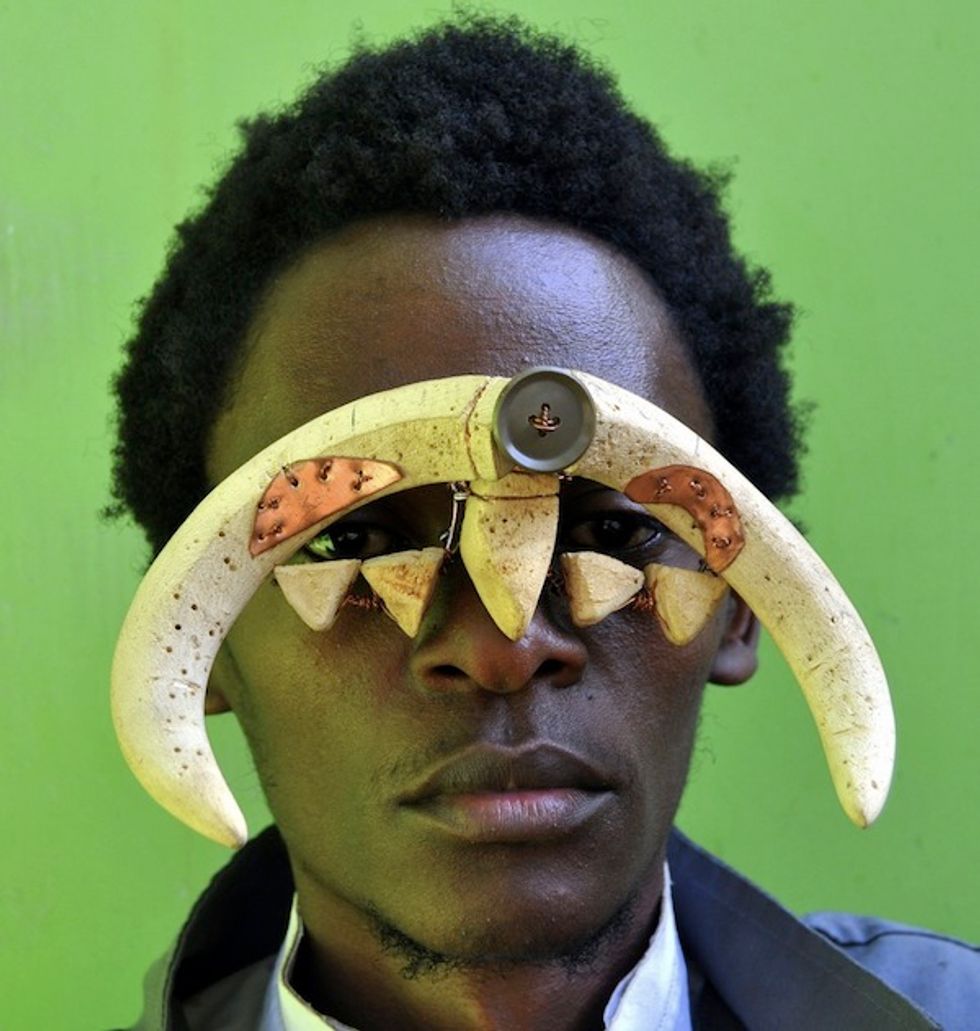 Today, as an artist, you have a social role — stemming mainly from media coverage — what do you want to spread with your art?
I want to change things where I can, especially art in Kenya for example introduce art in school. Although this is a bit hard but I will do my best.
Why is it difficult?
We are very few artists and it's hard because of the current politician, the Minister of Art and Culture. There are also some African artists that are selling poverty instead of creativity. They are pushing us backward. "Oh, buy my work, I am from the slums," "oh buy my work I need to do this and that." So, we can't move forward if we keep selling our stories instead of our creativity. For example, I never discuss where I grew up in my creations and when I do people don't believe me.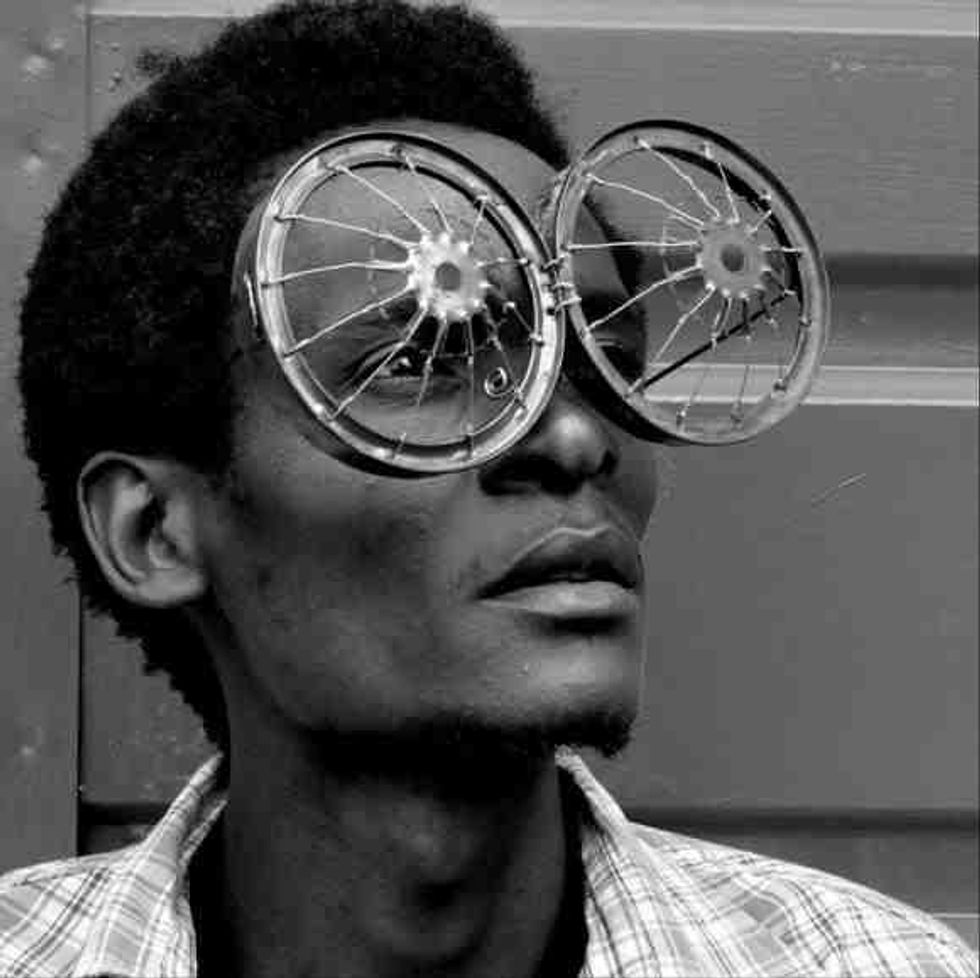 I have also read that you were arrested for 8 hours for wearing one of your creations.
Yes, I was arrested with two other artists because of wearing the C stunners. I tried to explain to them who we were and the funny coincidence is that I was in a newspaper that same day. My sculpture featured in the paper. So, friends of mine came and complained. They then released us because there was no reason for being arrested. That's why I'm saying that we have a long way to go.
What was the reason why police arrested you?
They didn't even know but for me they arrested us because they never learnt in their training how to deal with people like us. So they arrested us because they did not know what else to do, they'd never experienced people like us before.
I see that you are established in Kenya. Have you had the chance to show your work out of the country?
Yes, I had an exhibition with my glasses in Netherlands last year, in Tilbug, but I would love to show my work in the United States. Maybe next year. TED is talking about February of next year in Long Beach and again in Holland and Kenya.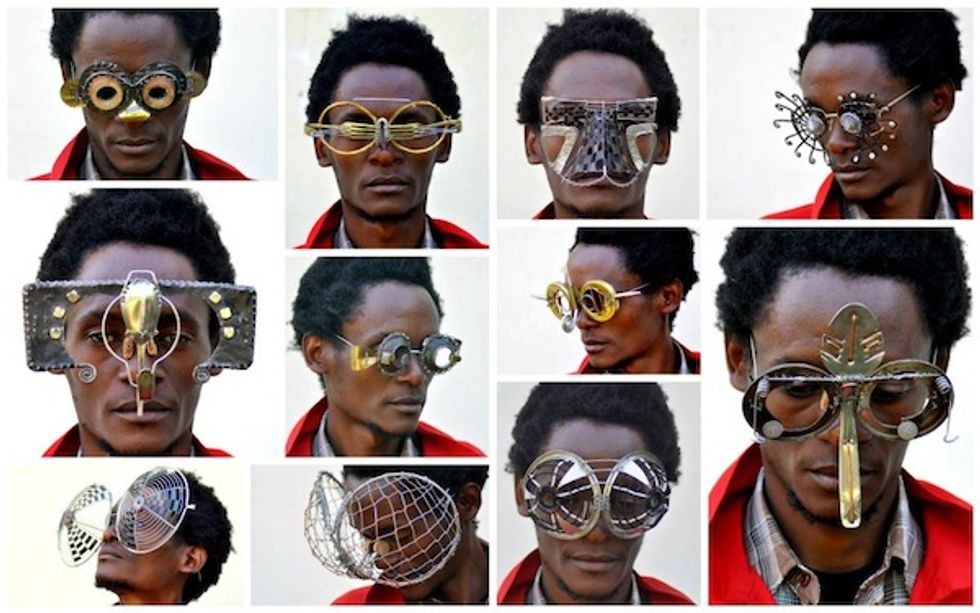 How would you position yourself in the fashion industry, if at all? And, more specifically, in the African fashion industry?
I think my glasses work as fashion, as well as visual art. I just let the judges judge. I don't want to be boxed up as a Kenyan and African artist. I want to be considered as an artist from Africa or from Nairobi. I'm an African, I am not an African artist. African artist just sell Africa, not their creativity but an artist from Africa sells his creativity.
You are clearly not designing them for someone in particular or  a certain group of people. Who are the people wearing your creations?
Yes, people are buying them to wear them and others to hang them in their houses by framing them. Most of the people who are buying them are foreigners. You know, locally they don't know much about art. For example if you wear my glasses, they think you're into witchcraft. First of all, something you need to know is that we don't buy art because of culture and religion. If you put a sculpture in your house, they will say it's an idol (religion) if you wear my glasses they will relate them with a witch (culture), but things are changing. You know that's how the British used to manipulate the Africans to get their rich art.
How would you describe your fashion signature in one line about C Stunners?
The C stunners are changing the way we see things, they'e all-functional.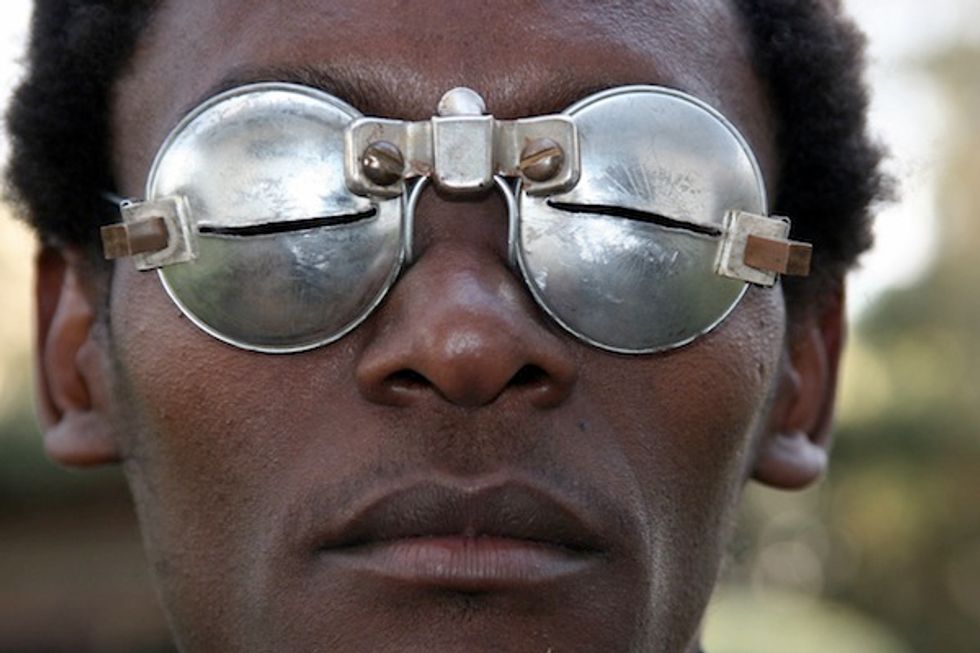 What do you think of today's fashion industry?
I don't know much about fashion, I just got myself into it. Fashion is changing each and everyday, we are now moving from the old to the new. Things are making us change this. If you imagine the times of our grand parents, they used to have their own fashion and now we are own beyond clothing and even in transportation — take the matatu for example.
Describe Cyrus Kabiru in one word.
(Laughs) The mad optician
That's not one word!
(Laughs) Eyerus
See Cyrus' work at the London College of Fashion, exhibited until November 3rd. Details in the flyer below.