We caught up with Damilare Sonoiki—the creator and writer behind the now anticipated show, African Booty Scratcher. In just over a week, the trailer about the quintessential African immigrant family garnered over 3 million views on Facebook and over 100,000 views on YouTube.
---
A writer on ABC's black-ish, the Harvard grad studied economics and worked on Wall Street in New York for a couple of years in finance, before making the move to LA to embark on his TV writing career.
"Working on the show was a great experience," Sonoiki says to Okayafrica over the phone. "I felt like I went to 'black-ish University' with everything I was learning. I watched every episode go from a conversation around a table of 12 to 15 people, to become a show that is broadcasted to millions of people."
Read our interview with Sonoiki, where touches on the challenge to find the right dad, why he stuck with the name, 'African Booty Scratcher' for the show and more below.
This interview has been edited and condensed.
Photo still of 'African Booty Scratcher' courtesy of Damilare Sonoiki.
Antoinette Isama for Okayafrica: How did you come up with this concept?
Damilare Sonoiki: Since I joined black-ish for season two, the creator, Kenya Barris, has been a mentor of mine. He always talks to me about writing what you know and telling me, "Never stop telling your story."
As a writer, you always want to keep writing and working on new stuff. Writing pilots also gets you jobs, where you send them to your agent and your agent then sends it to people; and if they like it they will meet with you and will want to hire you for their show.
So I thought, "Let me write a pilot about something that I know, like my story."
I was working with a friend of mine on an idea for a TV show, and we were going to shoot a teaser. I thought I might as well do one for mine—there's nothing really stopping me, especially having three months off since we start back up writing for black-ish in June.
Why do you think mainstream TV is ready for this type of sitcom now?
Kenya made a comment that every show on ABC that is succeeding right now is the creator's pain. From The Goldbergs, or Fresh off The Boat to black-ish—all of that is the creator's pain.
I also think the successes of these sitcoms show that culturally specific comedies can do well, and they are doing really well. As a writer on black-ish, I've heard people who don't even look like the characters depicted—like they're 100 percent white—relate to them. Even if it's not necessarily their story, people will still relate to the stories and still relate to the characters.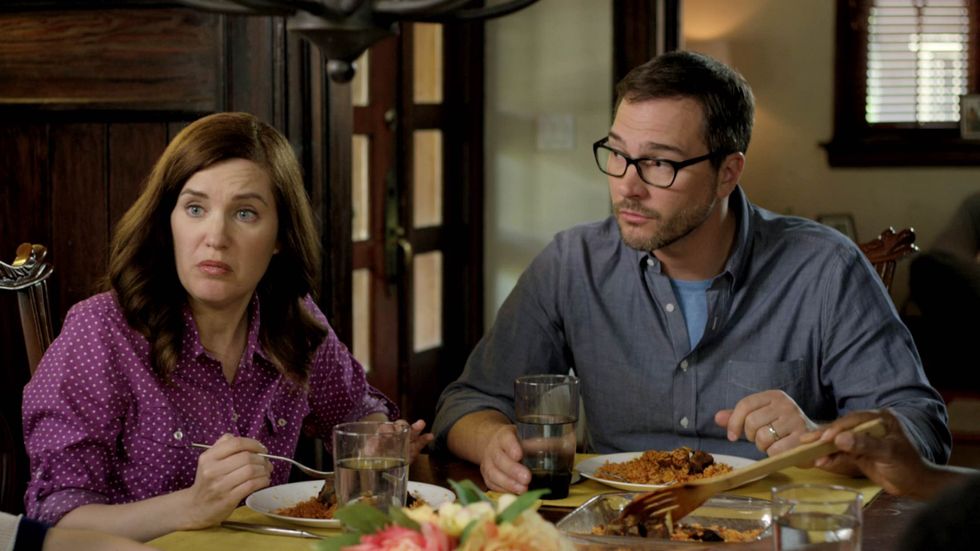 Photo still of 'African Booty Scratcher' courtesy of Damilare Sonoiki.
Along with people enjoying the trailer itself, there are also people who feel the title is pretty triggering and off putting, in a sense. Do you want to address that? Why did you choose that title?
It was really called "African Time" at first— you know like when a party starts at 6 or 7 but you don't get there until midnight.
But I had an early version of the trailer that I showed to a friend of mine who made a Haitian web series, and she was like, "You have to call it 'African Booty Scratcher.'"
And I said, "Really? I don't know…" And then she convinced me to go for it, but then I still talked to other people and different friends of mine. Everyone had the same initial reaction I did and was like, "No," but then they and myself eventually thought, "Well, it is kind of like black-ish and Fresh Off The Boat."
It is a little bit provocative and it sparked a conversation. And it creates a dialogue, a reaction and a response. I don't know if that is actually going to be the name of the show whenever it does evolve and is on a network or a streaming service, but I think for this time I thought that it was interesting, to be in that tradition of black-ish or Fresh Off The Boat. So I think it is provocative and it makes you kind of want to think, "What's that?"
The name "African Time" also seemed very hollow. It just felt like nothing was there. Like I might not want to click on that.
I don't read too many of the comments but I think that certain people who are saying "Why are you bringing this back?" As if it's a thing that people use to call people in the 80s, I thought maybe people in an older demographic. People who are a little bit older are going to be more off put by it.
It's bad, but I definitely got called an African Booty Scratcher when I was a kid in elementary school and I just like the idea of taking something negative and poking fun at it. We are going to turn around and actually take away the power from it.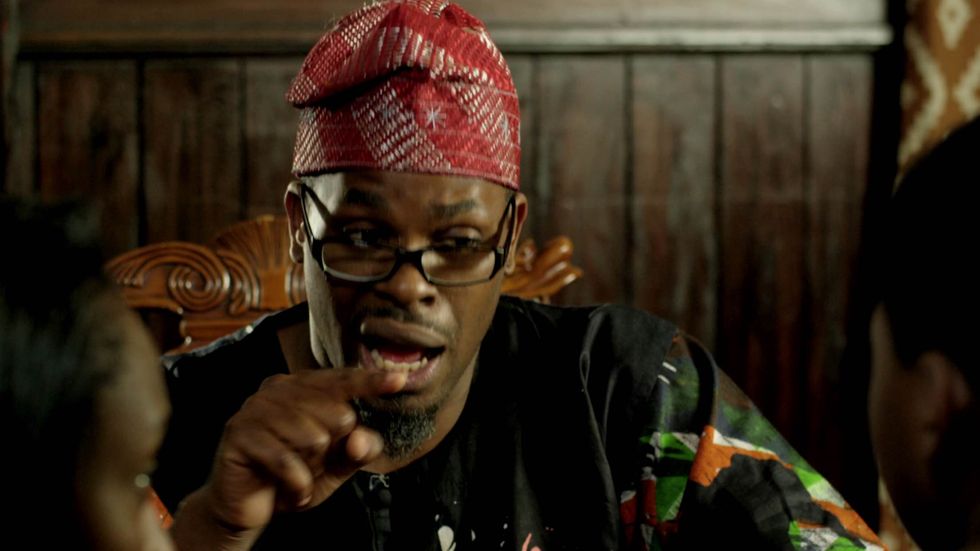 Photo still of 'African Booty Scratcher' courtesy of Damilare Sonoiki.
And speaking of Dulo, he's been doing his thing with his comedy online. How did you get connected with him?
He is!
I literally emailed him through the booking info he listed. I emailed him thinking that he should play the dad. I had a friend who is a writer and he connected me with somebody who had a certain look as far as age. I was choosing between this one guy and Dulo, but Dulo at the time was 28 and I was kind of like, "Man the kid in my mind is like 11 or 12. So this isn't really going to work, maybe we could use makeup, but I just don't know about that."
And this other guy had the look, but I had a hunch that his accent just wasn't right. But when we had him come and read the script, there were other people were in the room who were Nigerian and they didn't say anything about his accent, so I thought I was just tripping. So we ended up going with him as the dad at first.
Some friends of mine suggested that I reshoot the trailer with a different dad after they saw the first cut. I really didn't want to, because that was going to hurt my pockets and just a whole day of shooting is a lot. I had Dulo come to LA and say the dad's lines as a voiceover, but it still didn't work the way I wanted it to, so we had him come out again to reshoot it. With both times he came out for this project we became friends too.
What hopes do you have for African Booty Scratcher?
I think it would be really cool if it were to go on a broadcast network like FOX, ABC, CBS or NBC, a cable network or a streaming service. I just think the best thing about it is if it were an African TV show or an African family on broadcast television, it means that there is going to be another one. This would show that this is viable, like it's filling a gap in content and people want to see their story. Getting a show like this picked up means that it will create a lot of opportunities for people, like a whole economy, including hair, makeup, wardrobe, the actors, the stand-ins; food. There's so much that goes into it.
Photo still of 'African Booty Scratcher' courtesy of Damilare Sonoiki.
And are there people that you would like to work with in the future?
I was at Drake's house the other day and he said he hopes to work with me some day—I don't know if he was just saying that to be polite, but I hope to take him up on his offer and work with him one day.
Idris Elba, because people love him.
Uzo Aduba, because she is actually killing it for Nigerian women.