Senegalese French novelist David Diop, together with his translator Anna Moschovakis, won the 2021 International Booker Prize for his second novel, At Night All Blood Is Black, (published as Frère d'âme in French). This sprawling account of West African soldiers fighting for France in World War I was a big hit in France, and crossed over into other global territories. With this, Diop, a professor and scholar of 18th-century literature, became the first French author and first person of African heritage to win the prize.
Now, Diop's third novel, Beyond the Door of No Return, is a finalist in the National Book Awards for Translated Fiction, which will be handed out next month. The author, who was born in Paris and grew up in Senegal, dives further into representations of Africans in the literature canon, with this book. Set predominantly in 18th-century Senegal, Beyond the Door of No Return, this time translated by Sam Taylor, fictionalizes real-life French naturalist Michel Adanson and his encounters with the trans-Atlantic slave trade, adding a touch of the wondrous to his adventures. The titular Door of no Return is also based on a real historical location known as the House of Slaves on the island of Gorée, off the coast of Dakar.
Stacked like a novel within a novel within a novel, the narrative in Beyond the Door of No Return is circular, and embraces both epistolatory and oral modes of storytelling as valid sources of history.
On his death bed, the story's central figure, Michel Adanson, leaves a final missive for his daughter Aglaé with whom he shared a difficult relationship during his lifetime. Going through her late father's belongings, Aglaé finds a carefully concealed notebook in which Adanson narrates what he considers the most important adventure of his life. It involves a trip he took at the age of 23 to Senegal, at the time under French colonial rule.
Retracing this journey, Diop weaves through a compelling critique of colonialism, settler domination and chattel slavery. The book also serves as a corrective, as Diop puts the agency for telling stories and defining legacies back into the hands–and mouths–of some of the people who have been denied this for so long.
Diop spoke to OkayAfrica about incorporating his research work into this historical novel. His answers have been translated from French.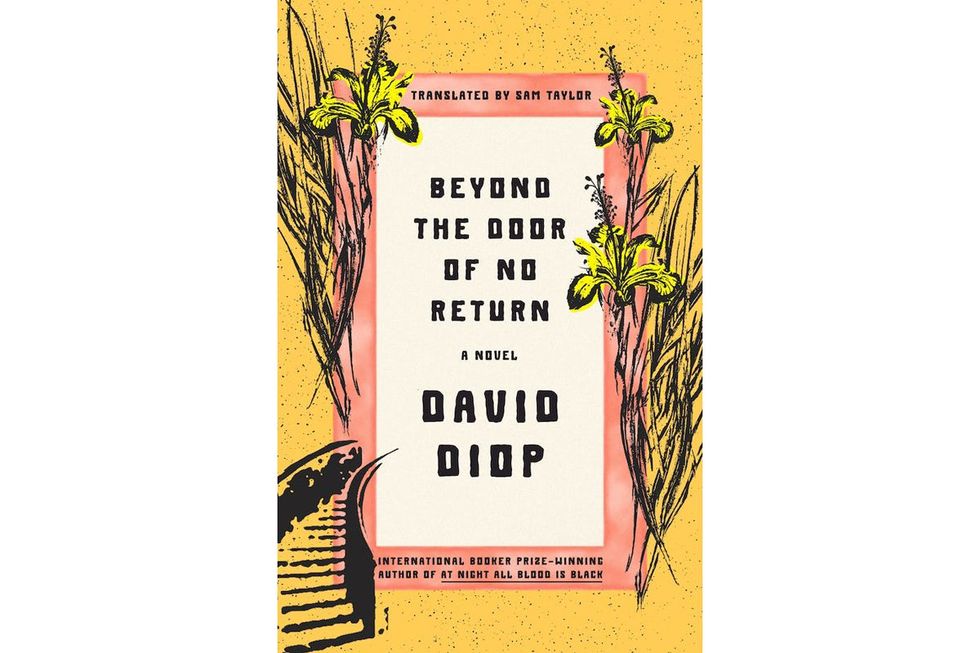 Photo courtesy of Farrar, Straus and Giroux.
The interview has been edited and condensed for length and clarity.
OkayAfrica: How did the idea for Beyond the Door of No Return come about? What was the process of bringing the book together?

David Diop: Some fifteen years ago, I read Michel Adanson's Voyage au Sénégal, published in Paris in 1757. It's a text that appealed to me for its original approach to Africa and Africans in the 18th century. Michel Adanson was a young French scholar who was keen to learn Wolof, the language spoken in Senegal, in order to communicate with Senegalese men and women who knew something about pharmacopeia (classifying medicine). A few years later, thanks to Ousmane Seydi, a young Senegalese historian who had worked on Michel Adanson's personal papers at the Museum of Natural History in Paris and who introduced me to them, I conceived the idea of writing a novel about this Frenchman's stay in Senegal.
Beyond the Door of No Return continues your interest in representations of Africa in 18th-century accounts. Why is this important for you to document?
Despite a number of prejudices that can be read in the accounts of European travels in Africa in the 17th- and 18th centuries, we can also find interesting documents on ancient African societies. For example, Michel Adanson's papers at the Museum d'Histoire Naturelle in Paris contain a whole series of Senegalese tales and legends that he transcribed himself. These are important sources for the cultural history of Senegal.
The book also raises the thorny issue of who lives, who dies and who gets to write one's story. Does this in some way fuel your desire to publish your work?
You're right, it's a thorny question, because African history has often been written by the victors to the detriment of the vanquished. But I believe that literature can help heal the wounds of a painful history.
Do you consider your fiction another aspect of your academic research interests?
My interest in eighteenth-century travel narratives fed into the writing of my novel. But for me, history is only a framework in which I place my characters. My main task is to bring them to life. To do this, I interweave their destinies with my own experience of literature and life.
Oral storytelling figures heavily in the book as a genuine method of documenting history. A lot of African history has also been lost because it was passed down orally, but a lot has been gained as well. How does one place this context within the book but also in your research work?
Oral history may appear fragile, but the memory of griots is often prodigious. The question remains of the accessibility of their source narratives. With regard to the history of Senegal, historians such as Ibrahima Thioub and Ibrahima Seck at Cheikh Anta Diop University, and Mamadou Diouf at Columbia University, have given a great deal of thought to how to combine oral and written sources from Senegal. I drew on their work to write my novel.
Beyond the Door of No Return is also about legacy – one man passing his life's work and experiences on to the next generation. Can you talk a bit about how the novel constructs legacy?
It was important that Michel Adanson's daughter should not have immediate access to her father's secret notebooks relating to his trip to Senegal. An inheritance has to be earned by the will of the descendants to discover it. For me, the novelistic construction I've chosen is symbolic. We need to have the will to pull out certain drawers of history to prevent our common historical heritage gathering dust and being lost forever.
You write and publish in French, and then the work is translated into English for international readers. Are you involved in the translating process and if so, what is the collaboration like?
I love working with the translators of my books. They are often poets and writers themselves, and I admire their ability to move from one language to another, from one cultural horizon to another.
What has it been like for you since winning the International Booker Prize? Do you feel more pressure for this novel to succeed?
No pressure. All that counts is the pleasure of writing and the pleasure of being read with kindness.