---
* All photos by Childeye
Mystery solved! How to pronounce Tlale … (video below)
Remember the name, because this gentleman has a bright future. David Tlale is a humble man with a lot of talent who knows what he wants. This is a man of his time and he is a real ambassador for Africa. For me, David Tlale is the letter A in the word Africa. Intelligent fashion designer and real artist, he knows how to use the wealth of African culture in his creations. All of his designs are connected directly or indirectly to the African continent, especially from South Africa where he originates.
He has no need for the obvious - with Mr. Tlale, everything is about subtlety.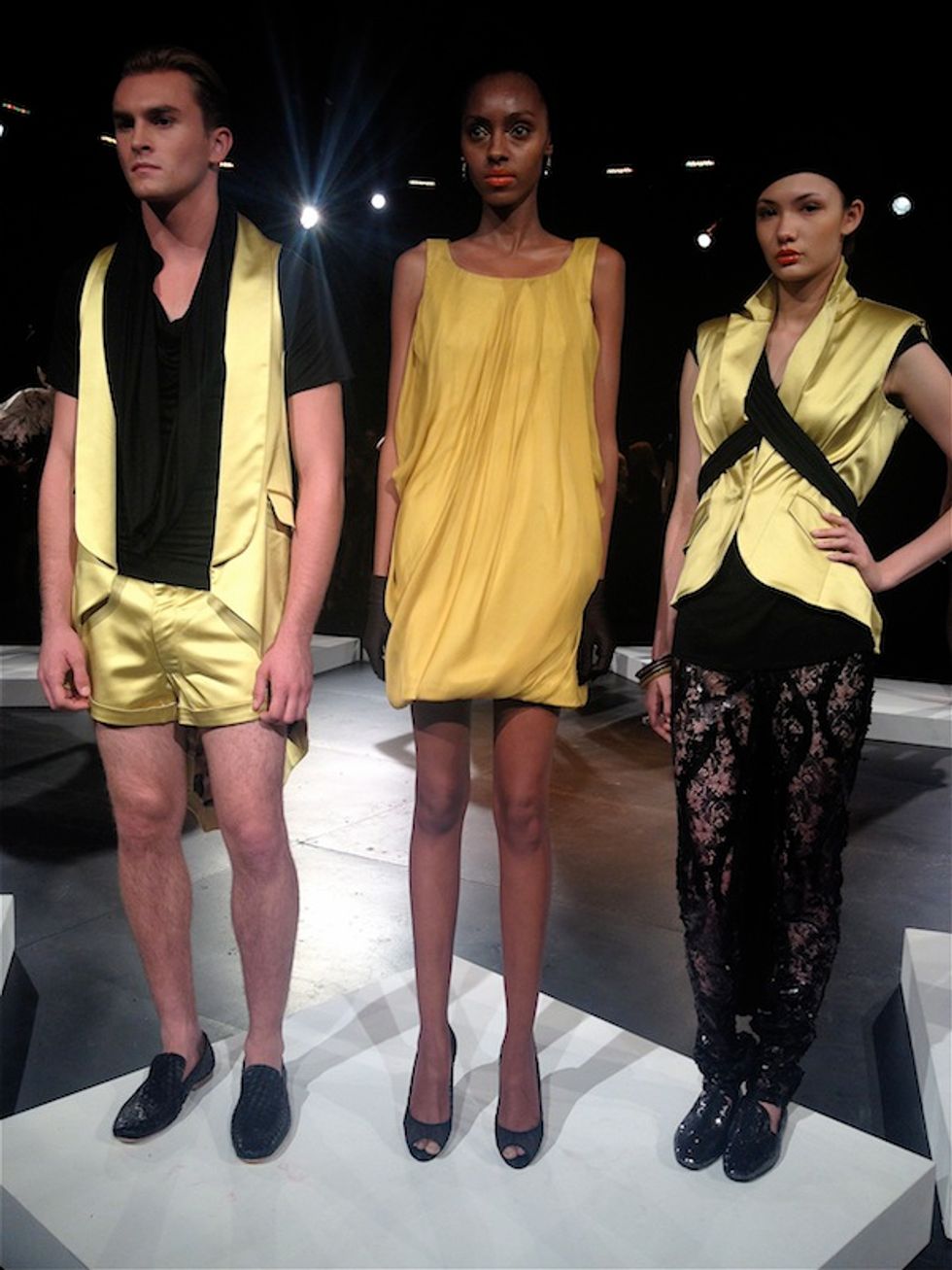 I had the opportunity to discover his new S/S 2013 collection during New York Fashion Week , I found the experience really interesting and it was a real eye pleasure. People in attendance walk around a space converted as an arena closely admiring live mannequins wearing clothes signed Tlale; everyone is taking pictures and delighting over these literally statuesque models. He called it "Transcendence" – a genuine statement judging by the beauty of these pieces – and rendered it in meticulous detail, recalling traditional African clothing such as the "boubou" (traditional african tunique) and the "gele" (head wrap or headdress).
It not only made a point, he revolutionized a garment that is connoted African and often seen as untouchable; the material he decided to use, the way the clothes are usually sitting, the prints that he picked... I am sure that a lot of people will definitely reconsider the use of the "boubou."
Nice assortment of colors: orange, yellow, beige, black ... Black is always classy and beautiful! Always a smart choice. A mix of textures, material, prints, shapes, jewelry clothing (jewellery on clothes), everything has been rethought. You do not have to worry what will be the best match with these clothes including gown, tunic, dress, skirt, pants …
The little extra: some clothes that appear to be made ​​of a single piece, so haute couture, are not, and thus can be worn in several ways. For example, one of the dresses (see above, the first picture) is made in two parts.
The day after the fashion show, I had the opportunity to interview David Tlale at his press office. Watch Tlale talk about the opportunity to show at NYFW and the responsibilities of African designers in the interview below.
[embed width="620"] [/embed]