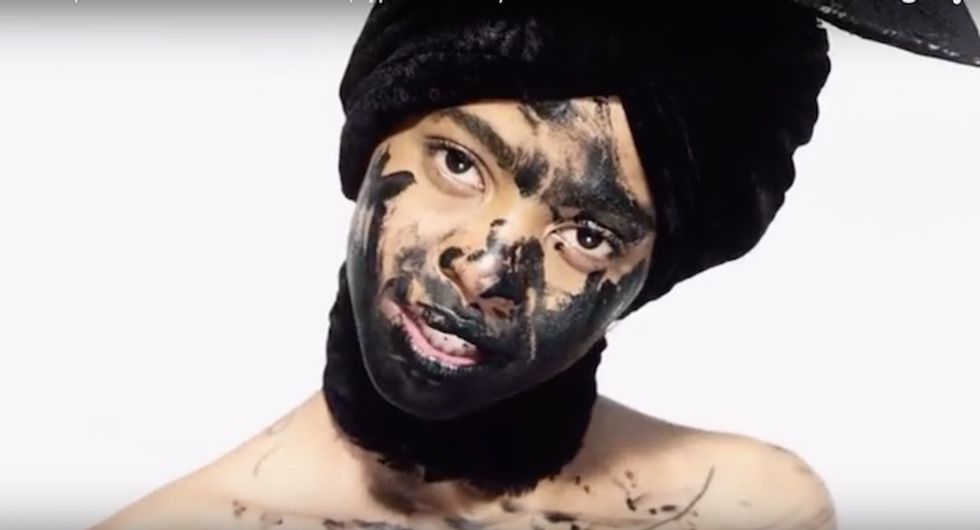 ---
Okzharp is the production moniker of London-based, South African artist Gervase Gordon.  The producer is set to release his gqom-inspired EP Dumela 113 in just a few days. In anticipation of the EP, Okzharp is sharing the music video for its lead single "Dear Ribane," which features fellow South African creative Manthe Ribane. The producer shared the story of how their artistic collaboration came to be with Thump recently:
"Manthe and I were first introduced by the rapper Okmalumkoolkat in Joburg a few years ago... Chris Saunders who directed the video and I were starting to put together our film Ghost Diamond and she (Manthe) was going to be the lead actress/performer. She is quite well known in SA as a dancer, creative, stylist and artist in her own right. I was struck instantly by her imagination and humility and discipline and her unique and amazing way of expressing herself. We were shooting the film for the entire weekend so by the time we got to Sunday night we were pretty dead, so when everyone went out to party we stayed behind in this cavernous ex-marshmallow factory in Maboneng that Chris was using as his photo studio."
"Dear Ribane" is a bouncy, minimalist tune and its accompanying music video can be described in a similar way. Throughout the visuals, Manthe Ribane is seen energetically moving along to the song's beat, her face marked with black paint as she dances punctually against a simple white backdrop. As the music video's director Chris Saunders puts it, "The video takes you into a full performance realm." Ribane and Saunders had previously worked together in the fashion-meets-photography experiment NOT x Chris Saunders. Okzharp's Dumela 113 EP drops this Thursday October 10 via Hyperdub. Peep the stunning visuals for "Dear Ribane" below.