This profile is part of OkayAfrica's ongoing series, THE WAV 2019, following the young artists shaping the future of the South Africa's music scene. You can read more profiles and interviews here.
At the popular hip-hop festival Major League Gardens, about two weeks ago, South African hip-hop superstar Riky Rick did what Riky does: he introduced Dee Koala, an up-and-coming rapper from Cape Town towards the end of his set. Earlier this year, the MC extended the same favor to The Big Hash at Back To The City.
Dee posted on her Facebook page on the night, shortly after her performance, "Last night I performed in front of 2000 people." The following week, Riky tweeted a video of Dee Koala freestyling. He would later tweet that the new wave of South African hip-hop will come from Cape Town. Which is far from being a lie. The new age Cape Town rappers are onto something.
A day after the performance, Dee Koala is holed up in a hotel room with fellow rapper Amilca Mezarati and their manager Ta Ledza. She's lethargic, but she's present. She's having chicken and a Black Label ngud'.

She says Major League Gardens had way too many people for her liking, as she is claustrophobic. What she and Amilca took from the show was the professionalism and large scale of the event, which is never heard of for hip-hop shows in Cape Town.
I ask how she felt when Riky hollered at her to come perform during his set. "I was taken, man," she says, her voice still hoarse from last night's performance, and, I imagine, from partying. "For a person who's already poppin' to recognize someone who considers themselves as an unknown. The way he reached out, he showed his humble side. It was a lot to take in."

Dee Koala's latest single "Whuzet," which has been out for more approximately a year, is a Cape Town smash hit. The song is teeming with personality. Dee raps over an aggressive trap instrumental in IsiXhosa and Cape Town township slang. Her bars are catchy, easy on the ear, but still potent. Her metaphors and similes are lofty and humorous. Peep, "Nicul' ikaka 'cause anikhathali/ Ndintswempu, asoze sifane/ Uyi-plug kodwa aw'nawo nom'bane."
Dee has been rapping publicly since 2016. She released a single called "Koala," which was part of her 6-track EP 18-18. "'Koala' did the things," she says of the single that introduced her to many of her fans in Cape Town.
Just like many before her, Dee started rapping in English. The 20-year-old MC started out as a poet in primary school. The magic moment came sometime in high school.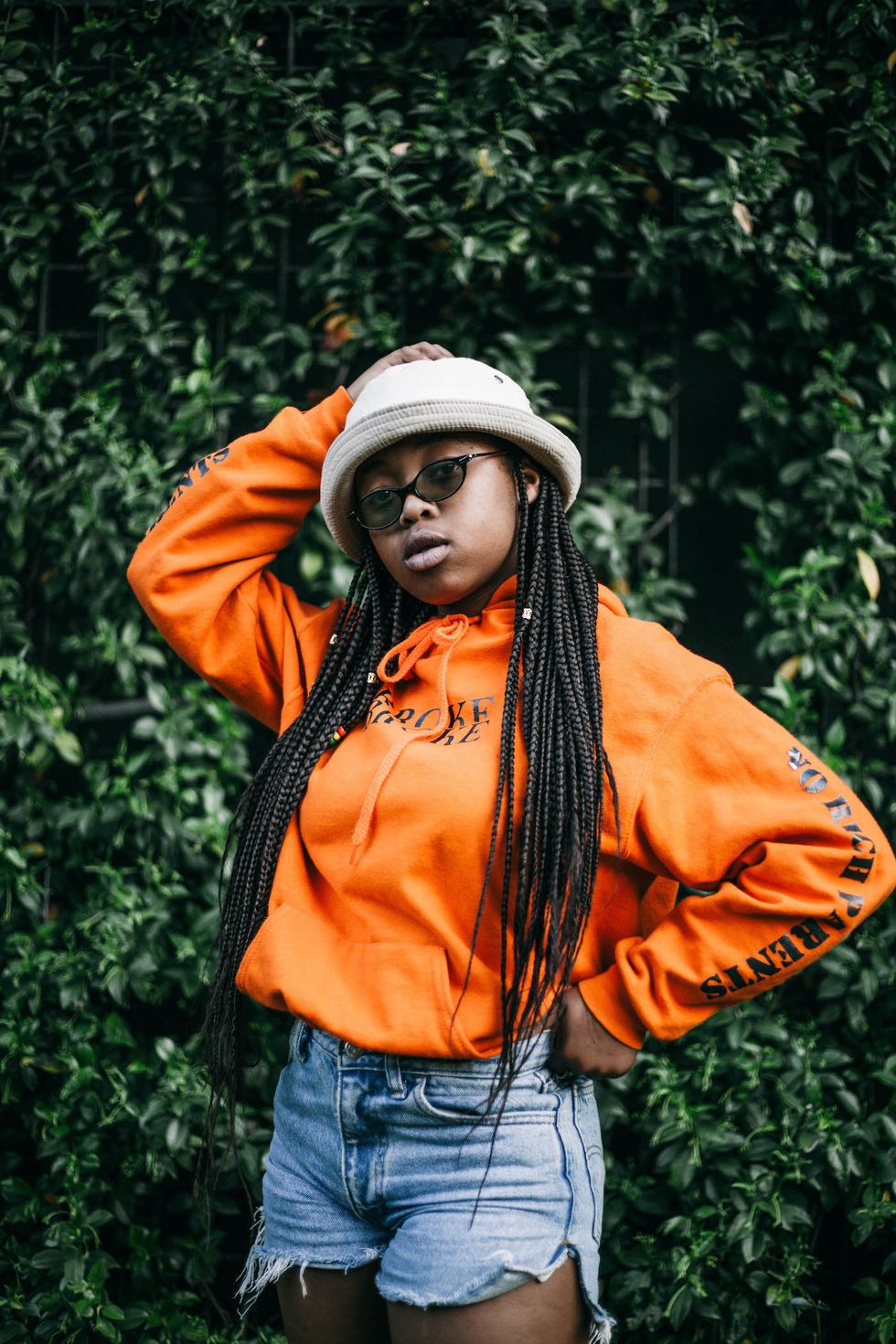 Photo by Sabelo Mkhabela.
"We were doing an arts and culture task in class," she says. "I went to a Muslim school, with mostly coloured students. Every other kid in there, they didn't know how to do this rap task. We had to write a verse and perform it in front of the class."
Her classmates knowing her ability to write, asked her to write verses for them. "I didn't go out of the class and go play during [break time]," says the rapper. "I stayed in the class, read a book or write some lines. That interval everyone came to me on some, 'can you please help me? Can you please write for me, we know you can rap.' I had to write verses for like 20 kids."
Dee's performance piece for that task, she says, was a verse about violence in Khayelitsha, the township she's from. "I wanted to show that environment," she says, "for them (classmates) to know what happens when I'm at home. All of these kids lived closed to school in Athlone. But for me, when I was on the bus to school, looking outside, a group of kids would be standing on the bridge watching a fight that's happening on the railway. What the fuck is that?"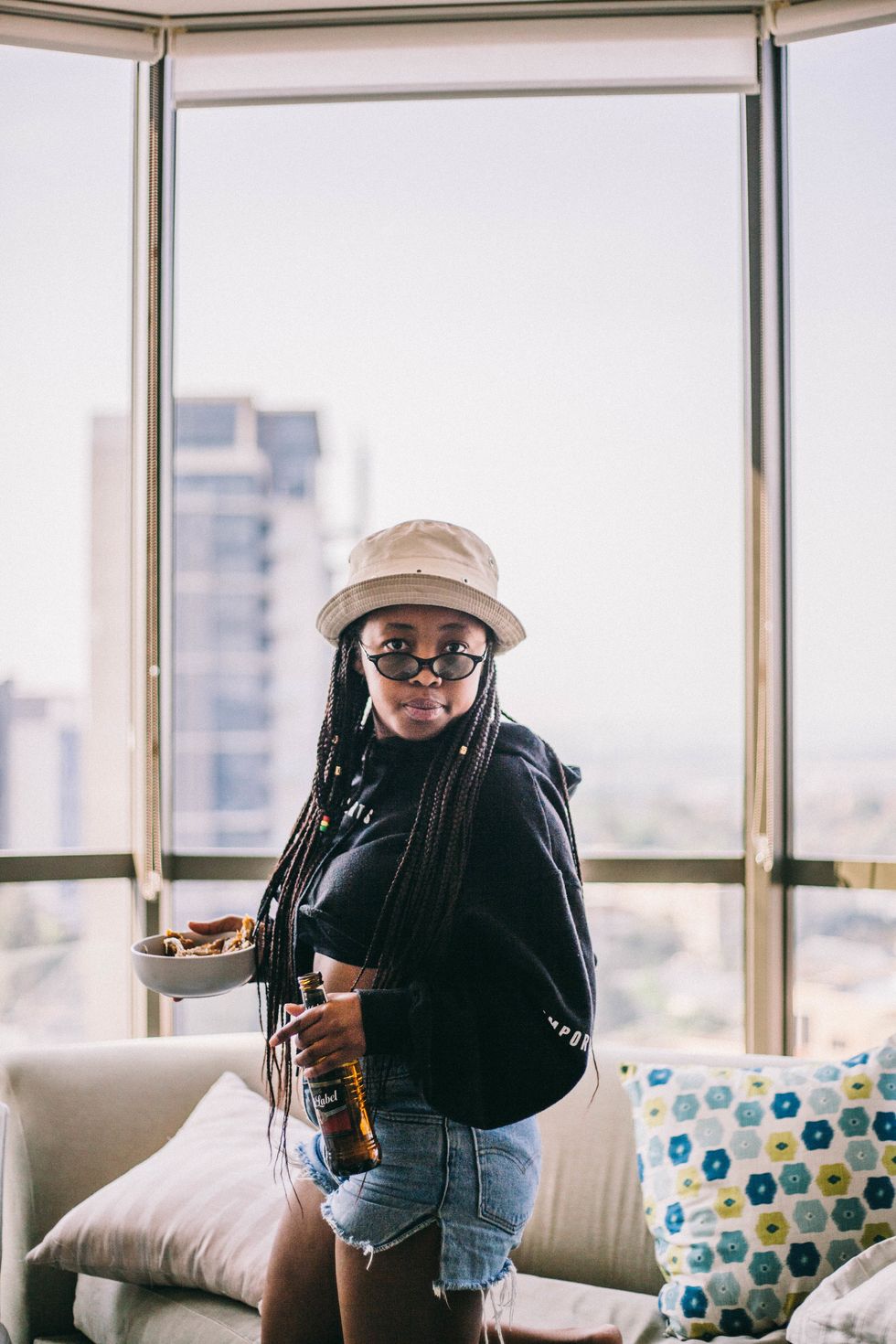 Photo by Sabelo Mkhabela.
From that moment on, she never looked back. "I thought I was going to be a poet, but I thought poet is too lame for me. I can't really interact with people," she says.

On her decision to rap in her language, she says: "I was like I don't wanna sound like everyone else. All my other friends who are rapping, what's gonna set me apart from them? I needed that thing that would set me apart from just being female. So I did that, and the rest is history." She has since recorded and released songs with other new age Cape Town hip-hop artists and crews such as 9Ether, FLVK, KHALIFONICATION, LuRah and of course Amilca, among others.
Dee realized that rapping the way she speaks—which is a mixture of IsiXhosa, slang and English—was going to make her music relatable and rapping would be easier. "We don't always have to be serious when we are talking about a certain thing," she says. "We can make a situation funny and catchy."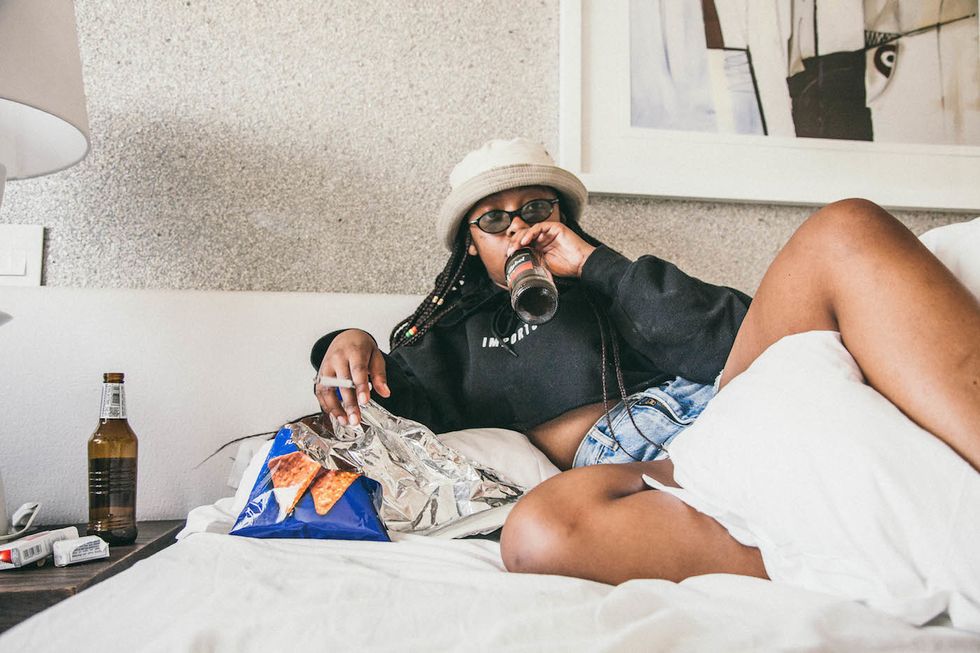 Photo by Sabelo Mkhabela.
Amilca chips in. He says rapping in English for most rappers is similar to putting on a persona that's not necessarily definitive of who you are. "It's logical to rap how you speak," he says. "It's like radio DJs and flight captains," he says, imitating the typical flight captain's voice, which we all know, lacking emotion and personality, and sometimes it's hard to tell if it's even a person or a machine telling us we've reached cruising altitude. "That's what hip-hop was like to me," he says, "it's like these guys are putting on an accent just to be hip-hop. And they're not really talking about what's going on in the way that we saying it. Uyang'thola wena mfethu?"
Dee feels that tackling a heavy topic is easier when you rap in your colloquial lingo. "Like, for example, if you want to empower women or fight abuse," she says, "you don't have to get a boom-bap beat. You don't have to be all-serious—how are people gonna catch that? People might hear what you saying, but it won't spread to the kids." But rapping in your everyday language, she says, will "make young people know that hurting a woman is bad."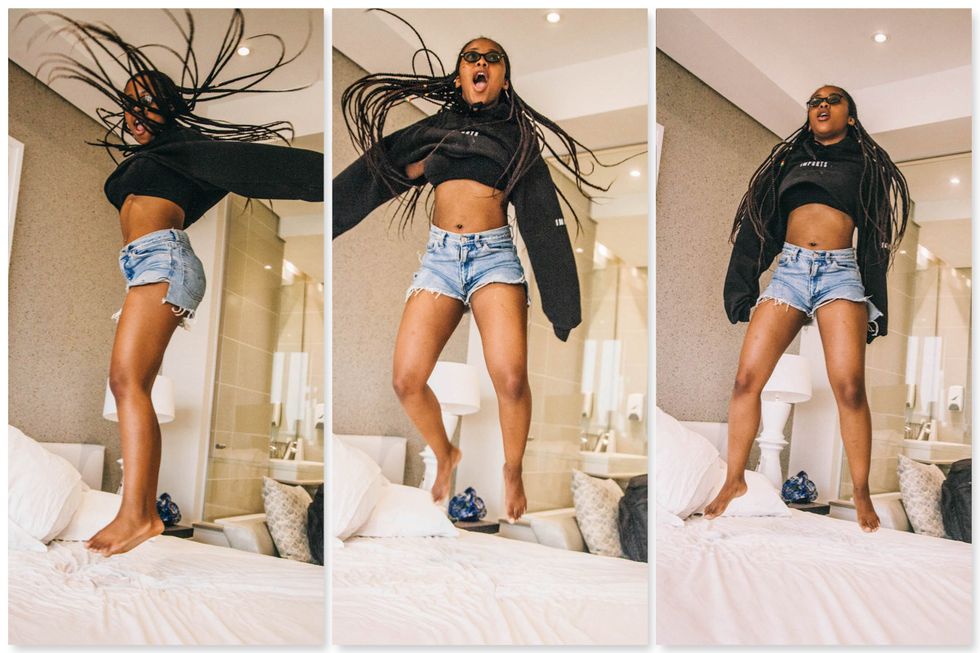 Photography by Sabelo Mkhabela.
"They don't understand what you are saying," she says. "Whether you do it in Xhosa or English, a lot of words, they bore kids. You have to make a song that kids can sing along to. That's when everybody in the house is like, 'Whose song is that you're singing?'"

She recites an impromptu hook to drive her point home. "For example," she says, "if you want to empower women, you can make a simple hook like: 'Ba uyimedi, phath' igoni/ Yaz' amajita, awasiboni/ Ba uyakubamba, and akho poli/ Mhlabe ngemela/ Ungabi nantloni.'" Amilca starts doing adlibs, and I find myself tapping my foot and doing the milly rock. In my head.
"You see, that's simple," she says, "everyone's gonna talk about it. And everyone, especially women, is gonna be aware that they must protect themselves."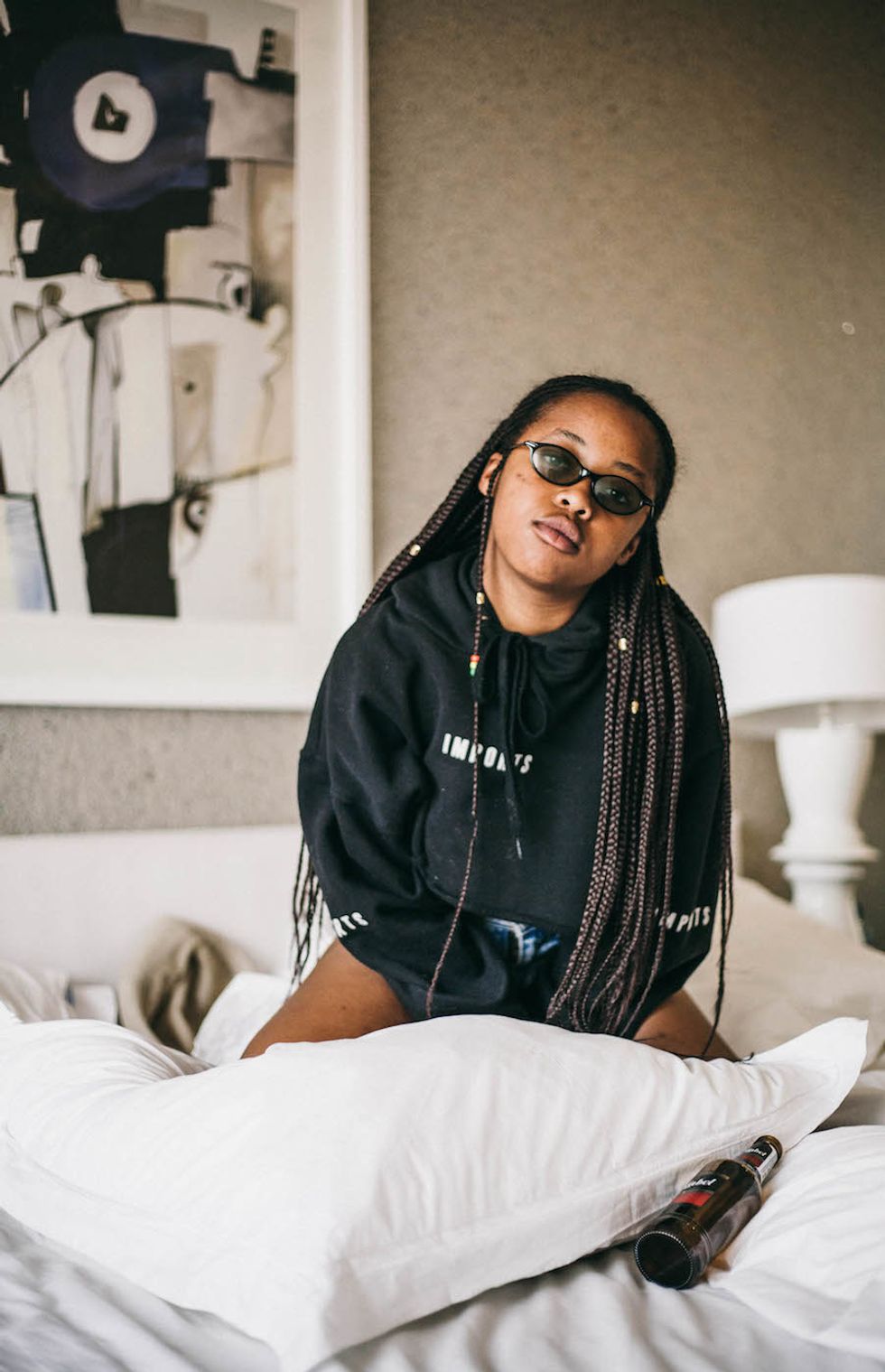 Photo by Sabelo Mkhabela.
Earlier this year, Dee Koala's music reached the ears of the Cape Town-based music video director Motion Billy, who offered to shoot the video for "Whuzet," which is slowly reaching many eyeballs and eardrums across the country. Billy, through another artist he was working with, heard Dee's 18-18 EP, and was impressed by the song "Koala."

"I thought I should shoot a video for "Whuzet" because I had already seen clips of her performing," says Billy. "It's rare to see a young Cape Town kid controlling hundreds of these kids, and they were singing along to her songs."
The director describes Dee, whose music he's now a fan of, as "a really great kid."
"I felt like she's got that energy that Cape Town always needed—an artist who can be booked for any show, not just hip-hop shows. I mean she's doing house gigs and house parties, which is nothing new for Joburg rappers—your J Molleys and other kids—but for Cape Town, I knew she was onto something," says Billy.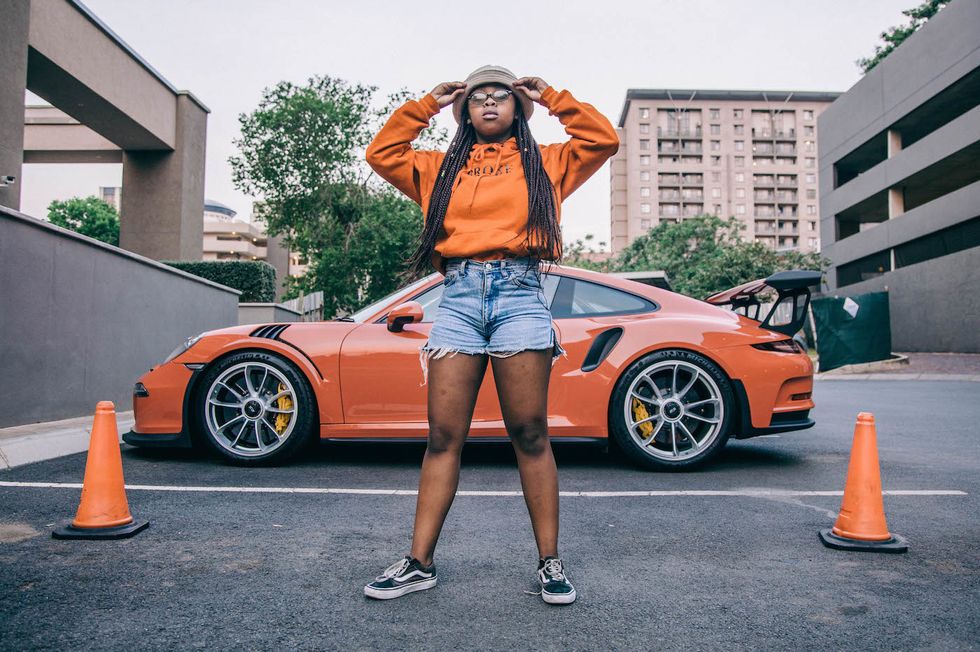 Photo by Sabelo Mkhabela.
Cape Town has long been known for socially conscious hip-hop dating back to the crew Prophets of the City. But in recent years, hip-hop worldwide started being accepting of the fun element of the art form. The Mother City isn't getting left behind, and artists like Dee Koala and Amilca, among many others, are at the forefront taking their music outside of Cape Town and the Western Cape province.

Asked if she has any plans to drop a follow-up project to 18-18, she says no. "I'm not dropping until "Whuzet" is recognized," she says. "Till everyone around—even celebrities—know the song. Till people who can't even speak IsiXhosa know the lyrics. Which is why I've pushed it till now."
While you wait for Dee Koala to become a household name, check out this SoundCloud playlist of some of her best songs and guest appearances, handpicked by us.
Follow Dee Koala on Twitter, Instagram, Facebook and SoundCloud.
Dee Koala Favorites