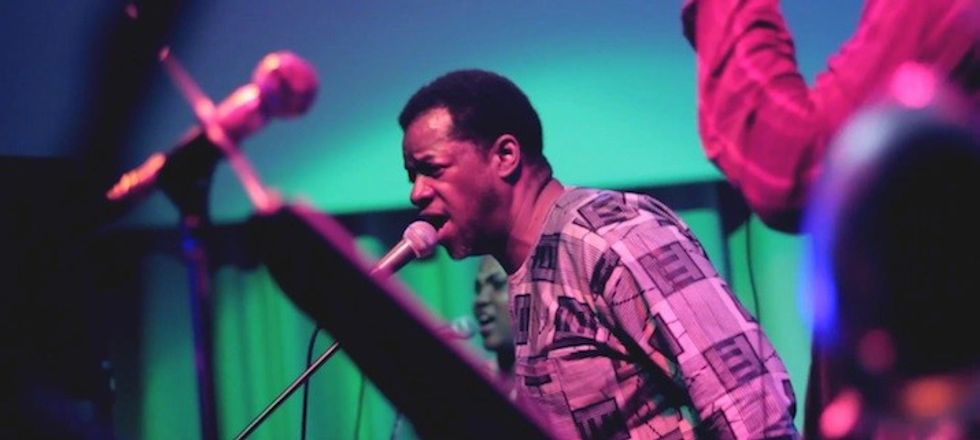 ---
As the longtime keyboardist for Fela Kuti's Egypt 80 (1979-1986), bandleader for Femi Kuti's Positive Force (1986-1995), and the founder of his own orchestra, Dele Sosimi has led a life and career steeped in the sounds of afrobeat and its tradition of activism. With a third studio album due out in May, the UK-born/Nigeria-raised vocalist/keyboardist/producer will soon release the project's second single, a political statement about the upcoming elections in Nigeria-- and one that resonates worldwide, particularly with the UK General Election coming up in May. "Na my turn for president" Sosimi sings on the unrelenting call-and-response message to Nigeria. According to Sosimi, it's time for the people to rescue control of their own country from corrupt political parties and failed ideologies. Today, Sosimi shares the music video for "Na My Turn," a mini political film which we're excited to premiere here. In the op-ed below, Afrobeat Ambassador Dele Sosimi asks why there isn't a new generation of Nigerian leaders.
I was born in the UK, post Nigerian independence when it was fashionable for Africans to come to the UK to further their education, returning on completion to use the knowledge and skills they acquired to build a great nation at home. My parents did just that and I was back in Nigeria at the age of 4. Moving back to the UK December 1995 to date, I share my views from the outside looking in.
With supposedly democratically elected civilian governments and military dictatorships over a period of fifty four years, blazing a trail of impunity, distrust, disharmony, disunity, blatant corruption, flagrant abuse of office/power, abject poverty, ethnocentrism, religious persecution, tribalism and the biggest nail in the coffin of democracy, prebendalism, not to mention the brutal civil war, it is to be commended the country exists and functions today.
Dedicated enthusiastic citizens of blessed memory who pioneered and fought tirelessly for us to win the rights to dictate our own affairs must be rolling in their graves.
Nigerians were to go to the polls again and elect a new leader on the 14th of February, one of two choices to be made, a former dictator and retired Army General or the currently serving President. Not surprisingly the elections have been postponed till the 28th of March.
The basic human elemental needs - "Water Electricity Food Housing and Education" were never addressed or provided for the ordinary citizens under the governments of both available choices, so what will be different this time around? The absence of these basic needs over the years compromises the power of civil society, which is nevertheless not to be underestimated.
As a nation blessed with an electorate comprising of numerous highly educated, articulate and intelligent women and men across various walks of life, the questions must be asked as to why there isn't a new generation of leaders? Why can the electorate not impose its will, leverage, or numbers for change of bad policy or government? Who is benefitting from the chaotic system?
In a true democracy, the electorate chooses their leaders and can impose its will. The votes of the electorate remain ineffective, like a toothless bulldog in these enlightened times, too scared to bark for basic decency. "Dem just siddon dey look, as dem dey chance dem dey go"
We are yet to really see the manifestation of the fundamental attributes of a democratic regime because it is not in operation. But we must always keep our eyes on the prize.
"Na My Turn" is due out March 30, and is available for pre-order via Bandcamp and iTunes. The track will appear on Dele Sosimi's forthcoming album, 'You No Fit Touch Am' (to be released in May on Wah Wah 45s).