The five member crew of Ukweli, Nu Fvnk, Jinku, Hiribae and Muroe form Kenya's coolest new collective EA Wave.
EA Wave (East African Wave) is a Kenyan-based creative collective of artists and producers pushing forward what they're calling a #NuNairobi sound.
---
The five member crew of producers Ukweli,Nu Fvnk, Jinku, Hiribae and Muroe craft songs that are loosely tied together by the hazy melodies, rumbling bass and 808s being championed by young beat makers across the globe.
Since their inception last year, the collective has produced for Cosmic Homies singer Karun (formerly of Camp Mulla), Jojo Abot, and, in a an unlikely turn of events, even Willow Smith.
Get introduced to the five members of EA Wave below as ringleader Jacob Solomon aka Jinku tells us about his co-conspirators.
Ukweli
Ukweli. Photo by Nu Fvnk, edited by Ukweli.
19-year-old producer Brendern Denousse aka Ukweli creates electronic music based on a collage of varying elements: African percussion, R&B influences, hip-hop, indie rock, and more.
Ukweli's also a visual artist, taking photos and editing the striking artwork that accompanies his and his peers' releases (see above). You can check out his visual work over at his Instagram and 'African Renaissance' Tumblr.
"Ukweli is currently working on several different EPs with the likes of Joseph Kiwango, Karun, and MClaire, as well as his own debut EP," Jinku tells Okayafrica.
Hear the track he produced for U.S. singer JABS, which ended up getting a feature from Willow Smith.
Nu Fvnk
Nu Fvnk. Photo courtesy of EA Wave.
"I am a flamingo. I'm fuckin beautiful," reads Nu Fvnk's Soundcloud bio.
Nu Fvnk "pursued music in the hope of becoming a rapper, but being young in the industry with a limited network forced him to begin making beats for himself. As time went by he found myself more into production without even realizing it, still thinking he would enter the rap game," Jinku mentions.
The beat maker, along with his EA Wave homies, handled most of the production work on Karun's recent Indigo EP.
Stream "Young Sinatra," a collaboration with Jinku, Trizah and Uganda's DJ Rachael.
Jinku
Jinku on the decks. Photo courtesy of EA Wave.
The Nairobi-based Jinku is the alter ego of graphic designer and artist Jacob Solomon.
"Jinku is a space monkey, who made planet earth his second home, over the years he has become a sponge of different influences ranging from rock, classical music to electronic music," Solomon tells us about his alter ego.
Jinku recently released his debut Amadeyo EP. Check out his slowed-down remix of Dela's "Mafeelings" below.
Hiribae
Hiribae. Photo courtesy of EA Wave.
Hiribae started out as a trumpet player for his school orchestra, only delving into the depths of music production in recent years.
He's the most soulful member of the EA Wave collective, often coating his productions with layers of airy synthesizers and smooth trumpet lines.
"Hiribae refers to himself as a creator because he explores various art forms all to convey one message: LOVE," Jinku tells us.
The producer recently got a nod from Just A Band's Blinky Bill, when he played Hiribae's "Coffee and Cigarettes" on his RBMA show.
Hear Hiribae's "Last Words," his track for EA Wave's #WaveyWednesdays series.
Muroe
Muroe. Image courtesy of EA Wave.
James Mburu aka Muroe has been DJing since 2012. He eventually branched out into producing and singing his own compositions.
Muroe's tracks sound more unhinged than those from the rest of his fellow EA Wave crew. Song titles like "Jessica Alba" and the Drake-nodding "Days in the East" hint to the eclectic blend of styles and theme heard on his singles.
His TRVE EP has received accolades from acts like Muthoni the Drummer Queen, Just a Band, Patricia Kihoro and Octopizzo.
Hear "Gvrls," a track Muroe co-produced with Hiribae.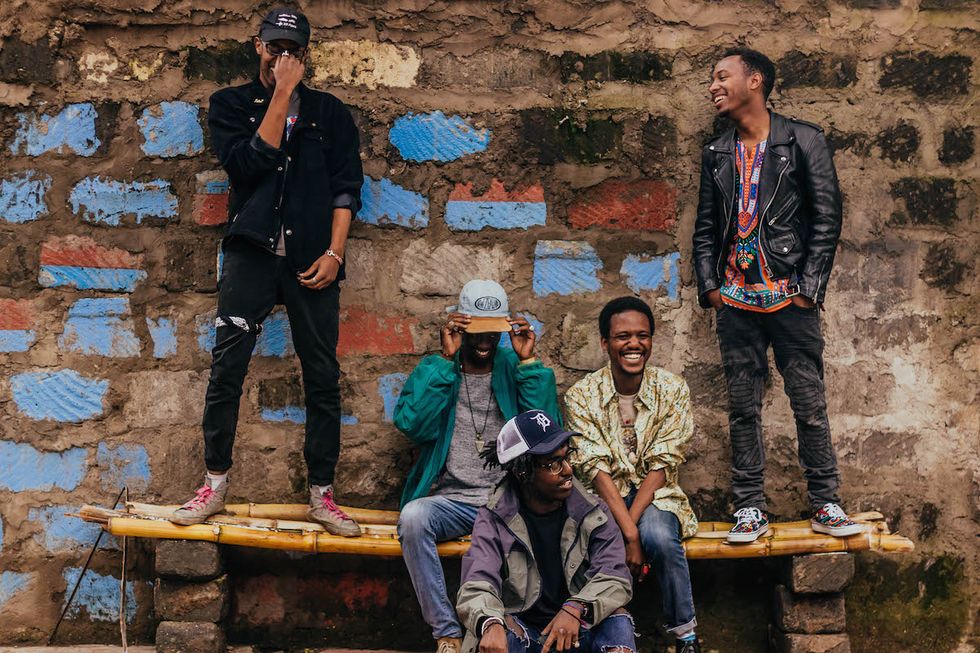 East African Wave. Photo courtesy of EA Wave.