Events
Okayafrica Heads To Art Basel Miami Beach For FADE TO BLACK III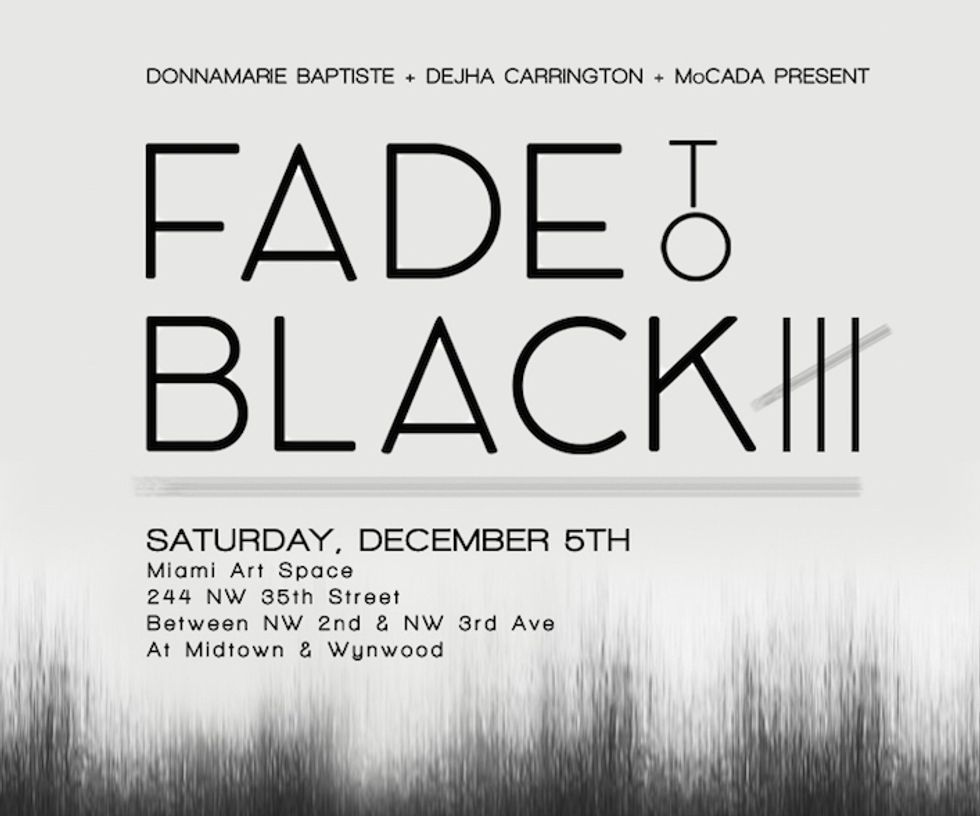 On Saturday, December 5, we're excited to join MoCADA, Donnamarie Baptiste & Dejha Carrington at Art Basel Miami Beach for FADE TO BLACK III
---
We're headed to Miami for Art Basel this week. On Saturday, we're excited to join our friends from Brooklyn's Museum of Contemporary African Diasporan Arts (MoCADA), Donnamarie Baptiste and Dejha Carrington as creative partners at the third-ever FADE TO BLACK (FADE), a celebration and representation of the creative influence and achievements of artists of color.
This year's FADE will take place at the Miami Art Space (244 NW 35th Street, Midtown) in three parts: an all-day group exhibition, an arts activist panel and a party.
Showing in the main gallery, the group exhibition Passages–curated by Tim Davis of International Visions Gallery–will feature work by Tamara Natalie Madden, Ulysses Marshall, Amaryllis Dejesus Moleski and Michael Platt. The project space will serve as a capsule for the photojournalism of HYCIDE. The exhibition is free and open to the public.
From 3-5pm, the Now Trending: Art & Social Justice arts activism panel will feature a conversation with Umi Selah (Dream Defenders), YK Hong (arts activist), Tatyana Fazlalizadeh (Stop Telling Women To Smile) and Kenneth J. Montgomery (Defense Attorney), moderated by James Bartlett (MoCADA). The reception and panel discussion are free and open to the public with RSVP (fadetoblackmiami@gmail.com).
Later that night, Everyday People's own DJ Moma will join us for the FADE TO BLACK party beginning at 10pm (invite only).
For more from Basel, check out ARTNOIR's Guide to Art Basel Miami Beach. Below, check out a selection of work by participating artists at FADE TO BLACK.
FADE TO BLACK III presented by Donnamarie Baptiste, Dejha Carrington, and MoCADA will take place this Saturday, December 5, at Miami Art Space (244 NW 35th Street, Midtown). Keep up with @fadetoblackmiami on Instagram for ongoing updates. 

Omi and her ancestors, Tamara Natalie Madden 36 x 48, acrylic on canvas, gold leaf, 2014

Instructions for freedom, Amaryllis Dejesus Moleski, 42 x 97 mixed media

Ms Bessie and the message, Ulysses Marshall mixed medium on canvas, 26 x 48, 2014

One Mob by Micheal Platt, pigment print on canvas, 36 x 54, 2015
All images courtesy of MoCADA.