South African artist Aewon Wolf has lived many lives—he's a member of The Wolf Pack, a singer, rapper and director, among other things. He calls himself an all-arounder. On his debut album, Mural, released in 2017, Aewon introduced himself as a versatile artist who mixes various genres. He has collaborated with a diverse array of artists such as Khuli Chana, Sketchy Bongo, Shekhinah, Mashayabhuqe KaMamba, among others.
He recently expanded his scope when he became part of a crew called Future Africa, which consists of members Sibu Nzuza (vocalist, poet, rapper and guitarist), Mnqobi Yazo (vocalist, producer and guitarist) and S'phephelo Bulunga (percussionist, producer and rapper), who are all based in Durban.
Future Africa makes music Afrocentric music with touches of hip-hop and pop. Their first song "Ntombi Endala" is a great place to start to get a taste of their sound, which has traces of maskandi and mbhaqanga. "Potoza Game" by Sibu Nzuza and Aewon Wolf featuring Simmy Sims will also give you further understanding of their music.
---
A few weeks ago, the group performed their first Johannesburg show at AGOG Gallery. The quartet gave an energetic performance that involved the Zulu dance ukusina and live percussion, which is a great departure from your regular hip-hop act.

Aewon Wolf, at the beginning of their set, screamed, "Being African is cool," which is the group's unofficial mantra. They reiterate it in interviews, including the one we did with them, in which we spoke to them about how Future Africa was formed, making Afrocentric pop music, their relationship with hip-hop, being based in Durban, and a whole lot more.
Read our conversation below:
What is Future Africa?
Aewon: Future Africa, first of all, is not a band. It's a brand encompassing a lot more things than just music. It's basically an idea or philosophy that's pushed within the brand, of trying to make African culture more relevant in today's world. And more accepted by the youth because we are still sleeping on our own cultures as Africans, let alone the world. So we tryna push that agenda and take it to the world.
How did you guys form this brand?
Aewon: It's something we've been developing with the homies here for a while. First of all, we wanted to make a band, to make music that was different. We, artists who make music that's culturally relevant, feel slept on in South Africa. We started off with that idea, and I decided as well that this thing is bigger than just a band, so that's why I developed it to the point where it's a brand.
Is the band the first project under the Future Africa brand?
Aewon: Yes
When did you guys starting recording and performing together?
Sibu: The recording started with me and Mnqobi as Sibu Nzuza and Mnqobi Yazo. We started early March. Everything took off from there.
And all of you guys are solo artists…
Aewon: Yes, the reason it's a brand is because everybody under Future Africa does their own thing as well. So we are a collective.
Aewon, you've always been a versatile artist. Sibu, I've always known you as a rapper, and I've seen you morph over the years into what you are now. What inspired this change?
Sibu: With me, when I started rapping under the alias Qricha, I felt like hip-hop took from me more than it gave. So basically, it wasn't really a change that I did. I just took it to the basics. If it was a change, I would have given myself another alias, but I went back to the name my mom gave me. I'm still part of hip-hop as a culture, but as a genre, there's not much I can do for hip-hop anymore. I feel like my African roots need more people like me in it, more than hip-hop needs me. As you noticed, my music has grown quite traditional. With me, I felt the hip-hop thing was just another phase when I was finding myself as an artist, but this, this is home.
With the rest of you, did you go through the same things?
Mnqobi: It's a bit complicated because I'm an actor, writer and director, alongside being a musician. I've been doing African music, that's how I met Aewon Wolf. I've been doing African music until I met Sibu, and I told him I respect your talent and I wish you could do something like an EP. And then we recorded the first two songs. And Aewon Wolf, was like, bafethu, ningayishiyi kanjalo, let's win Grammys with this, and then he mentored us and became a member. Even the reason we are able to get gigs, it's because of him.
What I saw with us as Mnqobi Yazo and Sibu Nzuza, with Sphe playing his percussion, we formed powerful African musicians. And we speak about the things that people are scared to speak about nowadays. We are trying to send this message in a modern way so they can accept it.
Sibu: Sort of like tryna make this African feel sound cool because as young people ourselves, we will make that cool, and the kids will listen because we bring some of our old fans with us—the ones we take from hip-hop, they're feeling the African sound now. That's also what Future Africa is about; we tryna make being African cool again.
Aewon: When I came across Mnqobi's music, he opened my eyes completely. I feel like I was always looking through a small hole, had an idea, but what I didn't understand was what it sounds like to hear African music that speaks to me in this day and age, and actually done by someone who's young. I realized that we are sleeping on our own music, just because we never heard it from someone who's like us. And that opened my eyes to a lot of things. I come from a hip-hop and pop background, I always never really caught on except for Tshepo Tsola from Sankomota, who's one of my favorite artists of all time.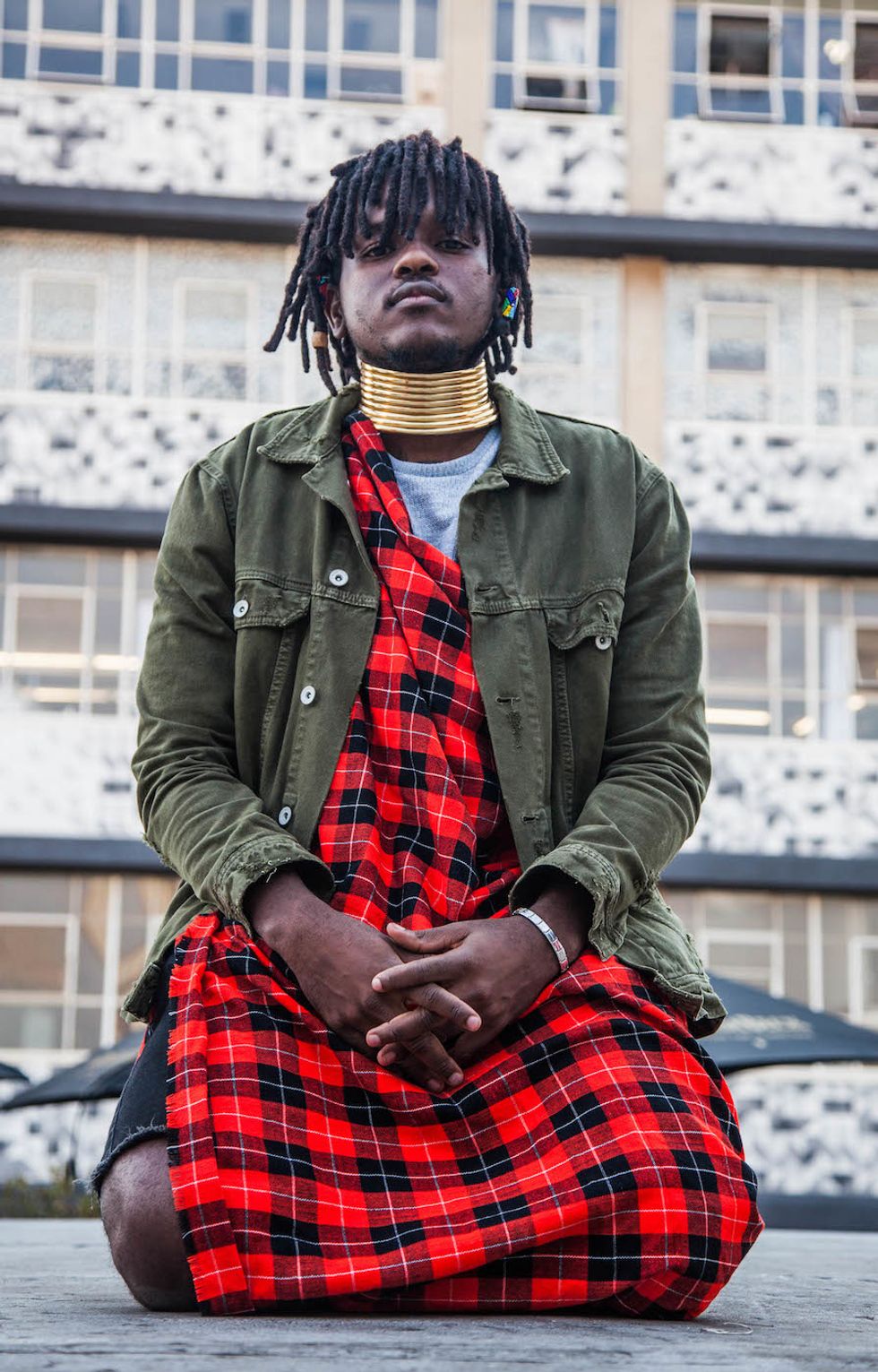 Aewon Wolf. Photo by Sabelo Mkhabela.
The term 'African music' is quite broad, and some people find it problematic. So what do you guys specifically call your genre of music?
Sibu: I'd say it falls under world music.
Aewon: Because world music has no definition, it's just something the world can appreciate.
Sibu Nzuza: That's how the term "world music" came about—African people making music that reaches out to the world. For instance, if you read about Shwi Nomntekhala on Wikipedia, akubhaliwe ukuthi it's maskandi, it's written "world music." You go to Ladysmith Black Mambazo, it's not written "isicathamiya," but world music.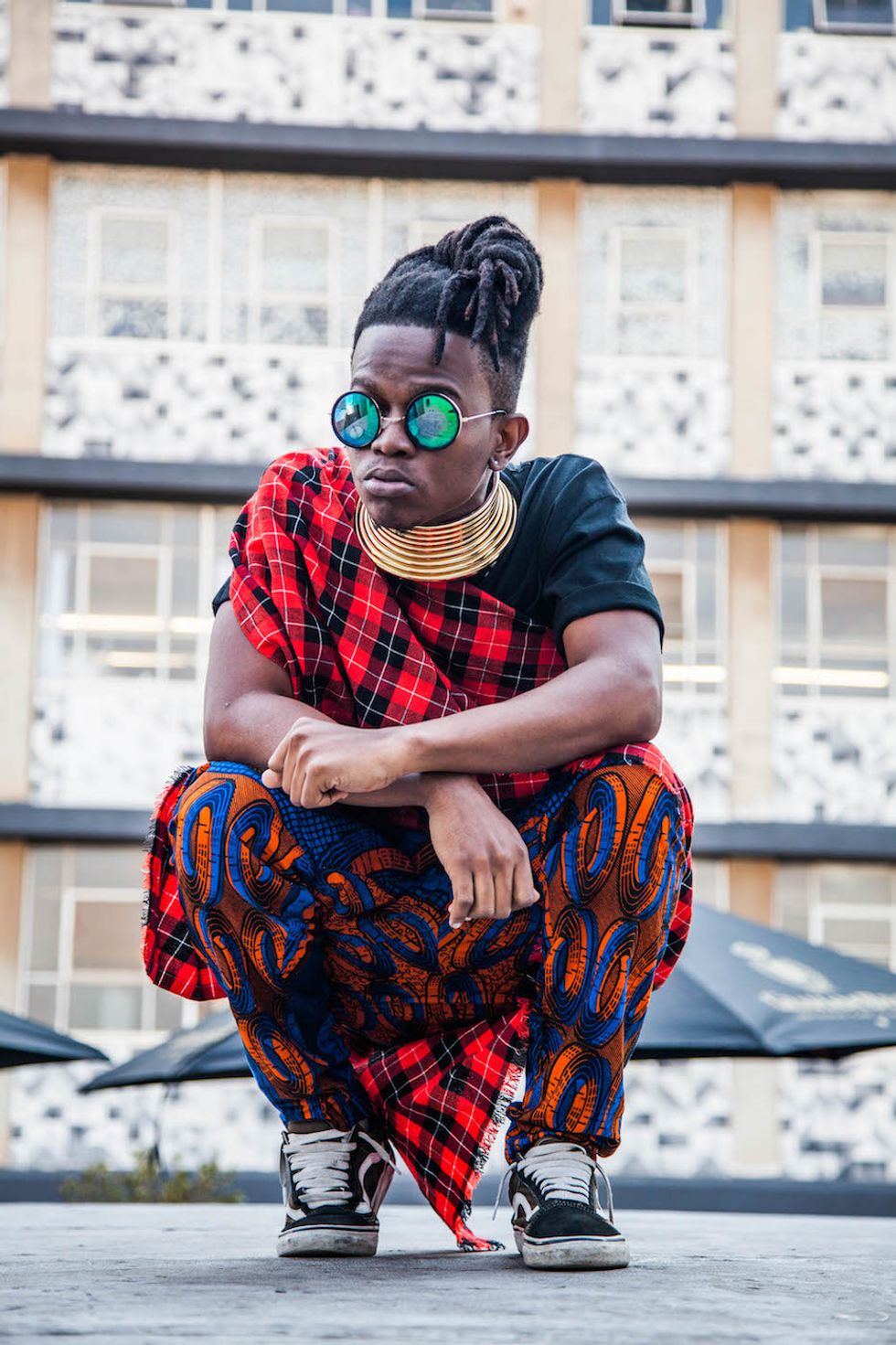 Sibu Nzuza. Photo by Sabelo Mkhabela.
What do you guys make of this sudden interest on African music by the world? It's not just Black Mambazo and Fela Kuti anymore. Cassper Nyovest has songs with Black Thought, The Game, Talib Kweli; Wizkid has worked with Drake, P Square with Rick Ross… the list is endless. And I'm interviewing you for a US-based website.
Sphephelo: It took a long time. If you mention Black Mambazo, they started winning Grammys in the '80s. You can imagine how much of an influence we've always had. There's always been a demand, but it somehow got clouded by the media wanting more pop and western influences, so we are trying to fight back in terms of staking our claim—we are African, we can't make western pop, we can make our own version of pop. So to answer your question, even the world knows, it won't be something new to them, we are just tryna contribute to that huge spectrum.
And you guys are currently working on an EP?
Mnqobi: Yes, and it's almost done.
Aewon: We are working on an EP and a film. "Ntombi Endala" is just one part, and funny enough it's part 3. We are starting in the middle. But when the project comes out, it will all make sense.
When you guys record, what role does each member play?
Sibu: It's tricky. We all play instruments. So it's like whoever feels "I'm hearing a beat right now, this needs to be added or this needs drums," they add on. So most sessions are usually just spontaneous. What we have to do is get in the studio and feed off each other's energies.
Sphephelo: There's a lot of jamming involved.
Mnqobi: The way we treat the studio, we treat it like is'godlo (a sacred place) so that we can be able to execute this African music. To make this kind of music, it needs us to dig deeper into ourselves so the message can be useful to everyone around the globe.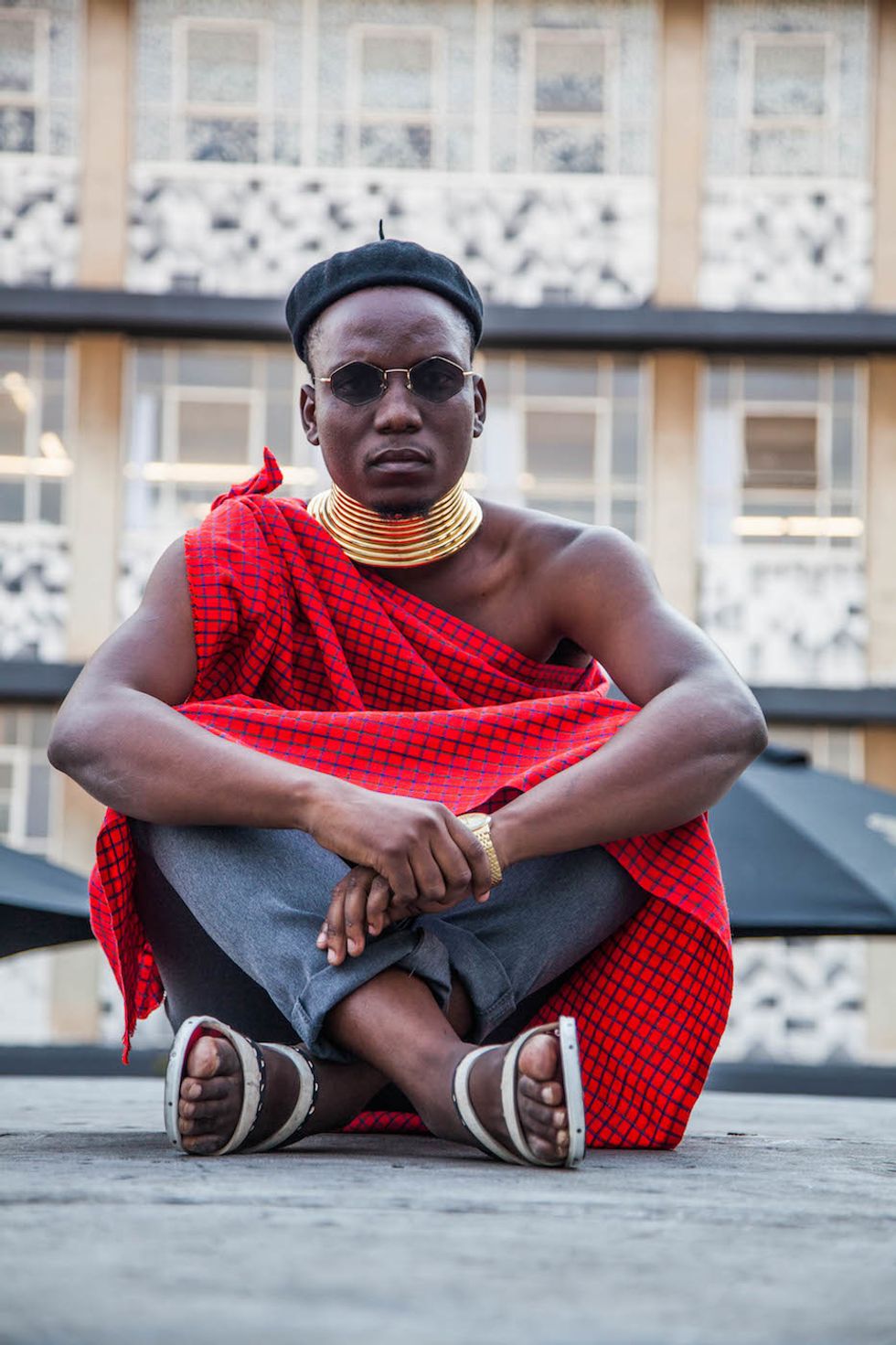 Mnqobi Yazo. Photo by Sabelo MKhabela.
What do you guys think of artists like Mashayabhuqe KaMamba and Sjava, whose music is basically the same as yours in terms of the concept of blending traditional sounds like isicathamiya and maskandi with modern genres like hip-hop?
Aewon: That's exactly why we did Future Africa. There's a reason why people gravitate towards artists like Sjava and Mashayabhuqe. I feel like those artists are not fully appreciated by the media yet. Maybe Sjava, thanks to Ambitiouz Entertainment being a beast of a label. But people tend to not appreciate fully what these guys are doing. They are giving a mirror to the people. They're giving you a way of telling your story using your language and the influences that you had growing up, but didn't pay attention to. Because you didn't think it was cool, because the media told you it wasn't cool. I respect those guys. Mashayabhuqe is like one of my favorites, I've worked with him a couple of times, and there's a reason why I keep going back to working with him. I have a bunch of songs that we are still gonna release. I respect him. Sjava is the same. We hit each other up on Twitter, Instagram and WhatsApp all the time because I appreciate what he does.
As I said, the kids, the youth, they want this, but they don't know yet.
Sibu: It's like filling up a gap that the people don't even know is there. It's only when they get to hear the music that they figure out, "this was missing in the industry." So that's what Future Africa is all about.
Aewon: Like, Travis Scott is cool, but Mashayabhuqe is there also.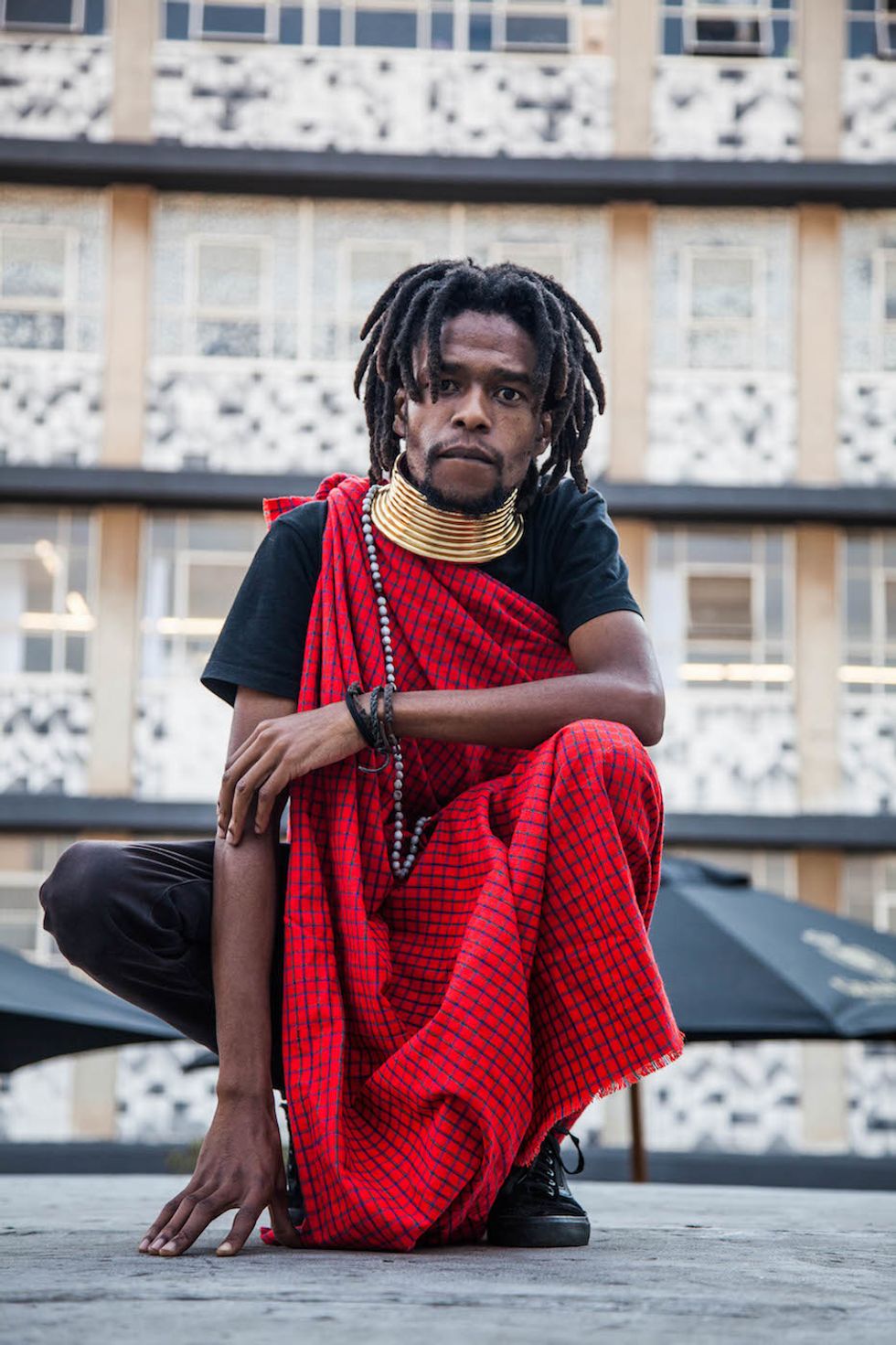 S'phephelo Bulunga. Photo by Sabelo Mkhabela.
I lived in Cape Town for a very long time, and the general consensus is that it's impossible to be based there and have a flourishing music career—artists always have to move to Jozi to make it. But from the outside looking in, Durban is better. Is being based in Durban the same?
Sphephelo: It's just as hard in Durban.
Aewon: There's a rare occurrence of being based in Durban and having a flourishing music career. For instance, ever since I made a conscious decision of being fully based in Durban, even the media doesn't give us that much of a platform anymore. There's a cronyism that exists in Joburg that people don't talk about in terms of media—[journalists] are willing to drop stories of [artists] they see at these events, where they hang out together.
Mnqobi: I was about to quit music, I told him [Aewon] this morning. People have always been telling me, "Mnqobi, you so good," I was happy to hear that…
Sibu: But it gets to a point where that's just never enough.
Mnqobi: Where it doesn't boost my ego anymore. It doesn't do anything. There's a lot of talent in Durban, it's just that it's hard to move.
Aewon: I don't blame the media, I don't have beef. It's human nature—human beings are going to have flaws, and sometimes a lot of reporters and journalists are just gonna be like, "I see what I see. If I'm not seeing a great performance in front of me, I'm not gonna talk about it because I didn't see it." Whereas if they did put in sometime and did research… That's why I'm putting everything that we are doing on the Internet. I'm going to hold it against them if they say, "We don't know what's happening in Durban." I will be like, "But it's right here. We put it there for you to find. And if you're still not covering our stories, what do you want us to do? Grab you and fly you there?"
But we wanna make contacts and make more of these trips because the media and other platforms are here (Joburg). But I told these guys in the beginning that I don't really care, I've done this Joburg thing, I don't really care about necessarily breaking here, I want us to break in the world, I want the world to see what we got and then maybe when we come back, they'll appreciate us.
Does that come from you traveling?
Aewon: It definitely comes from traveling. Seeing the world and visiting places and talking to people. I meet with people in the music industry, publishers, labels etc. And from engaging, I realize that people don't really know much about African music. Especially music from KwaZulu Natal, they only know about Joburg artists because that's what the media is giving them.
Listen to solo projects by the members of Future Africa below. Their debut EP is coming soon.