The drive to share and document knowledge in the vernacular across the African continent has gathered momentum over the past couple of years, thanks to the growing WikiAfrica movement and AfroCuration events. After several iterations across Southern Africa, AfroCuration, which consists of a Wikipedia edit-a-thon and linguistic workshop, made its way to West Africa during the last weekend of May, adding Ghanaian indigenous languages into the mix.
Established in 2019 by the Moleskine Foundation and through the WikiAfrica Education program, AfroCuration seeks to encourage Africans to document their stories in their own local languages by adding entries into Wikipedia. "It started with this very genuine cultural and intellectual interest, and then it transformed over the years," CEO of the Moleskine Foundation Adama Sanneh told OkayAfrica. "By bringing together the world of creativity and culture to the world of knowledge production, we created a program that is about inspiring young people from Africa to transition from passive knowledge consumers into active knowledge producers."
Since its inception, AfroCuration has held events in Mozambique, South Africa, and Zimbabwe, in partnership with various culturally influential organizations. For its first event in Ghana, AfroCuration partnered with nonprofit independent internet radio station, Oroko Radio, and the Twi User Language Group, to produce content on African authors. "Oroko Radio is about empowering through conversation, collaboration, and community," says co-founder Kikelomo Oludemi. "One of our key objectives is reclaiming and recentering narratives from the African diaspora artist communities."
For Oludemi, taking part in this year's event aligned closely with Oroko Radio's ethos. "I think for us it was the realization that the people who tell the stories are the ones who dictate the narrative and that ultimately shapes the world moving forward," she says.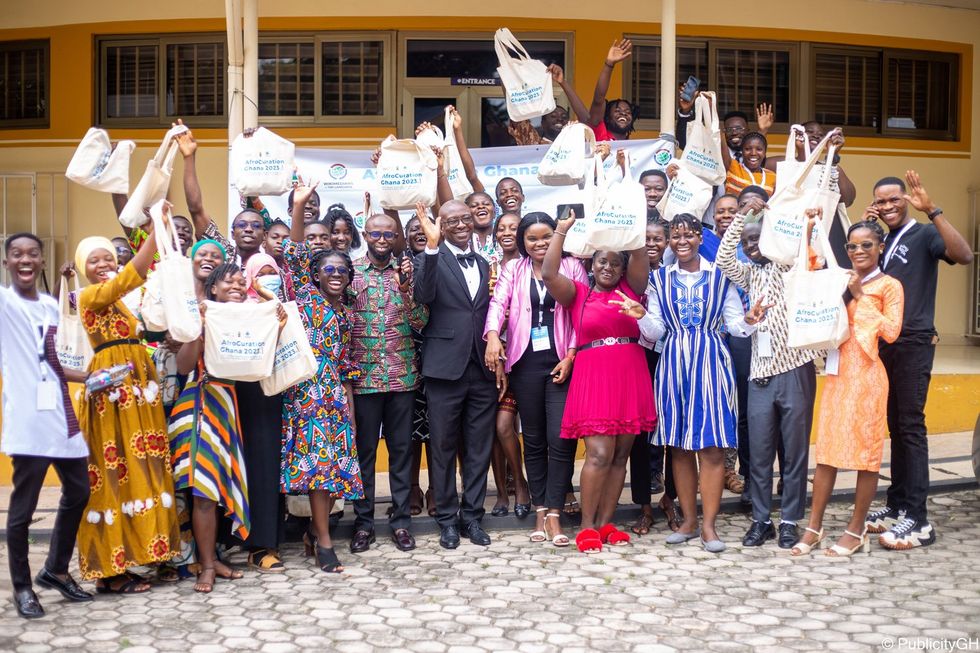 This year's AfroCuration took place for the first time in Ghana, with attendees gathering in Kumasi.Photo courtesy Publicitygh.
Held in Kumasi, three hours away from the capital city of Accra, this year's AfroCuration brought together a vibrant group of people. Known for its rich musical history, and proximity to Ghana's famous Kwame Nkrumah University of Science and Technology, Kumasi was chosen as the venue for this event because of its youth culture, and the proximity of the Twi User Language Group, who aim to train and empower native speakers in preserving and telling their stories in local languages.

Jemima Antwi, a representative from the Twi User Language believes events such as this are pivotal to the development of local and continental culture. "AfroCuration would be very impactful to the community because people have the opportunity to be history-makers or part of the historical dispositions by contributing content about their great ancestors who have paved the way for the development of African cultural diversity," she says. "It also increase[s] the richness of Ghanaian history and Africa as a whole because this event has created more knowledge about both our deceased and living legends."
At the event, locals donned a mixture of local attire and business casual dress, but the singular characteristic across participants and attendees was a shared enthusiasm for knowledge about Ghanaian culture and history, and documenting that knowledge in local languages. "There is so much that I can take from my West African side that is almost inconceivable in the Western world," Sanneh says. "If that type of experience, or that type of language is not preserved, then we will be entrapped into Western culture."
A sprint of knowledge-gathering
Day two of AfroCuration was the most intense. Attendees were divided into groups based on language: namely, Gurune, Twi, Bagbani, Ewe, and Moore. The session featured three sprints of one-hour-long edit-a-thons split between forty-five-minute-long breaks, culminating in a culturally reflective commune with the attendees on the theme of "Who We Are."
The program's theme, "Who We Are" stems off the text by South African author, Lwando Xaso, but the intrinsic objective of AfroCuration's debut event in Ghana which was held physically and streamed online was archiving information about culturally-relevant authors. The programme's eventual goal goes beyond knowledge activism, but rather molding the critical thinking of young people across Africa.
"We believe having access to such information in your local language can reshape your thinking, and your imagination," says Sanneh. "The capacity to imagine the future in a different way; the capacity to conceptualize reality in a different gaze. The idea is about collective knowledge that ignites a dynamic relationship with language, culture and experiences, and through that dynamic exchange, then you can ignite creativity." As Sanneh explains, the greater objective of AfroCuration is archiving information about Africa in order to spark new creativity.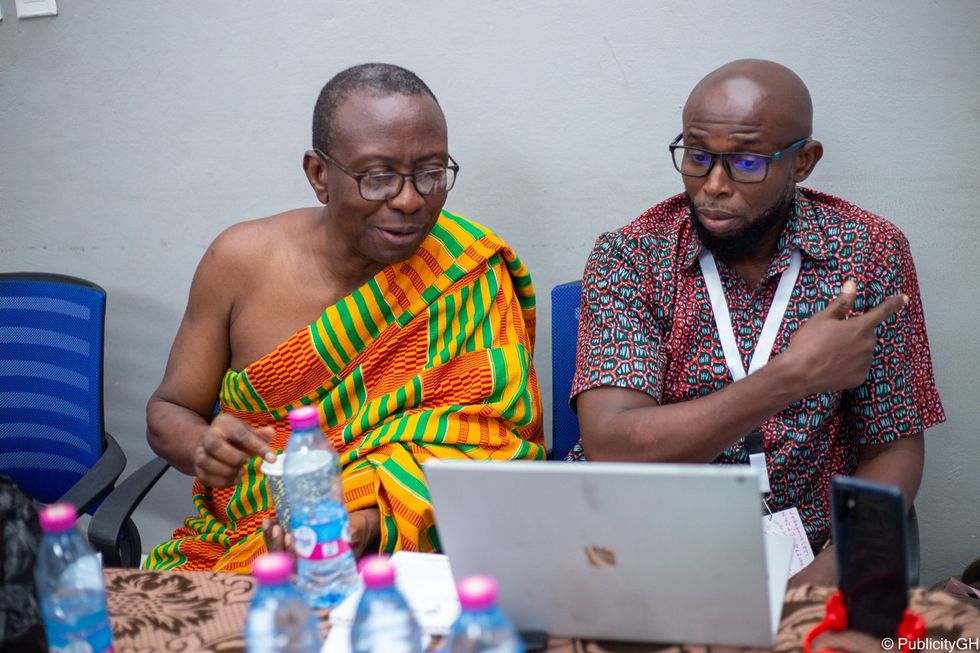 Two attendees of this year's AfroCuration event, which incorporated the language groups of Gurune, Twi, Bagbani, Ewe and Moore.Photo courtesy Publicitygh.
The importance of an event like AfroCuration cannot be overemphasized. Not only does it flatten the knowledge gap, and celebrate African culture and heritage, it also provides young people with hard skills such as referencing and editing, and provides real-time data about knowledge-seekers.

The final day of AfroCuration proved to be the most laid back. Between thirty-minute breaks, the editing groups presented their work, which centered around creating Wikipedia articles on cultural authors in local languages. Prizes were awarded to the groups, based on the highest number of correctly-formatted articles created.
For community-powered organizations like Oroko Radio, AfroCuration is crucial in building community and most importantly, providing spaces for Africans to redress historically incorrect stories and preserve locally poignant stories. As Oludemi says, "The most important thing people can take from this event is that there [are] always stories to be told, and we have to be the ones to tell them."