American rapper Chancelor Bennet, better known as Chance The Rapper is widely known to be from Chicago, Illinois, aka the "Windy City," but over the past few months he's been connecting more and more with his West African roots. Chance is of Ghanaian descent, just like his close friend and fellow rapper Vic Mensa, and the duo made a series of trips to their homeland Ghana earlier this year. During one of those trips, a special idea was born: their very first event on the African continent. Called the Black Star Line Festival, it will be the first edition of an annual art and music festival the rappers plans on holding across the world.

The inaugural event will be held on January 6th, 2023, in the capital city of Accra, Ghana. So far Chance and Vic have announced Erykah Badu, T-Pain, Jeremih, Tobe Nwigwe, Sarkodie, M.anifest, the Asakaa Boys, and of course themselves as headliners. To top it all off, it's a free event.
Sitting down with Chance the Rapper, he gives us a clear picture of what his vision for the Black Star Line Festival is: "It's inspired by a number of things," Chance tells OkayAfrica. "The Black Star Line was a shipping company started in 1919 by Marcus Garvey with the goal of creating a network for black people globally, starting with the US and the Islands and eventually going down to South America with the idea in mind of creating trade and relations with West Africa for black folks of the diaspora. I was really inspired by his work and some of the ideas and opinions that he had on us all being all one people. So when I came to Ghana for the first time in January I was already inspired by Marcus Garvey and Garveyism. I learned a little bit of family history regarding Garveyism and how it connected to their faith."
---
Chance sounds like a student of history throughout our conversation. He goes on about the relationship between African and African-American history, deftly illustrating how the two connect. He then discusses Kwame Nkrumah's mausoleum, the memorial built in honor of Ghana's founding father, and how it helped give birth to the idea of the festival. "The museum tells the story of how he was inspired by his studies in America at a HBCU, and how what he learned about Marcus Garvey inspired him to come back and basically start a revolution," h narrates conversantly.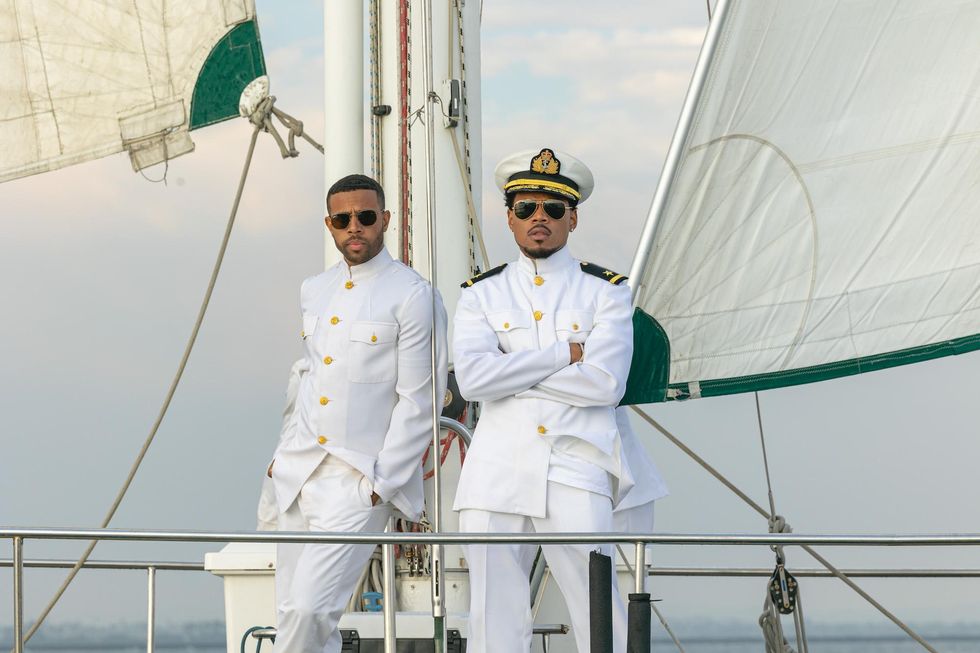 Vic Mensa and Chance
"That made Ghana the first independent country in Sub-Saharan Africa, and Marcus Garvey's lineage was kind of carved into the fabric of the country through this idea of global blackness, of a free Africa for Africans. All of those things came through his interconnectedness with black people from overseas. That was really inspiring to me, and it made me and Vic start having conversations every day on that first trip about how we can continue to create spaces that celebrate the different cultures but also the unified efforts towards liberation for black folks. And you know, me and Vic are rappers. So our first thought was how do we create it globally and on the continent."
Chance makes it clear to pinpoint the exact point of reference for the festival. "But then as time went on we did more research and just investigating," he continues. "We came across the Festival of Algiers in '66 which was built as a convention of black intellectuals and it was just all these important intellectuals and scholars and artists and organizers and activists that came to the continent in the sixties with the idea of convening in private and discussing where they felt they were at as a people globally, discussing issues globally. It just made us think about it as a convening moment that could take place over the course of a week, and something we could rebuild in other African countries."
Chance has also been making a personal effort to bridge the divide between Africans and African-Americans by speaking to his peers in the industry, and asking them to visit and experience the African continent for themselves.
"It may be a surprising fact, but I don't think any artist on the bill except the ones that are from Ghana have performed on the continent before. That's not like a typical show for us, because we don't really play out there. I've played everywhere, like literally everywhere. I've played in the Philippines, played in Finland, Poland, places that you wouldn't think that a Chance The Rapper show would be going on, I've played everywhere, I've had great shows. But I feel like it might be by design that our agents and our promoters and the people that typically do bookings don't send us to the continent. Once I got to experience it and see what it was like and learn so much about my history and about myself, the first thing I did was get on the phone and tell everybody yo we need to come out here more, we need to kick it, we need to play a show out here, we need to put together something, and everybody was really excited. But there's a divide, there's kind of a wall built by ignorance, and I don't mean ignorance like in terms of willful ignorance, but we just don't know. A lot of our experience and understanding of the continent is based on American media. Or even just barriers. Mental barriers, financial barriers, like in terms of getting to the continent. There's a lot of walls that keep us separated. But a lot of artists, friends, everybody I talked to is hyped and ready to go. The artists were so excited at the idea, and the only reason why there aren't more artists on this one is for one the project is in its infancy, this is the first year so it's basically the pilot for this we're creating."
Getting into the event itself, we discuss how he selected the artists that would be performing at the festival. "I went out first to the people that inspire me and are aligned with what we're trying to do, which is create a network of black people for all black people globally. There's no ageism, this is for young black folks, and old black folks, and those in the middle. There's no gender, it's gender non-conforming, this is not a religious event, this not a nationalist event, this is about black people around the globe. So I went around and thought about people that could exemplify all of those characteristics and spoke to all those different people. This is a free concert so I'm paying for the concert to get put together, no sponsors. But these artists, do you think that I could afford all these artists? These people are coming out of something in their heart that's bringing them to play for the first time, and they wanna pay for hotel rooms and flights, you know what I'm saying? They wanna be there. I wanna say that I picked everybody, I reached out to a lot of people but I think God picked who came. And I think that it worked out to be exactly the lineup that it's supposed to be for this first time."
On the topic of artists, we dive into the African artists he aspires to work with, and he narrates how his collaboration with Ghanaian afropop singer King Promise took place. "I'd like to work with Asake, I'd like to work with Tems, with Black Sherif, I'd love to work with Ebo Taylor, there's a ton. What's been dope is that it's been happening really organically, like I've been meeting people before making songs together, and that's not how it always works in the industry or in the States. So out of like sending someone a song because you're a fan of the music, but not necessarily getting to work with them in the studio or actually meet them as a person before you work. So doing it that way, like with King Promise, the way that we met was via music and we instantly recorded together and made something that was super special. Then when he came to the States I pulled up on him at his show in Chicago on his tour, and then he came back by the studio and liked one of the songs and hopped on it, and we shot a video the next day. It's been very organic. It's been the same way for the artists that I met because I like started my collaboration with visual artists in Ghana because I was really being taken in by this community of artists in Ghana that were extremely profound painters and different kinds of visual artists and it kind of sent me on this road of like finding the story of each song that I'm making and working on different mediums to kind of bring these stories to life in the same way with the music artists."
Finally, Chance tells us what he wants fans to expect from the Black Star Line festival. "I think everybody should expect a real moment of connection. I think what we're doing here just like what we do in other spaces is try and provide access to our people in a way that's like it feels like a personal gift, it feels like a personal connection. There's a lot of educational space and aesthetic to the whole festival buildout. A lot of music is going on and cool stuff like that, but the actual experience of the space is very family-oriented. There's an elder space, so you don't have to feel like you're overcrowded or you're in a space that's overwhelming, there's a kids space, there's access for those with access needs. It's really just a festival for our people, and what I want people to feel like is like they're being welcomed when they come in."
More info on Black Star Line Festival, including discount tickets on United Airlines, here.