During the month of August, we'll be highlighting aspirational folks who are setting major #goals and achieving them, and asking them to share their stories and insight to help motivate us all to "live our best lives."
---
These athletes, artists, fashionistas, scholars, entrepreneurs, and more, are a reminder to us all, that dreams are valid!
Previously, we spoke with Ghanaian fitness guru, Cassandra "Coach Cass" Nuamah. For our latest installment, we chat with Nigerian entertainer Chief Obi. Read our conversation below. 
Henry Obiefule, who goes by Chief Obi, is a Nigerian comedian on the "path to success."
His fans know him as a comic whose fame progressed from the social media platforms Keek to Vine to Youtube and Instagram. I would argue that his 280,000 followers aren't a true portrayal of the breadth of individuals his work has reached.
He's been featured in music videos byJidennaand2Baba. In February, he put together, headlined and sold out a Valentine's Day show and was humbled by the fact that his audience was full despite the holiday being on a Tuesday.
Just this March he signed a million dollar endorsement deal to serve as Vomoz Communications brand ambassador. A few weeks ago, he followed up the aforementioned with a video that may or may not be a precursor for a music career.
But this article isn't about any of the above.
This is an article that goes beyond the funnyman's portrayal of himself and digs a bit deeper. In his second ever interview, he sat down with his OkayAfrica family to answer questions he hasn't before.
Henry holds that your friends will always support you, but familial support gives you the push you need to succeed. While his father has always been in his corner, his mother is still coming around. He was filled with great fear when he told them that this was the career he wanted to pursue full time. He laughed as he recalled his mother saying, "Is that what we sent you to America to do?" With his parents behind him he knows, "I have more space to spread my wings and fly. I can do whatever I want in this industry."
Image courtesy of Chief Obi.
His passion shines through as he discusses the moment he decided he wanted to be an entertainer—and only that. In December of 2015, he returned to Nigeria and was touched by his reception. He saw how true people's love was for his craft, and the potential for success in both the American and Nigerian markets. He spoke to people in the industry who encouraged him to be disciplined and he realized this was his calling.
"Discipline keeps you level headed." he affirmed. The Morgan State University graduate who majored in Business Administration like a "true Igbo man"—as he puts it—had interned at Goldman Sachs and was offered a job upon completion of his degree. He turned it down and happily mentions he makes what they had offered him back then, right now.
Despite hopping on flights non-stop and the inevitable stress that comes with the path he has chosen, Chief Obi remains enamored with his career. "When you have fun doing what you do, it doesn't feel like work." he says.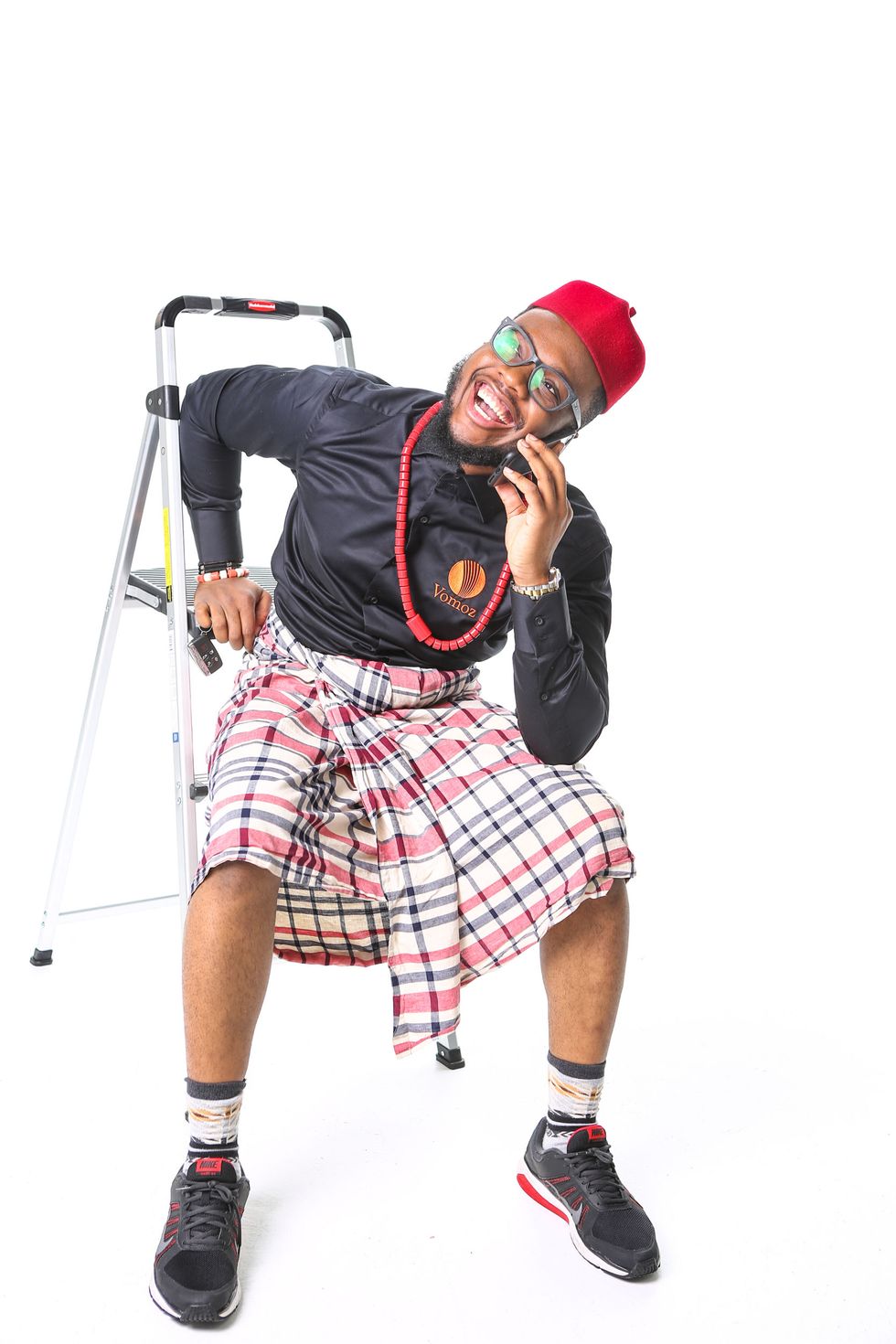 Image courtesy of Chief Obi.
The comedian wouldn't change a thing. "This past weekend a lady walked up to me and told me she just lost her dad and one of the last times he smiled was watching one of my videos." Although he has excelled at hilariously portraying both an African father and uncle, like a true artist, the entertainer draws influence from just about everything.
When asked what advice he would give himself 10 years ago, he jokingly replies, "I would have found the owner of Snapchat now and made him my very very good friend."
Chief Obi attributes his success to parents who ensured he was always doing well in and outside of school.
Image courtesy of Chief Obi.
He shares some words of wisdom for people who look up to him:
"My advice to them is to find what they want to do and work towards it. The most important thing is prayers. If you want to achieve a goal, pray towards it, work towards it and let God guide you," he says. "Talent is one thing, hard work is another. Put yourself around the right people, as opposed to people who always want to turn up. Surround yourself with positive thinkers who will help you achieve what you want to achieve."
He wasn't inclined to reveal what's next because he doesn't like putting out news that hasn't yet been fulfilled. And also simply because there's a lot in the works later on this year.
I think I speak for a lot of us when I say we are all anticipating whatever it is that's next for the young chief.
Image courtesy of Chief Obi.