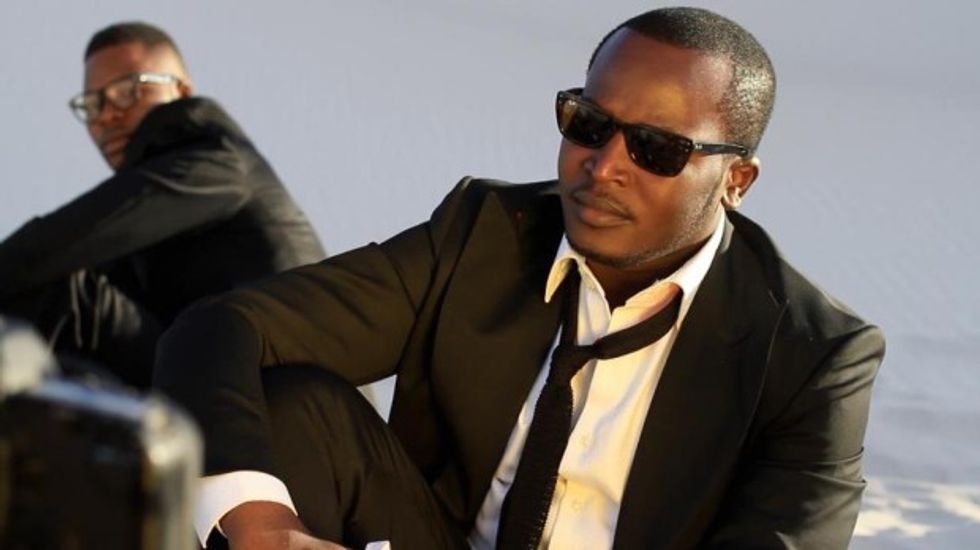 ---
Okayafrica met up with eLDee the Don — Nigerian hitmaker, former Trybesmen and founder of Trybe Records — at a recording studio in New York's East Village where he was mixing and mastering his upcoming record. We talked to the Naija powerhouse about what might be his last studio album, working with the likes of WizKid, Banky W and Nneka, and his move towards heading an entertainment empire.
Tell us about the new record.
The album is titled Undeniable. I named it that because I've been doing this since '99, this is my fifth album — in between I've put out so many different artists, I also own a record label —I've done so much stuff and we've made so many hit songs that at this point I feel like my sound is undeniable. And then also, just for the fact that recently press in Nigeria and Africa realized, "How come eLDee is still here? eLDee was here at the beginning, how come he's still here? How is he A-list in 2012?" So, that's kind of how we came up with the title.
What do the new tracks sound like?
The past couple of years African music started to gain more of an audience outside of the continent — which is a good thing but what can happen is the Western sound comes in and takes away from the African-ness of the music. I was really trying hard not to do [that] on this record. [I tried] to make sure that we keep everything African. I mean we use sounds, instruments, and melodies that people can relate with outside of the continent, because we also need to bridge the gap, however the essence and style of the music has to stay completely African.
For example, [on the album] I'd play afrobeat but, instead of using trumpets and saxophones, I'd use synths. The synth sound is big in Europe, it's big even in America right now, because it's in a lot of the pop music. So I feel like, in a sense, we're able to make that connection. That's pretty much what we're trying to do.
[embed width="600"][/embed]
Nneka was recently with you in the studio.
Yeah, I did work with Nneka. I worked with her yesterday, we were actually just in the studio. I've wanted to work with her for a while, but she travels a lot and I travel a lot. But we finally made our schedules work out. We just listened to [Undeniable], she liked [album cut "Zombie"] so she recorded on it. She was in and out in 5 minutes. It wasn't planned, initially, until she came in and we were just talking about it. I was like, "Hey, I'm mixing the album, I'm trying to finish up the track," and she was like, "Oh yeah sure, let's do it." That's the "Zombie" track she'll be on. I'm also trying to do a couple international features as well. Maybe get one or two people.
Who else is on the record?
Banky Wis on there. WizKid is on there. K9, Sojay are on there — these are my artists. This is the first time I'm doing a record that has that few people on it. I usually have a bunch of people around and everyone's on a song. I think I indulged myself in this one. I was really interested in the music of it so, I just got carried away and recorded 3 verses every time. [laughs]
[audio:http://www.okayafrica.com/wp-content/uploads/HIGHER.mp3|titles=eLDee feat. K9 and Sojay "Higher"]
eLDee feat. K9 and Sojay "Higher"
Where did you record?
In Lagos, actually. What I would do, because it got really busy... I mean I run a label, Trybe Records, and we also have a distribution company, a publishing company and an events company. And I'm at the head of all of that. I'm doing all of that and at the same time I'm trying to record an album. So I literally had to just take some time out, lock myself up in a hotel somewhere in Lagos, turn my phone off and stay there for a week. That's how I got everything together. I just sat in there for a whole week, and just went at it song after song.
Did you produce most of the stuff?
I have a producer, in-house, who's also signed to the label. His name is Sarz, he's the one who did like 80% of the stuff, but with direction. I'd be like "This is where we're trying to go, this is what we need to do, this is how you need to do this and that." We wanted a sound that was different, and that would stand out and would feel African, but yet Non-Africans can dig it.
[audio:http://www.okayafrica.com/wp-content/uploads/eLDee-Wash-Wash.mp3|titles=eLDee "Wash-Wash"]
eLDee "Wash-Wash"
Do you have a set release date?
March 31st is the date right now. And that's why we're killing [engineer/mixer] Fab so he can get the mixes done. [laughs]. We're gonna tour in Nigeria, and we're also touring East Africa. July through August we're going to be in Uganda, Zimbabwe, Zambia, South Africa, couple other countries. In April, we're touring Nigeria in a whole bunch of cities, I think 26. So we're in a different city everyday.
What's your take on the Azonto craze?
It's traditional Ghanaian dance, which is very similar to some Nigerian dances. It's a West African thing. I like it because it's easy. I don't have to use my mind to do it. I personally like the dance and enjoy it. I was in Ghana a couple of weeks ago and some girls taught me how to do it. We were just having fun. And it fits! It's sort of like some Nigerian dances. I figured, let's promote some Ghanaian music and Ghanaian dance.
What's in store from your label?
Iman Entertainment — the company  I head that owns the record label, the publishing company, the distribution company, the events company — is gearing up to be, in about 5 years, a major in Africa. What we're trying to do is set something up that is African for Africa. We're in the building process right now, and this may be my last studio album because of that. It may be, because I'm really going to be moving from the creative side of things to the management side of things. And that's already starting to happen now, I'm really in a transition stage.