Born in 1991 in Dabou, Côte D'Ivoire, Brice Esso, was almost destined to sculpt—with a father who was a geologist and an upbringing in a country in which he was surrounded by terracotta objects, pots, plates, and homes. After acquiring a bachelor's in economics from Georgia State University, where he had honed his skills as a photographer and craftsman, he enrolled in the New York Academy of Art in 2015, to pursue a masters in drawing, and then transferred to sculpture.
---
During his studies, Esso went to Carrara, Italy, where he took up stone sculpting and created his first large scale 'baby head,' which would soon become a trademark of sorts.
While at school, Esso became particularly interested in the ability to both challenge Western art and create a clear picture of his identity by studying art from his home continent. As a result, his oeuvres are now ridden with influences from his youth; from his study of stone carving in the Italian Renaissance to his study of the African traditions of modeling clay and other raw materials. His abstract work poses questions about life on earth, existence, the migrations of the African diaspora, and what older African civilizations looked like.
Earlier this year, he opened a creative laboratory, Studio 08, at Abidjan's newest luxury concept store, ABY Concept. The inaugural event was a celebration of the beginning of what Esso deems will be a platform for creatives from all over to collaborate with artisans in Africa.
Esso spoke to OkayAfrica about his unique process and challenging Michelangelo.
Interview has been edited for length and clarity.
What drove your migration from Côte d'Ivoire to the US?
I went to America for education—to train and to learn. The US afforded me freedom. I was given the opportunity to study many things. I went to study finance for my senior year of university, but beyond finance, I ended up studying economics, art, psychology, and marketing. This would not have been possible in Côte d'Ivoire. America was really a place I wanted to go to get a certain kinetic or experiential training, and give myself the opportunity to be who I am.
Why did you become a sculptor?
I became a sculptor to show that it was possible. I set out to work with and master marble sculpture because it has been the treasure of Italians from the Renaissance until now. Italy and France are home to a multitude of stone carvers. With Egypt being a place where we have proof of African stone carvers, my sculpting was an attempt at reviving this heritage. It was an attempt at reviving the sleeping part of me that was perhaps my ancestors who participated in building the pyramids in Egypt. I asked myself, 'What would be the result of me carving marble for two weeks in extreme conditions?' I went into stone carving to show that Africans were also capable of doing it—if one is actually limited in his or her ability to do something because he or she is not from one place or another.
Where marble sculpting is a dying skill, I, a Black man, set out to challenge Michelangelo, deemed the father of stone carving, with my large scale oeuvres.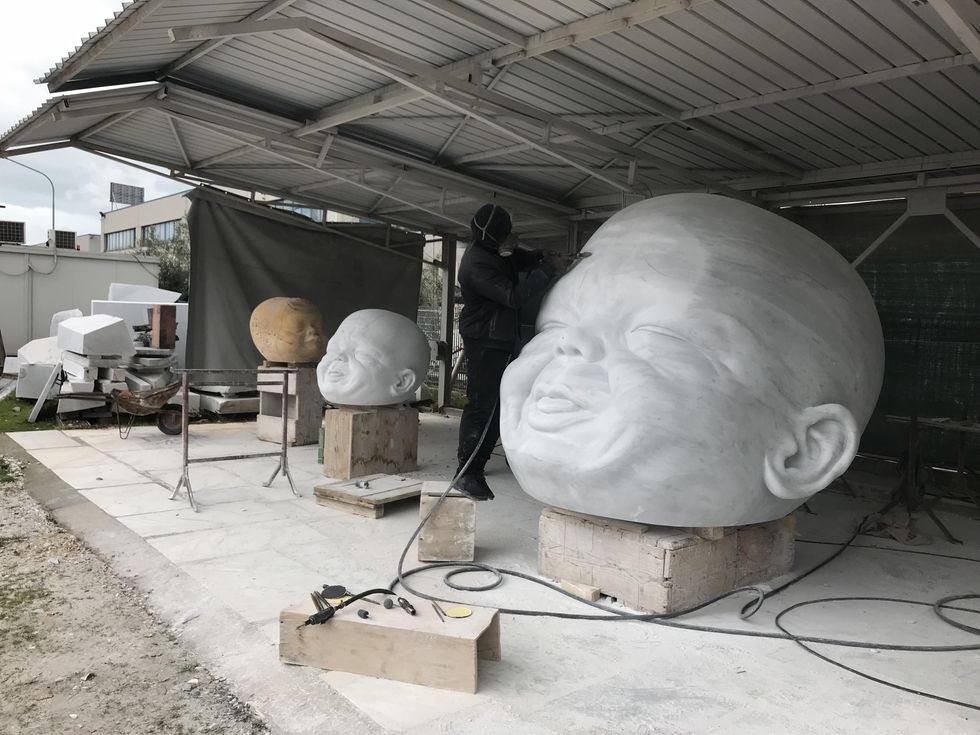 Brice Esso's work encompasses a study of both stone carving in the Italian Renaissance and the African traditions of modeling clay.
Photo: Brice Esso
What is your medium? Furthermore, tell me about these fascinating 'baby heads' you've created.
My life is my medium. Imagine a man working in Italy, covered in marble dust and gazing upon African migrants not too far from him. This man is me. Imagine the thoughts such an experience can bring up.
The 'heads' are actually a depiction of ideas or psychological self portraits. They're often referred to as 'baby heads' but they are not—some are aged, many do not have ears, and some have hands coming out of them. I've even referred to them as migrants. I have played with the understanding of African art, namely masks, as African masks have historically been used as a form of code or symbolism. The scarification sometimes found on these heads is a hat tipping to the Ife heads and African traditions. These creations are forms of anthropological research by a young African man born in '91 searching for the Africa his father, being older than Côte d'Ivoire, was born in.
I have actually only carved 25 stone sculptures. In 2016, I made my first 2, and the other 23 would come between 2017 and 2018. For today's small scale 'heads,' I sculpt clay and take them to blacksmiths in Bassam to polish them with a bronze finish. Long before the Renaissance, these methods of sculpting clay, and even beeswax, existed in African civilizations. We're rediscovering ourselves.
The abstract marble sculptures you have created call to mind the Renaissance and the African traditions of clay modeling. What other themes do your works cover? What messages are you attempting to convey?
With my art, I am trying to depict 'where I am,' 'what it means to be me,' 'what opportunities are available to me,' and 'what can I do with my life?' I am using the context of my life to create what is available or to create what is the most interesting, beautiful, or useful thing I can create with the space that has been given to me to do so. I'm trying to express what it means to be me and if I do it well, it will connect with other people and they will find a way to connect to the work and make it theirs.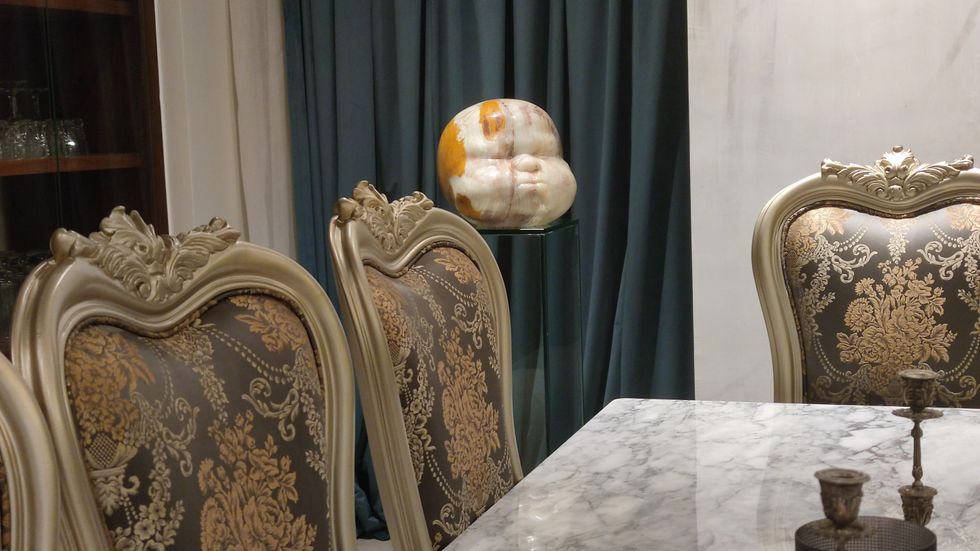 Brice Esso creates 'baby head' sculptures to share a "depiction of ideas or psychological self portraits."
Photo: Brice Esso
Talk to me about your latest venture and collaboration with ABY Concept, a new concept store in Abidjan, Côte d'Ivoire, rooted in selling African luxury or savoir faire, Studio 08?
Studio 08 uses creative means to solve traditional problems. Studio 08's first major project this year was turning itself into a fashion brand and partnering with ABY Concept to show the capability that Ivorian people have in the domain of creation, especially fashion, jewelry, and decoration. With ABY Concept, we're selling silver jewelry, clothing, and small scale artwork for decoration. All this work is made solely in West Africa⁠—Côte d'Ivoire, Burkina Faso, and Mali, where we source raw or primary transformed material that we bring to the studio or off location to create modern, limited-edition pieces, inspired from the tradition of craftsmanship and the aesthetic tradition of Côte d'Ivoire and the cultures that I happen to know.
Bear in mind, I am unsure if these are authentic African cultures as we have a serious lack of documentation of what Africans actually did. Studio 08 is creating a revival of African savoir faire and putting it head to head with what is being made today in order to validate what we do.